Most of the keyboards come with a specific key to mute/unmute the speakers. And, if there isn't any specific key, then, you can find media controls options in function keys. In my keyboard, the F4 key is dedicated to mute the sound. By pressing it with the Fn key, I can mute and unmute speakers. But, there is not any keyboard key to mute the microphone. Keyboards do not come with mic mute key, because, the microphone doesn't always get switched on. It only gets turn on, when an application accesses it. In Windows 10, when an application does access a microphone, then you can see a mic icon in the Taskbar. And, you can even disable mic permission for that Application by going into Windows 10 Settings App > Privacy > Microphone.
Even, chrome browser comes with an option to disable microphone access. But, it could possible that a third-party Application or site is using your mic. In that case, disabling mic is a good idea, if it's not in use. But, disable/enable microphone access from the settings App is time-consuming. So, In this article, you will get to know, a way to mute mic using keyboard Shortcut.
Mute Microphone using Keyboard Shortcut.
1. Mute Microphone using a Keyboard Shortcut.
Though, there are some ways to create a Keyboard Shortcut to mute mic. But, not that easy. So, I will suggest you install this free application 'MicMute'. After installing this small application, you will able to mute the mic using any Keyboard key. Means, You can configure any keyboard key you want. MicMute Application runs in this taskbar and adds a microphone icon. The icon is to show the status of the microphone. If the mic icon is red, that means, the mic is 'on'. And, if it's black, that means 'off'.
Apart from mute mic using a Keyboard shortcut. There is some other useful feature also of this Application. MicMute App can mute the microphone at startup. And, it does detect all audio input devices. "Push to talk" feature also available. Means, the mic will only work when a key is pressed or held.
How to mute microphone in Windows 10 using Hotkey.
1. Download the MicMute Application from the SourceForge site. And, Install it on your Windows 10 Computer.
2. After completing the installation, you will see a mic icon on the right side of the Taskbar.
3. Right-Click on the MicMute icon from the system tray. And, then click on Setup Shortcut.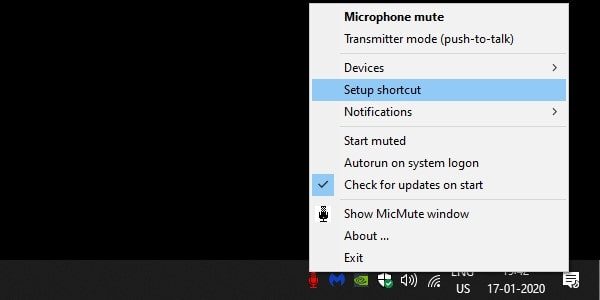 4. A small configure window will appear, click on it. And, press the keyboard key that you want to use. And, click on ok.

(You can also create a key combination. The keyboard can recognize normal keys as well as special keys on the keyboard.)
5. Every time, you mute and unmute the microphone using a keyboard key. You will receive an alert on the Desktop.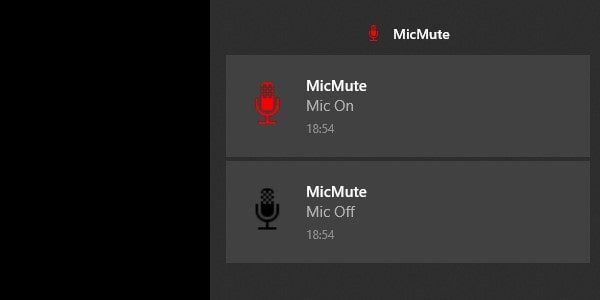 If your microphone is not getting mute with the Application. Then, you have to configure it from Devices. (Just right-click on App icon to access devices settings.)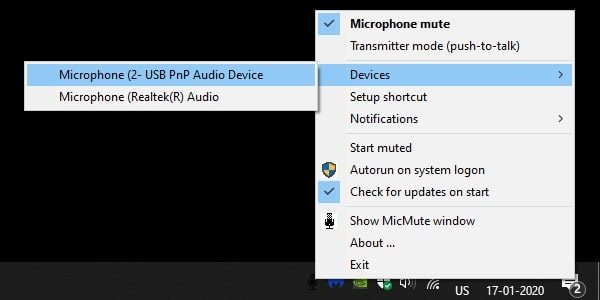 2. Disable Microphone Access for Applications.
If you just want to disable mic access for a specific Windows App. Then, you can easily do that, from Windows 10 settings itself. You don't have to install any third-party application for it.
1. Press Windows + I key to open the Settings App. Click on Privacy.
2. From the right-pane, under App permissions click on Microphone.
3. Click on Change and Turn off Microphone Acess.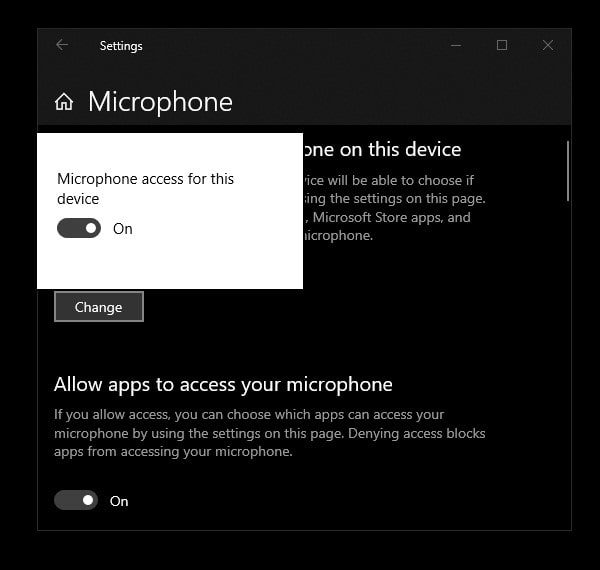 Also, you can find two sections Microsoft Apps and Desktop Apps. You can disable mic for any specific Microsoft App. But, for Desktop Apps, there is a global button. If you turn it off, all Desktop App will not able to access mic.
3. Use the Realtek Audio Console.
If Realtek Audio driver is installed on your Windows 10 PC. Then, with the Realtek Audio Control, you can mute Mic. You can download it from the Microsoft Store. Just install the App, and then mark the "Mute" option. That's it, Microphone will get muted.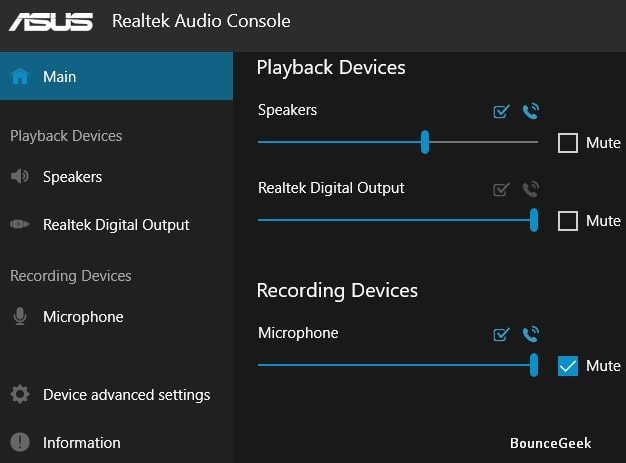 This is better than going into the Settings App. You just have to keep this App always open. That's it, so these are the ways to mute the microphone using a Keyboard shortcut.