network speed indicator – We have seen a lot of changes in Android from Android Gingerbread (2.3.7) to Android O. But some feature is still we wanted in Latest Android OS, Although these features are available in many custom ROM. The one most – Wanted feature that, here am talking about is Network Speed Indicator. This feature comes inbuilt in MIUI, RR & some other custom ROM's.
It's not like manual speed test of internet connection by using third-party sites. Rather it will show current downloading/uploading speed in Status Bar when you browse or download something. Nowadays many Android devices come with this inbuilt feature, so before doing anything first check using settings.
For MIUI & Other Custom ROM User.
If you're using MIUI devices then by going into Settings > Notifications & Status Bar you can enable show connection speed option. Or if you're using any other devices then first look into status bar settings. If nothing option found like that then follow this article.
For Rooted Android User – Get network speed indicator (Connection Speed).
This method is only for Pre – Rooted Android User, If you're device is not rooted then no need to root. Just Scroll down and you can try next way for now – rooted Android User. If you're a little bit confused that your device is rooted or not then you can check using Root Checker App.
Install Xposed Installer.
First Install Xposed Installer into your rooted Android Device. Xposed is a framework for modules that can change the behavior of the system and apps without touching any APKs. In other simple words to Install App, we need Android OS, similar to Install Xposed Modules we need Xposed Installer.
For Android Kitkat and Lower version.
If you're using Android Kitkat or any other lower version of Android then you can Install Directly by using this Link. After Installing Apk file, Open Xposed Installer > Framework & then Install / Update the framework and restart your device.

For Android Lollipop and Higher version.
Or If you're using Android Lollipop or any other Higher version of Android. Then first you need to Install Custom Recovery and then you'll need to flash specific Xposed Installer File. For more information please check XDA forum and you can find the specific method for your Android device.
Install Network Speed Indicator Module to Get Connection Speed in Status Bar.
First, go to Xposed Module Repository Site and Download this Network Speed Indicator Module.
Now Install it on your Android device, you"ll need to enable unknown sources from settings to Install it.
Open Xposed Installer > Module and mark Network Speed Indicator and restart your device to activate this module.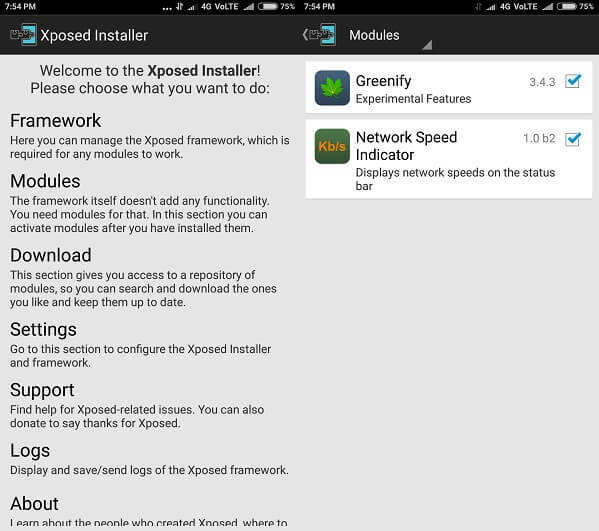 Now open Network Speed Indicator Module App and set connection speed as you want. You can change the position of it also you can change color by using App.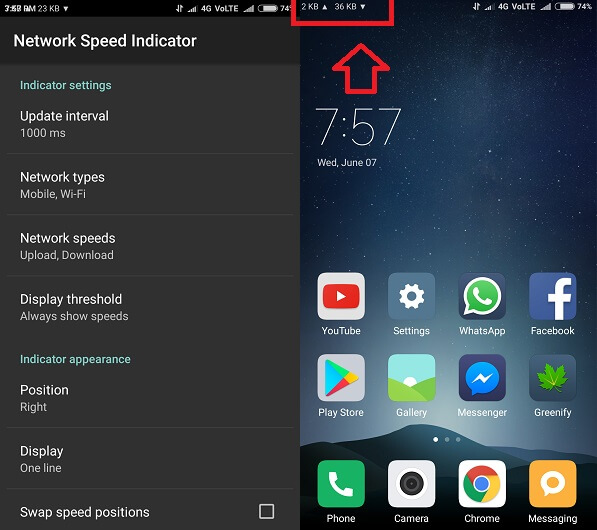 To Disable it simple unmark module from Xposed Installer and restart your device.
For Non-Rooted Android User – Get network speed indicator (Connection Speed).
This method is universal means, It'll work in all Android Phones. You don't need to root your device all you need to do is Install an Application from Google Play. There are dozens of Apps available on Google Play Store to enable Internet Speed Indicator into Status Bar. After trying much Application, I found this application very useful.
Get Internet Speed Meter From Google Play. 
Simply Install this Application and then go to settings by clicking on Icon Upper Right Corner. Go to floating widget and then enable it and set position as you want.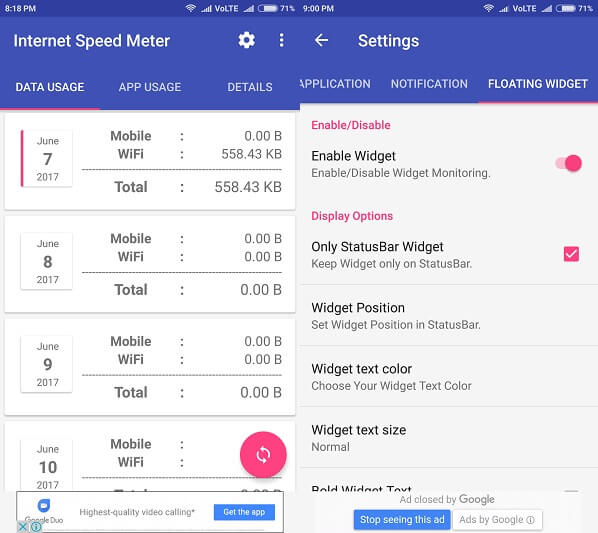 Get network speed indicator For iOS & Windows.
For iOS –  If you're using iOS then no need to jailbreak or anything, all you need to do is install N Stats from iTunes app store.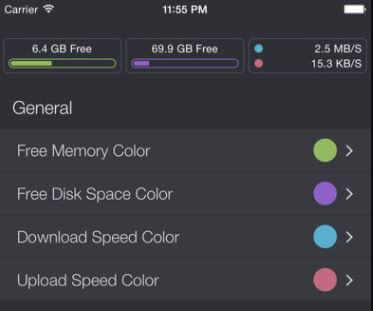 By using N Stats widget monitor you can add three widgets free memory, free disk space & Network Speed.
For Windows – If you want to check connection Speed into your windows computer then there are dozens of option available but personally, am using Networx Software.
Get Network For Windows.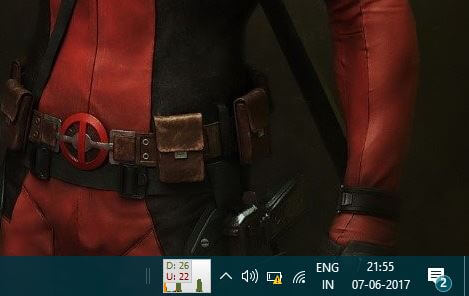 NetWorx is a simple, yet versatile and powerful tool that helps you objectively evaluate your bandwidth consumption situation. You can use it to collect bandwidth usage data and measure the speed of your Internet or any other network connections.