Discord is Free VOIP and Chat application, specially designed for the Gamers back in 2015. It's a cross-platform Application. Even, the Web version of this App also available. But, recently many users started facing multiple problems with Discord. And, I have written an article about "Discord mic not working" problem. And, In this article, I am providing certain solutions for two new Discord problems.
1. Discord won't Open / Launch. – When the user tries to open Discord App in their Windows or Mac Computer. Nothing appears on the screen. Even, if you run "Discord as Administrator", then also, the problem not gets resolved.
2. Discord stuck on the main connecting screen. – This is a different problem, but similar to the first problem. In this problem, the discord screen appears. But, either it shows a blank screen or shows a loading screen. But, doesn't get open up properly. If the loading screen gets appears, then it could be the internet issue.
So, If you're also, facing these two issues. Then, try out these following solutions.
Fix – Discord Won't Open.
Solution: 1. Close all Discord Background Processes.
When you launch Discord App, and if Discord screen doesn't appear. Then, you need to check task manager. I can't tell you the exact reasons. But, this is the problem with Windows. Sometimes some Apps doesn't get launch but keep running in the background. So, you need to stop all background process of that software. And, then after restarting the Computer, you can open again.
1. Open task manager. – In Windows 10, right click on the start button. And then, from the menu choose "task manager".
If you're using an older version of Windows, then Press "Ctrl + Alt + delete" key simultaneously. After that, from security options, click on task manager.
2. In task manager, first, go to the startup section. Now, make sure that Discord is disabled. If not then right-click on it, and then choose to "disable" option.
3. To end all background Discord processes. Go back to the Processes section of the task manager.
Here you can see, Discord is running in the background. And, to stop it. Right click on Discord in task manager, and then hit the "End Task" option. (If you haven't launched Discord Application, then it will not show up here.)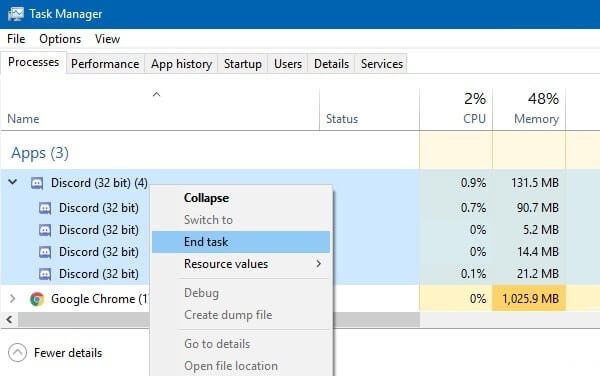 4. Now, restart your Computer. Don't try to launch Discord now. After restarting the Computer, right click on discord App, choose "run as administrator".
That's it. Discord won't open problem will get resolved. But, if its stuck on the loading screen or show the blank screen. Then, try out the next solution.
1.1 Alternative Solution: Terminate Discord processes using CMD.
If you don't want to go through the above steps. Then with one command line, you can close all Discord Process. And, after that, you can start Discord normally.
1. Press Windows + R key simultaneously to open Run Window.
In run Window, type CMD and press enter.
2. Command prompt Window will open now. Enter the following command and press enter.
taskkill /F /IM discord.exe

That's it. restart your Computer and run Discord Application.
Solution: 2 Allow Apps from anywhere.
If in your Apps settings, by default it's set to "Allow Apps from the store only". Then, it could be the reason behind "Discord won't open" problem. Though, you can solve it by changing a single setting.
Press Windows + I key simultaneously to open settings App.
In Windows 10 Settings App, Go to Apps > Apps & features.
Now, in "installing Apps" section. From the drop-down menu select "Allow Apps from anywhere" option.

If this option is already selected. Then, the problem could be with the antivirus program. So, try the next solution.
Solution: 3 Disable Antivirus Program temporary.
There is a problem with "Windows defender" in Windows 10. Sometimes, it blocks normal Windows Application, by thinking as malware. It happens because Windows defender scans each app. Which is not installed from Microsoft store.
So, to fix the discord App launch problem. You need to turn off real-time protection of third-party antivirus. And, after that kill Discord app process using the first solution. Then, you can launch the discord Application. You also need to turn off "check app and files" settings. Here is the instruction to follow.
1. Open Windows 10 Settings App. (Press Windows + I key)
2. Go to update & security > Windows security > App & browser control.
3. Now, just turn off "check app and files" section, if its set to block. (Block option prevents Apps like Discord, to launch.) After that, scroll down and set all the remaining option to 'warn'.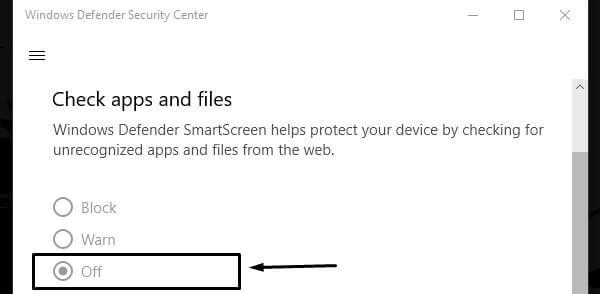 Also, make sure controlled folder access option is turned off. Windows defender security center > virus & threat protection > Ransomware protection > Turn off "Controlled folder access".
Solution: 4 Log in into Discord Web App.
Some Discord users are telling that, after logging into the web browser. Discord stuck on main connecting screen problem get resolved. So, I suggest you open discord site in chrome browser. Now, log in using your personal details. After that, close all background process of Discord App. And, now you can run it.
Also, make sure that in Windows firewall settings, discord app is enabled. If it's set to disable, then App will not able to log in. And, will show you a blank screen.
Solution: 5 Reinstall Discord App.
It could be possible that discord files got corrupted. That's why "Discord won't open" problem is occurring. In that case, reinstallation of Discord application will solve this problem.
1. To jump directly to app uninstall menu. Press Windows + R key to open run Window. In run Windows, type appwiz.cpl and press enter.
2. Uninstall program window will appear now. Locate Discord Application, right-click on it. And, choose to uninstall option.
Delete Discord App Data.
Press Windows + R key again, in run Window type %appdata%.
Locate Discord Folder, and delete the entire discord folder.
That's it. Restart Computer now. And, then reinstall Discord App. Hopefully, your problem will get resolved. If not, then feel free to Comment.