Is your Android OS smartphone battery draining very faster? Well no worries, this article will help you to extend your smartphone battery life up to 50%.
These days Android smartphones come with a larger battery and fast charging capability. But, it doesn't always mean a longer battery life. The battery life of a smartphone doesn't depend on how large the battery is. Other smartphone hardware components and mainly operating systems influence smartphone Battery life. e.g. iPhone 12 / 12 Pro comes with only a 2815 mAh battery. But still, you can use iPhone the whole day because of Apple's OS optimization. But, with Android OS, things are the opposite. Android smartphones like the OnePlus come with a bigger size battery, but the battery drains very faster.
Even, recently many smartphone users started facing Android OS battery drain issues. Usually, when we start using multiple apps on our smartphone battery starts draining fast. Also, some Android settings play a vital role in battery life.
To prevent Android OS battery Drain, You can do few things to get the most out of your phone. These tips are not gonna double or triple your battery. But you will not end up with the drained battery after few hours of smartphone use. You can get more SOT and more battery life by following these tips.
Solutions: Android OS Battery Draining Fast.
Remove Apps that drain your battery.
Android is useless without System Apps as well as Installed Apps. Apps make smartphones better and smarter. But there are some apps in Android that come Pre-loaded and always Run in the background. And some apps are too heavy and require much RAM and cause Battery Drain without you even know about it.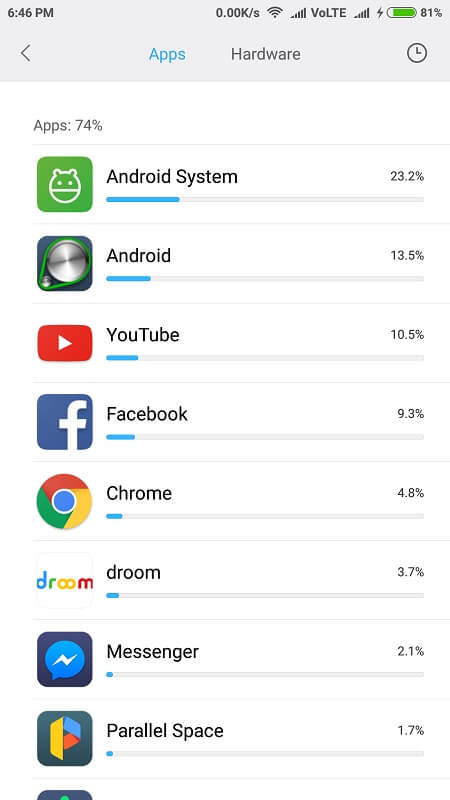 You can easily find which app is using much battery easily by going Settings > Battery > View Detailed usage. Apps that using much battery will be higher on the list. If you use that app rarely then you can uninstall that app. On the higher of the list, you can see Android System, Android, and System Launcher, Don't try to force close these things. Some smartphone like OnePlus comes with Battery optimization feature. And, you can select optimize option for all Apps.
Small Tip – Instead of updating apps again and again, always reinstall. Sometimes by reinstalling apps can solve the Issue.
Turn Off Locations Service in Android OS.
There are many apps on Android that uses Location services that cause Android OS Battery Drain. You can easily save Android Battery by turning Off Location services else you can Choose Battery Saving Mode in Location.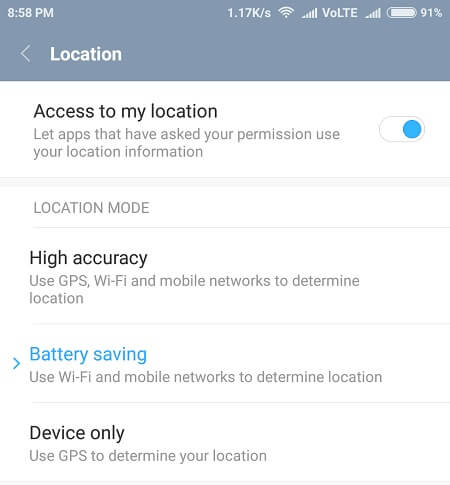 It may be a good idea to always turn off GPS for all apps. Because there is no need to always turn on GPS unless you are not using Google Maps services or Uber-like Apps.
In case, If you don't want to turn off location for all apps then you can easily turn it off for specific Apps. To do that open Settings> Location > App Permission, here you can find all apps that using Location services. You can deny Location Permission for any app, just click on apps and go to the permission option and Turn off Location.
Remove Useless Widgets and Live Wallpaper.
Widgets and Live Wallpapers not only take much RAM to run also Drain Android Battery Faster. Because in android every task requires a battery. All you need to do is minimize the task and you can Increase Battery Life.
Remove Android Widgets is the easiest thing, you just need to use the Drag and Drop feature of Android. And you can use normal wallpaper Instead of Live wallpaper.
Display Settings.
Smartphone Brightness is also the major issue that causes Battery Drain. Always use the Auto-Brightness feature in Android to save Battery Life. Auto-Brightness settings work on the ambient light sensor. You can also enable reading mode to save more battery.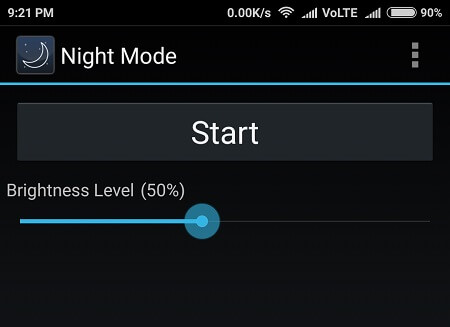 In many old smartphones, you can't able to find this setting due to the unavailability of this Sensor. But No need to worry, still you can save more Batteries by Installing Night Mode Android App. By using this app you can set a low level of Brightness.
Greenify and Other Task Killer Apps.
We all like to do many tasks at a single time, like chatting with friends while browsing Social Media and Web Browsers. And sometimes we forget to close all applications while locking up the smartphone. And then our Android OS Battery Drain Faster.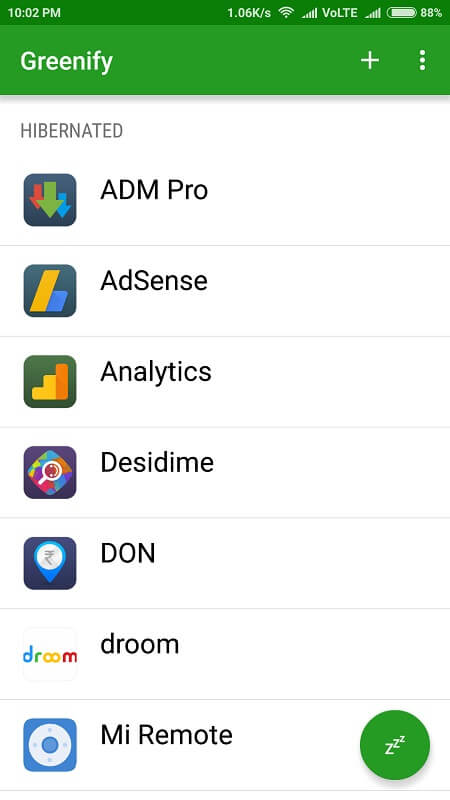 But here is the solution, Now you don't need to close apps manually, by using Greenify Android app you can easily Hibernate apps. Greenify will automatically close apps when you lock your smartphone, you just need to select apps once for Hibernate. There are many other useful features of this app, you will know after Installing it. Don't forget to turn on the Accessibility feature of Greenify app by going Settings>Accessibility.
There are some other apps also available like Amplify, DU battery saver. You can try any of them but in my opinion, Greenify is enough to Save Battery Life.
Use Battery Saver mode and Extend Battery Life.
In Android smartphones, you can find Built-in Power Saving modes. This Mode allows us to save power when the smartphone battery drains at a specific charging Level. You can also set which apps to be close when Power-saving Mode will on, it will help you fix Android OS Battery Drain.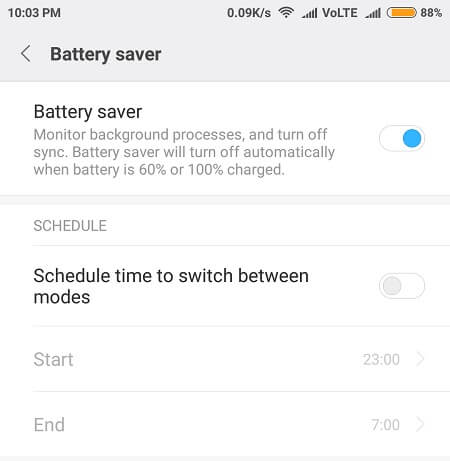 If you use your smartphone for work purposes, then make sure you haven't installed power-consuming High graphics games. Because Playing High graphics games also Drain Android OS Battery Faster. If you don't want to uninstall your favorite games then the last option remains to Use the power bank while playing the Games.
Fix Android OS False Charging Level.
If you like to flash Custom ROM then you may be faced this Issue. Or in some smartphones due to overcharge or due to some Android OS issue, the Battery level stuck at some point. And sometimes battery level shows 1 – 100% within few minutes.
To fix these Android OS False Charging levels, first, you need to ROOT your android device. On the Google play store, there are many apps that claim to Fix battery Issues but all are making us fool.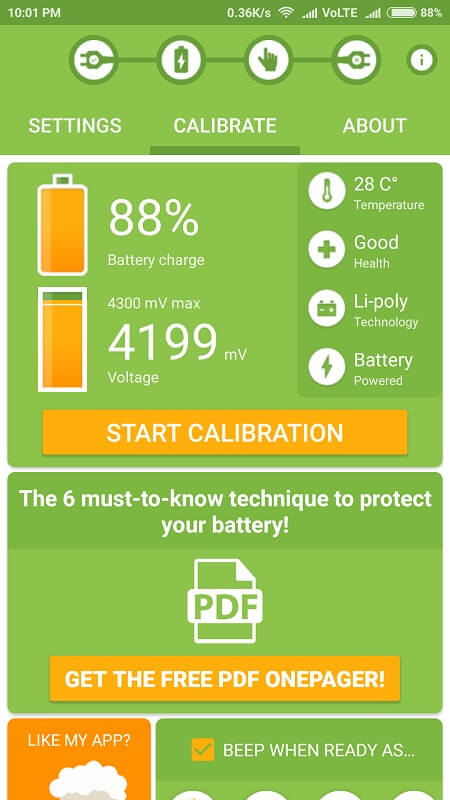 After Root, your Android Device, Now Install Battery Calibration Android App. Now connect your charger and Run the app in the Background. Now when your phone charge fully, you may hear an Alarm. Click on START CALIBRATION and give Root access to App. As of now, this app removed from the play store, you can still download it. There are some sites to download old versions of Android Apps.
Done you have successfully fix False Charging level and Android OS Battery Drain, Now you can see you will get Good SOT (Screen – on Time) and Good Battery Life.