Sideload Apps on Fire TV Stick – Amazon Fire TV Stick is the best device to stream movies and TV shows from various streaming platforms. With Amazon Fire TV Stick you can turn any non-smart TV into Smart TV. And, FireStick comes with almost all the best-streaming services and Apps. Like, Amazon Prime Video, Netflix, and YouTube. But still, there are some apps that are not available on the Amazon App Store. For Example, Amazon removed Kodi from Appstore, because it can be used for piracy.
But still, you can install Kodi and other Apps on FireStick. Because Fire TV Stick is based on Android OS. And, Android itself is completely free and open-source. In Android, We do install third-party Apps (Apps that are not available on the Play Store) using APK. So, we can do the same with FireStick. And for that, we need to Sideload Apps on Amazon Fire TV Stick.
Sideload Apps – If you don't know what Sideload exactly means then, here is short info. Sideloading an App typically means installing the App through an APK file. APK Files or such App packages are usually downloaded from some websites, instead of official app stores. (Like Play Store or Amazon App Store.) If you want to watch Live TV or Sports, Free Movies, and TV Shows on FireStick. Then, By sideloading some Apps you can easily do that. Soon, I Will publish a separate article on the best FireStick Apps.
There are multiple methods to install an app on Amazon Fire TV Stick. And, In this article, I will try to tell you all the possible methods. So that you can use whatever method you find easy for you.
Sideload Android Apps on Amazon Fire TV Stick
Prerequisites
Enable "Apps from Unknown Sources" and "ADB Debugging".
Before trying out any of these methods, first, you have to turn on two options in FireStick. I have already mentioned this in my "Take a Screenshot on Fire TV Stick" article.
1. Open the Settings Page on FireStick by holding the home button for a few seconds.
2. Go to the "My Fire TV" option in the settings menu. And, select it to open.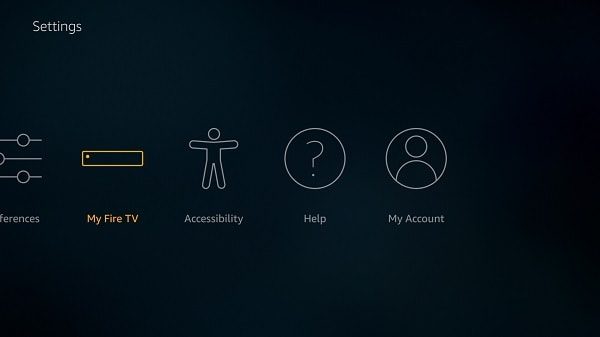 3. In My Fire TV Settings, open Developer options.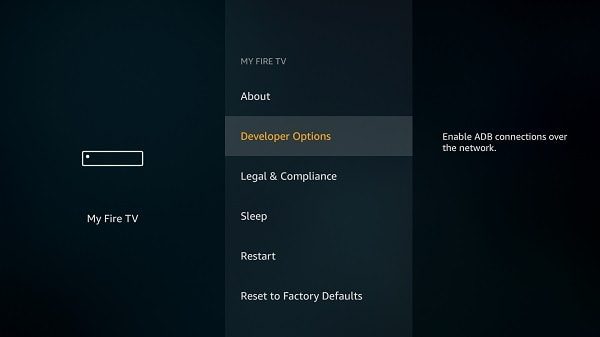 4. And, In the developer Option, Enable "Apps from Unknown Sources". Also, I suggest you enable ADB Debugging. Because to use some methods, ADB Debugging is also required.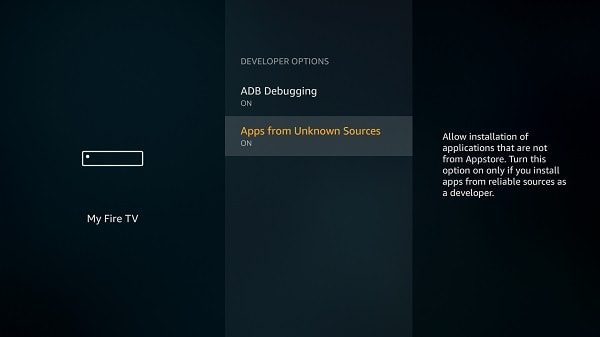 Find the IP Address of the Fire TV Stick.
If you want to sideload apps on Amazon Fire TV Stick, then you need to know the IP address. With the IP address, you can connect FireStick through ADB. ADB is Android Debug Bridge, that helps to communicate with a device.
To check IP Address, Open Firestick Settings. And, go to My Fire TV > About > Network. When you select Network using remote, on the right side you will be able to see the IP Address. Do note it somewhere.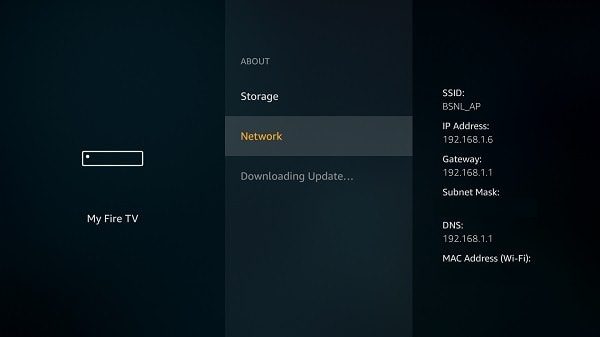 Note: To Sideload Apps, your Fire TV Stick and Android or PC should be on the same WiFi network.
Sideload APK using adbLink in FireStick.
adbLink is the best tool for sideloading Apps on Fire TV Stick. It is available for Windows, Linux, and macOS for free. Officially to sideload Apps on a Fire TV Stick, you have to run a command in ADB and Fastboot tool. But, with adbLink, you can do that with a single click. Apart from the App install/uninstall feature, adbLink also does provide a Screenshot and Built-in WIFI/USB remote.
Download Apk File to Install.
If you're reading this article, then I am assuming, you have the APK File to Install. But, If you haven't then Download it from ApkMirror Site. For Fire TV Stick, do download the armeabi-v7a architecture app. (If you're looking for any specific Apps Apk file, feel free to comment.)
1. Download adbLink software from the Jocala site. And, Install it on your PC. There is adblink2 also available, you can download that if you want.  (It's a one-click download, so no need to worry. )
2. Run adbLink as administrator. By right-clicking on the software shortcut.
3. When adbLink gets open. Click on new, and a device record window will appear.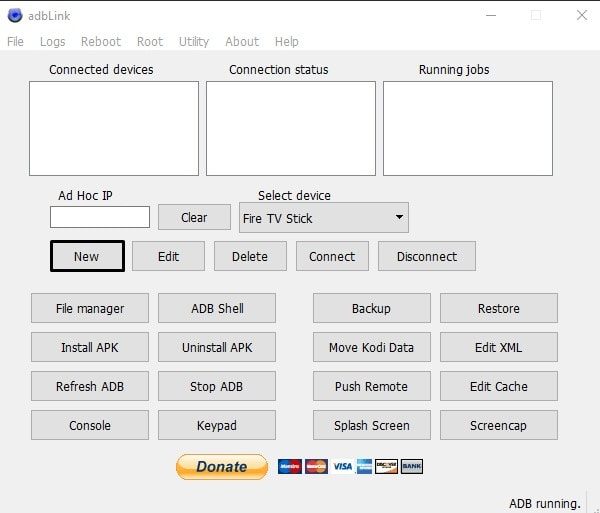 Here you have to fill in a few FireStick details.
Enter "Fire TV Stick" in the Description.
In Address Field, enter the IP address. (Which you got from network settings.)
Click on Pull Folder and select Desktop.
That's it. Click on save. Don't interfere with other details in the device record window.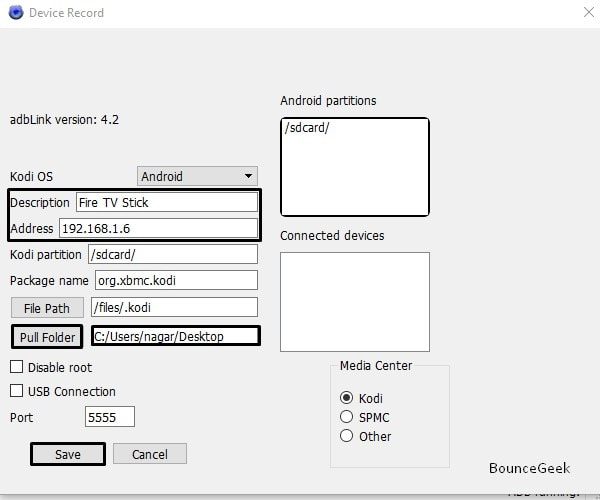 4. Click on "Connect". And on TV, Allow ADB Debugging option will appear. Click on OK.
5. In adbLink, the device unauthorized option might appear. Click on OK. And, again click on Connect. This time, you will see an IP connection in Connection Status.
6. Now, Click on "Install APK".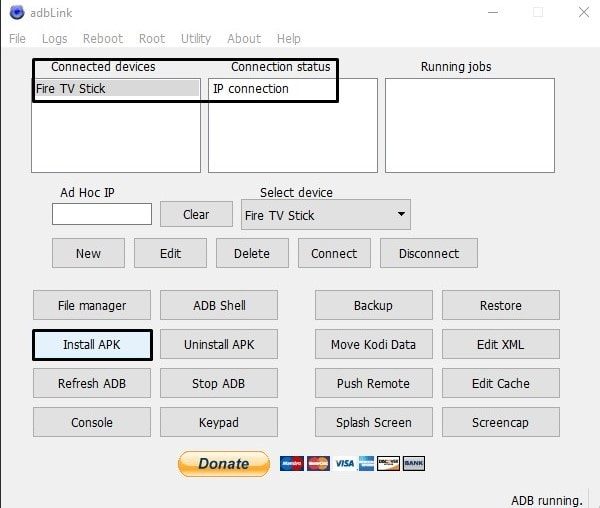 7. And locate the APK File. Select APK FIle, and, click on Open.
8. Install APKs window will appear, click on Yes.

9. That's it. The App installation process will get started. Which you can see next to ADB Running.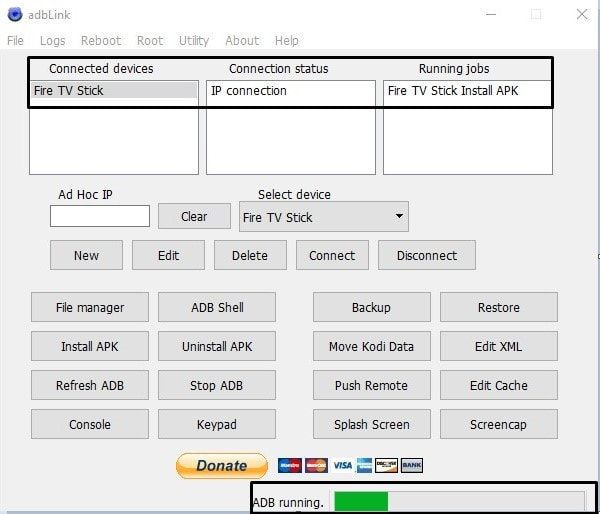 10. When App installation gets done. Apk is installed a message will appear.

Use Android App to Sideload Apps on FireStick.
There are few apps available on the Play Store that allows sideloading Apps on Fire TV Stick. I tried all, and, found 'Apps2Fire' and 'Easy-Fire Tools' best. Though, Easy Fire Tools make the installation process a little bit complicated. This means you need to install ES File Explorer first on FireStick. But, Apps2Fire directly allows sideloading Apps. So, We are going to use it.
Note: First, Move the downloaded APK to the download folder. If it isn't in that folder.
1. Install Apps2Fire App from Play Store.
2. Open it, tap on three vertical dots >, and tap on Setup.
3. On the Setup Screen of the App, tap on Network. And, the App will start showing multiple IP Addresses. (These IP addresses are of devices connected to your WiFi network.)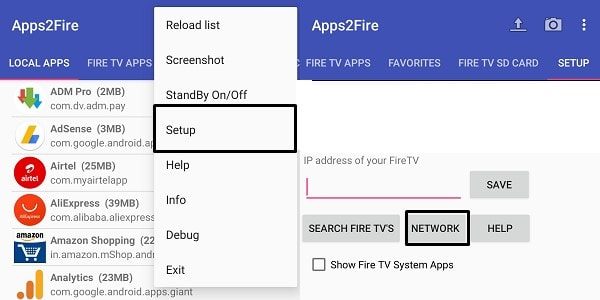 4. Tap on your Fire TV Stick IP Address. When you tap it, immediately allow the USB debugging option will appear on the TV Screen. Click on OK.
IMPORTANT: Apps2Fire allows sideloading installed Apps on your smartphone. Which you can do by going into Local Apps. Tap on any App and Install it. But, It could possible that your smartphone Apps will not work on Fire TV Stick. Because of different architecture.
5. So, to install APK on Fire TV Stick. Tap on Upload Icon, next to the Search icon.
6. Allow storage permission. And, you will be able to see APK Files that you have stored in the download folder.

7. Tap on the APK and click on Install. The installation will take time. Because the first APK will move into Fire TV Stick through WiFi. And, after that, the installation process will get started.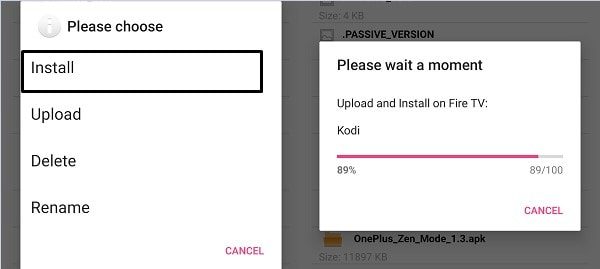 8. You will get the Installation Successful message, once it gets done.
Use ES File Explorer and Filezilla.
In this method, we are going to use FTP Client to transfer the file into Fire Stick. And, with the help of ES File Explorer, we will install the APK. Though, I still prefer adbLink instead of this method.
1. First, Install ES File Explorer App on Fire TV Stick. (Available on Amazon App Store.)
2. Open ES File Explorer, Go to Network > View on PC.
3. Click on TURN ON to enable FTP. An FTP Address will appear now on your TV Screen.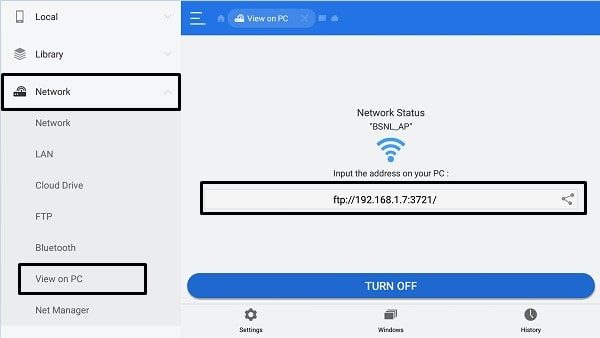 4. Download and Install FileZilla Client on your Windows PC. (It's Free.) After that Move the APK File to the Desktop.
5. Open FileZilla Client, and in the host enter the FTP address that appears on the TV Screen. Click on Quickconnect.

6. An insecure FTP connection warning now may appear, click on OK.
7. Now, On the right side, you will be able to see all files and folders of your Fire TV Stick. Double Click on Download Folder to open it.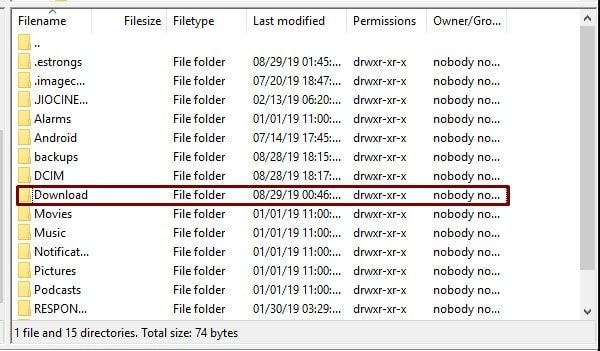 8. On the left side, you will be able to see your Computer Files and Folder. Double-click on the desktop to open the folder.
9. Right-Click on the APK File stored on the Desktop. And, then click on Upload.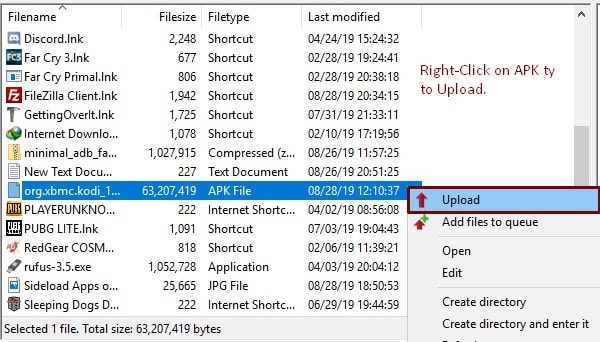 10. APK will be transferred to the download folder of the Fire TV Stick.
11. Now, turn off FTP on the TV. Go to Local > Internal Storage > Open Download Folder.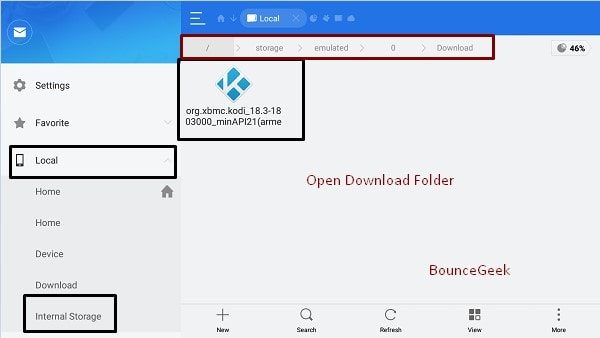 12. Here, you will be able to see APK File, Open it and then click on Install. After that, Click on Next > Install.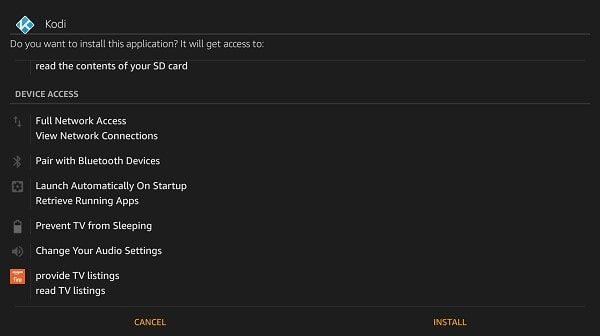 That's it, APK will get installed successfully.
Summing-up – Sideload Apps on Fire TV Stick.
So, these were the best methods to Install APK on a Fire TV Stick. Though, still, there are many methods left. For Example, by giving commands in Minimal ADB and Fastboot you can sideload apps. But, Instead of that, adbLink will be best. So, I didn't add that method to sideload. Also, if you have a direct download link to APK. Then you can use Download Manager of ES File Explorer. Or, can use a Downloader App. But, typing in Fire TV Stick is not easy. Unless you're using a keyboard. Well, If you own an Android or PC. Then, Apps2Fire and adbLink is the best choice. If you know of any other method to sideload Apps on FireStick, then, feel free to comment.