It doesn't matter which version of Windows are you using. Unidentified Network error can occur in any device. Most of the time, this error occurs in Computer that is connected to an ethernet cable. If you're a Gamer, then ethernet connection is better than the wireless internet connection. Recently, I was facing "Unidentified Network Ethernet" error in my Windows 10 laptop. Though, After trying a couple of solutions, I was able to fix this error. This error can occur due to multiple reasons. Like, network settings changes, driver issue, power management issue.
Error Information.
When this problem occurs, windows shows a yellow exclamation mark in the notification area. And, when you move the mouse pointer on that network icon. It shows "Unidentified Network – No Internet Access" Error. Normally, network icon does show "Internet access" message.
I can understand, you're here to know about some working solutions. So, here are some working solutions to fix "windows 10 unidentified network" error. I suggest you try each solution.
Fix Unidentified Network Ethernet Windows 10.
Solution: 1 Check Network Hardware.
Unidentified Network Windows 10 problem occurs when Computer is unable to detect connected hardware. Most of the time it has the hardware issue. So, instead of wasting time trying software related solutions. I suggest you to first check the Network related hardware.
Ethernet Cable – If you connect/disconnect ethernet cable many times or daily. Then, it could possible that cable got damaged. So, if you have another ethernet cable, please try it. Also, make sure ethernet cable is connected properly. Disconnect and reconnect once.
Check Ethernet Port & Network Card – If Unidentified Network Ethernet problem occurs in PC. Then, check network card is properly connected or not. I suggest you to first turn Computer Completly off. Then, open CPU and then remove network card. Clean it gently using the soft brush. And, then reconnect Network Card.
Check Modem Lights – In Internet Modem, you can find out four lights. You need to make sure all the LED indicators are working. If not, then its hardware (modem) issue, so, contact the service provider. And, replace the modem.
Power – It indicates that the modem is connected to the power source properly.
DSL – This LED indicator blinks when you start Modem. And, later it stays ON. This light shows that there is no fault in the internet line.
PC/USB/Ethernet – Now, this LED indicator is most important. It shows that ethernet cable is properly connected.
The fourth LED indicator is for the internet. That blinks only when the internet is working.
Solution: 2 Restart Modem.
The next thing you need to do after checking all Network Components. That is restart Modem. Stay connected Ethernet Cable with your Computer. Then, press power key of the modem to turn the modem off. Wait for 10 seconds before turn modem ON. Hopefully, this time your Computer will identify the ethernet connection
Solution: 3 Turn off Airplane Mode.
Airplane mode in Windows 8 and 10 do control Wireless Signal and Network Settings. If by mistake Airplane mode is turned on. It will prevent the Ethernet Connection to get detected. And, that could be the reason behind "Unidentified Network Ethernet" error. So, make sure Airplane mode is Off.
In Windows 10, Press Windows + A key simultaneously to open Action Center.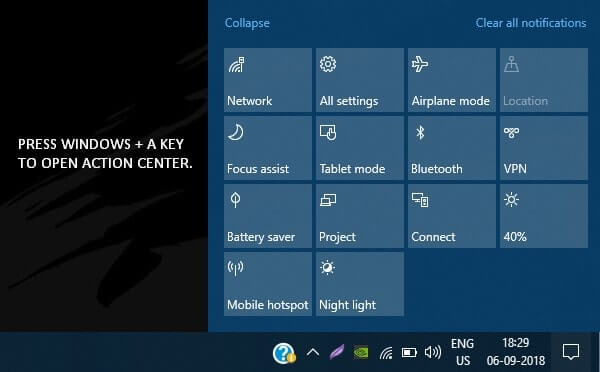 In Action Center, If "Airplane Mode" is highlighted. It means, it turned on. Click on it turn it off.
After that, disconnect ethernet cable and then reconnect after 10 seconds.
Solution: 4 Disable Power Management Options.
Windows 10, comes with a bunch of options to save power of your laptop. There is a feature in Windows, that lets you disable connected devices to save power. If that option is enabled. Then, it could be the reason behind "Unidentified Network Ethernet" problem.
Part 1.
Right-Click on the network icon, then, click on "Open Network & Internet settings".
(Alternatively, you can open Settings App in Windows 10. Then, click on "Network & Internet".)
On Network & Internet Settings Page, Click on "Change Adapter Settings" option.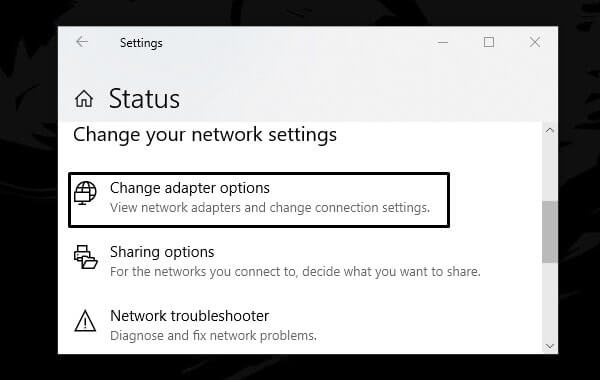 Now, you will able to see all available network connection.
Here, the problem is with the ethernet connection. So, right-click on it, then click on Properties. After that Click on "Configure" button.
Click on Power Management tab. And, then unmark "Allow this computer to turn off this device to save power". After that, Click on OK.

Your Computer will now start identifying the Ethernet Connection. If it does, then you need to do one more thing. Follow the mentioned steps.
Part 2. Only for laptop users.
Right Click on the battery icon and then click on Power Options.
Click on "Change Plan Settings" then hit the "Change advanced power settings" option.
Expand "PCI Express > Link State Power Management".
Set both these options to Off. If it's on "maximum power savings".
On Battery: Off
Plugged In: Off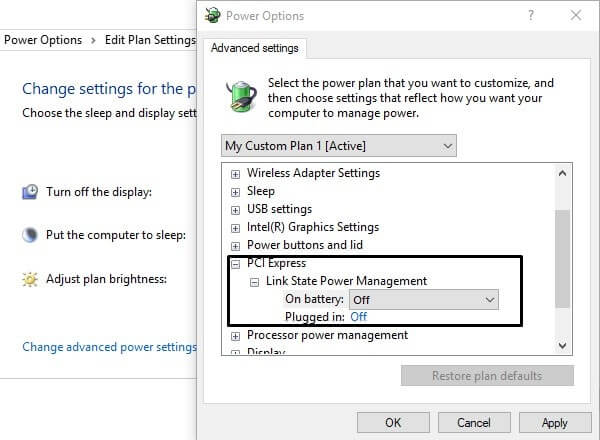 From the same window, do the same for wireless adapter settings. Then Click on Apply, after that click on OK.
Solution: 5 Update Network Adapters.
The next thing you need to do is, update all your network adapters drivers. Drivers are the most important part of the Computer. Device driver helps devices to communicate with the Computer operating system. And, this error shows that, Unidentified Network Ethernet. Means, Computer is not able to recognize connected modem or router. And, it could be possible because of driver files got corrupted. Or, maybe you have updated Windows. And, older version of the driver doesn't support newer version of Windows.
Press Windows + X key simultaneously. It will do open a list of options at the left side of Windows.
Click on Device Manager.
Now, in device manager expand "Network Adapters" option.
Here you can see all installed driver related to the network. If you see the yellow mark on any of these drivers. Right-Click on it then choose "Update Driver" option.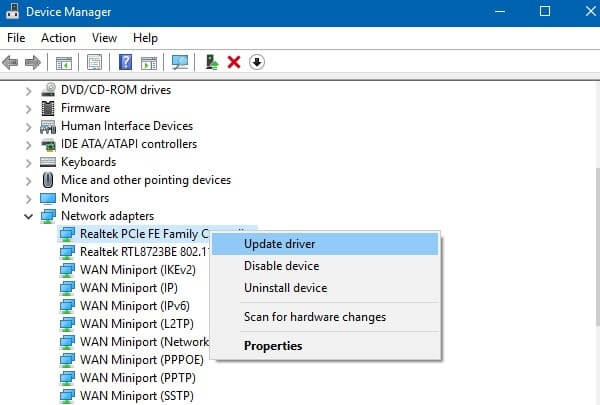 Note: To update driver, connect your Computer with another internet connection. You can use USB tethering or mobile hotspot. Or, you can download the driver in other Computer. And, can update using "Browse my Computer" option.
If the driver is properly installed, then use "Uninstall device" option to remove driver software.
After that restart Computer. And, stay connected to the ethernet cable. Your computer will automatically install the driver file. If it doesn't you can find the driver on the internet.
IMPORTANT: For Ethernet, you need to Update: Realtek PCIe FE Family Controller.
Solution: 6 Set Unidentified Network as Private or Public.
This solution is suggested by a user on Windows Forum. You can try it, it's a small solution, and, will take only a minute.
Click on start button and type secpol.msc and press enter.
Click on "Network List Manager Policies". You will able to see Unidentified Network Ethernet.
Right-Click on it, then choose properties option.
In properties Window, Choose these options.
Location Type: Private
User Permission: User can change Location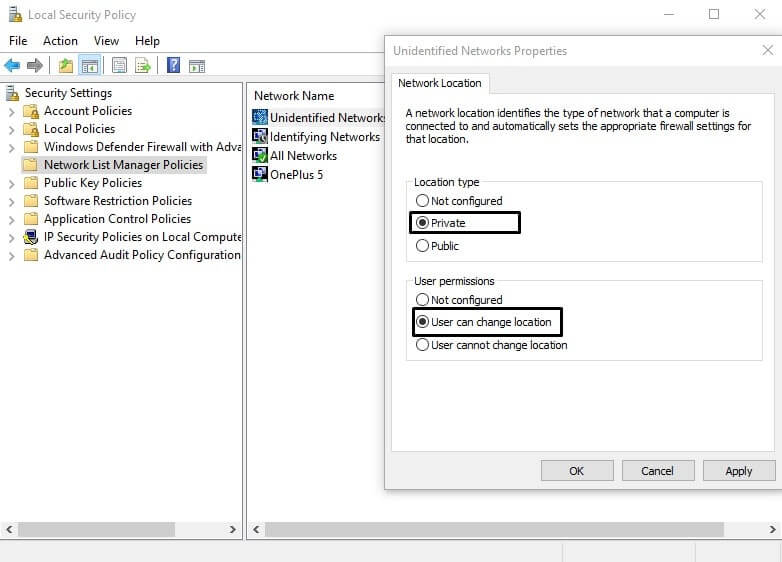 If the private option doesn't fix the problem. You can try setting it to the public option.
Solution: 7 Add Network Address / Mac Address.
This is the best method, I found on a forum to fix "Unidentified Network Ethernet" error. You just need to add the mac address.
Open Network Connections Page in Control Panel. (Check Solution no. 4.)
Right-Click on Ethernet Connection> Click on Properties. After that, click on "Configure" button.
Go to the Advanced Tab. From Property select "Network Address".
If the value is set to "not present". Then, to identify the network you need to enter network address aka mac address.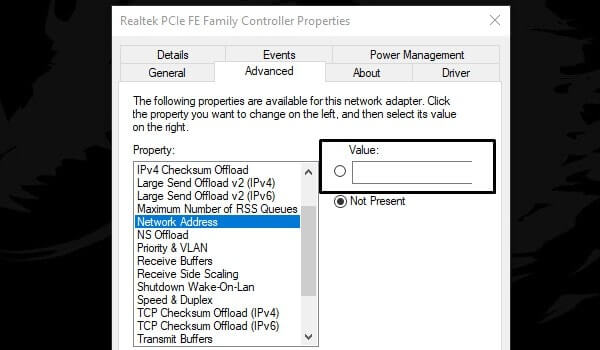 You can find out your Ethernet Mac Address with a CMD Command. So, press Windows + R key type "CMD" and press enter.
In Command Prompt type the following command and press enter.
ipconfig/all

This Command will show you physical address aka mac address of your ethernet. Copy and paste mac address in network address value. And, then click on OK.
That's it. Hopefully, "Unidentified Network Windows 10" problem will be resolved.
Solution: 8 Run Network Troubleshooter.
If you unable to fix "unidentified network no internet access windows 10" error by yourself. Then, you can use the built-in Network Troubleshooter by Microsoft. It will automatically find out the exact problem. And, will provide you with solutions.
Right-Click on Network Icon > Open Network & Internet Settings.
Now, In Network & Internet Settings page click on "Network Troubleshooter".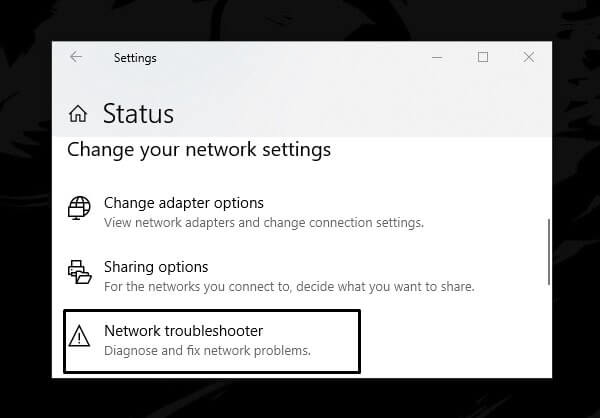 That's it. Windows will automatically diagnose the problem for you.
Solution: 9 Refresh Network Settings.
There are few commands that you can use to refresh Network Settings. Specifically, these commands will reset your IP, Winsock and will flush DNS. And, also will fix "Unidentified Network Ethernet" error.
Open Command Prompt or Windows PowerShell. Now, give the following commands one after one.
ipconfig /release
ipconfig /renew
netsh winsock reset
netsh int ip reset
ipconfig /flushdns
ipconfig /registerdns
netsh int tcp set heuristics disabled
netsh int tcp set global autotuninglevel=disabled
netsh int tcp set global rss=enabled
netsh int tcp show global
Solution: 10 Update Modem/Router Firmware.
It could possible that installed firmware of your modem. Doesn't support newer version of Windows. So, I suggest you go to the manufacturer site. And, download the latest firmware for your Modem or Router. Updating firmware can fix "ethernet unidentified network" error.
Solution: 11 Change DNS Server & use static IP.
Although, this solution is used to fix the DNS related issue. Like, "DNS Address Could Not Be Found". But, still, you can try it out.
Open Network Connection Page. (Check part 1 of solution 4.)
Right-Click on Ethernet > properties.
Select "TCP/IPv4" and then click on properties.
In TCP/IPv4 properties Window, select "Use the following DNS server address". And, enter the following details.
8.8.8.8
8.8.4.4

It's Google DNS server details. If it's DNS issue, then the problem will get resolved.
Conclusion: Unidentified Network Ethernet.
So, these are the solutions that you can use to fix "windows 10 unidentified network" error. The main reason behind this error is "Computer is unable to recognize ethernet connection". So, if you're using the wired modem. Then, I suggest you buy a router. Connect Router to the modem.
And, then you can use router ethernet connection or can use WiFi. Or, if nothing works, and you don't want to buy. Then, contact the service provider. Also, if you have recently updated Windows. And, after that problem started. Then, reinstalling Windows is a good idea.