Last Month, WhatsApp did released the most awaited feature, WhatsApp Stickers. Though, Stickers feature wasn't the new thing in messaging Apps. Even, Facebook Messenger had stickers feature from a long ago. Because, WhatsApp Sticker feature is new. So, currently there isn't much stickers available to send. Though, you can add stickers using some WhatsApp Stickers Apps. But still, the most popular WhatsApp alternative Telegram, offers a large collections of stickers. And the good thing is, now you can use Telegram stickers in WhatsApp.
Though, WhatsApp doesn't offer any feature like that. But still, I got a way to import telegram stickers in WhatsApp Messenger. Which, I am going to share with you. This whole process looks a little bit complicated. But, after trying it once, it will look easy to you.
Use Telegram Stickers in WhatsApp.
Download Telegram Sticker Pack.
Although, You can import all Telegram stickers pack to WhatsApp. But, the process will get lengthy. So, I am going to demonstrate with one sticker pack. You can repeat the process for all stickers packs.
Copy Stickers Link.
IMPORTANT: Initially Telegram doesn't comes with Pre-installed stickers pack. So, to copy link of the stickers. You have to download some of your favorite stickers in Telegram App.
1. Open the Telegram, Tap on, three horizontal line (hamburger menu icon) > Settings.
2. Scroll down a little and then tap on Stickers and Masks option.
(Here you will able to see all downloaded stickers. If not any stickers pack appears. Then, tap on Trending Stickers option and then add some stickers.)
3. From the right side of downloaded sticker pack, tap on three dots. And, then tap on "Copy link" option.
Add Sticker Downloader Bot, and download sticker pack.
Telegram App allows users to create channel and bots. And, good thing is, there are multiple bots available to download Telegram Stickers.
1. Go to the main screen of Telegram App. Tap on search icon. And, type "Sticker Downloader", and tap on the first search result to add bot.
2. Click on start button. And, bot will show you multiple options.
3. First, tap on settings. Now, bot will ask you to select stickers output format. Select "Webp only" option.
(We can't add stickers in WhatsApp in jpeg or png format. That's why, we are making changes in settings, and choosing webp format.)
4. After that, paste the copied link in bot message box and send.
5. Soon, you will receive a zip file of that stickers pack. You just need to tap on download icon to download zip file.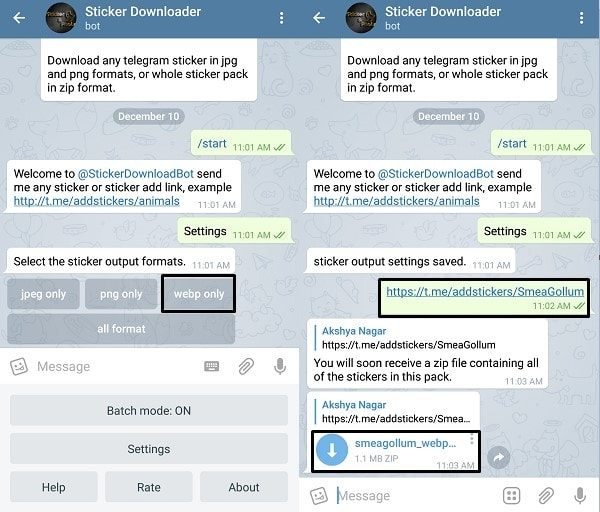 Extract Stickers Zip File, and Move.
You can't add Stickers pack in WhatsApp using Zip format. So, you have to extract the zip file. And then move the stickers folder into main directory. (In Root directory.) You can use ES File explorer to do the so. But, nowadays normal file manager is capable to extract the Zip file.
You can find out downloaded stickers pack in the following directory.
Internal Storage > Telegram > Telegram Documents. (Zip File name will be different from the stickers pack name.)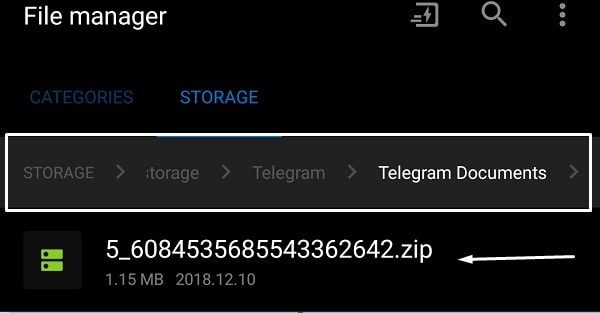 Now, unzip the zip file into your root directory. Or, you can move into download folder.
Add Telegram Stickers in WhatsApp.
To use Telegram Stickers in WhatsApp Messenger. You have to first add it into the stickers section. So that you can anytime easily can send telegram stickers in WhatsApp.
1. Install Personal Stickers for WhatsApp. – This App allows to add custom stickers into the WhatsApp.
2. Open downloaded App. Tap on + icon.
3. Select all downloaded stickers to combine them into one stickers pack. You can give a name to your stickers pack if you want. After that, tap on check mark (✓) icon.
4. You will able to see a popup window after it. It will ask you to add sticker pack to WhatsApp. Just tap on Add.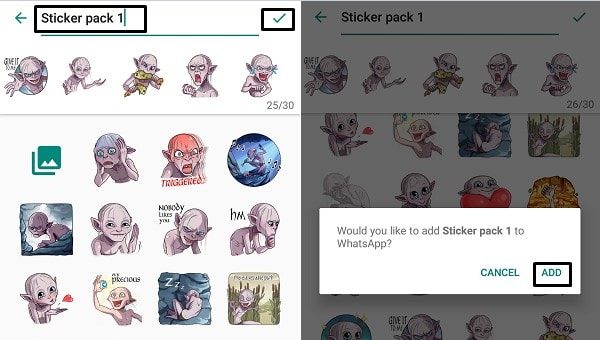 That's it. You have successfully imported Telegram Stickers into the WhatsApp App.
Send Telegram Stickers in WhatsApp.
Now, to send telegram stickers in WhatsApp. Simply open WhatsApp Messenger, open chat screen of any user. Tap on smiley icon and then tap on stickers icon. Here, you will able to sticker pack that you have added. Tap on it, and tap on the telegram sticker that you want to use.
So, this was the way to use Telegram Stickers in WhatsApp. You can repeat the same method for all remaining Telegram Stickers pack. If you face any trouble while trying out this method. Feel free to Comment.