WhatsApp Messenger is the most popular Smartphone application, And there is no doubt that it provides the best features. But it doesn't mean that other messenger applications are worst. There is plenty of Messenger Application available on App Stores. And many Best Messenger Apps provide impressive features that still not available in WhatsApp. We all know now Facebook-owned WhatsApp and trying to provide all those features that we can find in other Applications. Like WhatsApp, there are other secure and Personal Messaging Apps also available that you could try and we can call those Apps WhatsApp Alternatives. Here is the list of the WhatsApp Alternative Apps that you can use in 2017.
Top Best WhatsApp Alternative Apps.
Google Allo.
Google Allo is the Instant Messaging App, Developed by Google. The app is quite New, but it comes with some unique and impressive features. And If we talk about security then I think this app is much more secure than WhatsApp. Because after Facebook-owned WhatsApp, now WhatsApp shared all data with Facebook.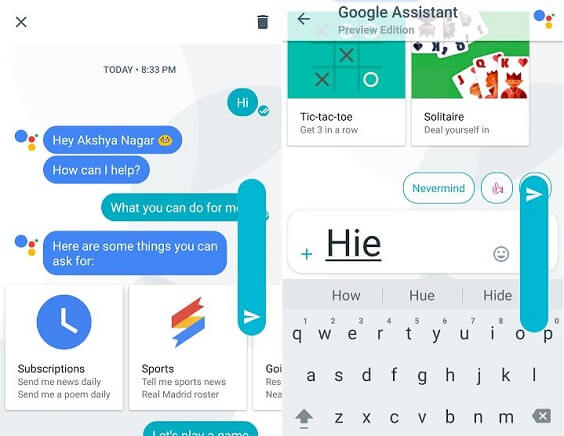 The main highlighted feature of this App is Google Assistant; You can do lots of things with it. Google Assistant is a Voice Assistant feature by Google, and it's still only available for Nougat. But you can use that feature by using Google Allo App, even if you are using Android KitKat OS.
In WhatsApp still, we are unable to Find stickers, which most of the Messenger Application providing. But in Google Allo Messenger you can find the Stickers option. And one more unique feature that you might like is the Incognito Chat Mode / Self-destruct timer. There are also many other cool features available like Shout or Whisper, Smart reply, that makes Google Allo Best WhatsApp Alternative.
Telegram.
Telegram is Well – Known WhatsApp Competitor and still the Best WhatsApp Alternative out there, It is an old app and provides the same features as WhatsApp. And some features were only in Telegram App, but now you can see on WhatsApp. Many WhatsApp features you can find in this App, but it's not a replica of WhatsApp.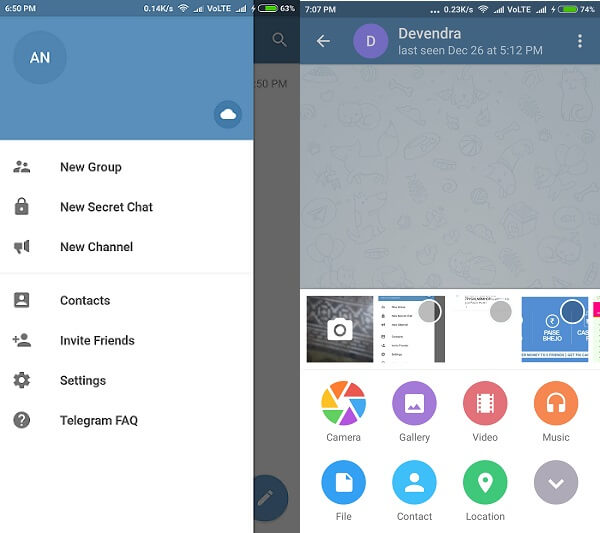 It is famous for some of its unique features like you can create supergroups on 5000 people and also create secret Groups like Facebook Groups. And it also provides the ability to share big Files up to 1.5GB. Like Google Assistant in the Google Allo application. You can find telegram Bot, which allows you to play Games, within Messaging Application. The stickers section also available in this App and like WhatsApp Web you can use this App also on the Web.
But still, you can't be able to find the voice and video calling option in this app, But you can see there is the lot more impressive feature available in this app. That makes this App Best Messaging App.
Viber.
Viber is another best Instant Messaging and VoIP App, and I can say Viber is a much better app than WhatsApp. In Viber, you can find all the features that you can currently see in WhatsApp. If we talk about security, then it is much secure because it provides end-to-end Encryption to calls, messages, and Files. Also saved the message in other devices also secure with encryption, it provides multi-device support that is still missing in WhatsApp.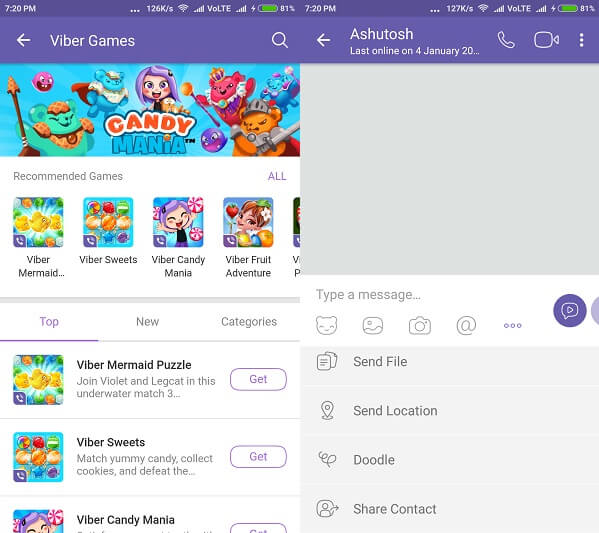 If we talk about chat features then many new and impressive features available like Stickers, last Seen, voice and video calls, chat backup to Google Drive, chat background. There is a Game Store also available; you can find many Fun Games in it.
Recently Viber introduced a new feature, Secret Message by using it you can set a time limit for photos and videos, so they self-destruct after they've opened. You can also sync your messages with Desktop & tablets, and you can follow Public Viber accounts also. These all excellent and useful features make Viber to Best WhatsApp Alternative & Best Messaging App.
BBM – free Calls & messages.
BBM is also known as Blackberry Messenger; this app was first only available for Blackberry mobiles. But now you can find this app on the Android and iOS app store. BBM is also the most secure messaging App and provides end-to-end Instruction and we can call this app WhatsApp Alternative.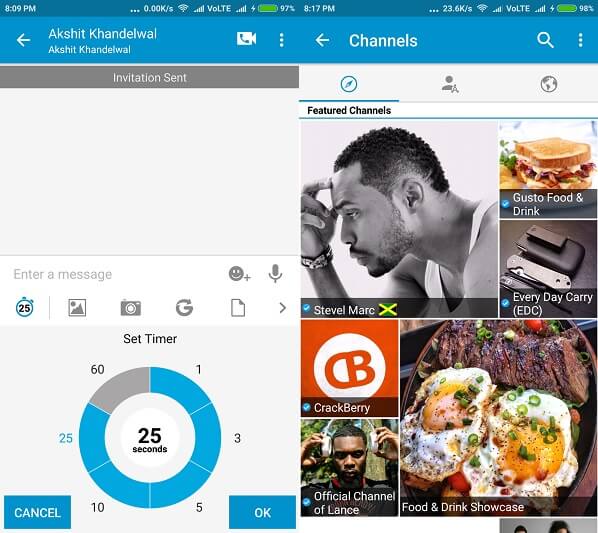 If we talk about features, then you can find all the features that you can see on Whatsapp. Self-destruct timer Message was first introduced by BBM messenger. This app is also famous for other impressive features like send a chat to email, end chat, send files from Dropbox, you can ping your friends also.
Like telegram sticker section also available in this app and it also allows you to share locations like WhatsApp. You can also do voice and video calls to other BBM app users. There are channels also available in this app; you can join any channel for FREE and get updates.
Wire.
If you want to try a new Messenger App, then Install Wire once. There are plenty of unique and impressive features available in the wire App. I can't tell you wire is secure or not but the feature of the Wire app is somehow unique. Like Google Assistant in this app OTTO THE BOT available you can chat with it.
Like other Instant Messaging App, the Wire app also provides Voice & Video calling feature. There is two unique and impressive feature available in this app. The first one is .gifs images. You can find large collections of .gifs from the Giphy site. You can't find this option in any other app except Facebook Messenger. Another feature is you can draw and send the drawing to your friends.
Hike.
The hike is the Best Instant messaging app developed in India. If you are searching for messaging app with an Image share option like Instagram, then Hike is the better choice. The hike is a much secure application just like WhatsApp. You can also find chatbot Natasha, which gives you a funny reply. Stickers and all other normal chat options you can find in this app.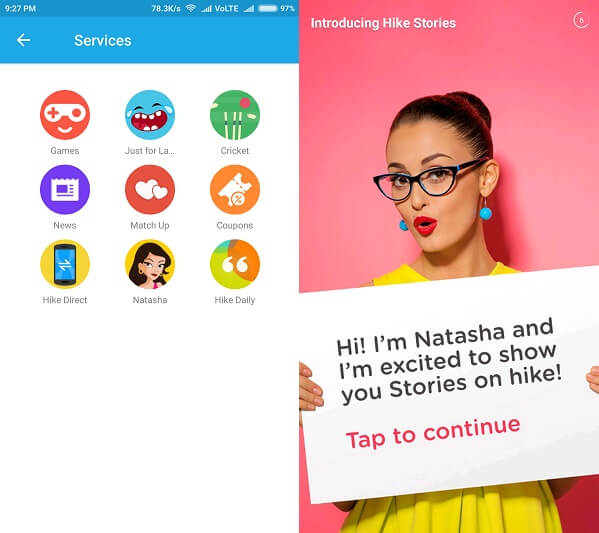 You can find some unique features in this App; you can send SMS to anyone's mobile number using this App. It provides an inbuilt app lock feature, which is more secure than third-party Apps. Like BBM channels in this app services option available, by using them, you can get cricket, news updates, and also you can play games. You can also share text and image stories just like Facebook; this app is much more than Instant Messaging App. And we can call this App Best WhatsApp Alternative.
Line.
The line is also Best WhatsApp Alternative and Free calls & Instant messaging app; it is also secured and provides encryption to messages and calls. The best part is after creating a Line account is in App, you can use it on the computer by installing Line software.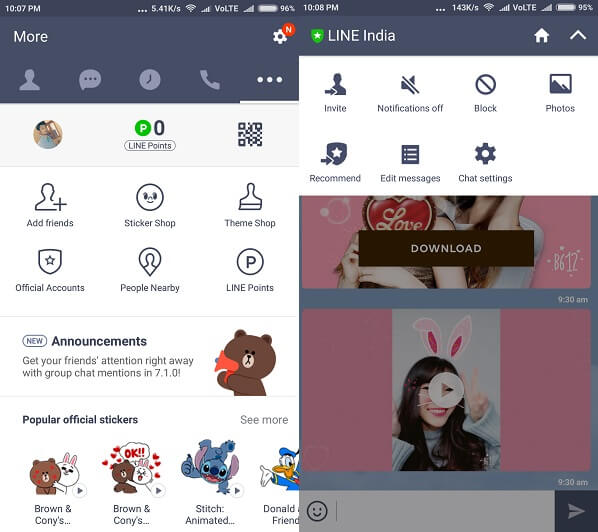 There is one unique feature you might like while chatting in Groups; You can mention any particular group member. It also provides multiple device support, if you are changing devices, then it will sync your old mobile data. Theme Store and Sticker shop also available in Line App. Like WhatsApp, you can replace the background image of a particular chat. There is not much different option accessible in this app, but you can give it a try. If you are using the old Android device, then you can try the lite version of the Line App.
Imo Free Video Calls and Chat.
Imo app is dedicated to video calls, and it is the competitor of the Skype App because it provides an awesome video call service for Free. But there is no doubt it is also Bthe est Instant Messaging app and WhatsApp Alternative. Imo app provides end-to-end encryption to chats and calls, Group video call feature also available that we can't find in WhatsApp. The user-Interface is simple, and this app doesn't provide self-destruction and stickers, and other features. But all those features that you can find in this app are perfect.
Get Imo Free Video Calls and Chat. 
Conclusion
There is no doubt that WhatsApp is Best and popular Instant Messaging App. But still, some features that we want to see in WhatsApp. These apps provide all those missing features and some excellent unique features. Still, there are many messaging apps left to mention, but these are the top Best WhatsApp Alternative that you should try once.