After Siri for the iPhone launch, artificial intelligence is a new trend in Mobile devices. Everyone likes to have a similar app like Siri on their Smartphones. Now we have tons of apps and options available that provide the personal assistant feature on Android devices. As we know Google developed Android OS in 2005, so after Siri's launch, Google also acquired its Best Voice assistant apps Google Now. Nowadays we are familiar with the advanced version of Google Assistant with Next-generation AI features.
Google and Amazon moved Artificial Intelligence to the Next level by providing Google Home and Amazon Alexa hardware devices. Both are the best Personal Assistant Hardware for the home.
If you are an Android user and searching for Siri for Android devices, then your search ends here. There are plenty of Android apps available that provide similar features and some better functionality than Siri. Here is the complete list of Best Voice Assistant Apps that can replace Siri in the future.
Siri Alternatives: Best Voice Assistant Apps
CoA – Cortana on Android
Every year Microsoft comes with a new version of windows packed with some advanced features. Last year, Microsft launched Cortana for Windows devices, and an upcoming date, Microsoft is going to launch its creator's update, Cortana is a voice assistant feature of Windows 10. Now Microsoft is developing Cortana for Android devices. Also, Cortana is somehow similar to Siri; It can do many tasks by taking voice Instructions.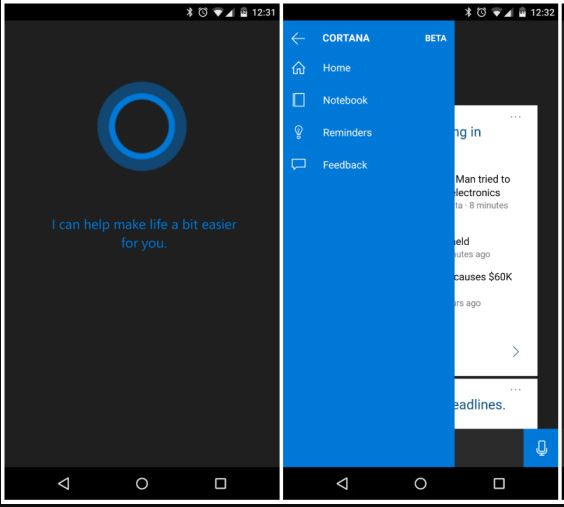 By using Cortana on Android devices, you can Set a Reminder, make a phone call, Set and get location and time reminders on your PC and phone. You can also Track flights, train reservations, cricket scores, stocks, mobile phone bills, and other relevant info, and you can use Cortana's Notebook to view, edit and manage your interests. These features make Cortana the Best Voice Assistant app.
Google Now
Google now is Google's official and one of the Best Voice Assistant Apps. As we know Google powers it that's why If you ask something that App can't reply then it will redirect you to the Google search result. It is somehow similar to Microsoft's Cortana and iOS Siri, but Google Now is available for both Android and iOS devices.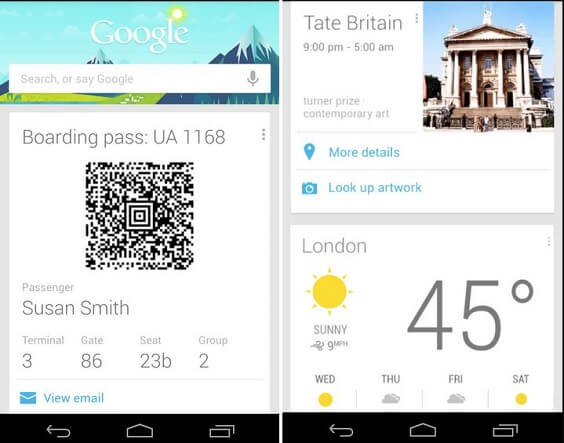 It also allows you to perform every task like set reminders, schedule events, make calls, search the web, post on social media, and much more. Like Cortana and Siri, Google Now also allows us to access by using the "OK Google" voice command. You can do everything that you were able to do with different- different Google Apps. But it really doesn't know you, and you can't talk with Google Now like Siri and Cortana. That's why recently Google introduced us Google Assistant feature.
Google Assistant
Google Assistant is the somehow Advanced and Next-Generation version of Google Now. It does the same thing but comes with some extra Voice command feature that makes your Android experience better. You can easily get it in the latest version of Android which is Nougat. The preview version of Google Assistant was first launched in Google's chat App called Google Allo Messenger.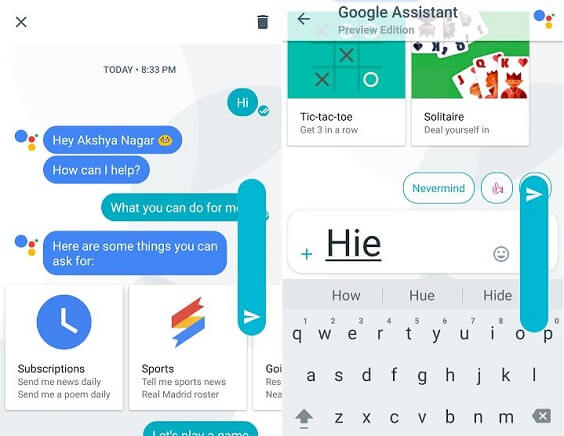 While Google Now offers us very official Google Voice search and access to do many tasks, Google Assistant provides us with information and the ability to do conversations in and More Accessible Format. Google Now only provides us with search results that are present on Google while Google assistant gives the reply to our questions just like human beings.
AIVC (ALICE)
AIVC (ALICE) is a pretty good one of the Best Android Assistant Apps. UI Interface of AIVC you might not like but the feature that it provides is out of the Box. It offers some basic functionality like opening Apps, Makes Phone Calls, can send SMS & Email using Voice Commands also like other Personal Assistant Apps you can Set reminders and do other things.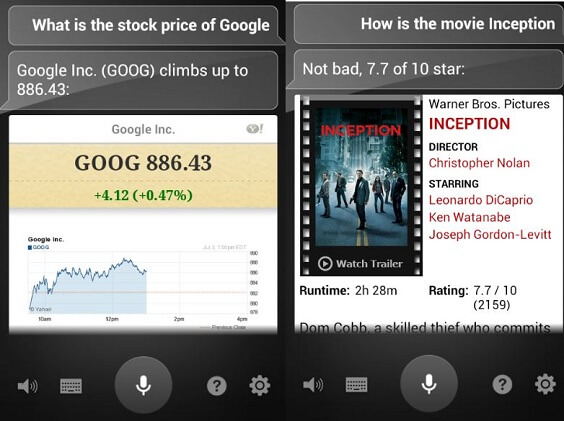 Like Siri & Google Assistant, AIVC also allows us to have a conversation with it. You can ask many questions like Do I have unread messages?. Alice knows a lot and is always learning new things. There are many Questions that only AIVC can answer, If you are searching for an Assistant app to Kill time then AIVC is the Best Choice. There is Paid version available of ALICE; you can buy if you like the Free version of it.
Jarvis – My Personal Assistant
Jarvis is a novelty Voice assistant app with skyrocketing your phone's coolness factor to a whole new level. If you are a Die-hard fan of  Ironman movies then must try this Ironman Assistant app once. But don't get wrong this app more than show off.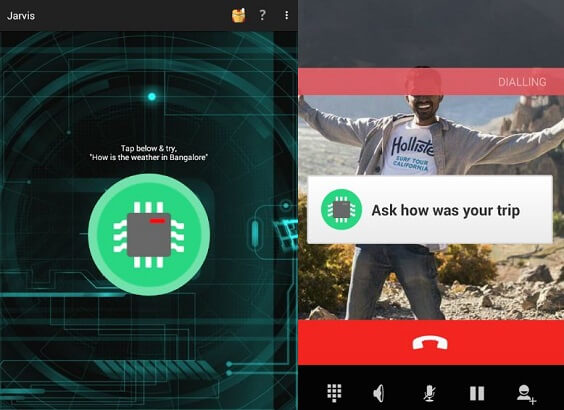 Jarvis App comes with some unique Voice Assistant Apps features; you can make calls & send text messages, Voice Notifications, and Wake up alarm like the movie. And the best part is you can do conversation with Jarvis, and it gives you dynamically answers, and some of them are truly Funny. You can also do general searches like Google Now App, and there are many more features that may you like about Jarvis.
Robin
If you travel a lot, then Robin is one of the Best Voice Assistant Apps for you. Robin app is dedicated to providing Local Information, GPS navigation, and even jokes while keeping your eyes on the road. It also Provides Information about Road Traffic & Weather.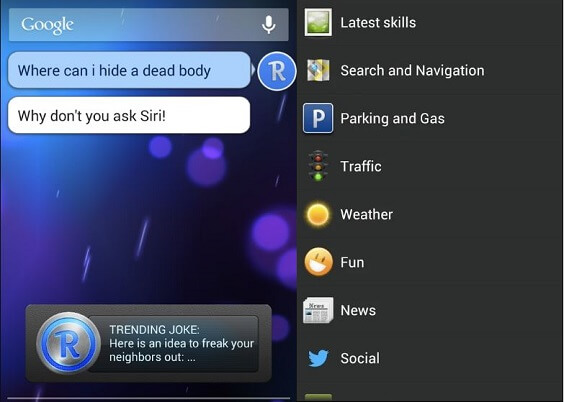 And things do not end here; you can also send Text messages while driving the vehicle by using Voice. It also allows you to post the status on Social Media platforms, all you need to do is Give voice commands. There is a gesture feature also available by using it you can turn it off, and Robin will never Email anyone without your personal. Still, it is in Beta state, but you will like it.
Indigo Virtual Assistant
Indigo Virtual Assistant is the best Personal Assistant If you are looking for a Voice Translator App. You can also ask Indigo about the weather and like other Assistant apps you can make a Phone calls, and send text message by using Voice commands.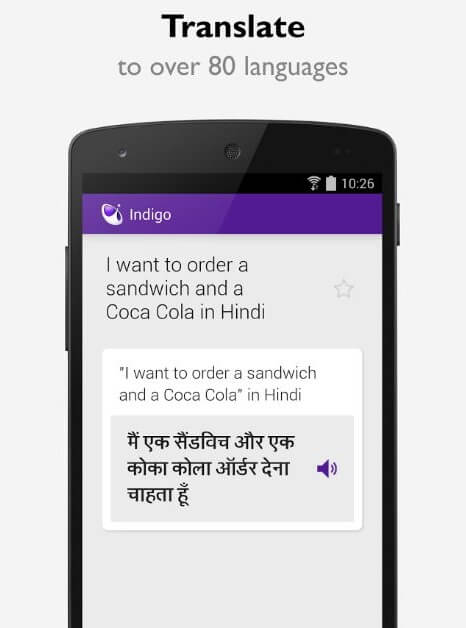 The best thing that you may like about is it gives his opinion while you are talking to another person. Like Robin, this app also helps while you are driving and gives directions and traffic Information. And it also allows you to search for things on Google and Bing. There are many things that you can do with it, and Indigo App has many unique features that you might like.
Cyman Mark 2 Free
Cyman Mark 2 is one of the Best Voice Assistant Apps that comes with some advanced features like, you can manage your computer files using Cyman Mark. It also helps like the butler and helps you in cooking by providing steps to cook food.
It also provides you with voice notifications of messages and replies to Incoming messages by using your voice commands. And also provides you with early morning News and you can ask for other details like flight timing, and train schedule. Cayman helps a lot in daily life, If you need your personal Butler, then this app is Best for you.
EVA – Voice Assistant
EVA blows away the other assistants when it comes to useful & unique features. If you use Evernote then EVA is the best option for you, It is integrated with Google+ and Tasker also. This app is connected with INSTEON home appliances that will help you turn off lights.
Time-based reminders are also available with Eva, it will notify you and provide location-based reminders. Like Robin, this app also has car mode and provides a much better feature than Robin. It also helps you in bookmarking sites and searches on the web these things make EVA Best Voice Assistant Apps.
ANDY Voice Assistant
ANDY is an intelligent voice assistant, knowledge navigator, and voice control software designed for Android devices. Like other Personal Assistant Apps, Andy also can send text messages, make phone calls, give you directions and answer pretty much questions that you throw at him.
It covers most of the Wikipedia information, but you can also ask about other things like weather and time. If you are a student then this app also is best for you to get answers to algebra questions, and do unit conversions. It's smart enough to answer questions even if English is not your first language.