No Doubt, that Google Play Store is the largest App Store, even it's bigger than Apple's App Store. Apart from Android Apps and Games, From Play Store you can get movies (can rent or buy), music, books, NewsStand. 80% of Android Apps and Games are available for free on Google Play, But rest 20% are paid. You can buy paid Apps through Credit or debit card, Net banking or using Gift Card or Promo Code. But only a few Android users know that they can earn Free Google Play Credit.
How to get Free Google Play Money or Gift Card?.
On Android, there are few reward Apps available, Which offers Free Google Play Balance or Gift Card for completing few tasks and surveys. One thing you need to understand that, Not any site can provide Free Gift Card. There are multiple fake sites available on Internet, that claims to provide Free Play Store Gift Card or Promo Code.
In this Article, I am going to list down few Reward Apps that actually offers Gift Card or Credit. So If you want to earn free Google Play Credit then follow this article.
Best Apps to Earn Free Google Play Credit.
Google Opinion Rewards.
Currently, It is the only legitimate way available to get Free Google Play Money. The app is developed by Google, That's why it's completely genuine App. Google Opinion Rewards, provides quick surveys to earn Google Play Credit. App provides surveys once a week, and the maximum amount you can Earn by completing a survey is USD 0.50 (INR 32.50). Whenever new surveys come, App will send you a notification. So Don't force close the App, Otherwise you"ll not get notified.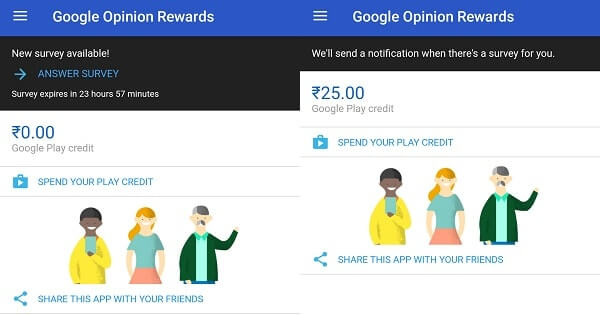 The app doesn't offer Gift Card or Promo Code, It offers Play Store Credit. Which will automatically get credited to your connected Google Account. But to get surveys few things you need to do, Otherwise, you will not get any surveys.
Download and Setup App.
Download Google Opinion Rewards.
– After downloading and Installing App from Google Play. Open App and now skip the intro part.
– Now choose Google Account if multiple Gmail Account added.
– After selecting the Account, App will ask you to enter the name, postcode and other personal details.
– Now App will ask some more details like age, language, income. Fill all details and App will take you to the homepage.
How to Get Surveys in Google Opinion Rewards.
Turn on Location Services.
Google Opinion Rewards send surveys as per your location. So to get new surveys you need to enable Location Services. And also don't forget to enable "Google Location History" from App Settings.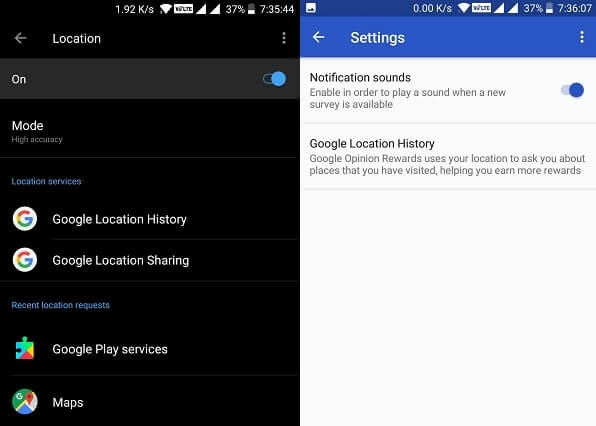 – First open Android Settings> Location> Turn on Location and set the mode to High accuracy.
– After turning on location services, Open Rewards App and go to App Settings (Tap on three horizontal line).
– In-App Settings Tap on Google Location History And turn it on.
Turn off Battery Optimisation.
Android latest version comes with Battery optimisation feature. It optimizes battery by restricting background activity of Apps. So, to get the survey you need to disable this feature for Reward App.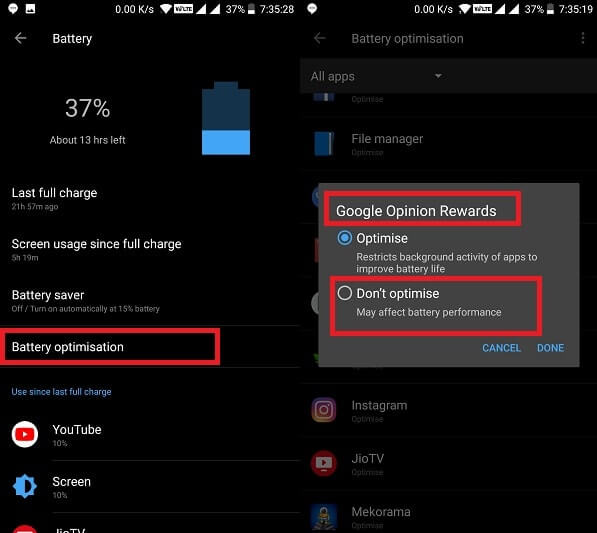 So, If your device also comes with this feature, then first Go to Settings> Battery. After that tap on Battery optimisation and look for "Google Opinion Reward" App. Tap on Rewards App, and Choose "Don't optimise" Option.
That's it, Now you"ll get surveys when you visit new places. Or you will get some basic surveys every week. And you can easily earn Free Google Play Credit.
Few More Apps to get Free Google Play Money.
There are some other Apps also available on Google Play. That offers Google Play Gift Card on downloading Apps and Completing Surveys. Although some Apps review isn't good still you can try if you want.
AppNana – Free Gift Cards.
After Google Opinion Rewards this App is good to Earn Free Google Play Credit. Currently, Google Play Gift Cards offer is only available for US users. To get Google Play card you need to earn some credit in form of Nanas. There are multiple ways available to collect points in App. And if you don't want to complete the task then just open App daily to earn 400 points every day. App offers 10,000 bonus points when you Signup.
If you really want to earn free Google Play Gift Card, then you need to spend time with App. Then you can earn enough points to redeem Play Store Gift Voucher.
Redeem Google Play Gift Card.
This App, not credit Google Play Money directly. So you need to redeem voucher Code If you got Gift Card from Any App. Then follow these Steps to Redeem Google Play Gift Card or Promo Code.
– Open Google Play Store > Tap on menu Icon (three horizontal line) and then tap on Redeem.
– Paste or enter Gift Card code and click on Redeem Button.
Cash for Apps – Free Gift Cards.
Like AppNana, this App also offers Google Play Gift Card. To Earn Gift Card you need to Collect points by downloading Apps. Apart from downloading Apps, you can earn points by referring friends. The app is available for Android and iOS devices. So When you refer an iOS user, App offers 90 points, And for Android user App offer 45 points.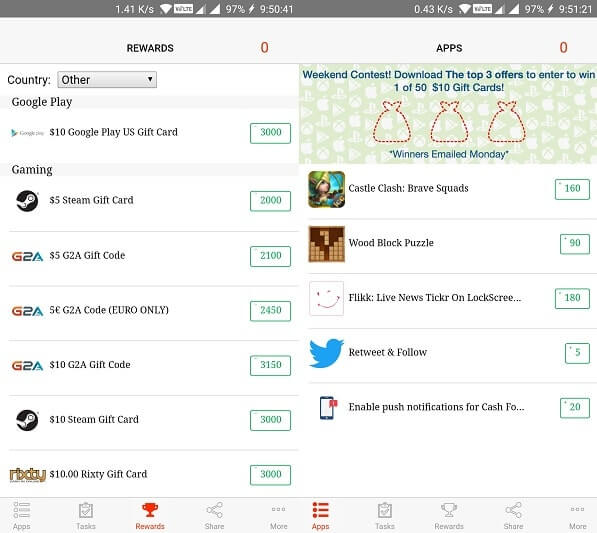 At the time of writing the Article, I didn't find enough apps to earn points. But still, the app has 10 million downloads on Play Store. That's why am adding this App to this list, So you can Earn Free Google Play Credit.
FreeMyApps – Gift Cards & Gems.
This App also works on the same concept and this App is similar to "Cash for Apps". App offers points when you download Apps and complete tasks. You can earn 50 points every-time when you refer your friend. Apart from Google Play Gift Card, you can earn free iTunes Gift Card, Which is the Good Thing. Minimum $25 Gift Card available in this App, And to redeem you need to collect 7500 points.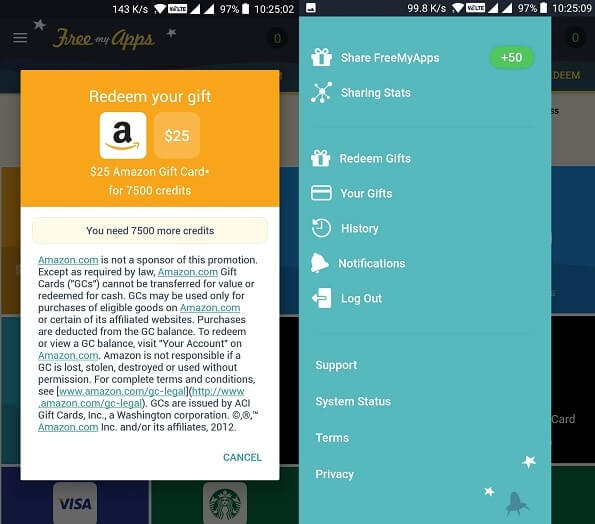 The best thing about App is, It doesn't ask for Mobile Number. You can signup through Google account or Facebook. Available app download task is not enough to earn 7500 points, So you need to refer friends if you want free Google Play Money.
Conclusion – Free Google Play Credit.
Must Read this before Downloading any Reward apps.
You can completely trust on Google Opinion Rewards App Because it's Official Google App. But there are many Apps available on Google Play, Which claims to provide Free Google Play Money. And Offers points when you give Five-star ratings to the App. So don't trust on App Reviews.
I have listed some rewards Apps in this article, due to some genuine reviews and high numbers of downloads. But still, I don't support these kinds of Apps to earn Gift Cards. Because in earning Points takes time and there isn't any guarantee that you"ll get the Reward.