If you have some old GBA games and don't have a Game Boy Advance console. No worries, still you can play those old retro games using some Best GBA Emulator PC. GBA was a successor to GBC (Game Boy Color), which was developed by Nintendo in 2001. Still, it is popular because of some old classic Mario and Pokemon games. No matter whether you're using Android or Windows PC, you can play your favorite games using GBA Emulators.
GBA Emulator is a small computer program that enables the computer to run games designed for the GBA console. It creates a virtual GBA environment just like Android Emulators do, to run Android Apps on PC. Here is the list of all available GBA Emulators for PC and Android. Also, if you want to play some Nintendo GameCube Games, then you can try these GameCube emulators for PC.
Best Working GBA Emulator for PC
VBA – M – Best GBA Emulator
Visual Boy Advance is known as VBA, It is the first fully functional Game Boy Advance Emulator. And the best part is, that it's available for Windows, Linux, and Mac devices for free. It supports all GB, GBC, and GBA Game ROM, which is impressive. It comes with joystick supports that let you play your favorite games using Joystick. Alternatively, you can use a PC Gamepad to play, It also supports full-screen. But the full screen will not give you a good gaming experience because games are made for small screen consoles.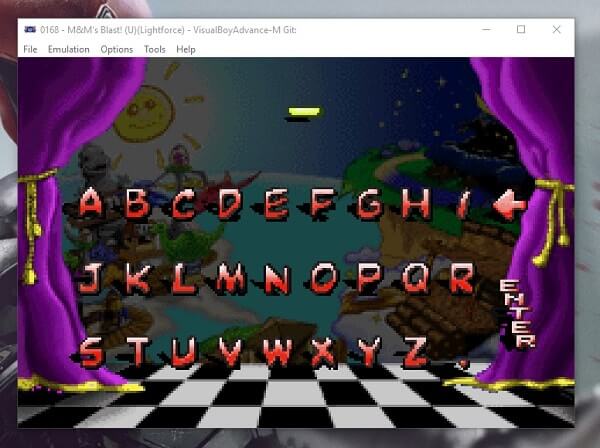 The latest version of VBA – M comes with some advanced and useful features. Now ROM images can be added with LZMA/LZMA 2 7Zip format, which provides better compression for GBA Games. The installation process of VBA – M is very easy, Still, you can follow this small guide to run your favorite game.
Perquisites to Play GBA Games on PC.
Download VBA – M Emulator.
Download the Game ROM File.
7 Zip File Extractor.
Download Visual Boy Advance – M from GitHub.
Step: 1 After downloading VBA – M Emulator, Extract it using 7 Zip software. Open extracted folder and Run "visualboyadvance-m" as administrator. Now a black window will open up with some options.
Step: 2 Click on File> Open and then select GBA Game file and then click on Open. If your ROM file isn't showing then use Drop down menu and choose All files from the File selection window.
As I said before VBA – M is the first best GBA Emulator available for PC but you"ll face issues while running some games. So it's better to know about some alternatives of VBA – M with good features.
Boycott Advance
Boycott Advance is the alternative to VBA – M but it comes with some unique features. It was developed for Windows, Mac, Linux, and FreeBSD to run Gameboy Advance Software. And it works flawlessly, But getting this emulator is quite hard. Because developers ended their support in 2008, And now the file is deleted from their server but the site is still active. Still, you can manage to get from some third-party sites and can run your classic GBA Games.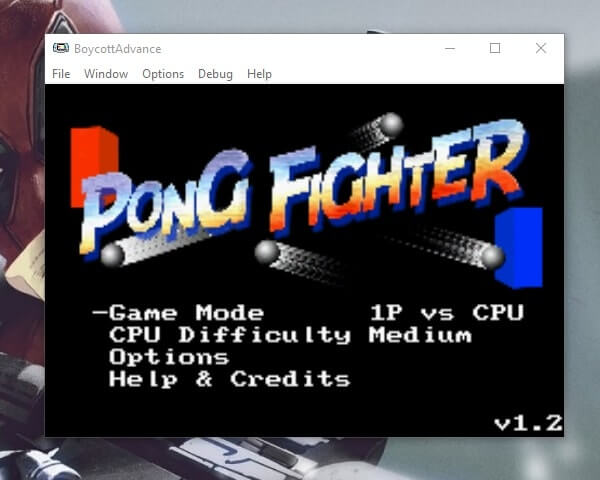 It cannot emulate GBC Games, It is only developed to emulate the GBA console. It comes with a 4X Zoom option, Which is quite useful in some conditions. Also, you can set frame buffer, customize sound channel, and much more you can do with it. The installation process of Boycott Advance is the same as VBA – M and it also supports compressed ROM files.
Short Installation Guide – Download Boycott Advance Emulator from a third-party site (Not available on the official site.). Extract using 7Zip or any other file archive program. Open extracted folder and Run "BoycottAdvance" as Administrator. A black window will open with some options, Go to File > Load ROM and then select Game ROM file and Game will start running.
Note: If you don't have any game to test the emulator then check extracted folder there is one available in the ROM folder.
No$GBA
It is one of the oldest GBA Emulators that was developed for DOS in 1997 and later released for windows. No$GBA is basically pronounced as no dollar for GBA, which Means if you don't have money to buy the console then use an emulator. Apart from GBA Games, It allows for running DS & GBC games flawlessly. So if you're looking for a single emulator to run multiple console games then try this.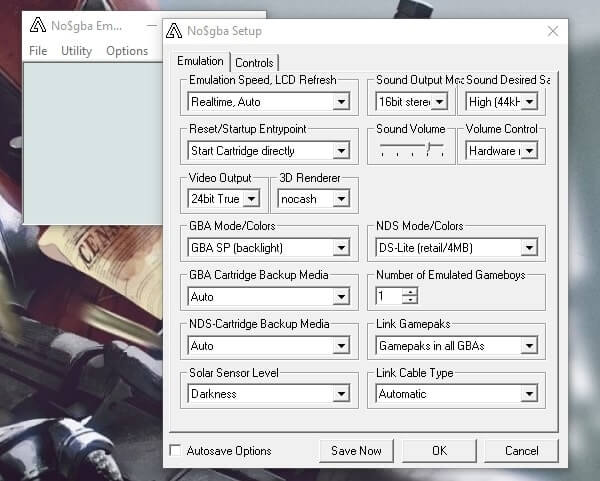 Developers still working on NO$GBA to add more functionality, a few days back they released a new version of it. But unfortunately, it does not support compressed zip files, so you need to extract them to get the (dot) GBA ROM file. It comes with nine slots, So anytime you can switch between 9 GBA Games. It comes with a control setup, So you can set keyboard control for gaming as you want. Also, an Emulation setup is available that allows for Emulation speed, colors, and sound. Overall it is the Best GBA Emulator that comes with advanced settings options.
Download No$GBA GBA Emulator for PC.
Installation process – Download the latest version of No$GBA from its official site and then extract it using 7 Zip or WinRAR software. Open extracted folder and Run the "NO$GBA" setup file When the NO$GBA window appears. Go to File>Cartridge Menu and load dot GBA file only and the game will start running.
BatGBA
If you're searching for a lightweight Emulator to Run GBA games only, then BatGBA comes in handy. It doesn't have any advanced option to set up things but it does what it's supposed to do. You can play all GBA Games flawlessly and you don't need the original ROM file. It allows playing compressed game ROM files which is good. While playing games you"ll not face any frame drop or any other cons, overall it is the best GBA Emulator for Windows.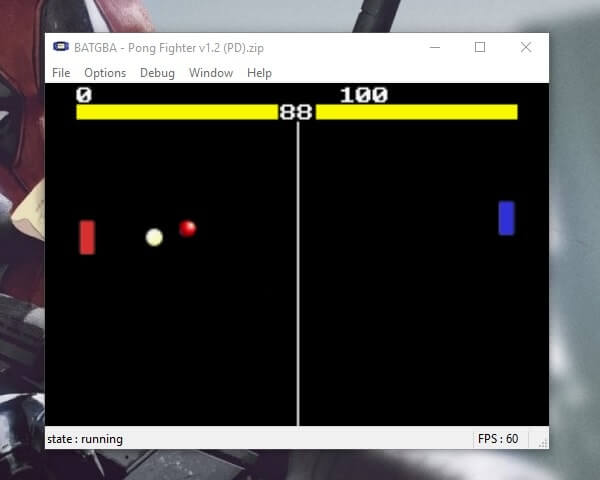 Download BatGBA for Windows PC
Installation Process – There is no need to install it on your hard drive, Simply download Emulator and Extract it. Open Extracted folder and Run "batgba" Application file when emulator windows appear to select ROM file using file > Load ROM file and Run.
Higan
Higan is originally known as Bsnes, Apart from GBA games, it has the capability to Run SNES games. The Emulator is notable for emulating original console hardware to low-level, cycle-accurate emulation. Its support systems besides the SNES include NS, GBC, GBA, SMS (Sega Master System), and WSC (WonderSwan (Color). The first version was released only for Windows, later it is ported to Linux, Mac, and FreeBSD.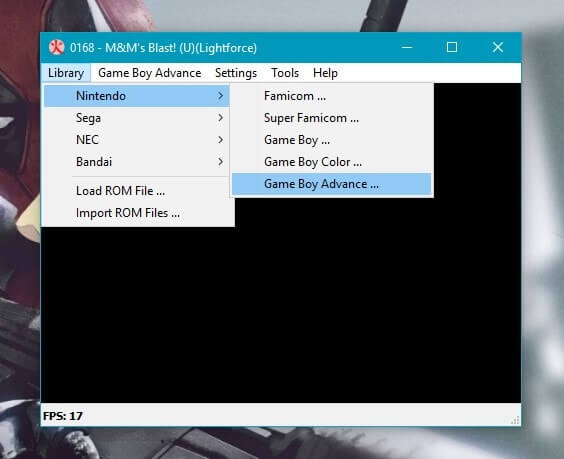 It allows you to set up video colors and Audio effects, Also you can set control settings and play games using a Gamepad. There is an advanced option also available which allows changing game library location. The installation process is the same as other Best Gameboy Emulators for PC.
My Boy! Free – Best GBA Emulator for Android.
Like Windows, On Android, there are dozens of Emulators available to Play GBA Games. My Boy is the first GBA Emulator that runs any classic Game without any issue. If you're looking for an emulator to play GBC or GB games then you can try My OldBoy Emulator. There are two versions available for My Boy, One is free and another one is paid. The free version only allows to save and load games from games' built-in capability, not from the emulator menu.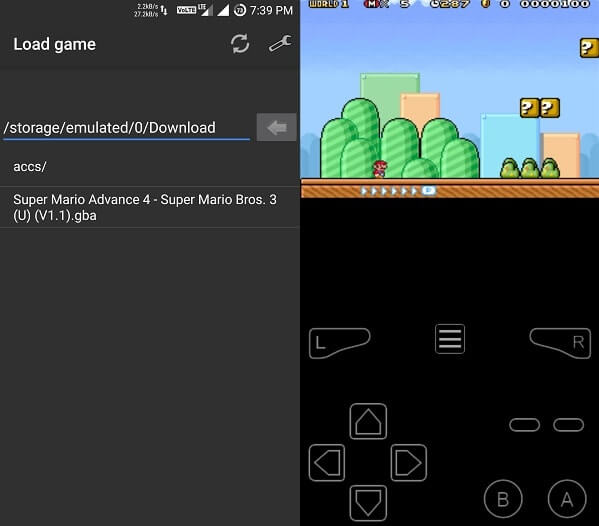 But the Full version comes ads-free, and you can save and load multiple slots, Which is good. Also with the paid version, you can sync the saved file with Google drive, and fast-forward the game up to 16x speed. It also supports a gyroscope/tilt sensor which is missing in the GBA PC emulator. Comes with an on-screen gamepad that lets you play any game. Overall it is the Best GBA Emulator Android to Run your favorite classic games on your Mobile.
Installation Process – You don't need to download any BIOS file to run GBA Games, All required files come inbuilt. Simply move the GBA game file to your memory card, then download the My Boy app on your Android Device. Open the My Boy app and then the file menu will appear, select the game file and the game will start running.
Download My OldBoy! Lite Emulator
Summing-up
Okay, so these were some best GBA Emulators for PC. Still, there are dozens of Emulators available that allow playing any GBA Games. But some of those are copy versions of these emulators. If you're confused between PC Emulator try between NO$GBA and VBA – M. Or for Android, you can use the My Boy Free version it works flawlessly. That's all folks if you know any other better Emulator Feel free to comment.