Are you an Android user, Want to record video in slow motion but there is no option in your stock camera app right? Now slow-motion video feature is not limited to High-end video recording cameras and iOS users. Now Android users also can give slow motion touch to their videos by using slow-motion video Apps.
What can you do with slow-motion videos?
The slow-motion feature will make any video fun to watch and watching slow-motion videos will give you an entirely different experience. Making videos of yourself making some dance moves and later slow it down that video, you will see how entertaining the video is. There are also some more productive uses of slow-motion videos, For Example, While playing cricket or any other game it hard to decide who lose and who win but by viewing the recorded video in slow motion it's easy. The possibilities of what you can do with slow-motion videos are endless.
As you know, Android phones have cameras to record videos but not all of them slow-motion recording options available. But on Android App Store (Google Play Store) there are dozens of Slow Motion Video Apps available that provide the ability to record video in slow motion. Today In this article am going to list down the Best Slow Motion Video Apps free and paid. By reading about them, you can decide which app is best for you.
Best Slow Motion Video Apps for Android.
Slow Motion Video FX
Slow Motion Video FX is one of the best apps created for Slow Motion video as well as Magic Fast Motion Videos. It's Completely FREE app until you don't want to remove ads. If ads are annoying for you or if you want to help the developer then In the Paid version you can remove ads. Otherwise, all features are open in the FREE version.
This app is very straightforward and user-friendly, It allows you to record video using your stock camera app and make Video as Fast and Slow as you want. Also, you can use Pre-recorded video to make it Fast / Slow.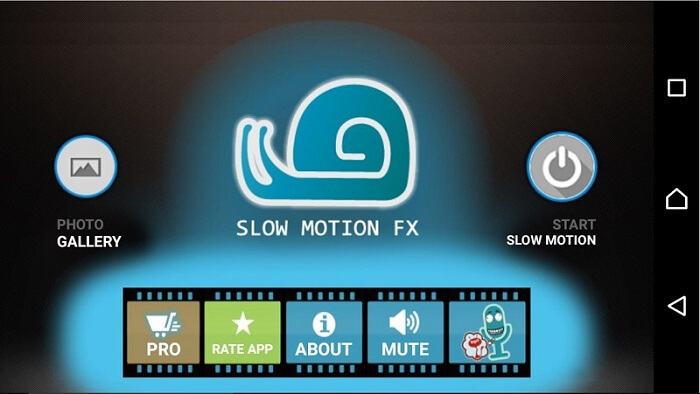 There is also an option available to cut the particular video Part to make it a slow motion video. When you select video or record video it will show you an option to trim video, all you need to do is select the start part and the preferred end part.
You can make video 5X faster or Slow video at half speed. Also, record your speech and make it slow – you'll sound strange. You can also share your output video to any Social Media Platform that you want. Ultimately Slow Motion Video FX app is Best Slow Motion Video App for Android.
SlowPro
SlowPro is another best slow-motion app that focuses only on its features. It is better than the Slow-motion Video FX app but the only thing that makes this app on the second number of my list is this app adds a watermark on video when you make it slow. But you can remove the watermark if you can buy the paid version of this app, But if You don't have any issue with this watermark thing, then you can use the FREE version because none of the features are locked in the FREE version.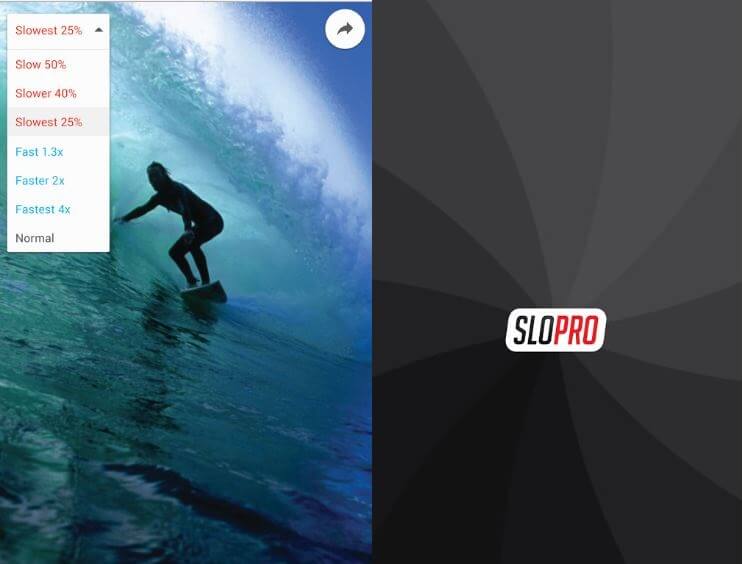 The interesting and the best part about this app is you can make videos slow or fast in Real time. You don't need to select any particular part of the video. Simply play video using SlowPro app, and you can find the slow or fast option on the screen. You can set slow or fast speed as you want
You can Find six-speed option in SlowPro app three option is for slow motion videos and three for fast motion videos; that thing makes this app Best Slow Motion Video App for Android. You can also share video output on social media platforms.
Androvid Video Editor
Androvid is basically, or we can say a completely Video Editor app that provides users to each and every feature that requires on any video editor apps. It's not specifically for Slow motion app, but it also provides you slow-motion features. If you need some extra features with slow motion, then this app is entirely made for you. There is two version available for this app; Paid version cost you around 2$.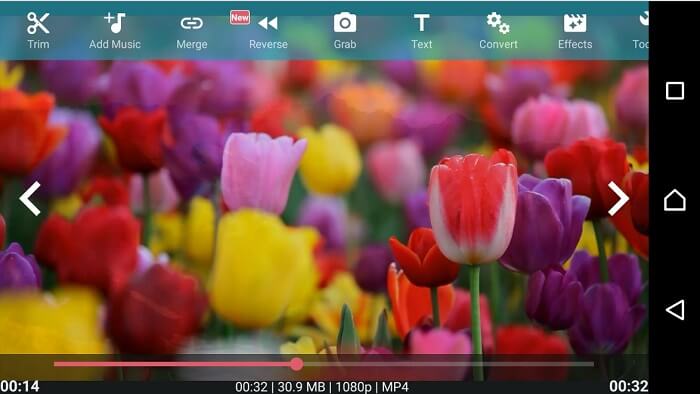 Apart from slow motion video, there are some interesting features available like Reverse your video to make magic. If you have a large size the video and you want first to cut and join part then want to make it slow then this app can solve your this problem.
You can convert videos into Gif also you can convert video from one format to another. And also you can make the slide show using your pre-recorded video. There are many features available on this app, describing all is not a good idea but use this app is a better idea. So, at last, I want to say If you want a complete package to edit videos in any way then Androvid video Editor is the best App for you.
Fast & Slow Motion Video Tool
It is the best app if you don't want extra or unwanted features because this app is entirely made for making slow motion and fast motion videos. When you open up this app, it will show all videos that you have on your device. You can select which video you want to make fast and which you want to make slow.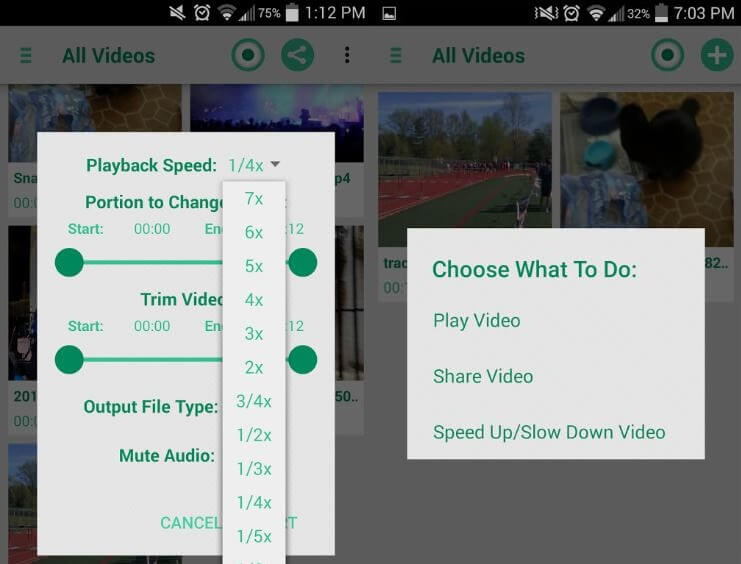 As I mentioned, this app is focused on a slow motion video feature that's why there are speed options available you can set video speed as you want. You can speed up or slow down videos from 8X to 1X. Unlike the Slow motion video FX app, this app will not Trim any part of the video, it will proceed with all videos.
Just Select video then select speed then just tap on OK, and the app will start processing all video. Because this app is not allowing an option to trim that's why it takes few minutes to make video Slow or Fast.
Coach's Eye
Coach's Eye as the title highlights is the slow-motion apps for Coach to see every moment of the player in slow motion way. This app is more specifically design for Coach's training. But you can use it as a standard slow-motion video app.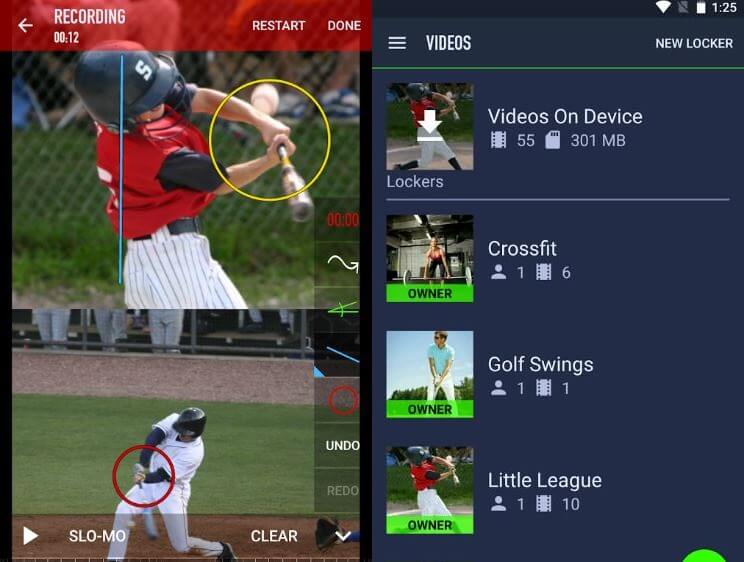 By using this app, you can record things and later you can slow it down. This app has some drawing tools so by using them you can draw lines circles that will help you decide the winner of the games.
Coach's Eye app also has a recorded audio commentary option for videos. Which is a handy option for sports purpose? There is a free version of the app available, but the Pro version costs you around $4.99.
KM Player
KM Player is a Video Player, and it can play High-Quality videos. Also, there is a desktop version also available of KM Player. KM Player has many features that required or we want to see in a Best Video Player. KM player also has the option to make videos slow or make it fast; That's why this app is on this list.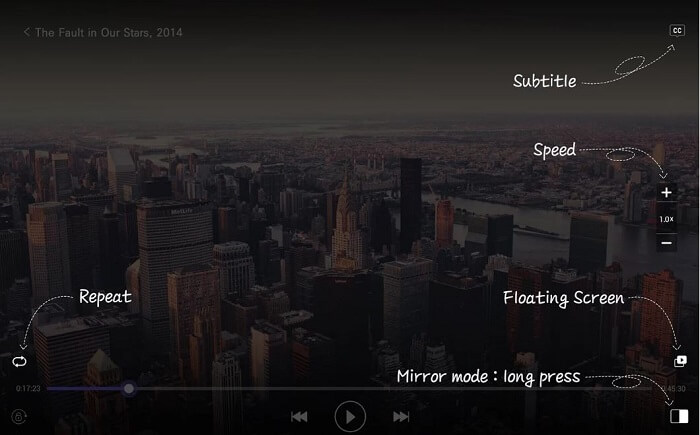 If you want to see videos in slow or fast motion, then there is an option "+" or "-" available. The "+" option is used to increase the speed of the Video and "-" is used for decrease means to slow down the video. While Playing video files we can watch videos in slow motion also in Fast action.
But as I mentioned it's a Video Player That's why there is no option to save video after making the video slow. KM player works best for those people who want to see instructional videos. These things make KM Player Best Slow Motion Video Apps.
VideoShop
VideoShop as the name describes it is a fully-featured Android video editing tool; You can find every option required in video editing software. The best thing is you can edit videos in real-time. It's Free but supported ads.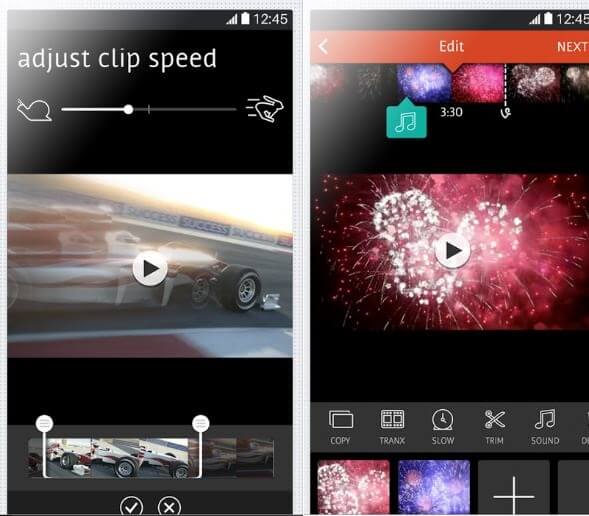 As I mentioned it's a video editing tool that's why there is an option available to Slow down videos and make Videos faster. That's why this app in my Best slow motion video apps list, you can Increase video speed to 4.0X faster and 0.1X Slower.
You can also add music, the sound effect that can make slow-motion videos more engaging in the watch. Also, other video editing features a trim, resize, and Filters also Available.
Video Dieter 2
Video Dieter 2 is another video editing apps that provide some of the basic editing functions. This app is designed to resize the video size so we can easily store on our device. By reading the name, you can understand this thing.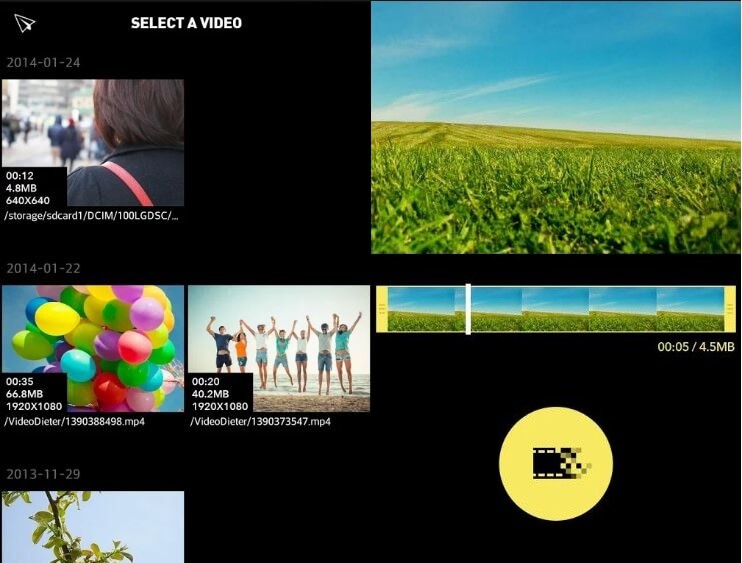 This app also an option available to create slow motion videos, But the sad part is to unlock that feature you need to refer your friend to this app. But this thing is not too hard. By using this app, you can slow video 0.25X slower and 4.0X faster.
If you want to compressed videos then this app is the Best and suitable option for you, which means if you have a video but the size is too large and also you want to create a slow-motion video using it then the Video Dieter app is the best choice.
Conclusion
These are the Best Slow Motion Video Apps, some of them Video Editor that provides editing feature with the slow-motion feature. And some of the video player apps provide the ability to slow videos while watching. You can choose the best app according to your requirement. If you know any other app that is better than these, then you can comment.