Want to know "How to Play Xbox 360 Games on PC"?. Or are you seeking for some working Best Xbox 360 Emulator?. Your search ends here. In this article, you will get to know about a best Xbox 360 Emulator.
It's 2018, And, Games like Fortnite and PUBG are ruling the Gaming World. Because developers are nowadays trying to develop Games for all platform. Though, there are some Games, which are still limited to some Gaming Consoles. And, it's not possible to buy every console, unless you have lots of money. Xbox 360 is a video game console, developed by Microsoft in 2005. And, that time this console did compete with PlayStation 3 and Wii (Nintendo's).
Can I play Xbox 360 games on pc?.
Although, almost all Games nowadays available for Window or Android. But, there are some Games, which still limited to Xbox 360 Gaming Console. And, now you can play those Games on your PC. Yes, by using Best Xbox 360 Emulator.
What is the Xbox 360 Emulator?.
An Emulator is a software, that tricks one Computer system to behave like another system. And, Xbox 360 emulator does the Same. It creates a virtual Xbox 360 environment for PC, so that, it can run Xbox 360 Games. As I mentioned, it's a software, so you don't need to replace your current installed OS.
Best Xbox 360 Emulator for PC.
Xenia – Xbox 360 Research Emulator.
Xenia is an open-source research emulator. That is developed to run Xbox 360 Games in Windows PC. With this emulator, you will able to play 91 Xbox 360 Games. You can check the working game list on Emulator's official site. (Check Compatibility Section.) Currently, it's only available for Windows, but soon, it will also available for Linux OS. Xenia is the first working & best Xbox 360 Emulator for PC. But you need special kind of hardware to run Xenia.
System Requirements.
Windows 8, 8.1 or 10.
Xinput Compatible Controller.
64-bit x86 processor. (With AVX support.)
A Vulkan Compatible GPU. (Most Important.) – Supported GPU list is also available on Official Site of Xenia Emulator.
If your GPU isn't Vulkan Compatible. Then, you will receive an error "Unable to initialize Vulkan graphics subsystem". And, this error will not allow you to use Emulator.
Prebuilt gaming PCs always perform better than consoles and they cost just about the same– or even cheaper in most cases. If you're looking for a prebuilt PC that can handle Xbox 360 games on Xenia, check out this list of prebuilt gaming computers. Not only that they handle the games pretty well but they're all Vulkan compatible, too.
How to Play Xbox 360 Games on PC using Xenia.
1. To download Xenia Emulator, visit the official site of it. Click on download. (Check left pane.)
Click on "Windows 8+ x64" to download Zip File.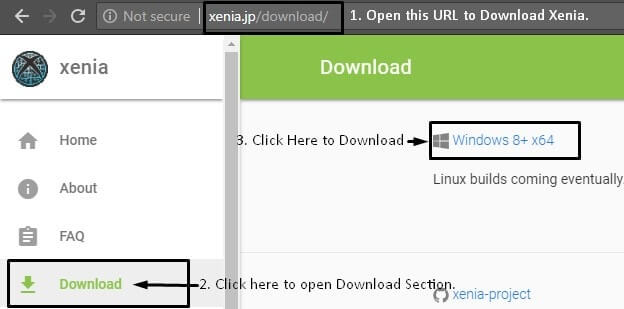 2. Extract Zip file using WinZip or 7Zip.
3. Open Extracted folder, and run "Xenia" application as administrator. (Right-Click on it to Run.)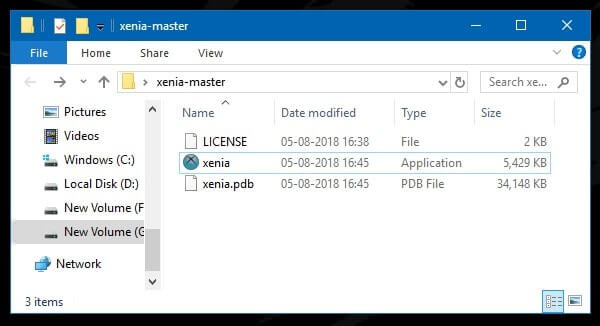 4. To run Xbox 360 Game, Go to File > Open in Xenia Emulator. And, Select download Game, and click on Open.
That's it. The game will start running. And, you can play it with using a Controller that support Xinput.
IMPORTANT – To Configure Gamepad keys, you can use "x360ce" Program. It will allow your controller to function as Xbox 360 Controller.
Box Emulator. (Unable to Download)
The Box Emulator is the newly designed Xbox 360 Emulator for PC. It can run Xbox Games in better graphics and in 60 FPS. This emulator was in development for more than a year. And, finally, developers have ported the PowerPC x_kernel to x86/x64 version. There aren't any special requirements for this emulator. But, you need a good GPU for lag-free gaming. Though, there are some minimum requirements mentioned on the official site.
Box Emulator comes with graphics settings. This Xbox 360 Emulator do support up to 1920×1080 resolution. It comes with the v-sync feature. On the official site of this emulator, you can find out a list of Games that tested on this emulator. And, trust me, the list is quite large. To play Xbox Games, you can insert your game disk. Or, can create an ISO image of your disk. The emulator comes with x360ce plugin. That will allow you to configure your game controller.
Is there any other Best Xbox 360 Emulator?.
Actually, there were some Xbox 360 Emulators. But, no links available to download those Emulators. Though, some sites claim to provides the download link. But, those sites will force you to complete surveys to download Emulator File. And, by any chance, if you will able to complete the survey. Then, the site will provide you fake emulator.
After researching for an hour, I found three more working Xbox 360 emulators. But, problem is, development of those emulators stopped. Now, Source code available on Git-hub. If you're a developer then here are the names of those Emulators. 1.ex360e 2. xbox360-emu 3. x360emu. You can try to build these Xbox 360 Emulators.
The truth behind some YouTube Xbox 360 Emulators Videos.
There are dozens of YouTube videos available regarding Best Xbox 360 Emulator for PC. But, when you try to open those emulator links. It will redirect you to some ads page. Or, will try to download some malware on your Computer.
Yes, Some videos have shown proof. But, actually, emulators shown on those videos are based on Xenia Emulator. Because Xenia is an open source emulator. That's why I have mentioned only one emulator. Because all other emulators development had stopped. Only, Xenia developed is currently active.
GPU Error. 
If you're getting an error in Xenia, because of GPU. Then, Sorry, you can't run Xbox 360 Games on your PC. You need supported hardware to run it. Mine GPU also not Vulkan Compatible. So, I can't able to play XBox 360 Games. But, don't worry, I will try to find out a working solution for this GPU Error. Till then, You can try "Xbox one Emulator for PC". And, Can play Xbox One Games on PC.