Want to run Xbox One Games on Windows 10/11 Computer? Then, in this article, you will find the best Xbox One Emulators.
If your Xbox One Gaming Console is broken or not working, or you don't have it. Then no worries, you still can play Xbox One games on PC. Yes, it is possible; all you need is an Xbox One Emulator. Even, some Xbox emulator does support Xbox 360 Games. These days, most games are usually released on almost all platforms like Xbox, PS4, and Windows PC. Yes, certain games are developed for consoles only. But, thanks to developers, there are emulators available for every new and old gaming console. For example, you can run Android Apps on a PC these days and, Vice versa, you can run Windows programs on Android.
Before getting to know about the best Xbox one emulator, first, you might want to know what the emulator is.
What is Emulator?
Emulators can be hardware or software that create the virtual environment of other computer systems. The virtual environment behaves like the real Computing system to run other system Apps and games. The emulator enables your computer system to run software created for the guest system. You all guys might have heard of Bluestack, which is an Android Emulator.
What is the Xbox One emulator?
Xbox One Emulator is a powerful Windows software that can run games created for Xbox One and Xbox 360. There are so many Xbox One Emulators available to download for free. And, these Emulators pretend to be an Xbox One gaming console once you run it. So that Xbox games can easily run in that virtual environment of the emulator.
Note: Most of the games that the Xbox One gaming console offers are cross-platform. So, you can easily find out those Games in the Windows Store or on Steam. That's why you don't need Xbox 1 emulator. But still, If you're unable to find out any specific game for Windows, which is only available for Xbox One or 360. Only then you should try these emulators on your Windows Computer.
Best Xbox One Emulators for Windows 11 PC
Many emulator sites claim to provide, the best Xbox 360 or Xbox 1 emulator for PC. However, I tried to Download and Install all Xbox 1 emulators. But unfortunately, some of them are fake and try to install malware on our computers. Xbox emulation requires lots of power and a good GPU to handle Xbox games.
Xeon Emulator.
Xeon is a good but not perfect emulator available for the Xbox platform. This emulator is working but can run only one commercial game, which is the Halo NTSC version. Although, you can try to play other low graphics games. Currently, Xeon is in the development stage, so you can expect more games to run in this Xbox One Emulator.
With Xeon settings, you can configure graphics, audio, and input. You can easily access these three settings by going into the options menu. In addition, Xeon is a portable emulator, and you don't need to go through the typical installation process. Instead, all you need is the file extraction tool to extract software, and then you can launch the emulator.
Download: Xeon Xbox Emulator.
System Requirements for Xeon Emulator.
Windows XP/7/8 or 10.
Minimum 1 GB of RAM.
Radon 9200 Pro / GeForce FX or higher Graphics Card.
Pentium 4 2.0 GHz.
The latest version of DirectX.
Play Xbox One Games with Xeon Emulator.
Step 1: First, download the Xbox Game ROM File.
Step 2: Now, Extract the Xeon emulator RAR file. Open the Extracted Xeon emulator folder, And then run the Xeon application as administrator.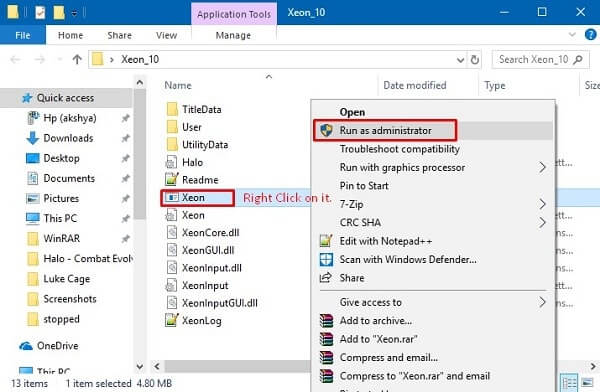 Step 3: To load Xbox One game file, Go to File > Load XBE. (Or you can use the shortcut, which is Ctrl + L.)
Step 4: Locate the game ROM folder and look for the .xbe extension file to run the Game. Select the .xbe file of the downloaded Game, and then click on open to run Game.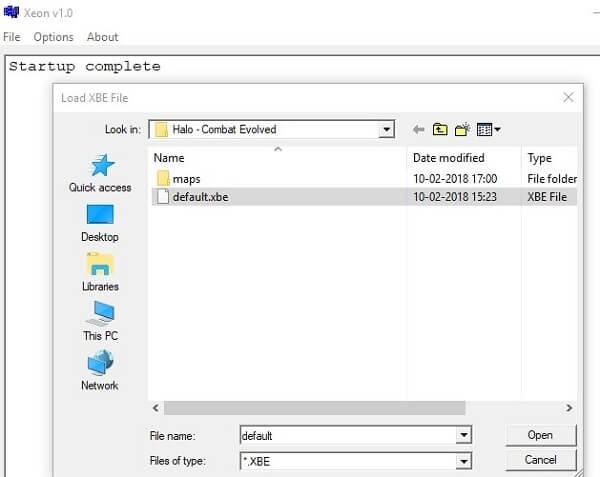 Xbox emulator version 1.0.3.
Before I start telling you about this Xbox One emulator, you need to know to download this emulator. You need to complete a survey. A YouTube video is available of this emulator. That's why I am adding this emulator to this list. Unfortunately, I was unable to download the emulator file. But if you need, you can contact the emulator developer directly.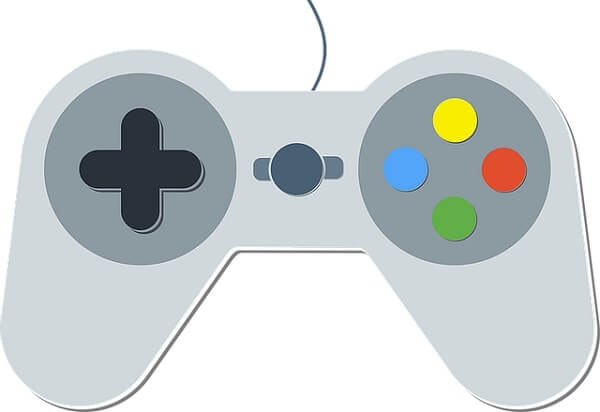 According to the download page, this emulator can run heavy games without any error. It comes with full ROM and disc support to use the physical game disc or use a downloaded ROM file. Comes with flexible control support. Either you can use the keyboard or can use any gaming controller. The software also claims to provide split-screen mode. And you can use Xbox live features also.
System Requirements.
2 GB of RAM.
Free 25 GB of hard disk space.
Intel i3 or higher.
Radeon HD 5400 / GeForce 9300 or higher.
Few Instructions to Run Xbox 1 Games.
Step 1: Download the Xbox one emulator and then move the Game ROM file to its Game Data folder. (Like Xeon, this emulator also doesn't require installation.)
Step 2: Go to the game folder and then run the application "Xbox Emu v1.0.3".
Click on the plugin and then activate all available plugins. If you want to set controls, you can do that by going into Control settings.
Step 3: To open the Game ROM file, go to File> Refresh ROM list. (This option will show all recently added Games) And to run Games, you can use the Open ROM option.
Step 4: Done; that's how you can play Xbox One Games on PC. Though this emulator I didn't try personally but still, this information might be useful for you.
Cxbx Reloaded.
CXBX is another working Xbox One emulator for Windows. The emulator file size is 1.27 MB. But, after extracting the CXBX emulator size will be 68.6 MB. This means developers are using extreme compression. The best part is, that it is an open-source emulator. Emulator codes are available on Git-hub to download. Stable and development build of CXBX both are available. But, I suggest downloading a stable build only. Because with the development version you might face some issue.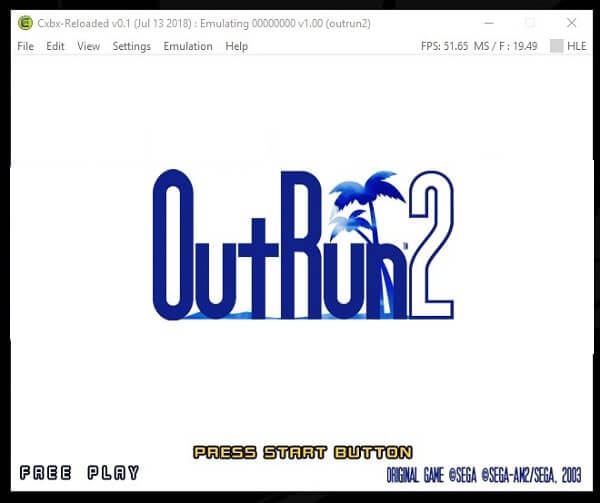 While other Xbox one emulators aren't getting an update, this emulator is getting better with monthly updates. Developers are trying hard to make this emulator work with all Xbox Games. Though I tried three "Sega Chihiro games", but worked on only one Game. Yes, I was able to run "Outrun 2" with CXBX Xbox Emulator. This emulator is better than the Xeon emulator, and it can run more Xbox Games. The emulator also shows Frames per Second. And, you can configure Xbox one controller and audio, video settings. You can also disable Pixel Shaders. And, can skip RDTSC patching.
Download: CXBX Reloaded Emulator.
System Requirements for Cxbx – Reloaded.
Windows 7 64-bit and higher. (32-bit Windows doesn't support.)
2 GB of RAM for a better gaming experience.
Any GPU that supports Direct 3D 8 and Open-GL 3.3.
Microsoft Visual C++ 2015, 2017. (Must Install before starting using the emulator.)
Run Xbox One Games using Cxbx Emulator.
1. Download the latest Zip file of the Cxbx Emulator.
2. Extract the zip file using WinRAR or 7Zip. (Both are free.)
3. Right-Click on the CXBX emulator, and click on "Run as administrator". (UAC windows will appear, you need to click on "Yes".)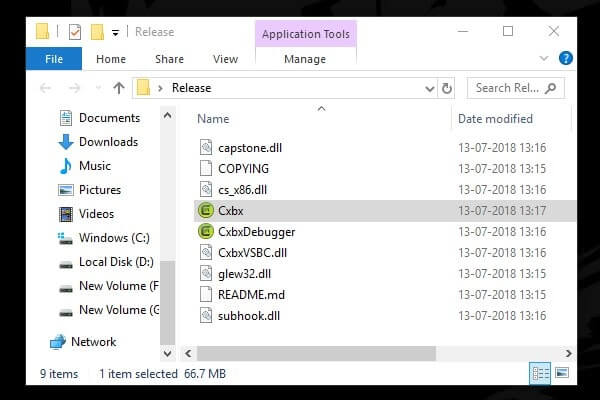 4. Now, In the emulator, click on File > Open Xbe.
Select *.xbe file from the game folder, and click on Open.
Note: Before start running the game, you can go to settings. And, can configure Xbox Controller keys, audio, video, and other settings.
5. To start the Xbox One Game, click on Emulation and then "start".
That's it. Now you can play your Xbox One Emulator Games on Windows PC.
DXBX.
Before you search and download the DXBX emulator, you need to know that, the developers of this emulator left this project. This means they aren't working on this emulator. So, the emulator is stuck in development mode. Though, you can still download this emulator and can give it a try. On the official site of DXBX, the developer already mentioned a compatibility list. With that list, you can find out, which game will work, and which not. Although, I have already tried some Games. But, after clicking on the play button. The game does show a black screen, and nothing happened after that.
DXBX is Xbox One Emulator for PC, which is written in Delphi. The emulator has its kernel a do offers a toolchain. Xbox emulator is created with the source code of the Cxbx emulator. Developers converted C language sources to Delphi. And added some more options. But, the file menu of both emulators is somehow the same. DXBX offers the same configuration settings for Xbox controller keys, audio, and video. Though, the user interface is different. Once you load an Xbox one game, the emulator does show the directory on the home screen. And, you can select the game directory and click on the Play button.
Download: DXBX Emulator.
System Requirements – As I have mentioned this emulator is based on Cxbx. So, system requirements also the same.
Play the Xbox 1 Game using the DXBX.
1. Download the DXBX Emulator setup files from its official site of it.
2. Install Dxbx in your Windows OS. (Installation is normal like other Windows software.)
3. When installation gets complete, open the emulator as administrator.
4. To load any Xbox 1 Game, Go to File > click on "Open Xbe".
5. Now, you will get the option to play the Game, Click on it.
XQEMU.
It is an open-source emulator, which is built on top of QEMU. This Xbox One Emulator is currently in the early stage of development. But development isn't dead like Dxbx. Developers are still working on it. Currently, XQEMU has some audio issues, and it works slowly. Nevertheless, XQEMU is better than all mentioned emulators because it can run Halo, Jet Set Radio Future, Serious Sam, and many other Games.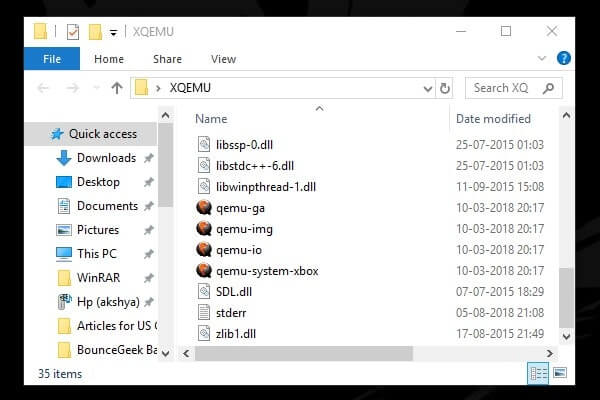 But, it would be best if you built this emulator by yourself using MSYS2. Though, the building process is already mentioned on the official site. But, it's a little bit complicated for normal Windows users. If you want a full tutorial on building this emulator, feel free to comment. Or, I will try to provide the download link of the emulator built by me.
Download: XQEMU Emulator.
Xbox 360 Emulator for Windows PC
So, these were the emulator for Xbox One. And, If you're also looking for some emulator to play Xbox 360 Games on your PC. Then, you can try Xenia and ex360e emulators. Xenia emulator is under development but allows us to play some basic games.
On the other side, there is only source code available for ex360e. It means you need to develop an emulator by yourself. Suppose you don't know how to do that. Check some videos on YouTube to understand better. I have written a separate article on Xbox 360 Emulator. In that article, you can find all the information about these emulators.
Is using Xbox One Emulator illegal?
According to the Microsoft software license agreement, you can only use Authorized Games. So, If you're going to use pirated or crack games, then you're violating their software license Terms. And one more thing written in software license terms, that is you can only use Authorized accessory by Microsoft. So, if you will use an unauthorized accessory to play Xbox games, it will stop working after the update.
As I mentioned above, according to their license terms, it's illegal to use Xbox Games using Unauthorized accessories. But technically, you aren't using any unauthorized accessories. Instead, you're just using a software program or emulator.
Summing-up.
Still, there are many Xbox 1 Emulators left to add to this list. But, those projects are dead, and some don't work. These are the only active Emulators, which are still in development. Xeon was the first emulator to run Xbox One Game, Halo. But, Cxdx can play some more games like "Sega Chihiro games". So, you can try it. Or, if you have good Computer knowledge. Then, XQEMU is the best emulator for you. That's it for now. I will try to update this list whenever any new emulator gets released. Also, please comment if you're able to play any Game with these Emulators.