We all love Windows OS because of its user interface and most important windows software. There is no doubt in the windows program is now available for Mac and Android. But still a few software which you can use only in Windows Machine, And we want to get them on Android. Yes by mirroring Windows device to Android is possible to run Windows programs on Android. But you need Windows PC for that, what if you don't have one.
Run Android Apps on PC is the easy thing now, Because of some Best Android OS for PC. But run Windows Programs on Android still a mystery for many. Still, there are only a few options available that provide a windows environment on Android.
Is it possible to Run Windows Programs on Android – What is Windows Emulator?.
Yes, it is possible to run your favorite Windows software on Android. But as I said earlier there are only a few Windows Emulator for Android available and supports specific windows app.
Windows Emulator – Android Emulator provides an Android virtual environment, so we can run Android Apps on our Windows PC. And same as Windows Emulator create a virtual environment of windows that helps to install Windows programs on Android.
Best Windows Emulator for Android to Run Windows Programs on Android.
Crossover.
Crossover is the first Windows Emulator developed by CodeWeavers, It's available for Mac, Linux, and Android Devices. It allows running windows programs on non-windows platforms. Still, there is a preview version available for android, the developer is trying to bring all functionality of windows to android. At the end of the year, you'll get the final version of this app with all working windows programs.
Still, this app supports only a few specific windows programs and only Intel-based devices can install it. If you're using the ARM-based Android device then you'll get "App not installed Error"
What you can Do With Crossover?.
It emulates the windows interface on your Android devices, you can run multiple apps simultaneously just as you can do in windows. Also, you can use Windows programs alongside Android Apps without issues.
How to Download Crossover for Android Device.?
If you're using the ARM-based device then don't download this app it will not work for you. The app is still not available on the Google Play store, but you can get it from the third-party site just search google for "Crossover Apk Download."
If you want to get it officially then you need to signup for initial access to the preview version. The app is still available only for developers to test bugs in the app.


How to use Crossover to Run Windows Programs on Android Device.?
Step: 1 After downloading Crossover APK, Install it on your Android Device. Open the app and you"ll able to see the App store like Google Play.
Step: 2 You can search for windows and if you got your desired programs then tap on it and use the Install button. And when downloading get a complete setup window of software will open and you can install software same as windows.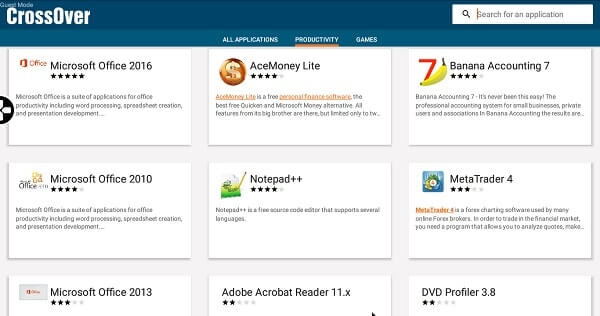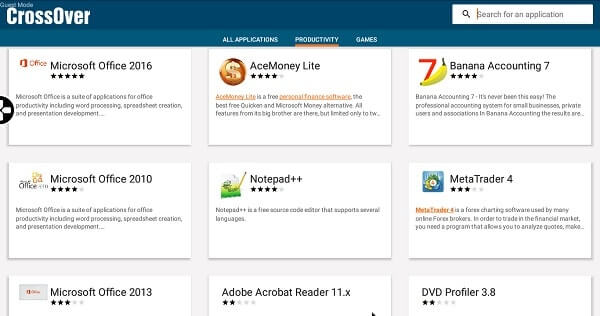 Install third-party windows programs.
Third-party windows programs mean which is not available on Crossover Store. To install them search crossover for "unlisted application", After that click on install button select EXE file from your SD card. And installation process will start, the app is currently in beta version so some programs might not work.


ExaGear – Windows Emulator.
Apart from the crossover, ExaGear is also an under-development application to run Windows Program. It is not perfect and cost you around $30, If you're a developer then you can give it a try. Otherwise, I will not suggest you spend money on this app. Alternatively, you can get this app from some third party sites but license issue is with it.


ExaGear doesn't come with any pre-installed windows software, It's just a framework or emulator to run windows programs. You need EXE and MSI file on your device to run. Installation of ExaGear doesn't take more than 2 minutes, and it is good enough to run Microsoft Office and steam games. To use the windows program on Android you need to connect the external keyboard and mouse using an OTG cable.
Conclusion.
So these are the two methods or Windows Emulator that allows you to run Windows programs on Mac, Android, and Linux. Don't waste your money on an ExaGear app, this article is just to provide information. If any program is not working with crossover and you don't have a PC then buy raspberry pi 3 and run your favorite program.