If a website is showing, Your connection is not private, error. Then, it means, your browser is not able to establish a secure connection with the site. Personally, I had faced this error while using a public network. Well, you don't need to worry about this error. You can easily fix this error by yourself by following the solutions mentioned in this article.
What is the "Your connection is not private" error, and why it occurs?.
Before knowing about this error, I think you should know about a few Internet Protocols. HTTPS (Hypertext Transfer Protocol Secure) – is an extension of HTTP. Which is used to secure communication over Computer Network. And, HTTPS is secured using TLS or SSL. If you visit a non – HTTPS site, you will able to see a "not secured" message in Chrome Browser. Https protocol does secure privacy of Website and integrity while transmitting data.
With the Internet, nowadays, you can do everything. Even, you can make money, learn something, or can pass your free time by watching Netflix. But, there is a dark side to the internet. I am not talking about the dark web. Here, I am talking about attackers or maybe you call them hackers. These people try to steal your personal information, includes credit card information.
If the site is secured with HTTPS over SSL protocol. Then your information remains private when it is sent to that site. And, if you're browsing a non-HTTPS shopping site using a public Internet Connection. Then, you're making it easy for attackers, to run an exploit on your Computer.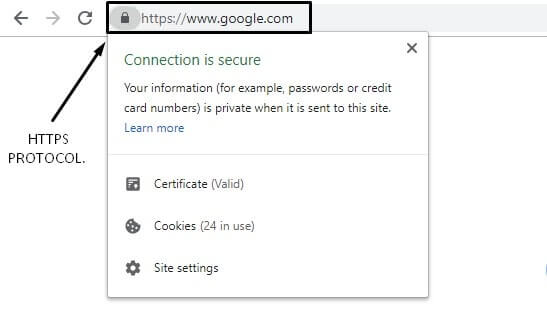 Well, this error can occur due to multiple reasons. The problem could be in the chrome browser or you're using public internet connection. Also, if your browser is unable to verify the SSL certificate of the site. Then, also this error appears. An SSL certificate is necessary to create an SSL connection. And, SSL ensures that data transferred between web server and browser remains encrypted. And, with public connection, data can't remain encrypted and this error occurs.
I think, now, instead of knowing about the reason behind this error. You just want to fix this error. So that you can browse the internet again normally. So, here are certain working solutions to fix this Error. Try each solution, and, if after trying all these solutions, the problem doesn't resolve. Then, please comment on the name of that site, which is showing this error.
Your connection is not private (SOLUTIONS)
IMPORTANT: This privacy error comes with an error code. Like, NET::ERR_CERT_COMMON_NAME_INVALID. Which indicates the real reason behind this error. So, If these common solution doesn't work. Please comment on that error code. And, I will help you with the specific solution. Or, check solution 6, if you want to open the site instantly.
Solution 1: Make Connection Private.
Windows 10 comes with the ability to change the Network Profile. This means you can easily switch between Public and Private Connection. So if, the error is occurring because your internet connection profile set to Public. Then, it will get resolved immediately.
Check Network is Private or Public.
1. Open Control Panel.
2. Go to Network and Internet > Network and Sharing Center.
3. Now, below the name of the connected network, you can check the network profile. If it's showing Public Network then follow these instructions.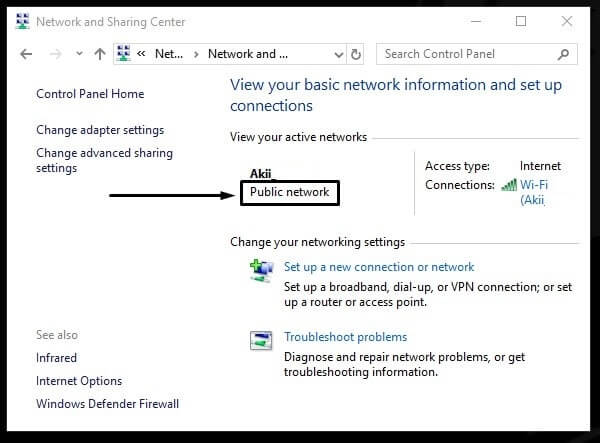 Switch to Private Connection.
1. Press Windows + I key simultaneously to open the Settings App in Windows 10.
2. In Settings App, Click on "Network & Internet".
3. Wait for an active connection to appear. You"ll see a properties button below your current active Internet Connection. (It could be WiFi or Ethernet.)
4. Here you will able to see the Public and Private option. Simply, select the Private radio button.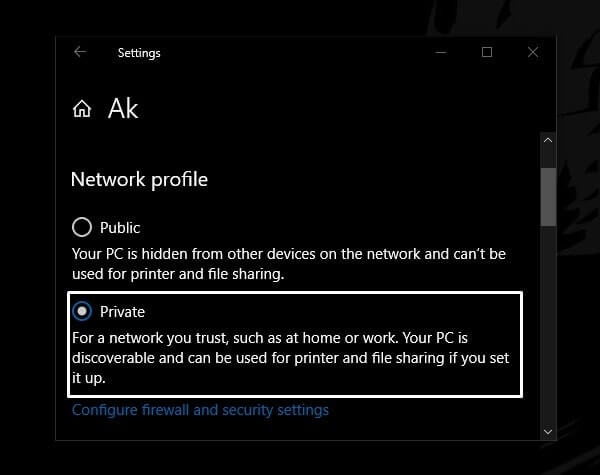 5. That's it. Now, you have to restart Chrome Browser. After restarting the browser, you can open the site you want to.
A Simple URL Command to restart Chrome Browser. (Paste this URL in Chrome Browser and Press Enter.)
Chrome://restart
Solution 2: Update Date & Time.
Wrong Date and Time in Computer does prevent users to browse the Internet. And, this could be also the reason behind this error. Sometimes, due to power failure, Computer gets turned off. And then, after restarting the PC, the date and time get changed. So, you have to make sure the date and time are updated, and, the right time zone is selected. And, it doesn't matter error is occurring in Android, iOS, or Windows. You need to stay updated on your device at the right time to browse the internet without interruption.
To make changes in Data & Time and set time automatically in Windows 10. Follow these steps.
1. Open Settings App (Press Windows + I key) > Click on Time & Language.
2. Check, Time Zone is right or not. If it's right then enable the "set time automatically" option.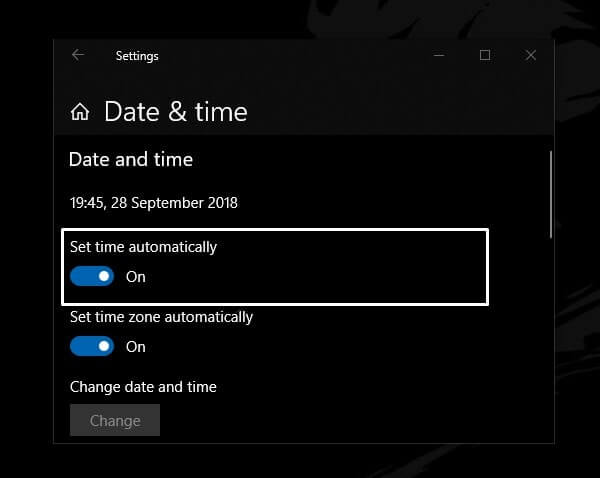 Solution 3: Reset Chrome Settings & Clear Browsing Data.
If a site was using an HTTPS protocol and now site owner remove it. Then, due to browser cache, this error can occur. Also, if you're visiting a site first time. And,  if still the site is showing "Your Connection is Not Private" error. Then maybe, due to some Chrome extensions, this error is occurring. Here are two solutions, which you can apply on Chrome Browser. And, hopefully, this solution will help you to get rid of this error.
Reset Chrome.
1. Open the following URL in Chrome Browser to open Reset Page.
chrome://settings/reset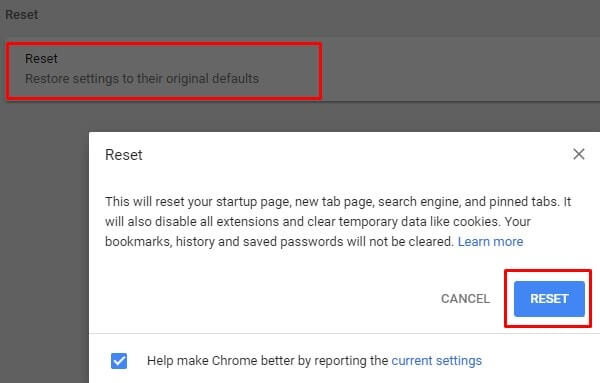 2. Click on the "Restore Settings to their original defaults" option. And, after that, click on "Reset Settings".
This option will immediately disable all Chrome extensions. And, will set all settings to default, if you have made changes in developer mode.
Clear Browsing Data.
1. To Clear Chrome Browsing Data (History, Cookies, Cached Images, and other saved data), open the following URL.
chrome://settings/clearBrowserData
2. Make sure all option is selected, and time range is set to "All time". After that, just click on "Clear data". The process will take time, so don't close the browser.
If the error is coming in any other browser, then also, you need to clear browsing data. And, if the error is coming in an Android device, then go to Settings> Apps and use the Clear Data option.
Solution 4: Check Chrome Update.
If you're the one who doesn't like to update Software & Apps. Then, you're doing a big mistake. Because outdated software and OS can cause many errors. And, does make your device vulnerable. Also, some users have fixed this error just by updating or reinstalling the browser. So, you can also give it a try. Instead of updating, I suggest you uninstall the browser from Control Panel. And then, install it again from the official site.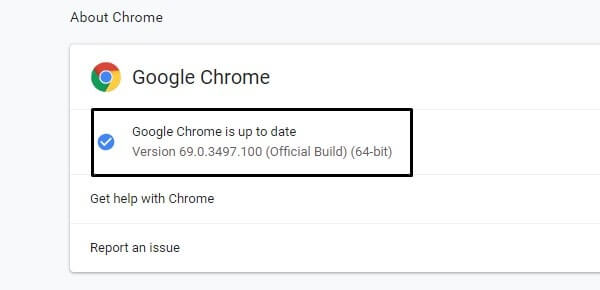 Solution 5: Check Firewall & Antivirus Settings.
Antivirus like Avast comes with an HTTPS scanning option. And, if with the help of HTTPS scanning, the antivirus can find out that problem is with SSL certificate. Then, it prevents users to access that site. And, does shows a "Your Connection is Not Private Chrome" error. To get rid of this privacy error you need to disable this feature. If you're using any other antivirus program then you have to check this feature on your own. Because I can't describe settings for all Antivirus programs.
But, if you're not using any antivirus program in Windows 10. Then, you have to check the "Windows Defender Security Center" settings. Mainly, this solution is for the Microsoft Edge browser.
Open Windows 10 Settings App.
Go to "Update & Security" > Windows Security.
Click on "App & browser Control" option.
Now, make sure all radio option is set to "warn".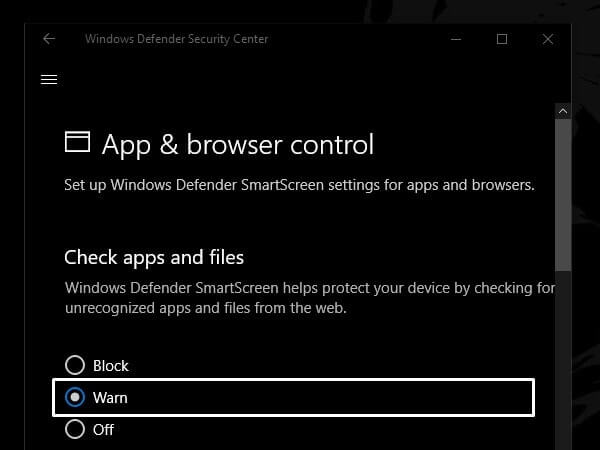 Solution 6: Use Advanced Option.
If you don't want to go through any more solution. And, the connection is not a private connection error coming on a specific site. Then, with the advanced option, you can still access that site. Without resolving this error. But, I suggest you don't share personal information with that site.
1. On the error page, you will able to see the "Advanced" option. Click on it to show the advance option.
2. Now, you will able to see the "Process to…" option. Click on it. And, the site will get open without any error.

Solution 7: Add Ignore Certificate Errors Shortcut.
If the private connection error appearing on many sites. Then, you can fix this error for all sites at once. Though, I don't suggest disabling this error. Because this error helps to browse the internet securely. But, Still, If you want to do it, then here are the instructions.
First, close the Chrome browser completely.
Right-Click on the Chrome browser icon and then click on properties.
Now, In the target section of the Chrome Properties Window. Add -ignore-certificate-errors text at the end. (Before adding this text press the space bar.)
Click on Apply, then click on OK.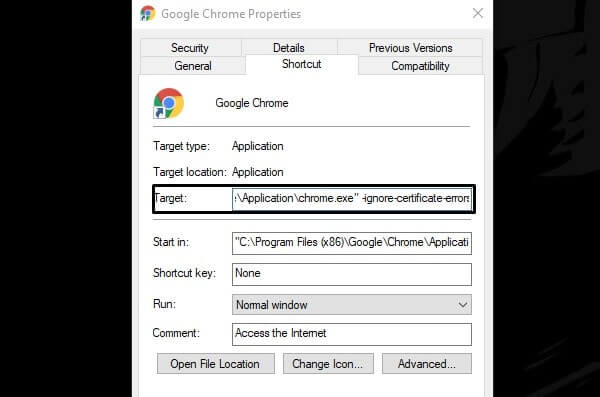 That's it. Now, open Chrome Browser with administrator rights. And, now this error will not occur again. (Though, you will receive an "unsupported command…" error, ignore it.)
Summing – up.
That's it. these are the solutions, which you can try to fix this error. First, you have to check your connection is private or public. And, if you're using a private network make it public. After that, you need to clean the Chrome cache and cookies. Also, don't forget to check antivirus settings. If nothing works then, the last two solutions will help you to get rid of this error. Also, If chrome is showing ERR_SSL_PROTOCOL_ERROR then you can check my solution-oriented article on it.