Coronavirus (COVID-19) has already been declared as a viral pandemic by the World Health Organization (WHO). And, states across the world are trying their best to contain this outbreak. The corona outbreak was first identified in Wuhan, Hubei, China. There are various websites that will help you to track the number of cases and death from Coronavirus globally. And, also keeps you updated with preventive measures. However, when it comes to Android and iOS, both have restricted Apps related to Coronavirus. To stop spreading misinformation. Even, if you search for Coronavirus on Play Store, it will lead you to the WHO site. Well, it's the right thing done by Google.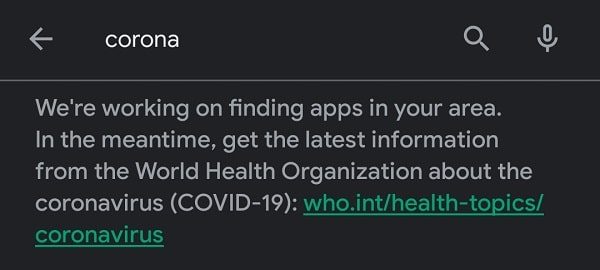 But, If you want to keep updated with Coronavirus cases in your country or city. Then, there is a Coronavirus Outbreak App available on GitHub. The app developer hasn't released the source code of this App yet on GitHub. Because scammers can modify the code to their benefit.
CoronaVirus Outbreak App.
This App is developed by Tiberiu Potec (TheWCKD). And, you can download the App only from GitHub. The developer tried to submit this App on Play Store. But, due to some developer program policies and sensitivity towards CoronaVirus. Google pulled the application twice from the Play Store.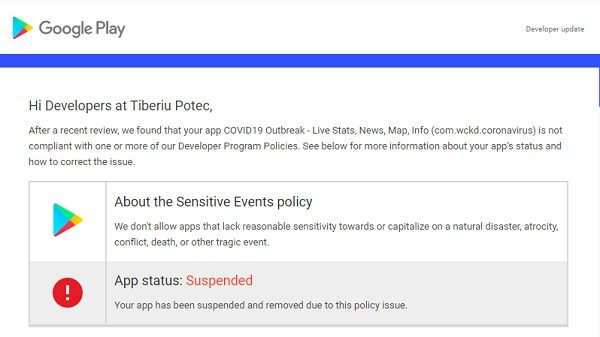 Though, App does show real and official data from WHO.INT about COVID-19. The Application is ad-free, so you can enjoy all the premium features for free. Trust me, you will find this App much useful. You can also support the developer directly, by tapping on the heart ❤️ icon in the App.
Install App on your Android Smartphone.
1. First, visit the CoronaVirus Outbreak App GitHub page. Under Assets, you can find out the APK file of it. Click on it to download App. (Download the latest release only.)

2. Install the .apk file. If you're installing an Apk first time on your smartphone. Then, you need to grant an unknown source's permission.
Also, to use location-based stats feature, make sure location service is turned on.
Features.
1. Provides Latest COVID-19 Stats.
CoronaVirus Outbreak App keeps you updated with the most latest available stats. And, all in a clean manner. Once, you open the app, it will show you plenty of information on top. Regarding the numbers of contaminated or infected people, recoveries, and death caused by COVID-19 in the whole world. Scroll a little, and in the next section of this App has the same stats. But, it is segregated according to countries. Tap on "see all". And, you can sort the data by infections, death, and recoveries. App also shows the death rate and the recovery rate in the form of the percentage.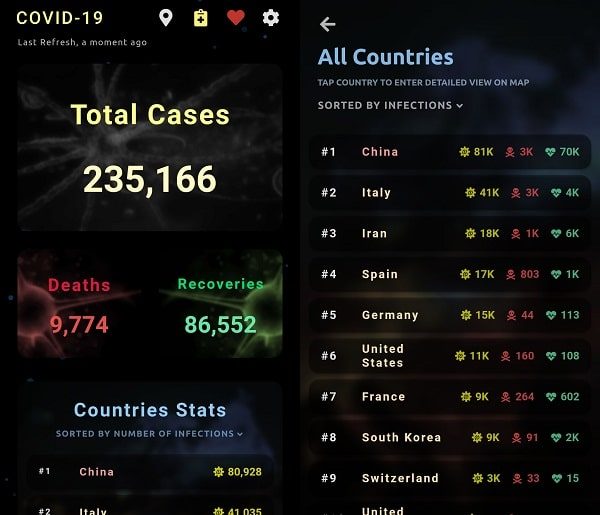 App also keeps sending live notification of Global stats update. If you don't want it, then, you can turn off push notification from settings.
2. COVID-19 news from various sources.
Apart from Coronavirus stats, the news, is also, a very important resource to keep yourself updated. And, headlines feature is built in the App. Below Disease Evolution, you can see the Headlines section. You can swipe to see more news headlines. And, you can open the news in the browser by tapping on a headline. All news resources or sites are legitimate.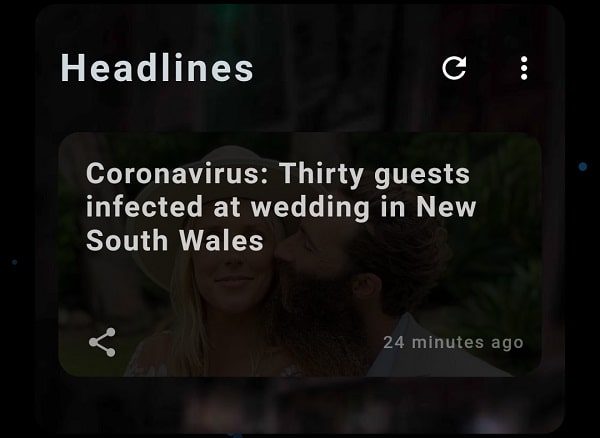 3. COVID-19 Self Test.
App also comes with a COVID-19 Self Test. Well, this test is not a replacement for specialized medical advisory. Though, if you feel any symptoms shown in App. Then, self-quarantine is the best option for you. If you're not aware, self-quarantine means, staying in your home, and not leaving for a period you're required to quarantine. It is specially focused on the self-diagnostic test. More specifically, people who usually live in the household should stay at home. And, do not allow visitors into the home.
Important: Though, if you develop symptoms like fever or shortness of breath, respiratory illness, and cough. Then, you should seek immediate medical attention.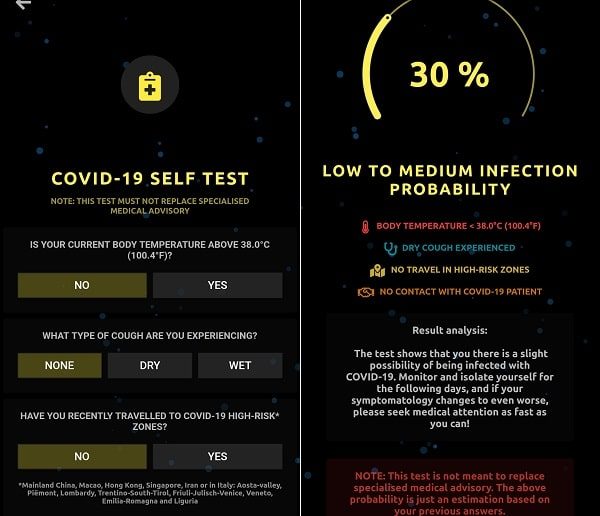 Coronavirus outbreak App asks you to select a few options to check infection probability. Like, current body temperature, type of cough, traveled in high-risk zones and few more. After you fill all these, tap on "Check Results". It will also you Result Analysis.
4. Global Infection Map.
No doubt, maps are a great way to understand the intensity of the coronavirus outbreak. The app comes with an infection map option. When you tap on it, it shows an interactive map. That shows a number of cases around the world. You will see dots with the numbers on each affected country. Tap on it, and, you will get detailed information on total and activate infections, successful recoveries, and fatal infections.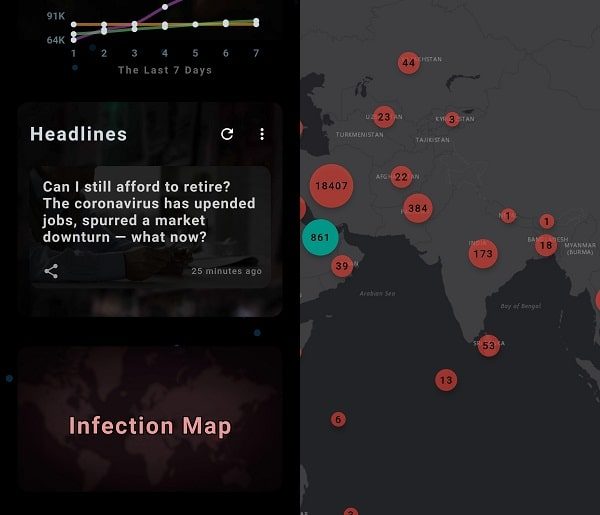 5. Location-based data.
Before trying to use this feature, make sure "Location Services" is turned on. It's a common understanding that in situations like these – You're mainly affected by the virus condition around your area. This GPS based feature shows statistics of your home country. Moreover, it also shows symptoms, prevention. And, tell you some basic on, how does COVID-19 spread. Well yes, these tips are fairly basic, so don't rely only on it. In case, you feel virus symptoms, then consult a doctor.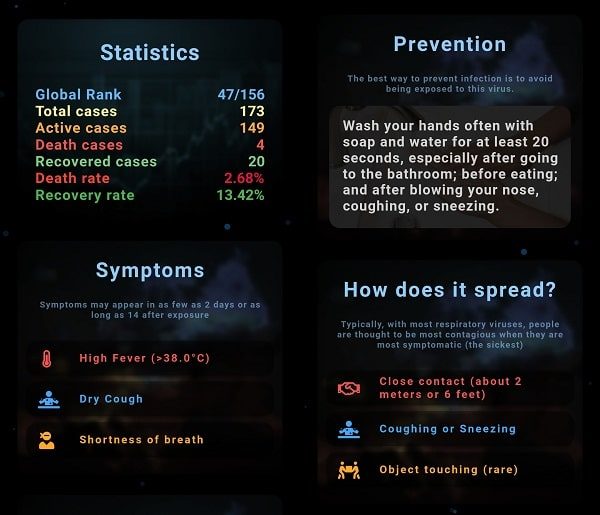 What's the information source of this App?.
There is much false information spreading around the world regarding Coronavirus. So, you might be wanted to know, how valid these stats are. Well, this App gathered data from a data repository. That is maintained by Johns Hopkins University Center for Systems Science and Engineering (JHU CSSE).
And, data repository gathers data from various resources – World Health Organization (WHO), National Health Commission of the People's Republic of China (NHC), China CDC (CCDC), US CDC, Taiwan CDC, Hong Kong Department of Health, Macau Government, Government of Canada, Australia Government Department of Health and few more sources. So overall, the information shown in the App is completely valid.
Stay Safe.
Well, these stats are getting increase day by day. Because there isn't any vaccine available for the Coronavirus. So, to prevent the virus from the spread, wear masks, wash your hands using sanitizer. (Use sanitizer that contains more than 60% alcohol.) And, avoid touching your face. For more information, I suggest you check the World Health Organization (WHO) website.