There are many so-called secure and encrypted messaging apps available for different platforms. But all have a common privacy problem – they need an email id or phone number to work. 'Session – Private Messenger' is a new open-source messenger App that addresses this issue. This App doesn't require your phone number or email id to work. It sounds interesting, right?. Let's get to know more about it.
Session – Private Messenger.
The session is a decentralized encrypted messenger app, available for Android, iOS, and PC. Session removes sensitive metadata collection. That means it doesn't collect any personal information. So no need to worry about data breaches. It sends messages through the onion routing network. That leaves no trace. And, most important it's an open-source App, so nothing is hidden. The App is specially designed for people who want privacy. And, freedom from any form of surveillance.
1. No Contact Details Required.
We all know, to use WhatsApp, you need a phone number. But, with the session, you can get away with a unique Session ID. The app does generate a session ID randomly while setting up the first time. You can either share your session ID or QR code to connect with other session App users. Yes, Everyone has a unique phone number. But, getting the same Session ID to someone else is next to imp
Apart from Session ID, App also provides you with a recovery phrase. That is the master key of the Session ID. By that I mean, it helps you to restore your session ID. In case you lose access to your device. Just store your recovery phrase somewhere secure. And, with continuing your session option, you can easily recover your Session.
2. Censorship Resistant.
Even WhatsApp is the most popular messaging service. But, still, it's permanently banned in Chine, Iran, and Cuba. And, Session has no such dangers or issues. Because, with no central point of failure, it's harder to shut down the Session App. Yes, many countries' governments are pushing for censorship. The session cannot reveal any information. Because it doesn't have any information. That's why there is nothing anyone can do. It doesn't require any contact information. It provides a random unique ID to users. And, uses an onion routing network to send messages, that leave no footprint.
3. Block Screenshots.
In Telegram's Private Chat, you can block someone from taking a screenshot of the conversation. This means that if someone tries to take a Screenshot "Couldn't capture screenshot" a notification will come. Well, still this must-have simple privacy feature isn't available in WhatsApp. The same feature is available in Session App. To enable this, Go to settings (tap on the profile icon from the upper left corner.) > Privacy > Enable "Screen Security".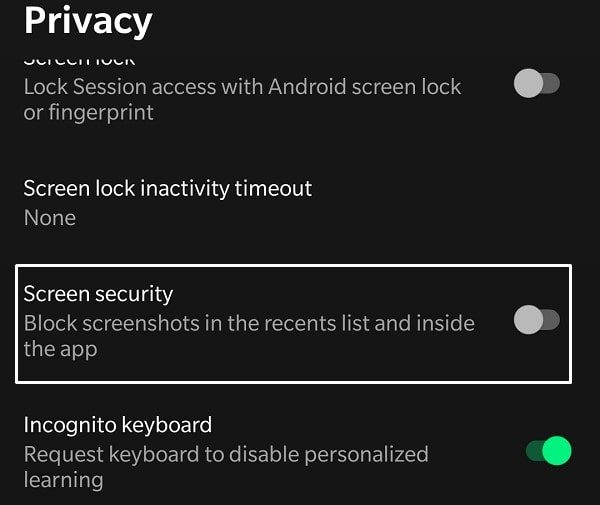 4. Decentralized Session.
In Session, all messages sent over the desktop App are exchanged using Lokinet. That is actually a decentralized onion routing solution for Session Messaging. It is equally efficient for Android and iOS users. As it uses proxy routing, to keep the user identity private. That's why, the message takes a few seconds to deliver, due to proxy. Instead of a central server proxy server is used to store messages. So, no way to track the IP address and, even the date and time of messages. In WhatsApp, messages are end-to-end encrypted. But still, in WhatsApp, data breaches can happen and are susceptible to hackers.
5. Standalone App for PC.
Again in WhatsApp vs Session battle, the Session app takes lead. Yes, WhatsApp for PC is available. But, to log in and use, your phone requires connected all the time. Hence, if you want to work remotely, then WhatsApp isn't the right App to do so. Though, you can download the session App for Windows, Mac, and Linux. And as you know it provides a random session ID. So, the phone isn't required to use the App.
6. More Session App Features.
Self-Destruct Message – Session App comes with Disappearing Messages option. You can set the timer from five seconds to up to a one-week for self-destructing messages. To enable disappearing messages, tap on the vertical three dots icon in the chat window.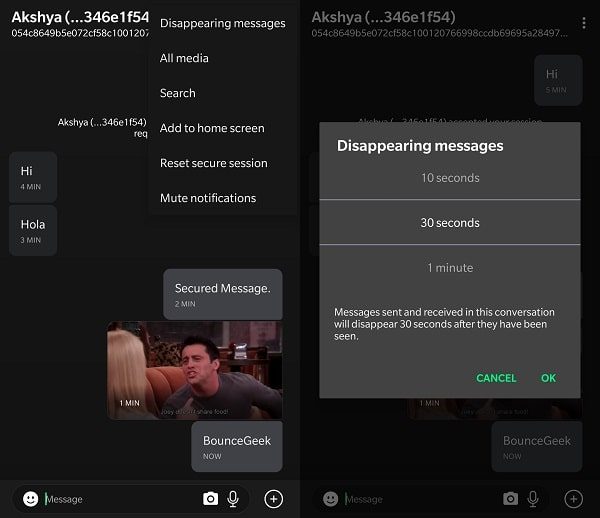 Calls – One thing you need to know is that, Session does not support Voice/Video calls. You can exchange pictures, files, voice notes, and send GIFs. So if you can't live without video/audio calls then, stick to WhatsApp. Through, Options like "Read Receipts", "Typing Indicator" and link previews are available.
Groups – In Session Private Messenger App, you can make closed groups and add up to 10 users. There is an open group option also available, just like telegram channels. Open groups can have thousands of users.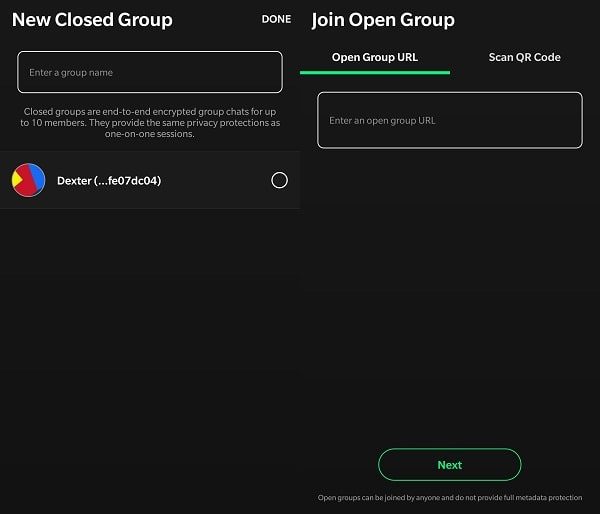 Store messages locally – Unlike WhatsApp, Session doesn't store messages on the cloud. Though, you can enable "chat backups" and can store messages in local storage. Don't worry, messages will stay encrypted with paraphrasing. Keep remember, paraphrasing can't be modified. So, keep it secure somewhere. Else, you will lose chat backups.
Conversation Length Limit – Yes, it comes with a limit, which is set to 500 by default. You can enable the "Delete old messages" option. It will delete text messages after the limit is breached.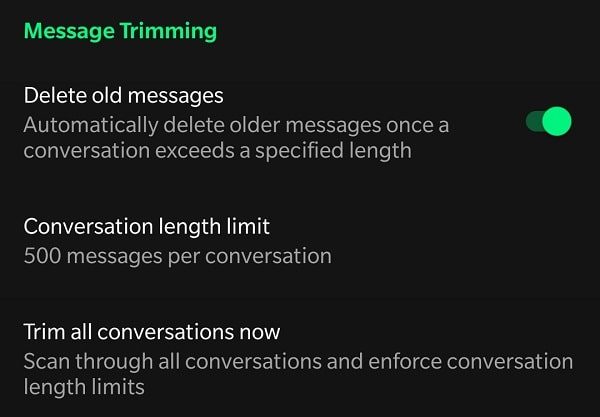 How to use Session App?.
1. Install Session App on your Android or Session App on the iOS device.
2. Do open the App, and tap on "Create Session ID".
The app will generate a unique session ID and copy it somewhere safe. (Tap on a copy to save it to the clipboard. You can share it with your friends. So that, they can add you to their Session Account. )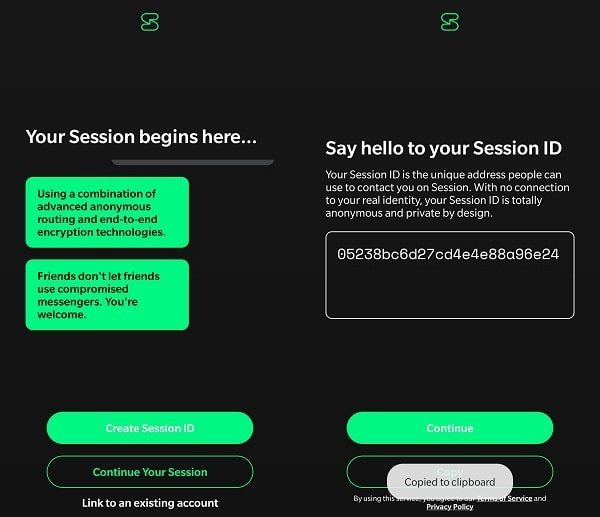 3. On the next screen, enter your Display name. Tap on "Continue".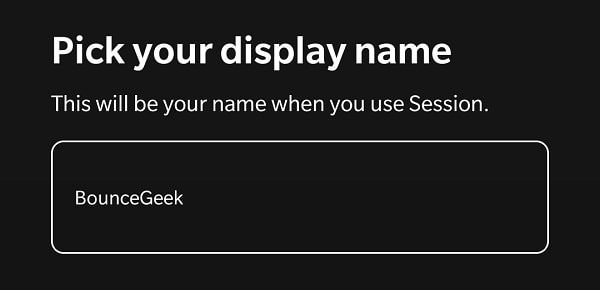 4. The session will now ask you to secure your account with a recovery phrase. Click on "Continue". (It is the master key to your Session ID.)
5. Reveal the recovery phrase by holding it, and saving it somewhere.
6. Share your Session ID with friends – Tap on the profile icon from the upper left corner to open Settings. From here, you can copy the Session ID and send it to a friend via Email or WhatsApp. Or, you can share your QR Code. (Tap on the QR Code icon from the upper right corner.)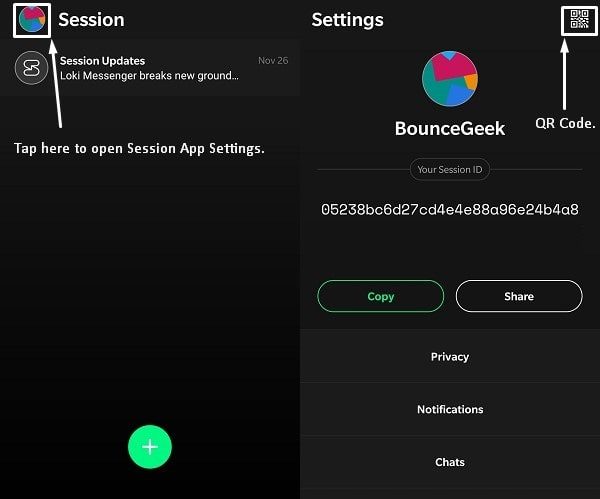 7. Add friend using Session ID – If you have the session ID of your friend. Then, on the home screen hold the "+" icon and slide over to the chat icon. Here, you can add friends with session ID or by scanning their QR Code.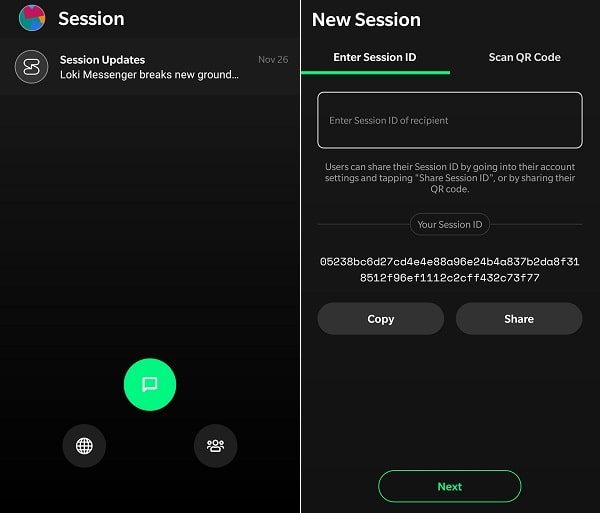 8. Once, you add a friend, it will appear on the home screen of the Session App. Send a message to your friend.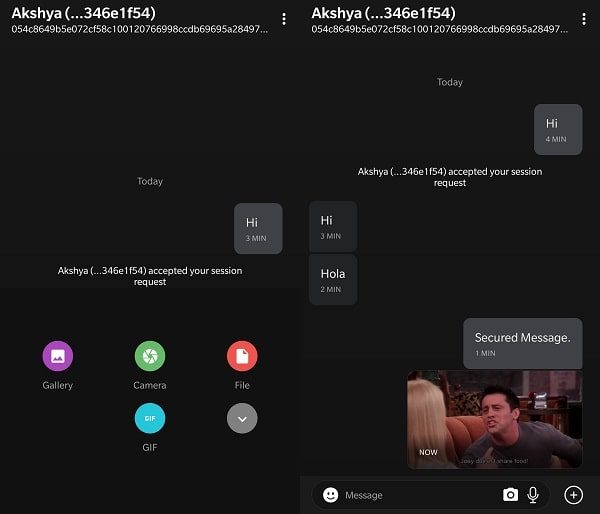 Once, your friend will accept your request. You can start your private conversation.
Final Words – Session – Private Messenger.
It's been only a few days since Session App was released for all platforms. Definitely, Session is something that you should try once. But, as of now, it might not replace WhatsApp. Because people prefer using WhatsApp voice and video call features. And, initially, it looks a bit complicated for a normal user. But, there are many advantages to using this App. It provides a great way to skip phone numbers and talk to a stranger anonymously with the session ID. Privacy is something Session App can provide. If you don't hesitate in sharing your number, then, keep using your favorite messenger App.