Instagram is now not an ordinary social media platform to upload photos and videos. Instagram influencer marketing has taken the storm in the social media world. Many users all over the globe now begun making a living from Instagram, by doing paid posts. But still, there isn't any option to save your photos from Instagram. Even, Facebook does provides the "Save to phone" option. Yes, there is a save option available on Instagram. When you tap on it, Photos go into the saved post.
But what if you accidentally delete an original photo, that you have uploaded on Instagram. Or maybe you have used the Instagram in-app camera and didn't save a copy on your phone. In both cases, downloading the photo from Instagram is the last option that remains.
Well, no worries, Instagram comes with the "Download Data" option. That allows downloading all of your data, which including photos. Yes, there are some other ways available to download Instagram Photos. But, first, we will go through the official process. And, after that, I will tell you all possible methods to save Instagram Photos on your device. And, If you specifically want to download Instagram reels, then you can read my article on it.
Note: Instagram doesn't provide a download option, to protect user privacy. If you're downloading a photo to repost. Or intend to use it in another manner. Then, first, take that user's permission. Also, please read the Instagram in-depth section regarding copyrights.
Download Instagram Photos, Videos, Stories, Reels.
Download Your Instagram Data
Like Facebook, Instagram does provide an option to download all your data. That includes, photos, videos, and uploaded Instagram stories. So, if you want to download anything shared by you on Instagram. Then, this method is gonna help you out. Though, if you want to download Instagram photos of other users. Then, the next method will help you with that.
How to Download all of your information from Instagram.
1. Open the Instagram App and then open settings.
2. Tap on "Security" > "Download Data".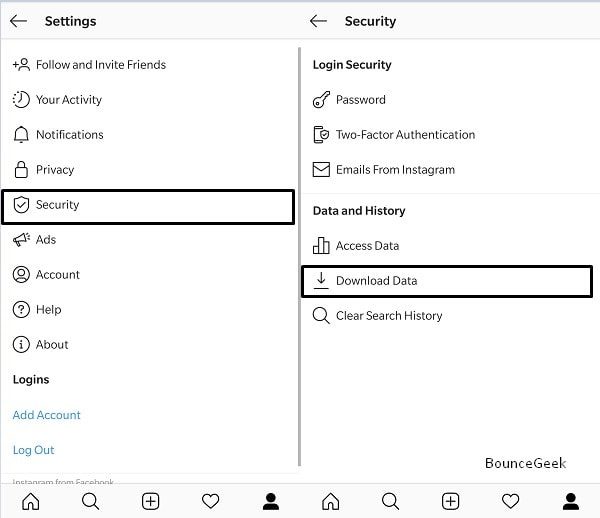 3. Enter the email address, on which you want to receive a download link. And, tap on "Request Download".
4. On the next screen, Instagram will ask you to enter your Instagram password. Enter the password and then tap on "Next".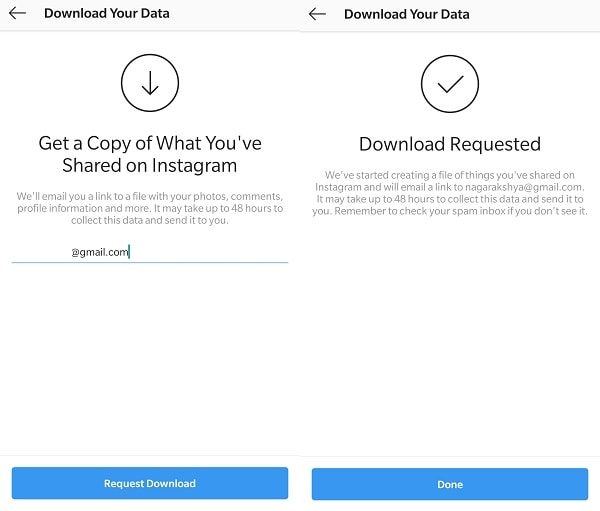 That's it. "Download Requested" will appear on the next screen. Now, you have to wait at least 48 hours, and you will get a download link in the mail.
Download Instagram Data File
I haven't shared too many photos on Instagram. So, I received my Instagram data file after 5 minutes of requesting it.
1. Open the "Your Instagram Data" email. And, tap on the "Download Data" option.
2. A link will now get open in the browser. Enter your Instagram password. Tap on "Download Data", and the zip file will start downloading.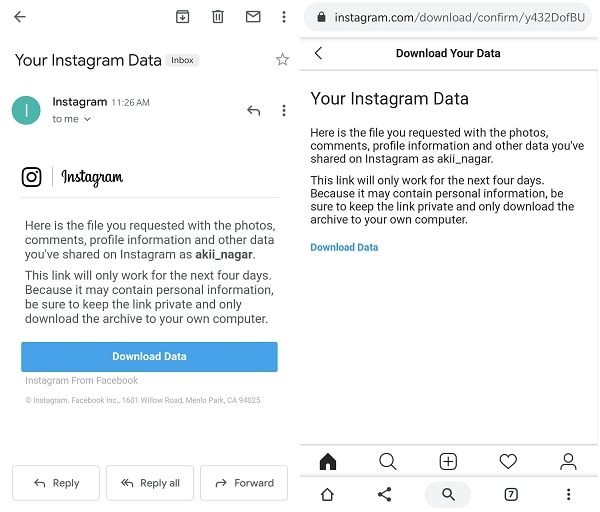 3. Extract Zip file using any File Extractor App of your choice. Or, you can use your File Manager.
Download Instagram Photos in Chrome
Like Play Store in Android, Chrome also comes with its own Web Store. And, from Chrome Web Store you can download many useful extensions. And, if you want to save Instagram Photos and Videos on your PC. Then, there is an extension available for it "Web for Instagram".
As you know the web version of Instagram comes with only a few options. This extension will provide you full-fledged experience like Instagram App. So, apart from downloading photos, videos, and stories. This extension is gonna help you in many ways. You can even post to Instagram from a PC, with this extension. Although separate Reels option will not be available, but still you can open any user profile and download Reels.
1. Open the "Web for Instagram" link in the chrome web browser. And, Click on "Add to Chrome" > "Add extension".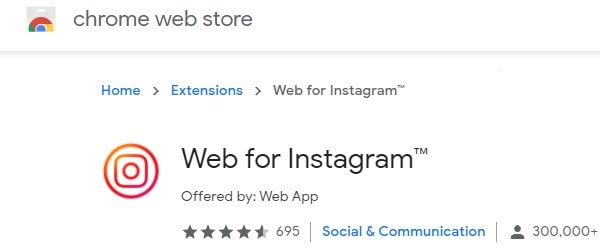 2. After installing the extension, open the Instagram site. And, in the extension bar, you will find the extension icon click on it.

3. Instagram App will now open in mobile view.
4. Now, hover your mouse pointer to any photo/video. And, you will get a download option.  Click on it, and the photo will get downloaded instantly.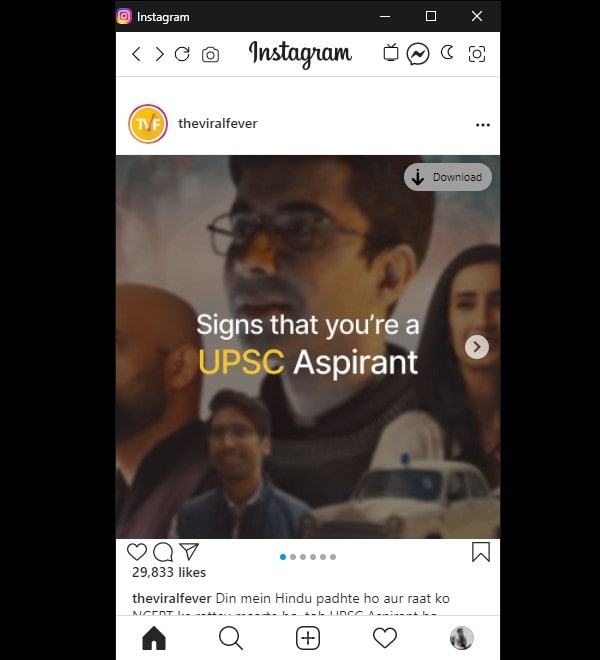 You can even download Instagram Stories and Reels.
DownloadGram – Instagram Photos and Videos Downloader
If you don't have Chrome Web Browser or don't want to download any extension then you can use the DownloadGram site. Download Instagram Videos and Photos with this site is very easy. Follow these steps to download any Instagram photos.
1. Open the Instagram site on any Web Browser, and tap on the image to view the full screen. Now copy the URL of that image, Don't copy the profile URL.
2. Visit the DownloadGram site and then paste the URL that you copied, and hit the download button. Wait for few seconds and you"ll get the Download Image option, Click on it and Image will start downloading.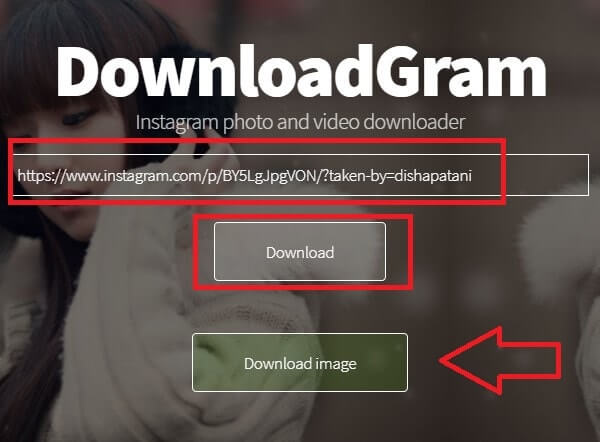 Although this online Instagram photo downloader doesn't allow to download in full resolution still it's good enough.
4K Stogram Software for Windows, Mac, and Linux
4K Stogram is one of the Best Instagram photos and videos download the program. It allows downloading all photos and videos of any Instagram user. You can download user Instagram photos without Login your Instagram account on software.
Step:1 Download 4K Stogram software on your computer and Install it.
Step: 2 Open any web browser and visit the Instagram site and copy the URL of any Instagram user profile.
Step: 3 Now open 4K Stogram software and paste the URL and click on the subscribe button.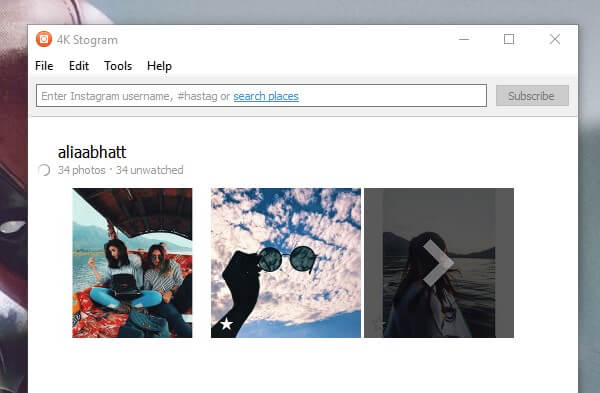 The software will automatically start downloading all photos. And if you want to stop downloading then Right-click on any photo and click on Remove. If you're unable to find out folder in which all images are downloading right click on the image and choose Show in Folder.
Save Instagram Photos using App



There are dozens of apps available, that let you download photos from Instagram. But, I found one App with the highest rate on Play Store. Though, you will find out Ads in the App. And, to remove Ads, you have to pay a small amount. Don't worry, Apps works absolutely fine in the free version. And, ads aren't that much annoying. This App works similar to the DownloadGram site. You have to paste the Photo URL in App. Or, you can use the share option of Instagram.
1. Install "Video Downloader – for Instagram Repost App" from the play store.
2. Open the App once, and after that open Instagram App.
3. Now, Open the post (Photo or Video) that you want to download.
4. Tap on the vertical three dots icon > tap on "Share to". In the Share with menu, select "Video Downloader – For Instagram" App.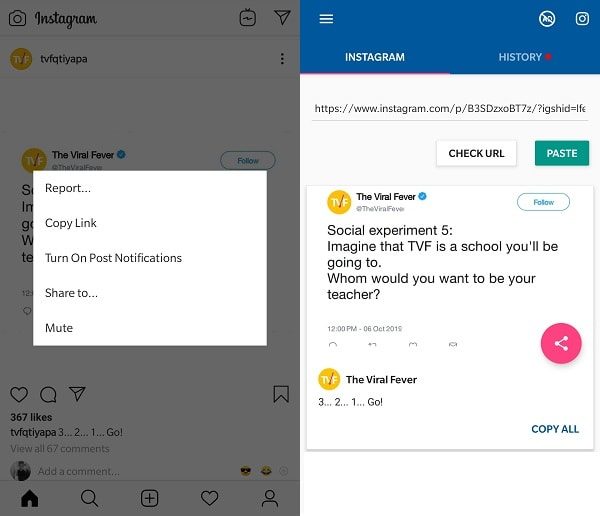 That's it. Image or Video will automatically get downloaded. You can check your smartphone gallery.
Use Screen Capture Tool
If the image quality isn't your concern and just want the photo to watch offline. Then you don't need to download any software or extension, you can take a snapshot of the photo. On Android, you can capture the screen by pressing the volume down + power button. But if you're using the computer then you can try one of the Best Screen Capture tools. And if you're a Windows user then you don't need to download any, You can use the Snipping Tool.
Conclusion
So these are the methods, that you can use to download Instagram Photos, Videos, and even stories. Yes, most of the methods are for PC. But, still, if you want to download photos on the smartphone. Then, there is an App available. I tried that chrome extension in Android's Kiwi browser. But, the extension wasn't able to download Photos. If you're using a PC, then I will suggest you use the Chrome extension. Or, In Android, you can use App or DownlaodGram Site. If you know any other method, feel free to comment.