Google Play Store has tons of Games in every category to Play. But some old classic games are still missing, like Pokemon, Dragon Ball Z and Super Mario. These games were designed to play in Nintendo DS (NDS) game console. If you don't know what NDS is – It is a small dual – screen gaming console developed by Nintendo in 2004. But buying NDS gaming console in 2017 isn't a good decision. Because now you can play old classic Games on your Android device using "DS Emulator Android."
What is DS Emulator for Android?.
DS Emulator enables Android device to behave like DS gaming console. In other words, it enables host system (Android) to run Games which are designed for the guest system (NDS console). So with NDS Emulator you"ll get control over all DS game ROM without having real NDS gaming console.
There are tons of DS Emulator Android available on Google Play. Which allows playing old classic NDS games on your Android devices. There are dozens of best DS Emulator for Android available on Google Play. But only a few of them are working correctly, So here is the list of best Android DS Emulator.
Best Nintendo DS Emulator Android
RetroArch.
RetroArch is powerful Gaming Emulator available for all major devices like Windows, Mac, Linux, Android, and iOS. Also, there is an online version of this emulator available, Which allows playing classic games on web browsers. Apart from NDS Games, you can play all old classic gaming console games like SNES, 3DO, GBA, DOS, PSP and many others.
Read Also: Best Nintendo 3DS Emulator PC, Linux, Mac, and Android.
It comes with many advanced features like Shader, Netplay, rewinding. Comes with a built-in collection of application, that provides one stop shop for all type entertainment. It's not only designed to play NDS games only, it is a multi-versatile program. Means in order to do anything or play games you need to modeler programs (known as cores).
Download RetroArch From Google Play.
Note: If you don't have Android device then download RetroArch for your device from Official site. Then follow this instruction to play, Because RetroArch interface is same for all devices.
How to Play DS Games using RetroArch?.
First, Download DS ROM file of your favorite Game. And make sure extension of your DS ROM file is (.nds). If it's in another format (like .7z) then use ES file explorer to extract it.
Step: 1 Open RetroArch App on your Android device, Tap on Load core> Download Core.
Step: 2 Now a list of all cores (Emulators) will appear, Scroll a little bit and then choose Nintendo DS (DeSmuME). Wait for few a minute and core will get downloaded and will automatically get installed in load core section.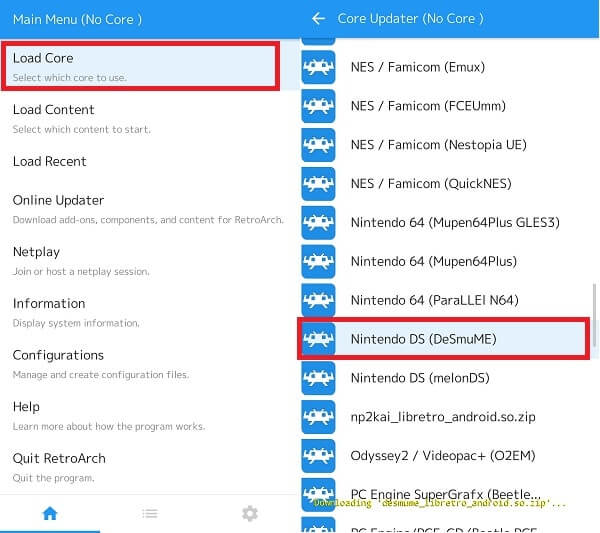 Step: 3 After that go back to home menu and then tap on Load Content to choose game File. Then access directory of the game (Tap on /Storage/emulated/0) and select game file.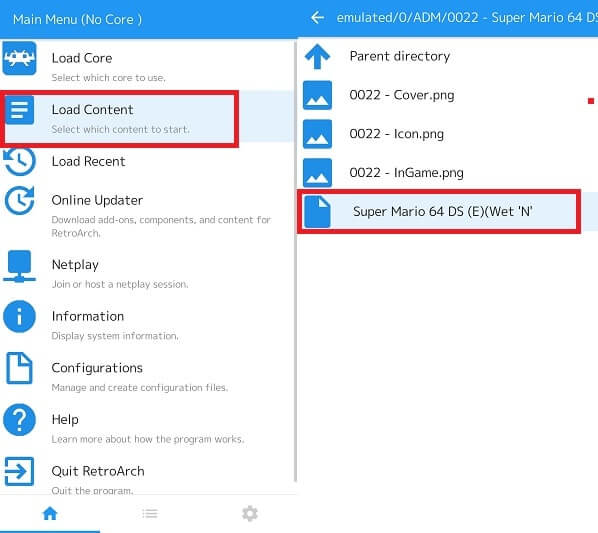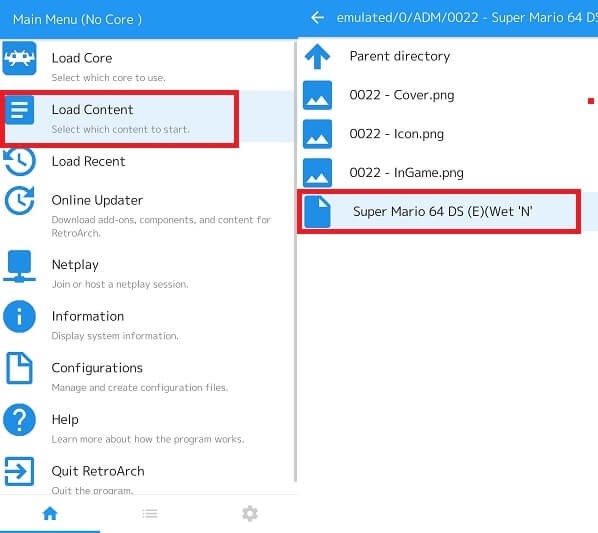 Done within few seconds game will start running. And with on-screen gaming control, you can enjoy NDS Games on Android devices. There are many things that you can do with RetroArch but the article is all about playing DS games on Android.
NDS Boy.
If you need an emulator to Play DS Games Only then nothing can be better than NDS Boy. This Android Emulator allows playing DS Games 10X faster than RetroArch. Because before start playing games on this emulator it asks to disable sound. In this emulator, the game works smoothly, But in RetroArch you will face some issues. It supports all types of NDS Game file (.7z, .rar, .nds, .zip) you don't need to extract the file to play.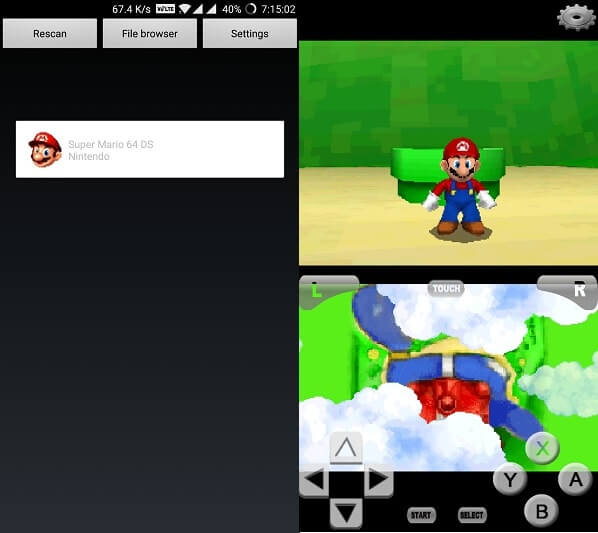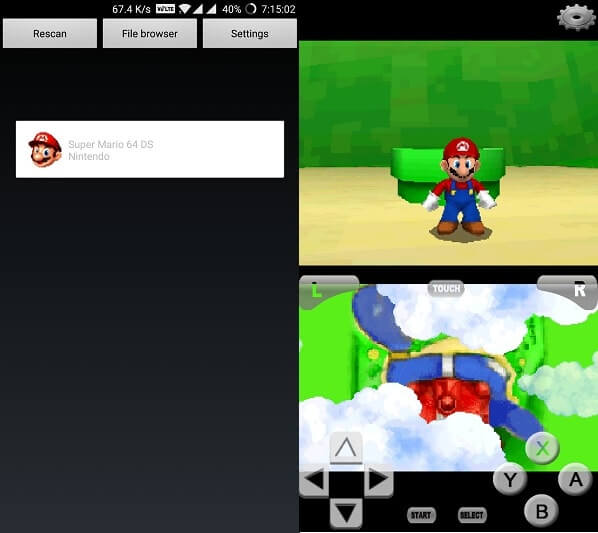 Also, You don't need to load content by accessing a directory of your device. When you open this emulator it will show you all available NDS games on your Android device. All you need to do is just tap on the game and game will start within a seconds. On-screen gaming control button makes easy to play old classic games. Overall it is the best DS Emulator Android available on Google Play.
Minimum Requirements – 2 GB RAM, quad-core CPU.
Download NDS Boy. (For Android 6.0+)
Get NDS Boy for (Android 4.0+)
nds4droid.
nds4droid is very basic but best DS Emulator Android. It doesn't come with any advanced settings. It supports only .nds extension game files, So if game file is any other format then first extract it. Like NDS Boy it also provides an option to disable sound and improve the gaming experience. When you open nds4droid it will show you all games available on your smartphone.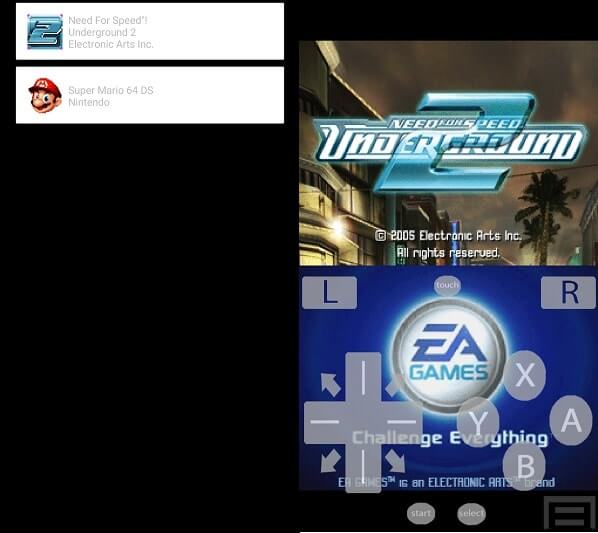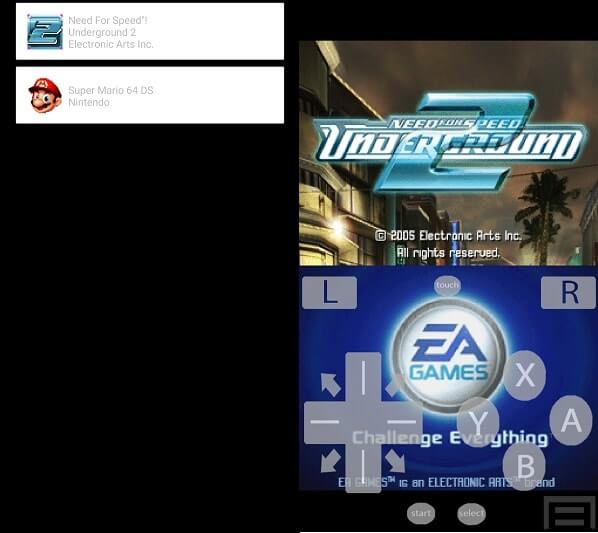 If the black screen appears it means there isn't any NDS game ROM file available on your device. But the best thing is you can don't need high-end devices to use this emulator. Even in 1 GB RAM devices, this emulator works flawlessly. Overall if you don't need extra settings just want to play old class ds games then this emulator is the right choice for you.
Read Also: Best GBA Emulator for Android, Windows, Mac, and Linux.
Mega NDS.
If you're searching for an Emulator with good user interface and some advanced option like RetroArch then try Mega NDS. It supports all file format so you don't need to extract game ROM file. One thing you don't like about this game is some ads, But ads aren't annoying. There is file browser section which allows accessing the game directory without leaving Emulator.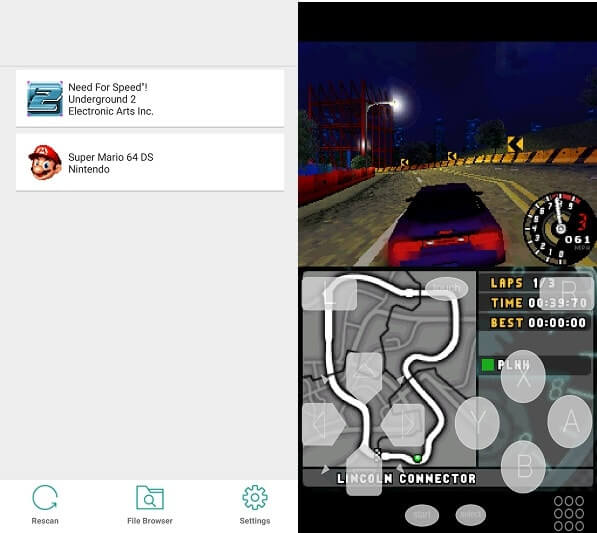 Also, there is some advanced option in settings like – Don't rotate LCD, Enable Sound, Enable/ disable portrait/ landscape touch buttons. If the sound is not syncing properly then you can try sound sync mode. You can customize on-screen gaming control by setting up transparency. Overall it is the Best Nintendo DS Emulator Android that you can try.
NDS Emulator for Android 6.
This is another Android DS Emulator that you can use to play old NDS Games. The only cons that I found in this Emulator are un-skip-able annoying ads. Else this emulator works flawlessly and supports all types of NDS game extension. When you open emulator there is a menu will appear with Continue, New Game, and Options button. Continue button allow to resume the game from the last point, and new game button allows to swap between games.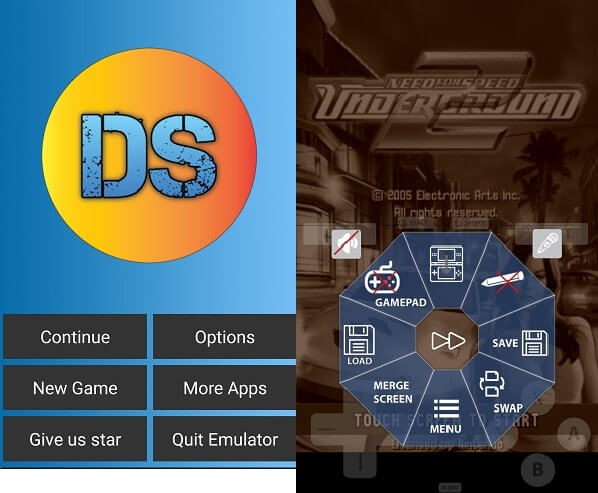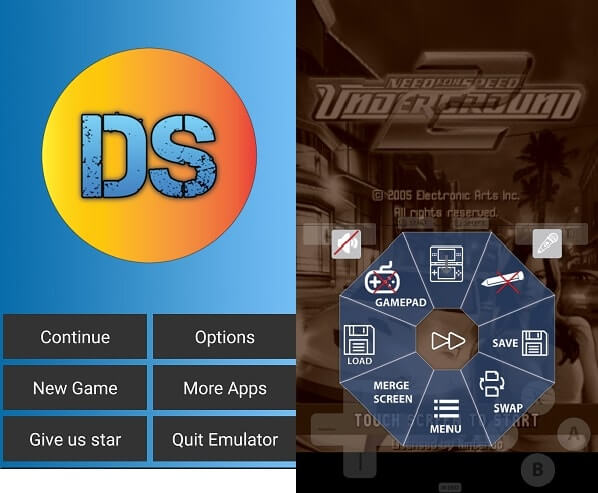 This emulator allows to connect the external controller and you can map key on it. When you play the game on this emulator there is quick action button which allows you to save the game at any point. And there is an options menu which allows to control multiple settings like – rendering, enable custom clock, set virtual game-pad position. Overall it is the best DS Emulator Android, which is designed especially for Android 6+.
Download NDS Emulator for Android 6.
Conclusion.
So, these are the Best DS Emulator for Android that you can try. Still tons of Emulator left to mention in this list. But this article is about best, and others emulator that I tried was not working. Some of them were stopped after clicking on Game. If you're still confused which one to download then try NDS Boy it is fast and small in size. But if you want to play some other console games then RetroArch is the best option. That's all folks for today If still, any best emulator left to add in this article then feel free to comment.
Read Also: Best SNES Emulator for Windows Android & For all Platform.