Nowadays, Dark Mode is becoming an essential thing in Apps. Even, Google has released the Grey theme for almost all Apps. But still, WhatsApp App users are waiting for the dark mode. Yes, by using GBWhatsApp, you can get WhatsApp Dark Mode. But, it can put your WhatsApp Account and Privacy at risk. If you spend more time on the PC than on your smartphone. And, like to use WhatsApp on PC. Then, this article will help you to Enable Dark Mode on WhatsApp Web.
WhatsApp Web version doesn't provide the full-fledged experience like Android and iOS App. Like, you can't make Audio and Video Calls. But still, you can send and receive WhatsApp messages right from your PC. And, Messaging with a Dark theme on WhatsApp Web will be a relief to your eyes. Because Dark mode is helpful to reduce eye strain. Especially if you're using a PC in the darkroom.
Enable Dark Mode on WhatsApp Web/Desktop.
Apply Dark theme on WhatsApp Desktop App. (Windows, macOS.)
Recently, m4heshd (a GitHub developer) has developed a mod for WhatsApp Desktop App. This mod simply adds a "Dark/Light mode" switch to WhatsApp Desktop App. So that you can switch between dark and light theme with just one click. This is an open-source project, all code available on GitHub. So you don't have to worry about privacy-related issues. And, it is not a modded version of WhatsApp Desktop App. It is just a script, that will inject dark theme in your current installed version of WhatsApp.
1. First, Install WhatsApp Desktop App from the official WhatsApp site. (Because this mod, doesn't work on App store and Microsoft store version of WhatsApp.)
2. Go to WhatsApp Desktop Dark Github Page of m4heshd. And, download the latest zip file of the build. (If you don't trust the developer's build. Then, you can build the application yourself using source code.)
3. First, make sure the WhatsApp Desktop App is running. After that, Extract downloaded the 'WADark" zip file. And, run the "WADark" Application as administrator.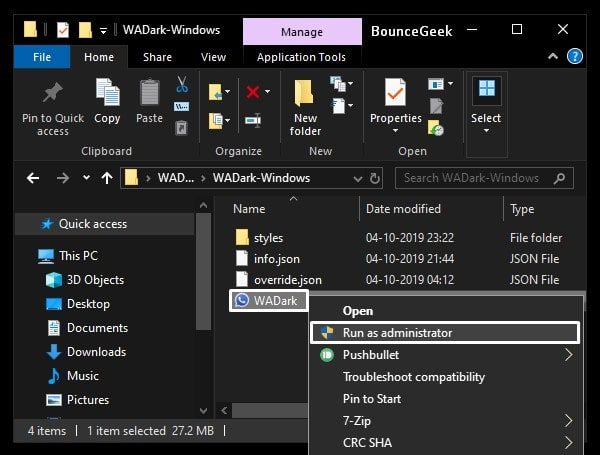 4. That's it. Now, just wait for the process to get Complete. The script will now apply the dark theme on WhatsApp Desktop App.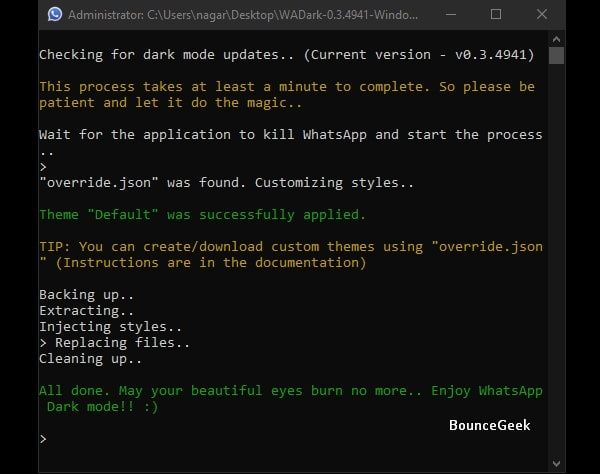 To switch between light/dark theme. First, you have to login in WhatsApp Desktop App. And, after that, you can see a button next to your profile picture.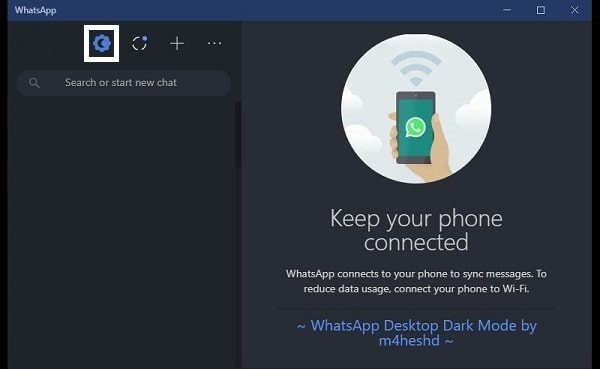 Get Dark Mode on WhatsApp Web.
There are multiple ways to apply Dark theme in the WhatsApp Web version. In this article, we will go through two methods. WhatsApp web version and WhatsApp Desktop version both are identical. So, if you prefer a web version only, then this method is for you.
Use WA Web Plus Extension.
This extension is designed to add more features to the WhatsApp Web. It adds more tools and privacy features. The best privacy feature is that you can blur chat, contact names and images. It is helpful if you use WhatsApp Web in public places like the office. This extension also lets you restore WhatsApp Deleted Messages. But most importantly, WA Web Plus offers night mode. And, you can customize night mode colors.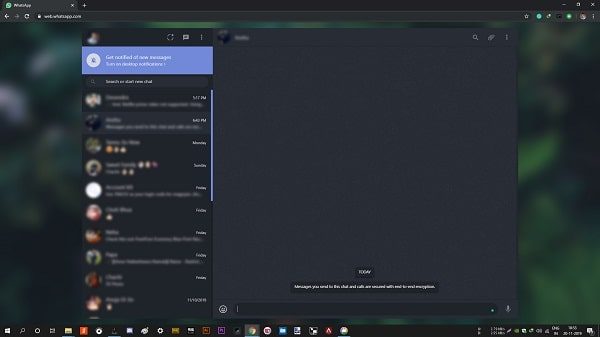 1. Visit the WA Web Plus Chrome Extension page, and, Add this extension to the Chrome Browser.
2. Open web.whatsapp.com and log in using WhatsApp Android or iOS App.
3. Once, you log in, you will get the "Enable Night Mode" option. Select it to enable night mode.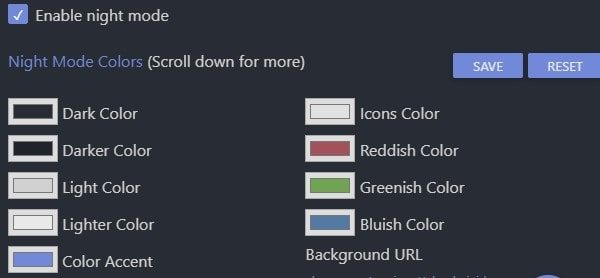 That's it if you want you can enable other privacy features also.
Use the Stylus Extension WhatsApp theme.
If for any reason, you don't link the WA Web Plus extension. Then, you can use the Stylus Chrome/Mozilla Extension. The stylus is a user styles manager. That designed to apply themes on some popular sites. And, there is WhatsApp theme available for Stylus. So, you can give it a try.
1. First, Install Stylus Chrome Extension from Chrome Web Store.
2. After that, visit the Dark WhatsApp theme UserStyles web page. And, click on "Install Style".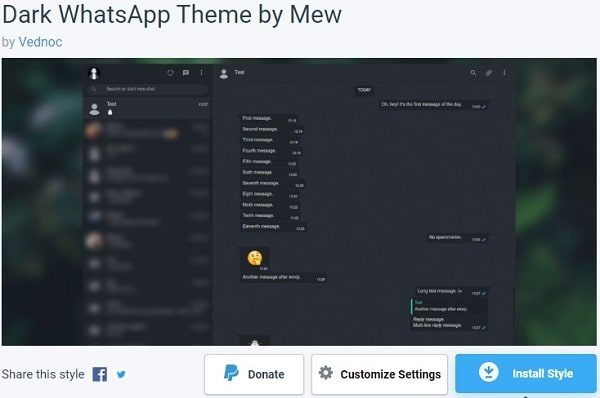 That's it, you don't have to do anything else now. In WhatsApp Web version Dark theme will get applied.