After installing Windows 10 creators update, NVIDIA Graphics card users facing several issues. If you will try to install latest Graphics Driver. Then you might face "NVIDIA Installer failed" error. Which you can resolve by tweaking certain settings. But recently, Windows users are complaining that their "Nvidia control panel missing". Actually, It's all happening because of latest Windows Security Update. NVIDIA control panel is quite useful because you can tweak your graphics settings with it. Also can manage 3D settings, and can set PhysX configuration.
By default, NVIDIA Control panel appears in the context menu. But if Nvidia control panel not showing in the context menu, then this article is for you. After installing Windows update and Nvidia driver, I was facing the same issue. And, I had fix this problem, so try all the solution mention in this article.
Fix NVIDIA Control Panel Missing.
Solution: 1 Unhide NVIDIA Control Panel from settings.
If NVIDIA Control Panel is installed on your Computer, but it's not showing on notification tray and context menu. Then, you can solve this problem with few clicks. First, you need to access it, which you can do from Control Panel.
Step: 1 Open Control Panel and in "view by" option select large icons. (To open control panel, press windows + R key then type 'Control' and press enter.)
Step: 2 Now, you"ll able to find out "NVIDIA Control Panel". Click on it, to open it.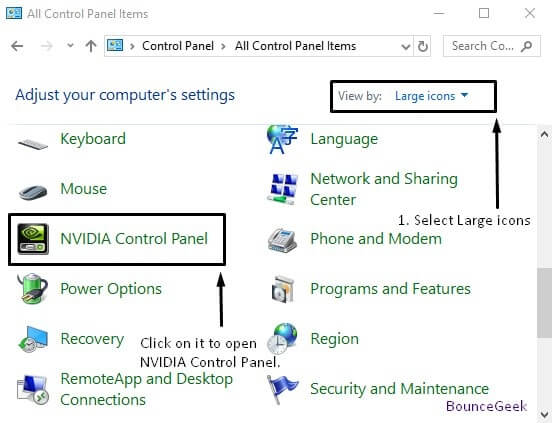 Note: If NVIDIA Control Panel is missing from Control Panel then you need to try next solution.
Step: 3 When NVIDIA Control Panel opens up, then click on 'desktop' from the menu. And, then click on these two options to enable.
Add Desktop Context Menu.
Show Notification Tray Icon.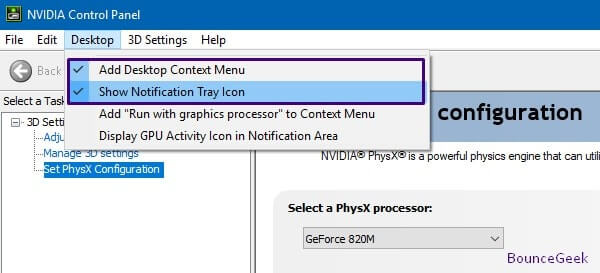 After enabling both options you will able to see NVIDIA Control Panel in the notification tray.
Solution: 2 Install Latest NVIDIA Drivers.
If you're searching for "Nvidia control panel download" then you should stop right now. Because NVIDIA site officially doesn't provide a separate link to download it. If "NVIDIA Control Panel is Missing", then to get that you need to install latest Graphics Driver. Because Control Panel of NVIDIA comes with Graphics Driver.
And, it could be possible that you have uninstalled graphics driver mistakenly. Or, maybe some Windows Software is creating conflicts. Whatever is the reason behind missing of NVIDIA Control panel. I suggest you install latest Graphics Driver.
There are two ways to update a Graphics Card Driver.
First: You can update Graphics Driver by going into device manager > Display Adaptors. (Right Click on Windows 10 icon to open device manager.)
In display adaptors right click on NVIDIA Driver and then click on 'update driver'.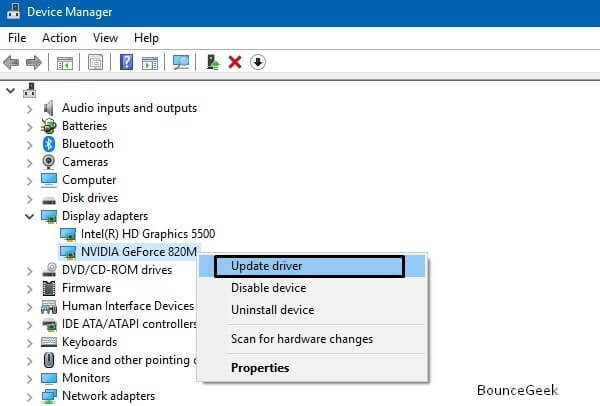 Now, use 'search automatically for updated driver software' to find out the latest driver.
Note: Sometimes, device manager not able to find out latest drivers. That's why I suggest you try next method.
Second: If device manager doesn't work, then you can manually download the driver and can update it.
To know your Graphics Card model number, you can open device manager. But if device manager is not showing Graphics Card information then use CPU – Z software.
After getting NVIDIA Driver Information, now open NVIDIA Graphics Driver download page. And, then select NVIDIA Graphics model number, to download.

Solution: 3 Restart NVIDIA Services.
If after installing latest NVIDIA Drivers, still, NVIDIA Control Panel missing from notification tray or context menu. Then, maybe it is disabled from services. Each Windows program comes with a batch of services. Which launch automatically when you run that program. And, if some services aren't running automatically. Then you can start them forcefully. Though, this solution is the alternative to the first solution. But, still you can try, maybe this solution will help you.
Step: 1 Press Windows + R key and then type "services.msc" and press enter.
Step: 2 In Windows services, now look for "NVIDIA Display Container".
After finding it, right click on it and then click on "restart". If service is stopped, then you can click on "start" to enable.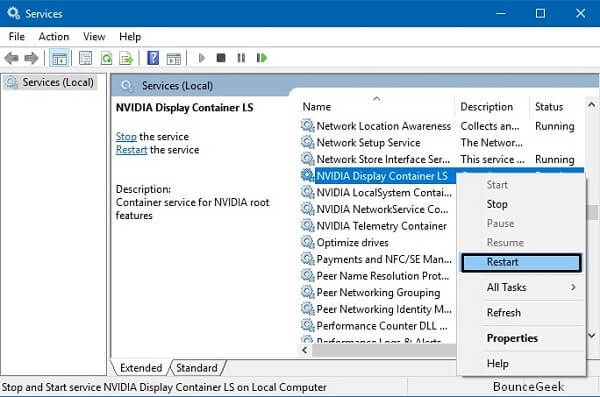 This service will enable NVIDIA Control Panel icon in the notification tray. By using the same way you can start some other NVIDIA services.
Solution: 4 Fix this Error Permanently. (Solution by NVIDIA support)
Some users are facing "NVIDIA Control Panel Missing" problem again and again. Even, after using all above solution. So, to fix this issue permanently, you can try this solution. After applying this solution, NVIDIA control panel will automatically get started with Windows. Means, you will able to find out it in context menu and notification tray.
1. Go to "C:\Program Files (x86)\NVIDIA Corporation\Display.NvContainer" folder. (If the folder is missing, then check Program Files, instead of Program Files(x86).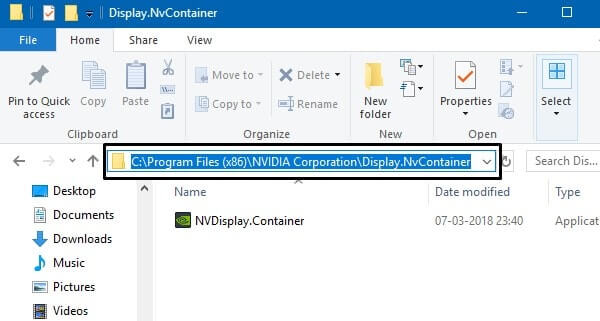 2. Now, right click on "NVDisplay.Container" and click on copy option.
3. To open startup folder, press Windows + R key then type "shell:startup" and press enter.
4. In startup folder, paste "NVDisplay.Container" file that you had copied.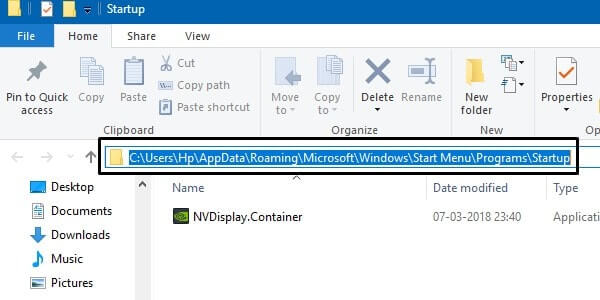 5. Right-click on copied "NVDisplat.Container" file and then click on properties.
After that click on the Compatibility tab. And, then mark "Run this program as administrator" option. Click on Apply, then OK.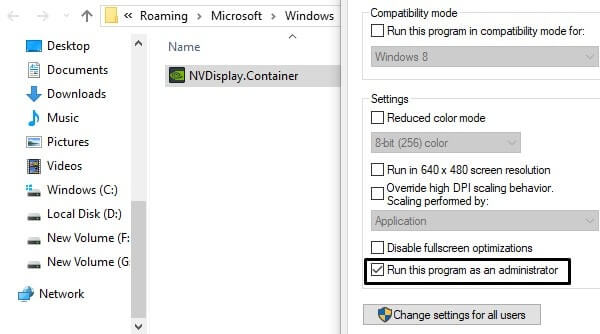 That's it, now restart your Computer once, and you"ll never face this problem again. And, if NVIDIA folder isn't available in Program Files, means graphics driver isn't installed.
Solution: 5 Manually Launch NVIDIA Control Panel.
If none of the above-mentioned solutions is working. And, still, NVIDIA Control Panel missing. Then, you can manually access "Control Panel Client" folder. And, from there you can launch NVIDIA Control Panel. Also, you can create a shortcut on the desktop, to access next time quickly.
1. First, open the following directory.
C:\Program Files\NVIDIA Corporation\Control Panel Client
2. Now, launch "nvcplui" as administrator.
To create a shortcut on the desktop, right click on it then click on "Create Shortcut".