Google is now too close to release the stable build of Android 11. The full OS is expected to release in early September 2020. Because, a few days back, Google released Android 11 Beta 3. Though, in the latest beta, there are subtle changes. But still, there are some new features, in that, you might be interested in. Well, one of my favorites features of Android 11 is, accessing the media controls in the quick menu. With this Android 11's Media Control UI, users can not only control media playback but also can change media output right from quick settings itself.
However, If you don't want to wait to get the Android 11 OTA Update. Then, with the help of a third-party app, you can get Android 11's Media Control UI on Any Android. Here's how to do so.
Get Android 11's Media Control UI.
Power Shade: Notification Panel & Quick Settings.
There are so many Apps available to customize the notification panel in Android. But, Power Shade is the most advanced notifications panel customizer App. It provides tons of options to customize quick settings the way you want. From color customization to quick settings icon customization, all options available. Apart from customization, App helps to add Android 10 and 11's quick settings feature. You can integrate Android 11's media player in quick settings.
1. To get started, Install Power Shade App from Play Store, and do open it.
2. The app will now ask you to grant three permissions.
Dual-SIM – This permission is required to make phone calls or reply to messages directly from the notifications. Tap on the toggle shown beside it, and tap on "Allow" in the popup screen.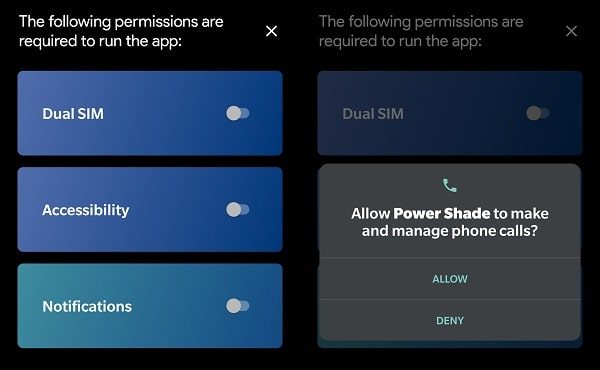 Accessibility – This permission is more important to the App to get work. It is basically used to overlay the App on top of your current OS layout. And, helps to merge the App with the system.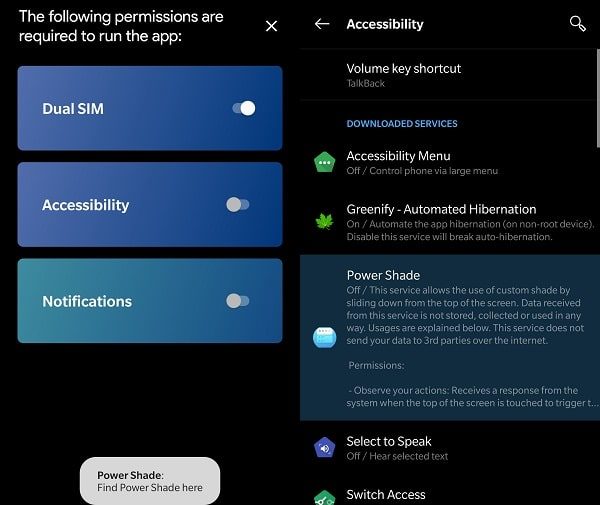 Tap on the Accessibility toggle, and Android's Accessibility settings will get open. Tap on "Power Shade" in accessibility settings.
Next, tap on Use Service toggle switch and then tap on Allow.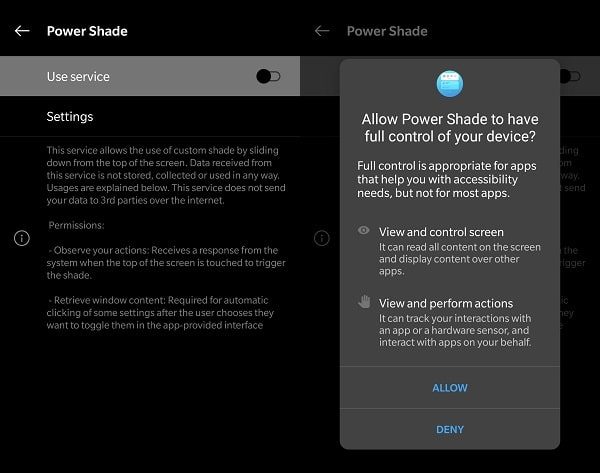 Notification – This permission is to show notifications from various Apps in the new quick settings panel of Power Shade App. So, just tap on the notification toggle switch and from the "Notification Access" settings page, enable Power Shade.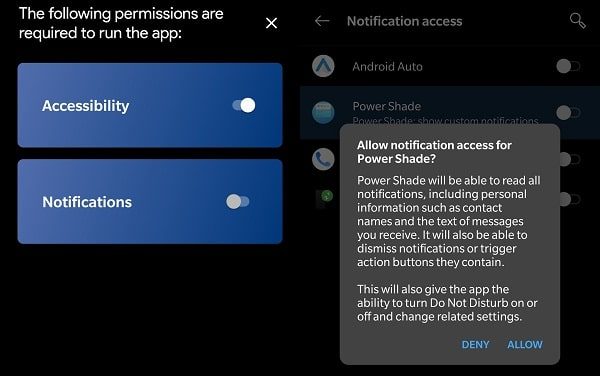 3. That's it, your notification and quick settings panel will get replaced with the Power Shade Panel. You can customize the layout and colors. And, you can also try the new Android 11's Media Control UI. Just play any song, and you can see new UI, from which you can change the output device.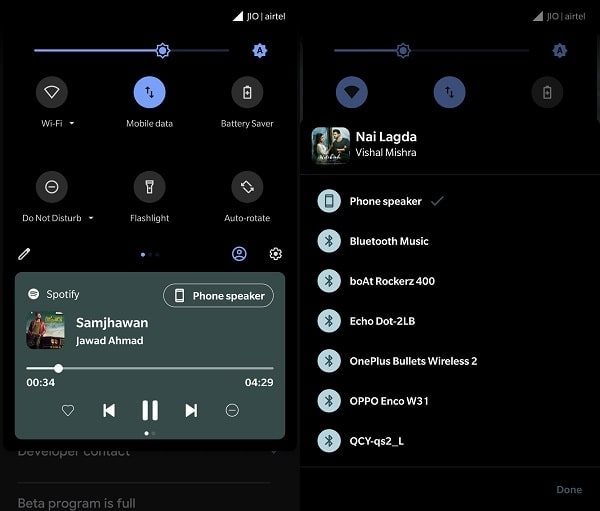 If it doesn't work, then, open Power Shade App, go to Extras > Enable "Integrate media Players in Quick Settings" option.
The best part is you can play music from multiple music streaming Apps. And, can shift between those Apps, by swiping left and right.