Get back view Image button – Google image search is the largest source of images. Recently, Google has removed "view image" button from image search result. Means, now people can no longer Navigate pictures, from Google search. And, cannot download images directly from search results, for later use. So, now google image search will only provide "visit" and save button. And, that visit button will navigate you to the host site.
Google said that – Change had been made to help connect users and useful websites. Because visit button will redirect people to the host site (Original source of image). And then the user needs to comply that site rules to download the image. Previously, People were able to look at the only picture from the Google Image Search. And they didn't need to visit the host site. But now if you want to download the image in original size, then you need to visit the host page or site.
But still, if you want to get back view Image button in Google Image Search. Then there is the solution for you, By using an extension you can bring view image button back to search results. Currently, this extension is only available for Chrome and Firefox browser.
Get Back View Image Button in Search Results.
View Image button in Chrome Browser.
Google Chrome is the best web and mobile browser. Although it holds much amount of RAM, still it offers some unique features. And this is one of those browsers, that can get back view image button for you. Chrome browser has its own web store, Which provides extensions and themes. And recently, An extension called "View Image", has been launched on Chrome Web Store.
This extension is developed by Australian student Joshua B (According to GitHub). The extension allows users to re-implement "Search by Image" and "View Image" button into image search results.
There aren't any specific steps to get view image button in search results. All you need to do is, Install the extension in Chrome browser. Unfortunately, If you're an Android user then you can't install this extension. Because, Chrome browser for Android, doesn't support extensions.
Download View Image Extension for Chrome.
If you're not using Chrome Browser, then follow these Steps.
– First, download and install Chrome on your Windows PC.
– Open Chrome Web Browser, And then sign in to your Google Account.
– After that, Open link of "view image" extension, and Click on "add to chrome" button.
Now, search for images, and you will able to see "View Image" button back in search results.
View Image button in Firefox Browser.
After Chrome, the only browser that is fast, and provides good features, is Firefox. Like Chrome, Firefox comes with Add-ons, that works similar to the Extensions. And, "View Image extension" developer also created an Add-on for Firefox. So, If you want to get back "view image" button in Firefox, then you can install this add-on.
Download View Image Add-ons for Firefox.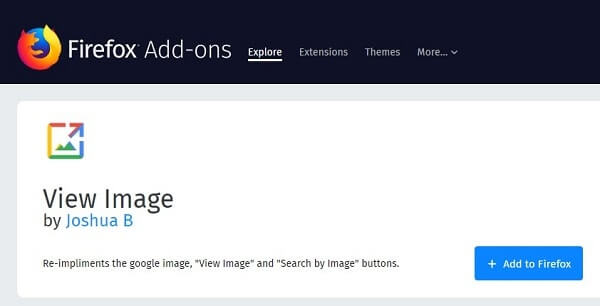 Small Instruction to install this Add-on – First, Download and install the latest version of Firefox, If you're not using it. Then open "View Image Add-on" link in Firefox. Now, click on "Add to Firefox" button. And, Firefox will automatically download and add it to your browser.
Done, now you can search for images in Firefox browser. And, can use "view image" button, to download and view images.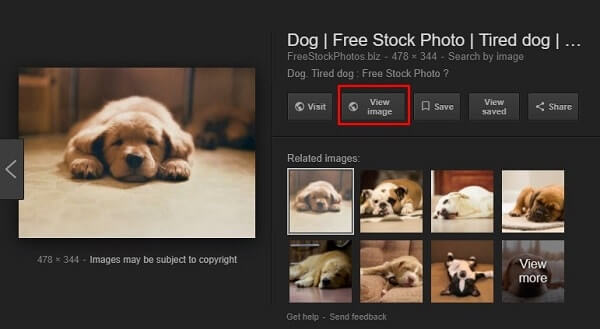 For Android and iOS Users.
As I mentioned already, You can't install "view image extension" in Chrome Android Browser. But you can install this Add-on in Firefox for Mobile. I tried installing this Add-on in android version of Firefox. Add-on installed successfully, but "view image" button it wasn't Showing. Even after opening site into the desktop mode.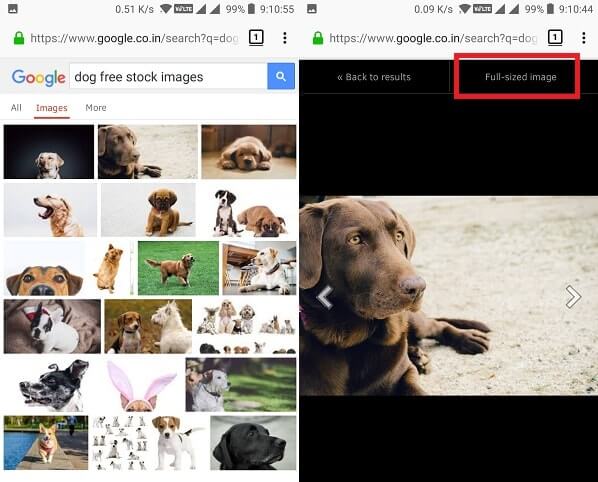 But actually, If you're using Firefox on Android devices, then you don't need any Add-ons. Because Firefox provides "Full-Sized Image" option. Which work similarly to "View Image" Button. So, If you want to download the free stock image in full size on Android device. Then simply download Firefox browser.
Conclusion: Get back view Image button.
Currently, this is the only way to bring back view image Button. This extension is too small in size, so you can use this extension. And, If you're using Android and iOS device, then you don't even need an extension. You can start using Firefox as your primary browser, and can download and view the image in full size. If you know any other way to download and view the image in full size, then Feel free to comment.