Recently, everyone is talking about a Game – Trap Adventure 2 Android. Because this game is seriously a trap, I tried to play this Game. And after five minutes, I found this game irritating and frustrating. If you're a true gamer, then maybe you will like this Game. Trap Adventure 2 is the squeal of TrapAdventure -Hardest Retro Game, Which is developed by HIROYOSHI OSHIBA. A few weeks back, Famous YouTuber PewDiePie posted TrapAdventure 2 Gameplay. And the video title was "I hate this Game". And after that video, everyone is looking for this Game.
But unfortunately, original trap adventure 2 is only available for Apple devices. So, If you're an Android user then you can't play the original game. Although, you can find out some games on Play Store, with the same title. But almost 90% games are fake or badly developed. Still, I found a Trap Adventure 2 Android version, which surprisingly looks like the original game. So, now you don't need to buy iPhone or borrow friend's iPhone for this Game. You can play this irritating Game on your own Android device.
Apart from Trap Adventure 2, Few more similar games also available on Play Store. Which is somehow better than this, in terms of graphics and Gameplay. So, I am going to mention those Games also in this article.
Get Trap Adventure 2 Android.
Trap Adventure 2 – by Clancy Studios.
This Game isn't developed by the original developer, but still Game is very close to the original Game. The game developer is taking feedback from users, and adding new levels every week. Being an Android user, I have never played the Original game. But still, Background music and sound will provide you original game feel. All traps are same in this Game, Like the original Game. Which will irritate you, but still the game is quite addictive.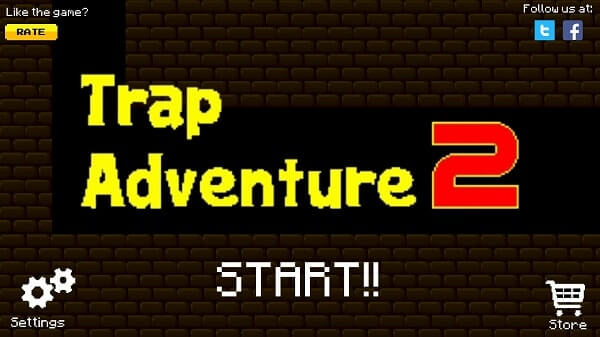 Trap adventure 2 for Apple devices, cost you $99 to unlock extra life and the ad-free experience. And in this Trap Adventure 2 Android, You need to pay minimum $1 to remove ads and ten lives.
But, If you don't want extra game lives, but still wants to remove ads. Then one thing you can do, just turn off your internet connection, while playing it. Because ads require the internet connection to load, and you can play this Game even offline. The game offers two worlds – Classic and New World. Both worlds offer 2D crazy adventure, with a wide variety of traps and surprises.
Get Trap Adventure 2 from Play Store.
Trap Adventure 2 Android Alternatives.
I have already mentioned about this Game in my previous article – Best offline android games. And again, I am adding this game to this list. Because This game is worth trying, And somehow better than the trap Adventure 2. This Game has twenty levels, Which is hard and loaded with extremely angry enemies.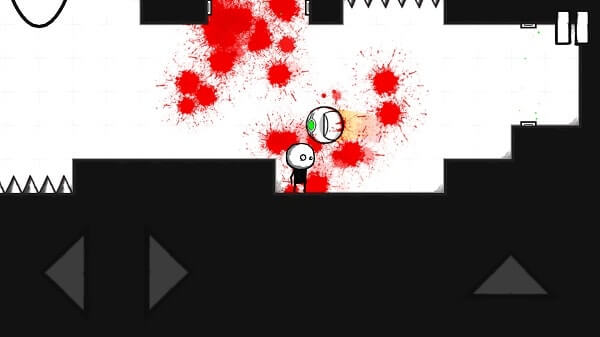 Each level of the Deadroom game is a tangled maze, that is filled with deadly traps. Best thing is you have unlimited game lives, but still, the game isn't easy. I can't tell you more about this game in words. You can download this game from play store for free.
This Game is the real trap, Why?. Because, this game has 64 non-unique level. Means all levels have the same design, but to complete the level, you need to try a different way. When you start the Game, it looks pretty simple at first level. All you need to do is, Press the button and door will get open, and you can enter. But at every level, you need to try out a different way to open the door.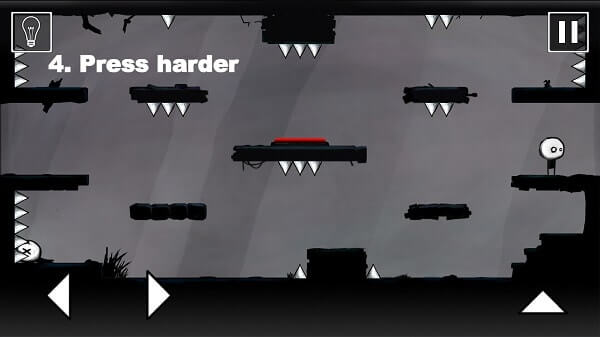 For example – In the first level you need to go on the button and door will open. In the second level, you think it's same but it isn't. Because to open the door in the second level, you need to die. In third level you think, By dying you can press the button, and open the door. But the third level is completely different. You will need to press the button with your finger to open the door.
If you don't get understand what I am telling you. Then Play this Game once, and you will get know. Or, If you have already completed "that level again" Game. Then you can play the second and third part of this game also available.
Conclusion: Trap Adventure 2 Android.
So, this is the only game available on play store, that is similar to original trap adventure 2. The developer is working really hard on this Game. So soon, We will able to play all trap adventure 2 levels on Android. And, If you don't like this trap adventure 2 Game, then you can try these two games also.