There is no doubt in Android is the powerful operating system for Mobile Devices developed by Google. As we know it's an open source operating system, so anyone can use it on any mobile device. There is one more operating system available iOS, But only Apple devices have right to use. Only a few people know that we can install android on PC, And multiple ways available to do that.
If you want to run apps only then you can use Android emulators like Bluestacks. And If you're using an old computer with low specification then you can try Bluestacks Alternatives. Apart from Emulator, there is two android OS also available Remix OS and Phoenix OS. These emulators inherit some windows feature like Multi-Window, File Manager (Right – Click options), Start menu and much more.
But If you want to experience Google's stock android on PC then you can Install Android x86 Nougat. Although, I will not suggest to install in on your hard drive because in the computer you'll face issue while using it. So, here is the simple Guide to Install Android on PC using USB Drive or Hard Drive.
Download Android-x86.
Android x86 is the open-source project to port Android to x86 platform. You can find download links for 32-bit and 64-bit computer based on x86. Before start downloading Android x86 files, make sure what system type you're using.
Right click on My Computer > Properties, A window will open with your system information. In System section check system type "My computer is based on 64 bit that's why am going to download the 64-bit version."
Go to the official download link of Android x86 and choose the suitable version for your system. The latest Android version is available 7.1-rc1 but if you want marshmallow then download 6.0-rc3.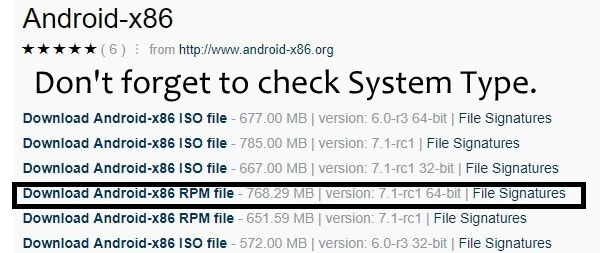 Create Bootable USB Drive using Rufus to Install Android on PC.
Rufus is small but powerful software to create Bootable USB Drive. The Android file you downloaded from Fosshub server comes in ISO format.
Step: 1 Download Rufus on your Windows PC. It is the best software to Burn ISO to USB Drive, you can try any other if you want.
Note: Don't forget to move your important data from USB Drive to a local disk of the computer.
Step: 2 Stick USB Drive (Don't use Sandisk USB Drive) to the computer and run Rufus software as administrator. Select all option according to the below screenshot. And then choose downloaded ISO using icon next to the Create a bootable disk using.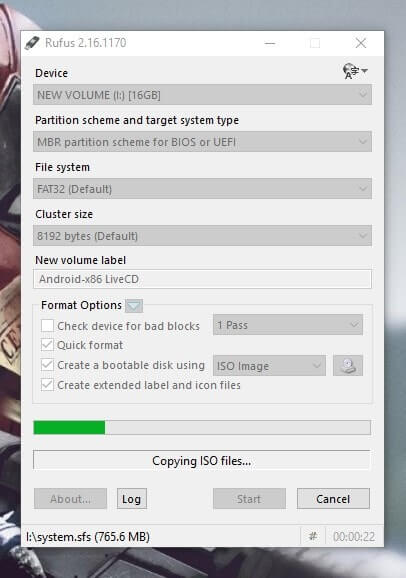 Step: 3 Just Hit the start button and the whole process will take around 5-10 minutes depending on your PC.
Restart Windows to Dual Boot Android x86.
Step: 1 Restart your computer and you'll get two options OS Boot manager or USB Drive.
If you're not getting Boot menu then press Esc and Delete button to enter into startup menu. Go to Boot device options and then choose your USB Drive. (Still unable to enter into startup menu then search on google for a specific key for your laptop.)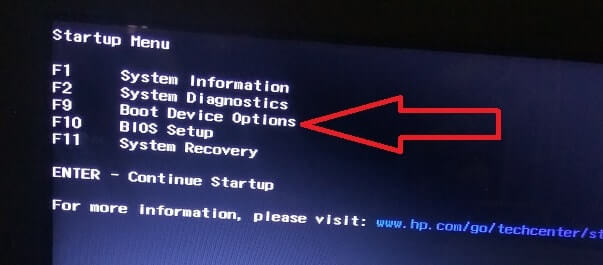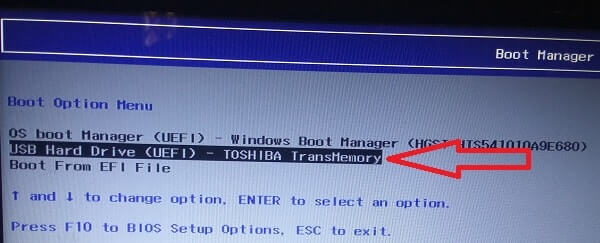 Step: 2 You'll get four options now, But we just want to try Android OS without installing it so Choose first one – Android x86 7.1-rc1 Live.

(But if you decided to install it on your hard drive then choose third option to Install. And it will ask you to select the specific drive, Don't choose the drive with data to create a new partition.)
Step: 3 After selecting the Live option, Android will boot up in few minutes, It will ask you some basic information that we enter while booting – up our new smartphone.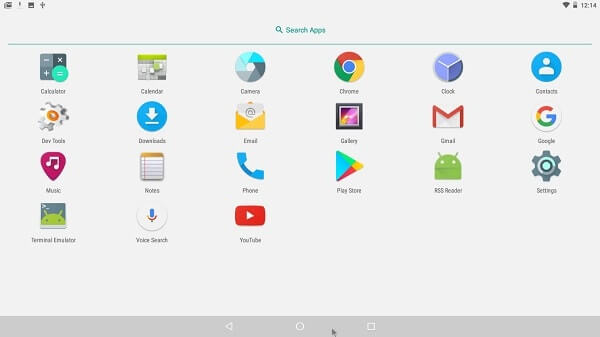 So this is the easiest way to Install Android on PC. If you want to exit from Android OS then don't remove USB Drive press the power button from laptop or PC.
Conclusion.
So this is the easiest method to try out or Install Android OS on PC. Android x86 gives you exact same look and feel that you get in your stock Android device. I tried installing some play store application and all works perfectly. You'll face some operating issues while using Android on PC because OS is made for touchscreen devices.
That's why I don't suggest to install it on your hard drive. Instead of Android x86 you can use Remix OS. Because Remix OS developer created OS using Android and Windows features. Means user interface is similar to windows but you can run android apps on PC.