Whenever we feel bored there are two options remaining for us first one watch movies online and another is to play games. If you're an Android user then it's hard to decide which game to play. Yes, there are tons of games available, but some best puzzle games are a good way to pass time. The best part about puzzle games is it is helpful in brain exercise.
On Android and iOS, some good puzzle games are available like monument valley, and the room but these games are paid for. And not everyone like to pay, yes you can get paid apps for free but I will not support game piracy. But still, apart from these paid games, there are some Free puzzle games available to play. Here is the list of the free best puzzle games available for Android and iOS.
Free Best Puzzle Games
Six
The official Six games are developed by gram games limited and it's one of the best puzzle games. You can find many copy versions of this game on google play. The game looks very simple, but it's challenging and exciting. You can find out this game for both devices Android and iOS.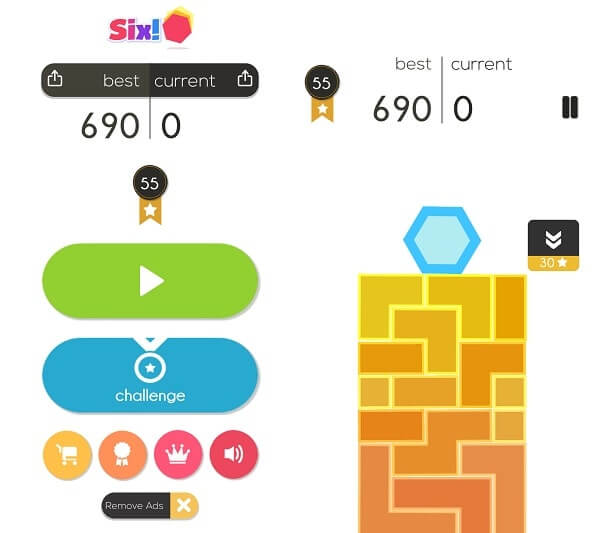 About Six Game – You are challenged to interact with a block tower of varying shapes on bricks upon the rest of a hexagonal block. Your aim is to get the hexagonal block down without falling it. You can tap on bricks to make them disappear to bring down hexagons to the surface. Yeah, it sounds completely easy but when the hexagon starts to roll you'll find out it's not easy as you thought before. The game has 99 levels, in each level you need to earn some stars within the given time.
Download for Android
Download for iOS
Brain Dots
Brain Dots free puzzle game is developed by the same developer who developed the Brain wars android game. It's not the same as brain wars, the game is completely different and the best to pass free time. Game test logical thinking and flexibility of your mind. If you play a game like an escape to room or strategy game then you should play this game once.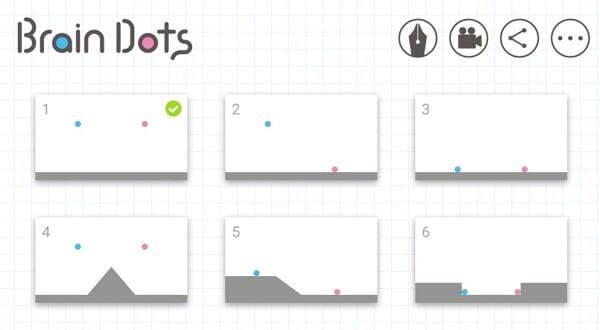 About Brain dots Game – All you need to do is draw the lines and bump the balls from one point to another. When you draw the line, the app will automatically transform into a shape that you draw, and that shape will help you in moving the ball. Currently, the game has 505 stages and if you are stuck at any stage you can watch a video or take a hint. Also, you can upgrade your drawing pen using a coin that you will earn.
Download Brain Dots for Android
Plumber
There is two plumber game available on Google play and both are good and somehow the same. But the original plumber game is developed by magma mobile having 10 million downloads. It's a free easy-to-use puzzle game with HD graphics and the best option to kill time.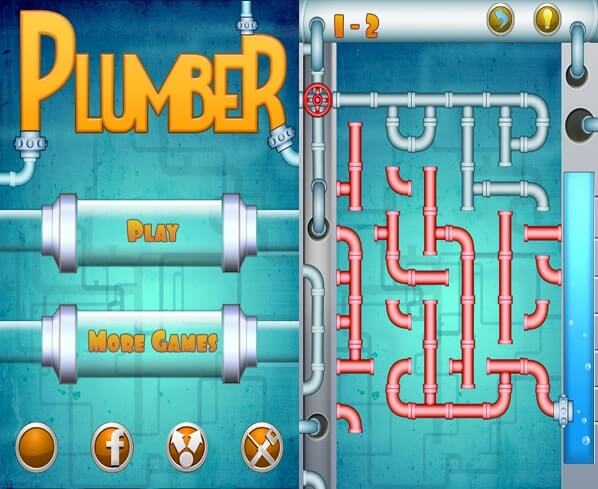 About the plumber game – Simple you need to turn the different pipe pieces by touching them and you need to make a complete pipeline. When you turn the pipe you'll reduce the overall water levels and make sure to anticipate a possible overflow. The game has two modes arcade and other is challenge mode. In the arcade, you need to adjust as many pipes as you can before water overflows and you lose. And the challenge mode has 200 levels, every level comes with high difficulty.
Download Plumber Game for Android
Where is My Water? Free
Where is my water? is the "Game of the Year" the award-winning best puzzle game developed by Disney. You can find two parts of this game also there is one more game based on the same concept known as Where's My Perry? The game is downloaded by 100 million users, which is a big number.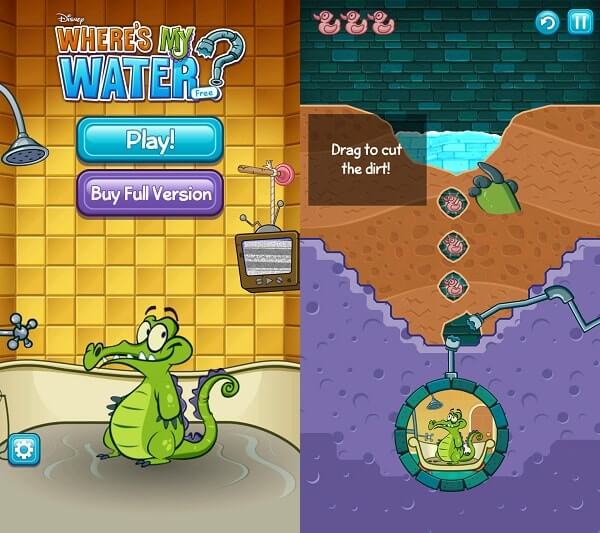 About this game – You need to help Swampy the Crocodile by guiding water to his broken shower. Simply swipe on dirt and make a way for water to pass, but make sure to not waste water. In the free version of Where is my water, you'll get only 15+ puzzles if you want more levels then you need to pay for them. But still, you can play the second part of this game for free that's why added it to this free list.
Download Where is My Water for Android
Download Where is My Water for iOS
Cut the Rope Full
It's a very old game that comes with good graphics, Still, this game is of FREE puzzle game. The game is based on Om Nom's Adventures cartoon you can check on YouTube it's popular. It is also an award-winning game based on physics concepts. Don't worry you don't need to learn physics first game is simple and addictively fun.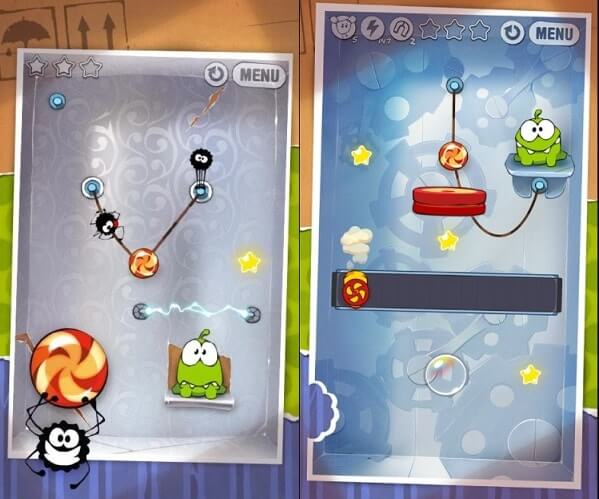 About Cut, the rope Game – The story starts with a mysterious package. A little monster comes out from the box with one request Candy and collects stars. You need to swipe a finger and cut the rope to collect money and help the frog to eat candy. There are 17 boxes in the game and a total of 425 levels, each level comes with different puzzles.
Download Cut the Rope for Android
Mekorama
Mekorama is a well-known alternative to monument valley and an awesome puzzle game developed by Martin Magni. You"ll amazed to know that the game size is only approx 5 MB and the game isn't small. Definitely, this is one of the best puzzle games, and it's completly free, VR version of the game is also available.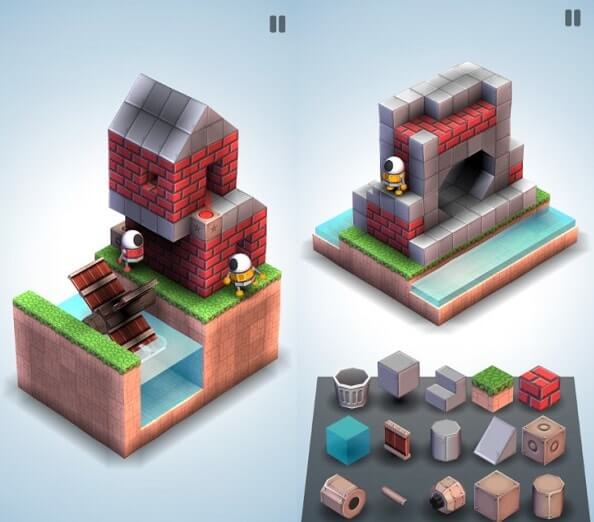 About Mekorama Game – This game is all about a small robot, you need to help the robot to reach the finish point. you can move objects and tap on the surface and the robot will start walking. The game has 50 stages and it's not so easy to complete all within one day. Apart from 50 stages you can create your own stage and challenge your friends.
Brickscape
Brickscape also objected to moving the Free new puzzle game developed by the 5min lab. The game concept is pretty clear you need to move the core brick to the exit. Every brick can only move in an elongated direction.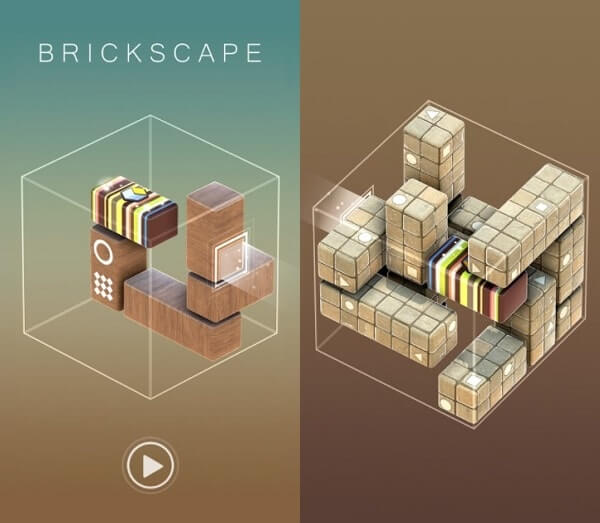 The game has 600 stages and 12 cool themes, you can also set the difficulty level from easy to master. The game does not have any time limit, but if you do all correct movements you'll get full stars.
Im-A-Puzzle
You can try out thousands of high-definition puzzles at Im-A-Puzzle. These jigsaw puzzles range from art, and nature, to pop culture and even user-uploaded images. Additionally, Im-A-Puzzle offers different difficulty settings. Which makes it an ideal gaming experience for players of all levels. With this puzzle, players can challenge the timer. And, can improve their cognitive skills at the same time.
Visit their official website: Im-A-Puzzle
Okay, so these are some of the best puzzle games to play for free. If you know about any other good puzzle game, let us know in the comment section.