There are certain ways to hook up or a date with someone, One is you have to find some place to go and meet people. It could be college, cafe or any bar, but a smarter way also available using some Best hookup apps. And when it comes to Best dating apps tinder is the first that comes to our mind. Dating and hookup sites are available since long times, but tinder revolutionized online dating. But not everyone is happy with Tinder because there many reasons that force us to use Tinder Alternatives.
Is hookup apps really works? And why we need Tinder Alternatives?
Dating or hookup apps only can help you in finding another single person who has the same interest. And after that it all depends on you, none of the apps can help you with your game (dating). One main reason behind tinder success is it's completely free and swipe option is simply awesome. But last year company added tinder plus, so if you want to increase your radar you need to pay.
There is nothing wrong with paid service, many apps offer the premium feature in return of some specific amount. But the problem is with its appearance based approach for matches. And if you're a regular user of tinder then you know tinder is now filled with spam (fake and bot profiles). Maybe there could different reason why you want to know other best hookup apps. So here are some Tinder Alternatives which is better option to try.
Best Hookup Apps – Best Dating Apps.
Happn.
The Happn concept is completely different and it's well-known tinder alternative. Tinder find matches in particular radar or you can call distance. But Happn helps you discover the people you've crossed path. And if you like the person by seeing profile then it will help you in find again. It's not like Facebook or tinder in which you can see people's profile sitting at home.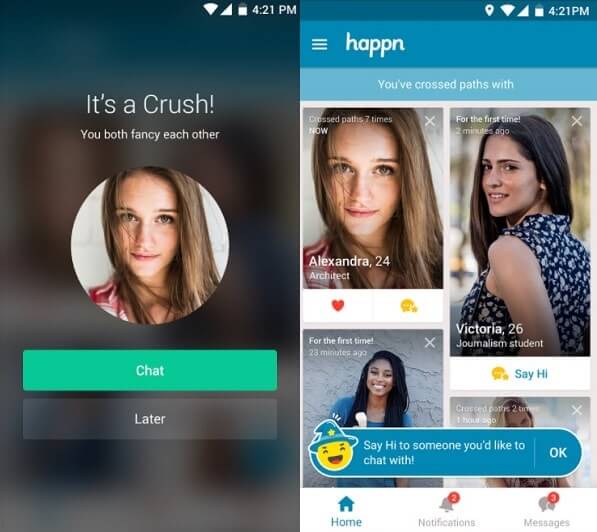 Whenever you cross path with someone in real life, their profile will show up on your Happn timeline. But only if another person is also using the same app, if not then it will show nothing. If you like someone secretly and that person is near you Happn will help you in sending a message to that person. And like facebook if you both like each other then you can start a conversation, else that person can block you.
Like any other app Happn is also considered privacy as a first priority, so your location is always invisible to other Happn users. Say hi feature of the app isn't free if you want to say hi to noticed then you need to pay. App offers few credits when you signup using your personal details. App concept is quite new, so if you're the one who travels or goes to the party then this app is for you. Or if you're someone like me who like to do work by sitting at one place then try other best hookup apps.
Download Happn App For Android.  For iOS.
Coffee meets Bagel. (CMB)
It's pretty much annoying to spend our time in swiping and browsing profiles, sending messages and never hear back from that person. Most of us face this situation many times and then we ask our-self why we are giving so much priority to that person. Coffee meets Bagel is the perfect solution – every day at noon you'll receive only potential matches. (app call them bagels)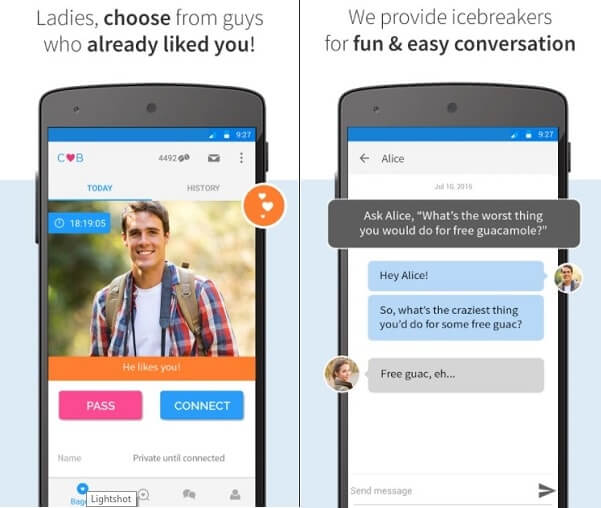 According to app developers, they are using a smart algorithm to find out highly acurated matches. The app is somehow dedicated to girls because it shows bagels that already liked them and serious about connecting no dating game. Once you found your match by mutual interest app will connect you to the private chat room. Also, the app helps in conversation by providing some icebreaker questions to get your conversation started. Means if you don't know how to talk or what to ask app will help you with, seems good right.
To start using CMB app you need to signup using Facebook profile, and the app will recommend matched using their algorithm. You don't need to concern about privacy, according to app developer they will never post anything on Facebook. The app is turned down a 30 USD million offer in ABC show "Shark Tank." So you can definitely give this app a try and it can help you in hookup with someone.
Download CMB App for Android.  For iOS.
Woo.
Woo app is popular known Tinder Alternative because somehow it's similar to tinder, same swipe feature. App developer used same User Interface Swipe idea but changed the concept. when you swipe someone profile to like or dislike it will do anonymously.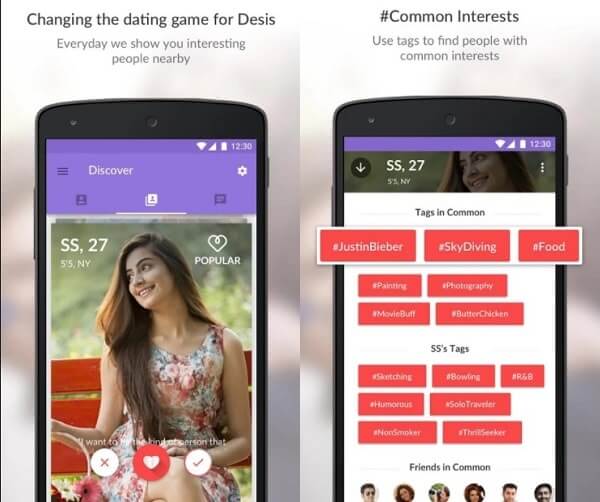 Woo shows profiles according to your location, lifestyle, and interests. According to woo, they have created over 1 million matches, the app is defiantly worth trying. Woo offers verified profiles option to keep their app spam free from fake profiles. Like another app, if you got your match then it will provide secret chat window. Also if you found your crush you can send direct message them before the match.
Woo also provides woo plus, if you want to find out who visited and liked your profile. Also, you can get unlimited likes on your profile to show your profile more lovable. Woo globe allows you to find out a match from all over the country and religion. Or if you subscribe woo boost then everyone will able to see your profile whenever they open the app.
Download Woo App for Android.  For iOS.
OkCupid Dating App.
OkCupid app is different from any other normal dating app. Everyone likes to capture the moment using selfie, What if you can find a match using a selfie. Sounds cool right? OkCupid comes with the same concept it helps in finding a match using the selfie.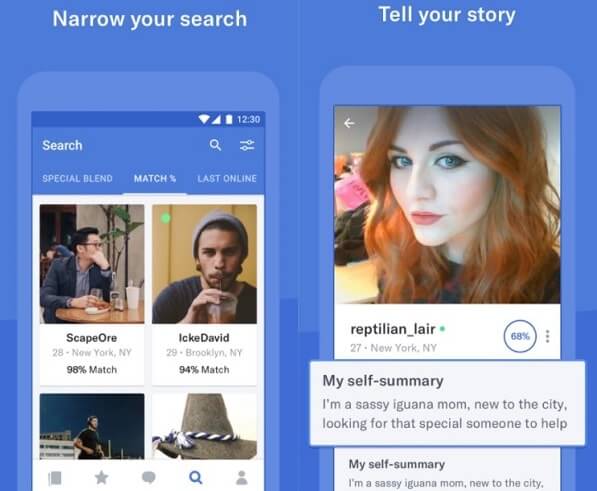 Apart from a selfie, When you signup using the app it will ask you some questions to get to know who you really are. It checks with whom you're clicking pictures for example if its dog then you're a dog lover and it will show you similar match.
If you like someone OkCupid allows you to send them a message without worrying about whom first. If you want to go for date app will help you find more authentic connections. You should try this app once because it is one of best hookup apps.
Download OkCupid App for Android. For iOS.
Clover.
Clover is more than a normal dating app, means you don't need any other app to find a match. There is filter option in the app you can choose friends, dates or if you want to hook up then also you can do. You can search people by their body type, height, ethnicity, occupation and much more, that's why it's known as Best Hookup Apps.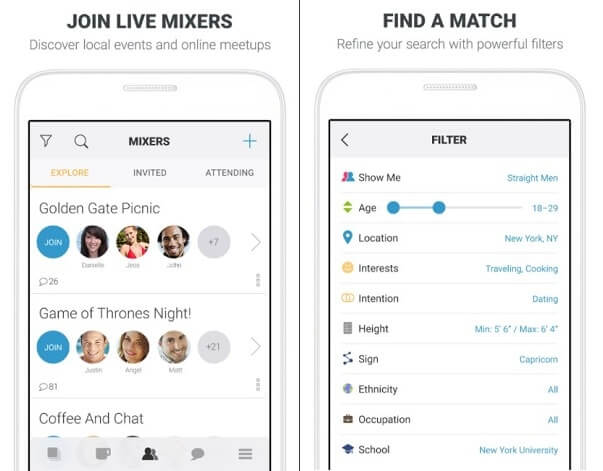 You can find a local singles event, which is helpful in finding the match in real life. Also, you can check out full-screen photos of 1000+ singles available nearby. You can set up real date using the app and use mixers option can meet single men & women with common interests.
Also, you can promote your Instagram and twitter account to your profile. Clover also offers private chat and apart from text messages, you can send photos. you can customize your profile and can upload 100+ photos which are a good thing. The app doesn't ask much questions like the woo app, so you can try this app maybe this is the app that you are looking for.
Download Clover app For Android.  For iOS.