WhatsApp's delete message (Unsend) feature is indeed helpful for recalling messages if you have sent them unintentionally. But, when you receive the "This message was deleted" notification, it creates curiosity about what was the message about. And, it is definitely quite irritating, when, your friend sends you a Whatsapp message and deletes that immediately. Well now you don't need to worry, you can now read deleted WhatsApp Messages. Sounds Interesting, right?
To do so, there are so many Apps available, that you can use. And, in this article, you will get to know about all. But, before we proceed further, there are a few things that you have to keep in mind.
You won't be able to see previously deleted WhatsApp messages by your friend. Once you install the App, and after that, your friend deletes a WhatsApp Message. Then, these Apps will help you to recover that message. It's completely up to you, which App you use, all Apps work exactly the same. Ok so let's get to know about these Apps.
Apps to Read Deleted WhatsApp Messages
Use Notification History in Android 13
If you're using the latest Android device, especially a pixel smartphone. Then, you will get a notification history feature in Android 13 Settings. Once, you enable this feature, it will keep track of all notifications. It also does categorize notifications by the App name. So, once you enable this option, it will start tracking your WhatsApp messages from notifications. And, if someone deletes the WhatsApp message. You can still read it from Notification History. Although, if the Notification History option is missing from your Android. Then, you can try out one of the App listed below.
1. Open Settings App.
2. Tap on Notifications > Notification History.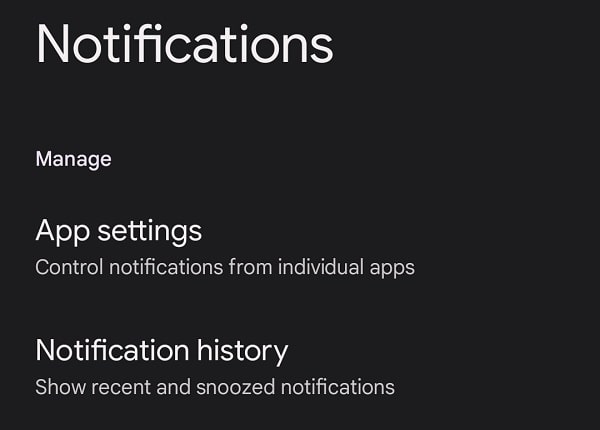 3. Enable the "Use Notification History" option.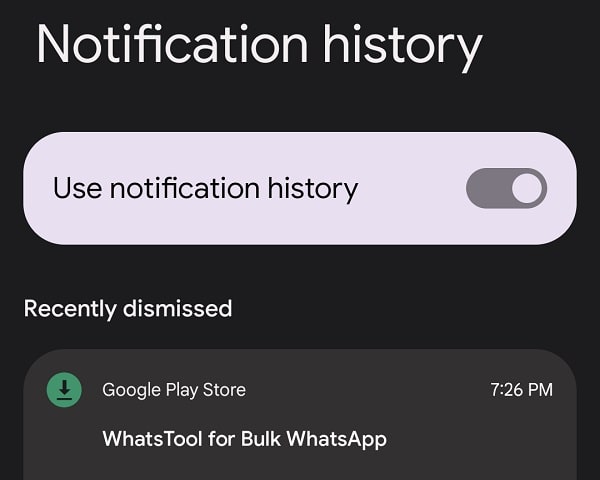 4. That's it, it will start tracking all your WhatsApp messages from notifications.
WhatsTool: Toolkit for WhatsApp
WhatsTool App simply records the notification log of WhatsApp text messages. So, even if the sender deletes the message, the message will keep stored in the WhatsTool App. This App is feature-packed, so I am keeping it at the top of the list. Apart from reading deleted messages, this App offers much more. Like, you can Save WhatsApp status, search profiles in WhatsApp, Video splitter for WhatsApp status. Even, can save Instagram posts and create new WhatsApp statuses or Gif Messages.
Well, let's get to know first, how to use this App to see deleted WhatsApp Messages.
1. Open the Play Store, and search for "WhatsTool". Or, you can open the direct link to the "WhatsTool: Toolkit for WhatsApp" App. Install the App.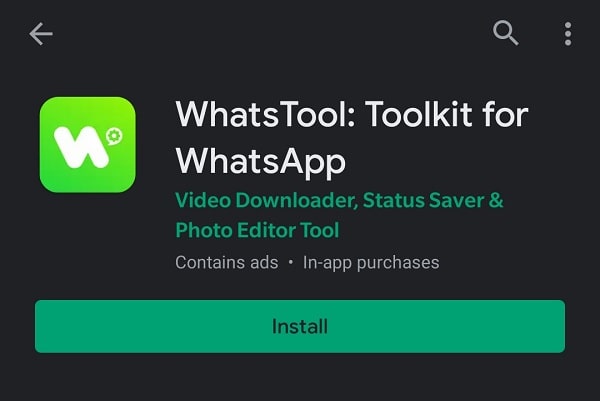 2. Open the App, and tap on "Get Started". Since you're opening this App for the first time, App will ask you for storage permission, tap on allow.
3. Scroll down a little and then do select the "Recover deleted messages" option from the main menu.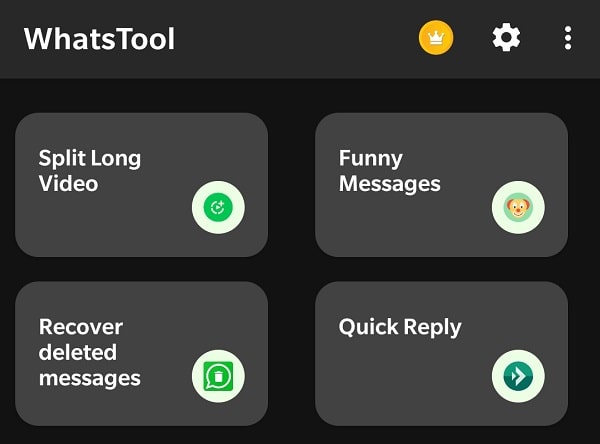 As I mentioned earlier, this App extracts deleted messages from notification logs. So, for that, it needs notification access.
4. Tap on "Start Recovering Message".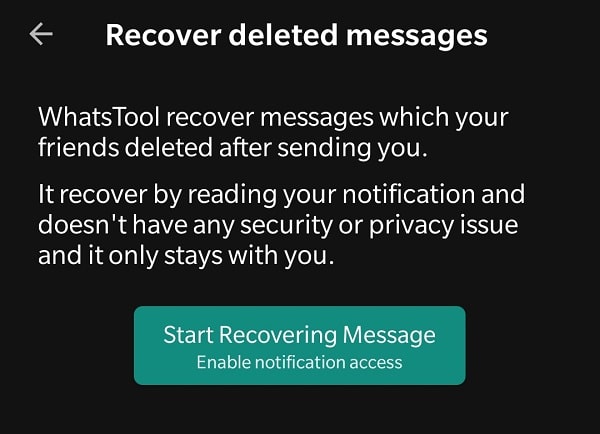 The Notification access window will get open, tap on WhatsTool App, and afterward, tap on allow.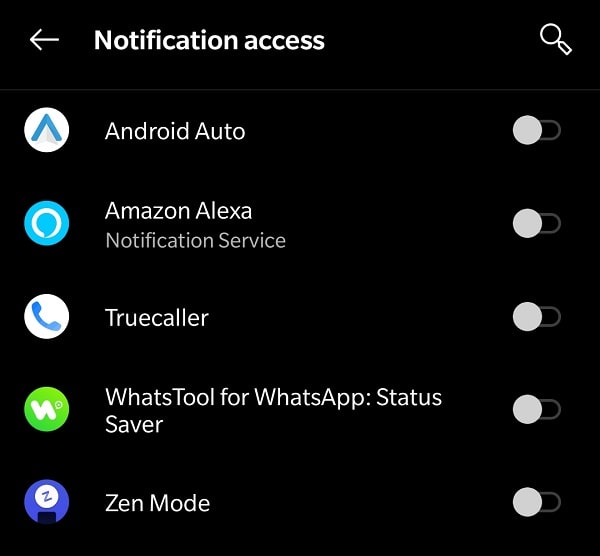 That's it, setup is done. On the new chats screen of the WhatsTool App, you will not see any messages. Messages here only will appear when someone deletes them.
5. Ok so now, whenever someone deletes a message. You"ll get a notification from WhatsTool App. And, you can tap on that notification to check.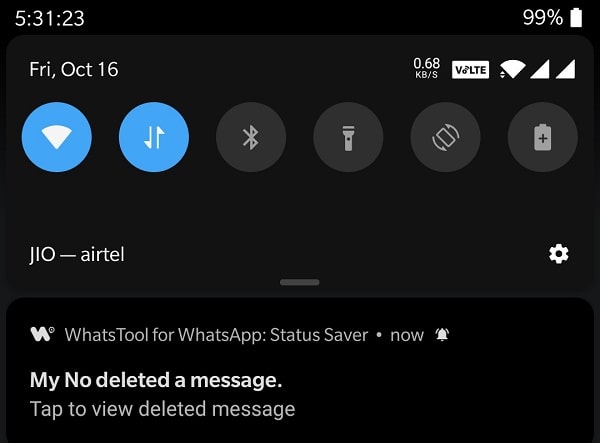 You can experiment with it yourself, just ask your friend to send you a text message and delete it. This will give you a better idea, of how the App will work.
WAMR – Recover deleted messages & status download
These days not only WhatsApp but other messaging Apps also comes with an option to unsend messages. So, if you use many Apps for messaging then you can try WAMR App. This App is basically a notification backup App. So, you can monitor the notification of various Android apps. Sometimes we accidentally remove the notification. And later we do realize that the notification was something important. In that scenario, this App can really come in handy.
1. Open the Play Store, and search for WAMR. And, do install the WAMR App.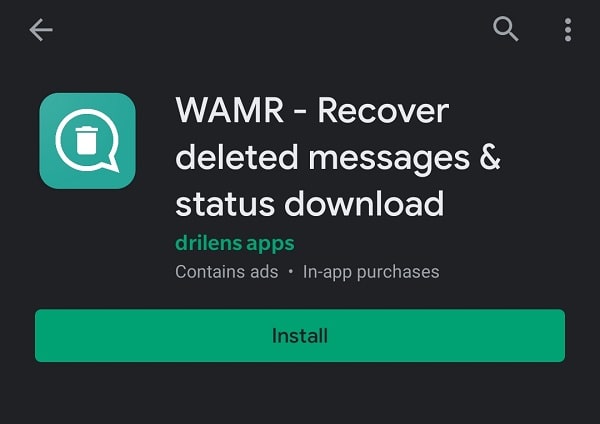 2. Launch WAMR App. It will ask you to monitor Apps. You can select as many Apps as you want. And, this App will create a backup of notifications of those Apps.
Here we want to create a backup of WhatsApp messages notification. So that whenever someone sends you a message, WAMR App will record the message. And even if later the person deletes the message, you will still be able to recover it.
3. Keep tapping on Next, and you will see the Setup screen will appear.
This App needs two permission, one to backup multimedia files, that you receive from WhatsApp. And, second is to access notifications.
4. First, Tap on Enable and allow storage permission first. After that, do allow notification permission.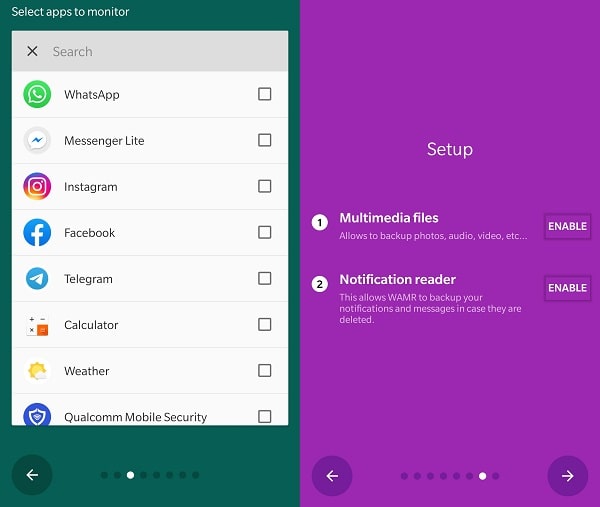 Note: If you want to recover deleted media, then make sure automatic download is enabled in WhatsApp settings. Go to settings > Data and storage usage.
5. That's it, App is set up now. This App has UI like WhatsApp. You will get three sections in the App. Notification History, Deleted Media, and Download Status.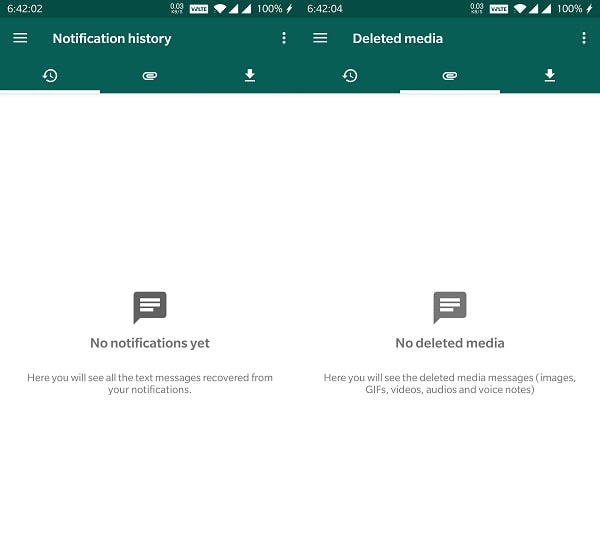 Ask your friend to send you a text message or media and delete it. You"ll receive a notification. That's the way, to find out, App is working for you or not.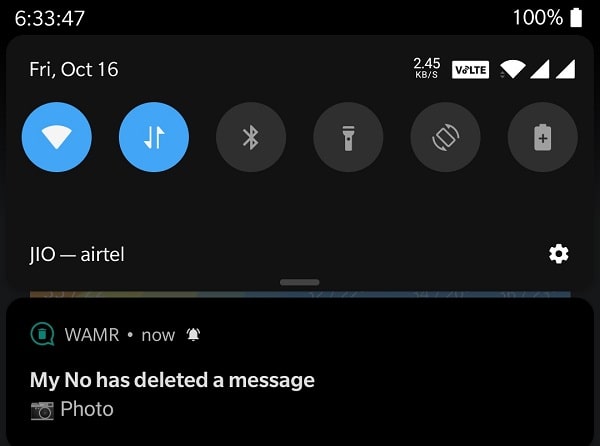 Notification History App
1 Download Notification History App from Google Play and open it, Now the app will ask you to allow permissions.
2 First, tap on Accessibility Service and Enable the Notification history app. – This option will allow the app to record USSD, Messages, Dialog, App toasts, and notifications on the status bar.
3 Press the Back button to go back into the App and now tap on notification access and enable it. – This option will allow the app to record all your upcoming notifications.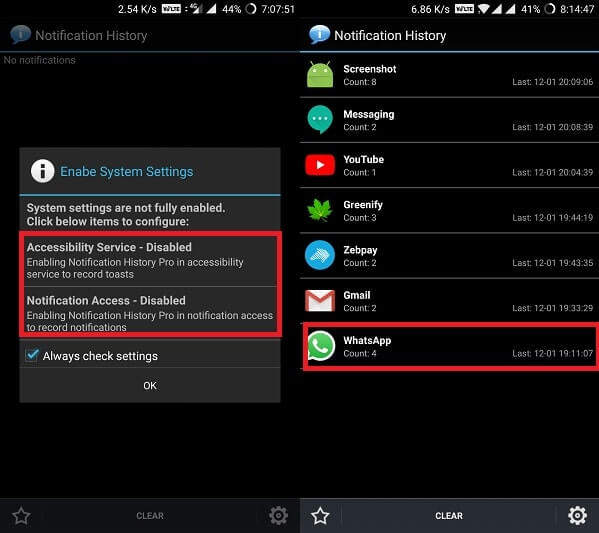 Done, Now whenever someone sends you a message and deletes it. You can easily read deleted WhatsApp Messages by going into Notification History App> WhatsApp.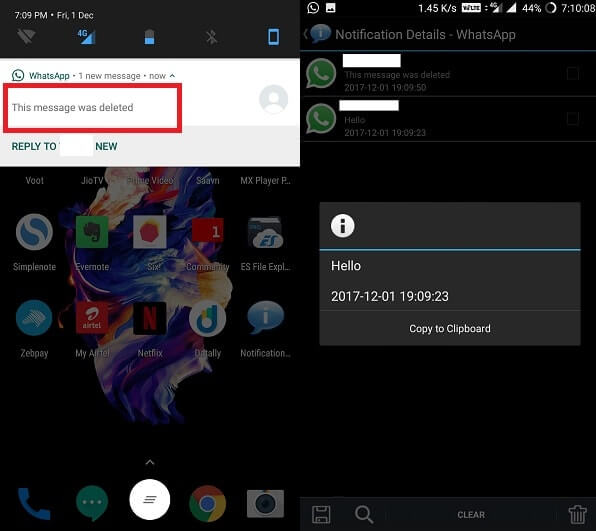 Note: Don't force close the notification History App by using any other third-party App. Otherwise, the App will stop functioning.
Summing-up – See Deleted WhatsApp Messages.
So these were the Apps that you can install on your Android smartphone to recover deleted Whatsapp messages. You can install any, but personally, I suggest you download WAMR. Because, it can take media files backup, you just need to tweak WhatsApp settings for it. Still, there are a few other Apps, but most of them work exactly the same. But, if you think there is a better App available, feel free to comment.