Remove Bloatware Android – Nowadays smartphone manufacture companies are developing their own OS, which is based on stock Android OS. But these OS comes with some Preinstalled Android apps which are not useful for everyone. In geeky language, we knew these apps as bloatware, and smartphone companies do not provide an option to uninstall. Bloatware is the big Problem for Android users, even Apple now allows to uninstall system Apps in iOS 11.
Why Preinstalled Apps doesn't come with uninstall option?.
Android OS comes with some Preinstalled Apps like Messaging, Clock, Calendar, and these apps are system Apps but useful. Smartphone companies nowadays provide useless Apps (Bloatware) as system apps. And Android OS doesn't allow to remove system Apps because removing system app can cause android OS crash. And if the wrong app uninstalled then the device can be stuck in boot loop.
But the best thing about Android is "Highly customization options and easily replaceable". Here am saying replaceable because you can change complete Android OS by installing new custom ROM. And if your device has lot's of bloatware then I suggest you install some Best custom ROM like resurrection remix".
But if you don't want to replace your current Android OS then follow this guide and am going to tell you three method to Remove Bloatware Android.
Remove Bloatware Android.
Method: 1 Remove System Apps Android using Built-in feature.
If you don't want to Root your Android device and don't have access to the computer. Then this is the best way to get rid of from unwanted system Apps. System Apps doesn't come with uninstall option but some system Apps comes with the option to disable.
What will happen when you disable a System App?.
When you"ll disable a system app it will remove from your App menu but not completely uninstalled. Also if that system app is showing to update from Google Play then also it will stop showing. But whenever you"ll reset your device, App will again start showing. But disabling unwanted apps is very good idea, it will free up a little amount of storage and RAM.
Step: 1 Go to settings> Apps and it will show you all App installed on your device. Tap on the App that you want to remove.
Step: 2 Instead of uninstalling option you"ll get two disable and Force Stop. First force stop if the app is running and then click on disable option.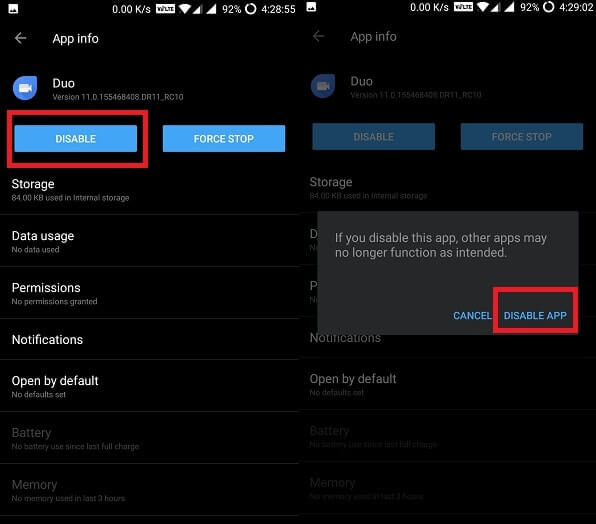 Now you can check your App menu you"ll not able to find out that App. But if any moment you want to get back that App then open Play Store> Search for that App> and you"ll get the option to enable.
Not all Apps comes with disable option, So if there isn't an option to disable. Then follow next method to remove bloatware Android.
Method: 2 Delete Preinstalled apps on android using ADB.
This method also doesn't allow to remove App permanently, But it is a better method than disabling Apps. After disabling apps from this method you can't get back by enabling it, you need to reset your device or install App.
Prerequisites.
Android Device contains Bloatware. (Enable USB debugging)
USB Cable.
Computer. (With ADB Tool)
To remove bloatware Android you need package name of that system App. You can Download Application Inspector App to check package name.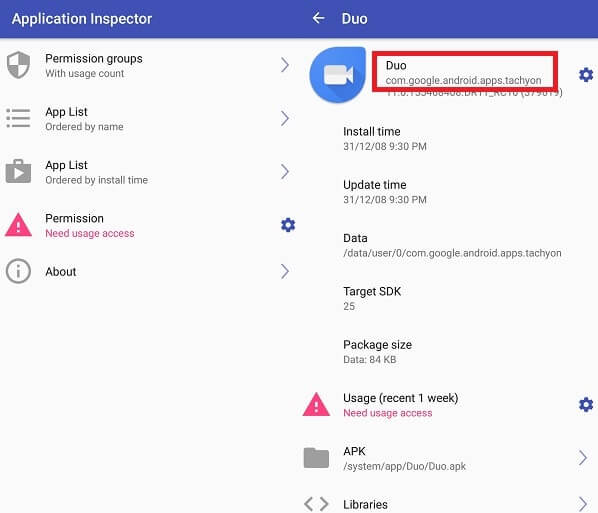 Step: 1 First you need to enable USB debugging option on your Android device. You can enable it by going into setting> Developers options. If developers option is disabled then to enable – Go to settings> About Phone> Tap 7 times on build number.
Step: 2 Download Google SDK Platform Tools on the computer, And extract it using file extractor.
Step: 3 Connect your smartphone to the computer and choose transfer files option. (Make sure USB debugging option is enabled)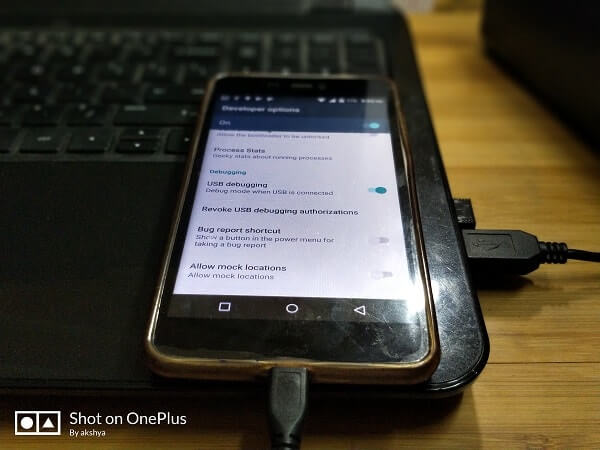 Step: 4 In Computer open extracted platform-tools folder Press Shift + Right Mouse Click then choose "Open Command Window here".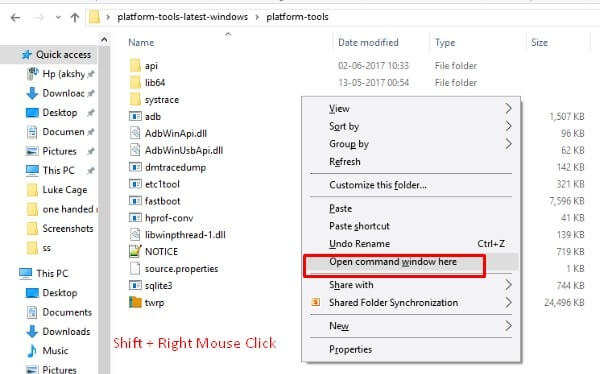 Step: 5 In Command Prompt type the following command and press enter to check device is connected or not.
ADB devices
After typing the command now look at your Android device and allow USB debugging.]
To uninstall Apps you need to open ADB shell to do that type ADB shell in command prompt. And now in next line you"ll able to see your device name.
Step: 6 Final commands to uninstall Specific App.
pm uninstall -k –user 0 <name of package>
For Example – pm uninstall -k –user 0 com.google.android.apps.tachyon

After giving final command bloatware will get uninstalled immediately and CMD will show you a success message. This is the best method to completely uninstall system app on Android without root.
Note: name of the package you can check using Application inspector app that you have downloaded before. Open that App and go to App list> tap on App.
Method: 3 System App Remover. (Root Required)
If you don't have a computer to uninstall unwanted Apps from Android then this method is for you. System app remover is well-known bloatware removal for Android which allows deleting unwanted app easily. But before start downloading the app and following this method you need to understand few things.
Note: System App remover allows to remove not only system apps also it shows android features to uninstall. So make sure you're removing right App, else your android device will be stuck in boot loop.
Step: 1 Download System App Remover from Google Play and provide root access to the App using super SU or Magisk.
Step: 2 After giving root permission to the App, Mark all bloatware that you want to remove and then click Uninstall button.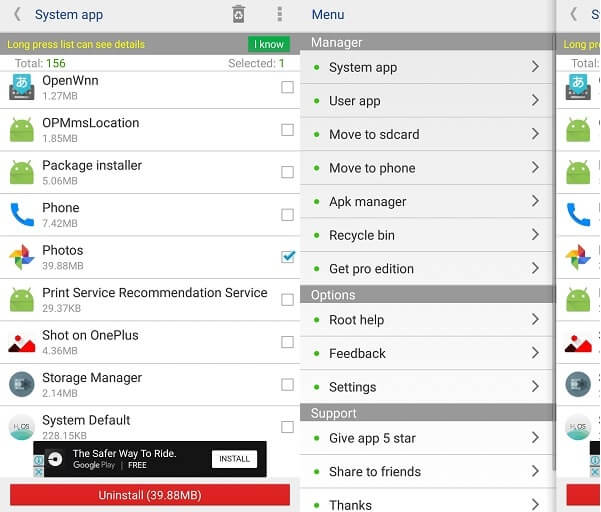 To remove App completely once restart your Android device, So app will completely get deleted from the cache.
Conclusion – Remove Bloatware Android.
That's all folks, for now, So these are the three methods that you can use to remove bloatware android. If you don't want to root device then first and the second method is for you. Or if your device is already rooted then download the bloatware removal app. If you know any other better method to uninstall unwanted system apps then feel free to comment.