On Android devices, We all uses many WiFi Network at many places Cafe, Gym, Home, friend's house. Each time when we type a WiFi password, the Android device keeps saved it. And we know it's hard to remember all WiFI passwords. Sometimes WiFi network started acting up (the Internet stop working) and we need to choose to forget the WiFi network option to fix the issue. It's quite easy to find WiFi Password on Windows 10, but if you don't have a computer and the only source to show WiFi password android.
But like Windows, you can't view saved WiFi password Android. Sometimes we want to share our WiFI network with our second device. But if you don't remember the password and don't have a PC then you're out of luck.
Android doesn't provide any official option to find WiFI password on android. But by using some apps and some cool ways you can view the WiFI password. In this article am gonna provide all possible and working way that allows you to recover or show WiFi password Android.
If your Android Smartphone is connected to the WiFi network. But, you forgot the password and want to connect any other device to WiFi. Then, this method might be helpful for you. These days almost all smartphone manufacturer companies provide an option to Share WiFi networks through a QR code. Even, Oneplus display password with the QR Code. I personally own a OnePlus smartphone so the below-mentioned steps will be according to it. Though, you can do a little search to find out the WiFi share option on your smartphone.
For OnePlus Users. (Android Version 10/11)
1. Open Settings App and head over to Wi-Fi & Internet > WiFi.
2. Tap on the connected WiFi network.
3. In-network details window, you"ll find the SHARE option, just tap on it.
4. WiFi password with a QR code will now visible for you.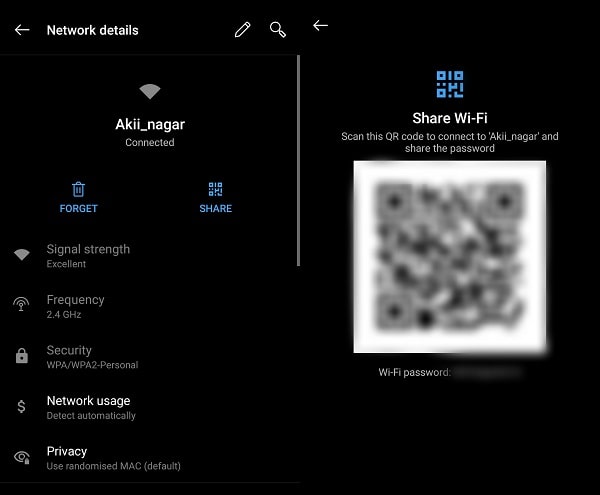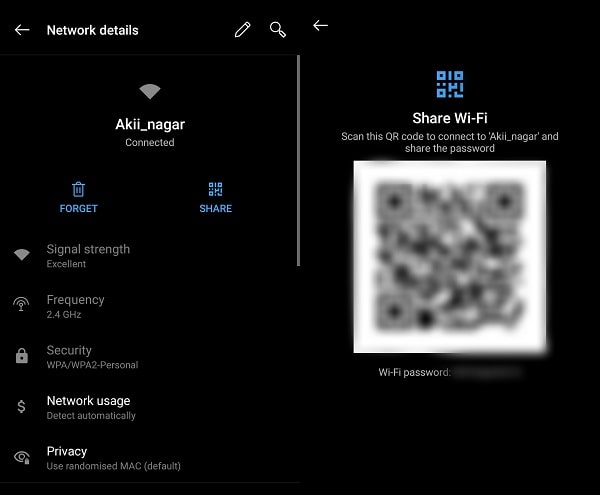 If another device is also from OnePlus, then in the WiFi section, you will find a Scan QR code icon. You can use it to scan the QR code and connect to the same WiFi network.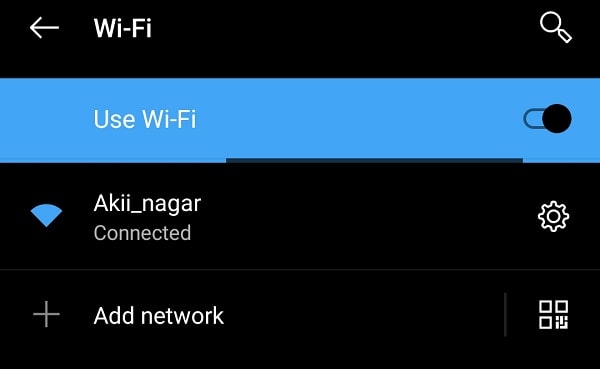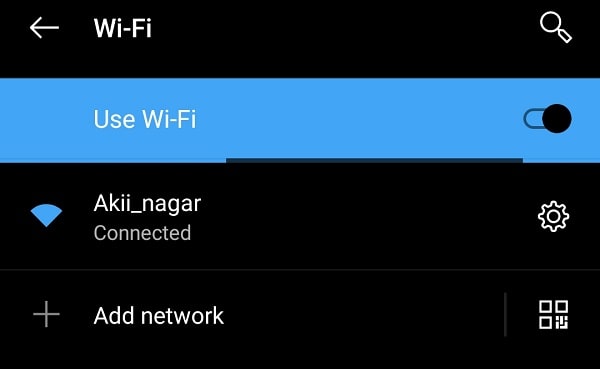 For Samsung Users.
1. Head over to Android Settings > WiFi.
2. You will find a settings(gear) icon next to the connected WiFi network. Tap on it.
3. Network details page will get open, tap on the QR code option. Or, in some devices "Tap to share Password" option does appear.
4. You can save the QR code as an image. Or, you can simply take a screenshot.
For MI Users.
1. Xiaomi Users can simply Go to Settings> WiFi.
2. And you will able to see the Tap to Share Password option just tap on it.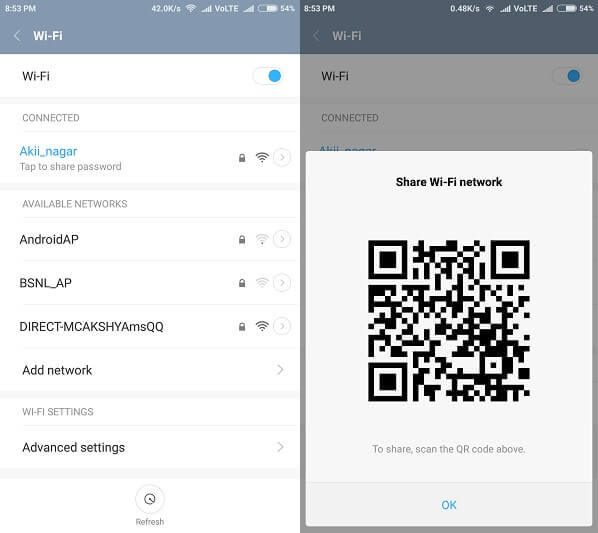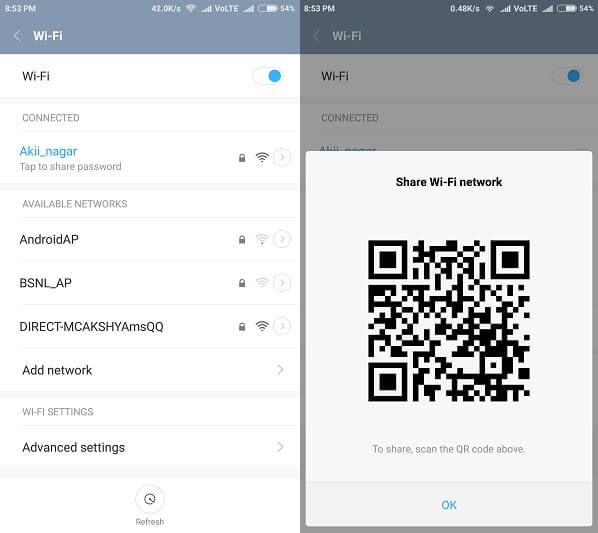 Scan QR Code using an App
1. You can download QR & Barcode Reader App from Play Store. Though there are many QR scanner Apps available on the Play Store. But this app has 100 million downloads.
The best part about this App is, you can either a scan QR code using the camera. Or, if someone sent you a QR code image, you can use the "scan Image" option in App.
2. Once, you scan the QR code, App will show you a bunch of options. You can either copy the network name or password and connect to the WiFi network manually.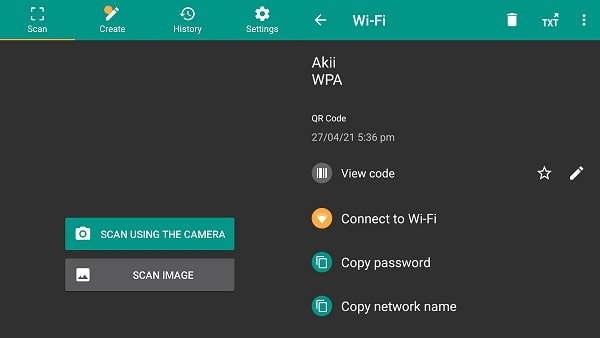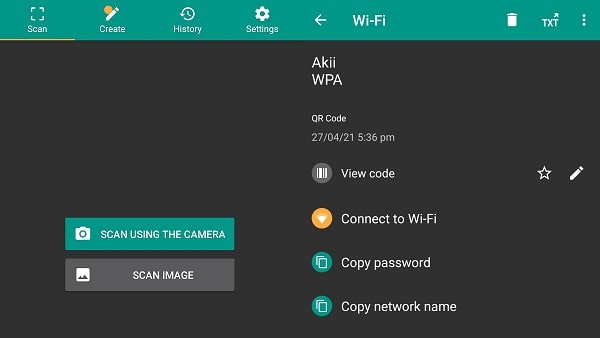 Or, you can simply click on Connect to Wi-Fi. So that's how you can easily obtain the WiFi password of any connected device in Android.
Show WiFi Password on Android via Router Settings
If your smartphone doesn't have any option to share the WiFi password through QR Code. Then, you can use this method. To use this method you don't need to root your Android smartphone at all. You can simply find a WiFi password by accessing Router Settings. To access Router Settings, your smartphone should be connected to that WiFi network. Do use this method only in your own WiFi Network (Home WiFI Network). As using this method requires only a web browser, so you can use this method on any device, even on iPhone/iPad.
1. Check the backside of your Router, you will find an IP address. With this IP address, you will be able to access the admin panel of your router.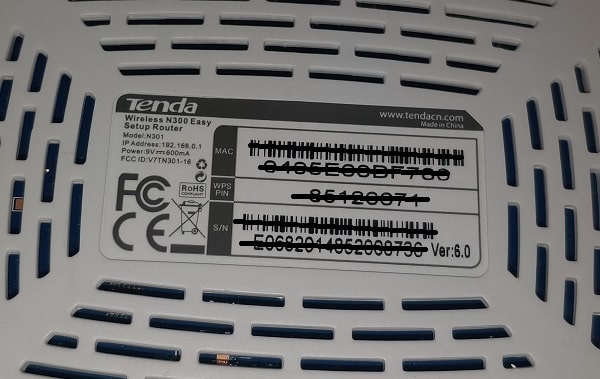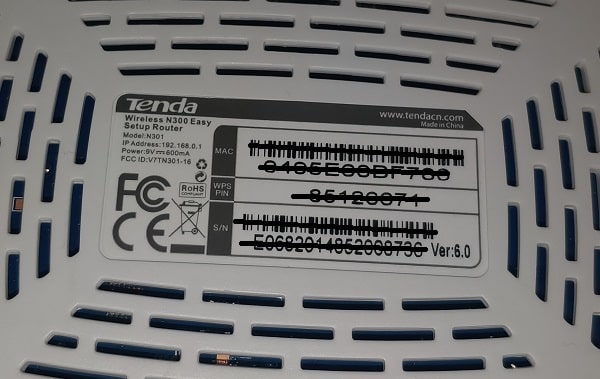 Though, If the Router is far from your reach. Then, no worries, because the IP addresses of almost all manufacturer routers are almost the same. The IP address of your Router can be one of these two.
192.168.0.1
192.168.1.1
2. Open any browser (chrome) in your smartphone. And, enter the above-mentioned IP address in the address bar, and press enter. (Don't search on Google, IP address will work as a website. So, enter it in the web address bar.)


If your router admin panel asks for a username and password. Then, do enter the following details.
Username – Admin
Password – Admin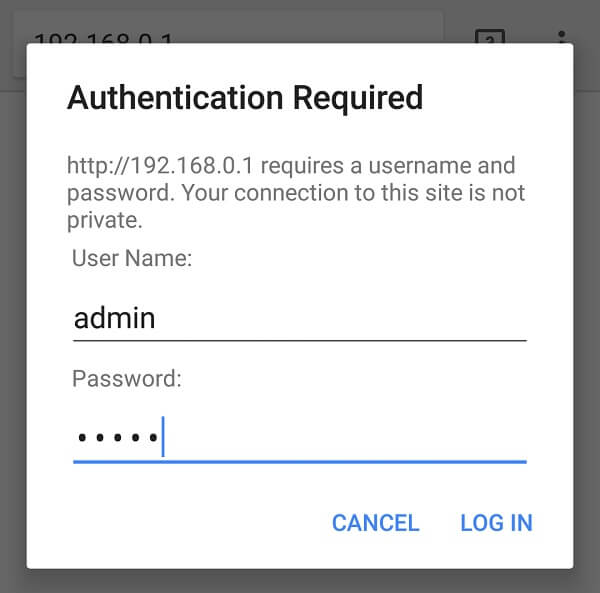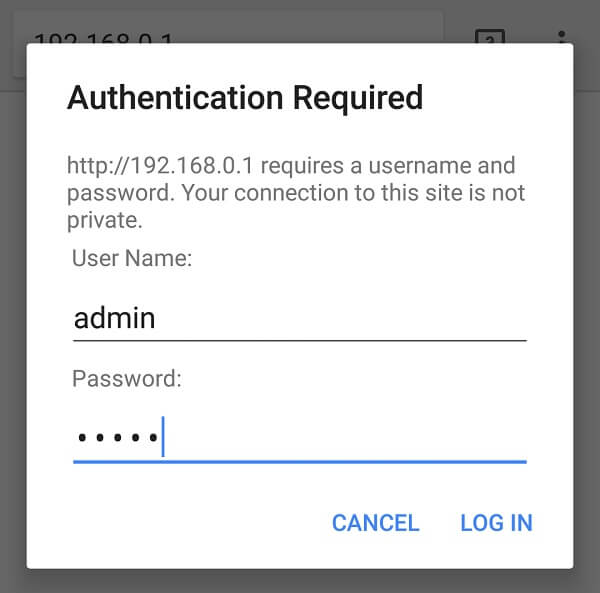 3. Once, Router settings page gets open. Access Wireless Settings from the menu. (In some router you have to go to Wireless > Wireless Security.)
4. You will find a WiFi password field. If the password is not visible or hidden, then tap on the eye icon next to it to view the WiFi password.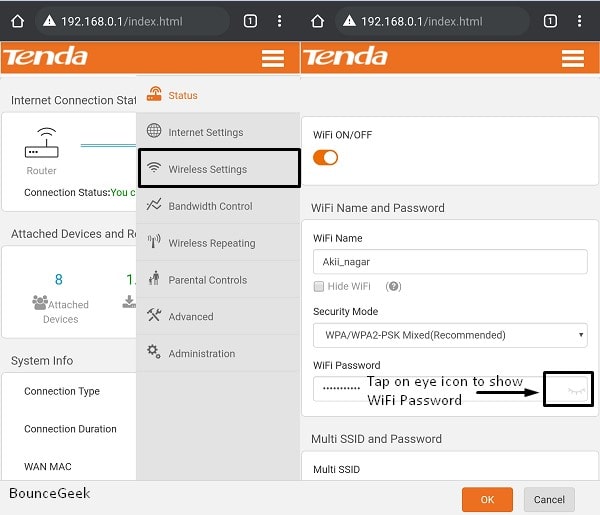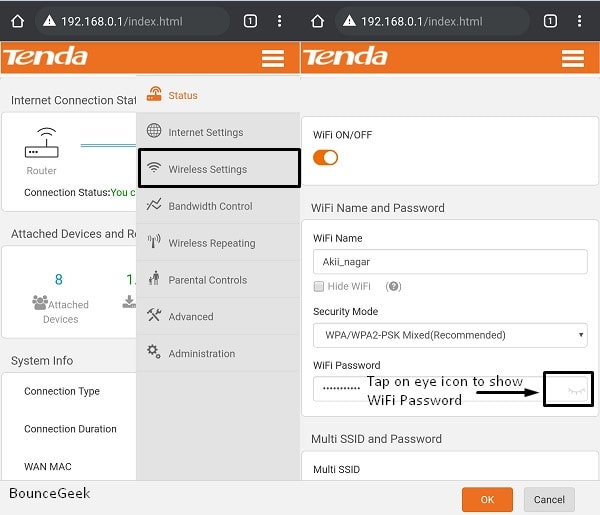 Find WiFi Password on Android using App
On Android, there are dozens of Apps available to view or show WiFi passwords like WiFi password keys, WiFi password recovery, WiFi passwords Show, and Mant More. You can try any of these but all these apps required Root Access.
1. The Best app to Find WiFi passwords is "WiFi Password show", this app is available for free on Google Play. And this app is only made for Find saved WiFi Network passwords.
Install WiFi Password Show App.  (This is a mirror App. Original WiFi Password Show App got removed from Play Store. But, this App works exactly the same.)
2. Download and Install this app from Google Play and Give ROOT access and it will show you all saved WiFI network passwords under WiFi Name.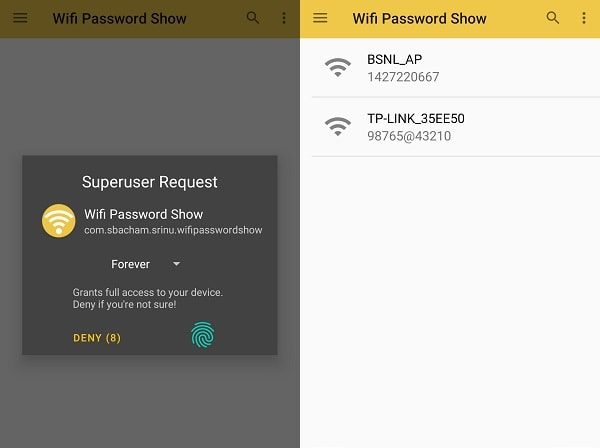 Show the WiFi password using Solid Explorer
This is not the easiest method like previous, but it is an interesting way to find out WiFi Password on any Android device.
1. First, Download & Install Solid Explorer File Manager from Play Store. (Tap on Skip, after that, select "I accept the License Agreement", and, tap on Done.)
2. Open Solid Explorer, tap on the hamburger icon (Menu Icon).
Tap on Root and Allow Root Permission. Root File Explorer now will get open.
3. Do open Data > Misc > WiFi Folder.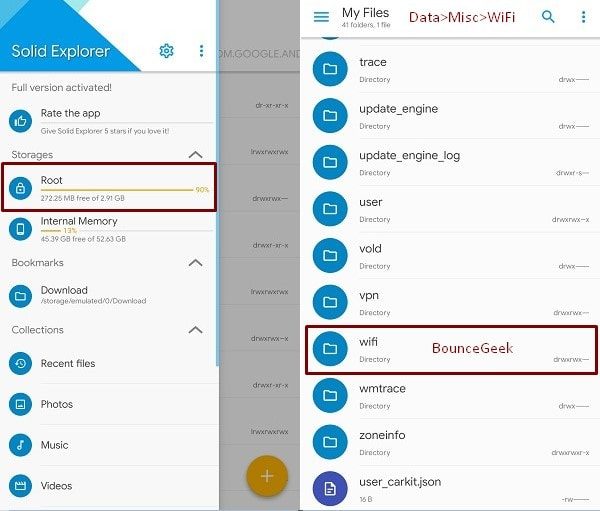 4. In the WiFi folder, you can see the WifiConfigStore.xml file. This File Store all your WiFi-related information. Also, the WiFi password of all previously and recently connected devices.
Tap on the WifiConfigStore.xml file, select "SE Text Editor", to open through it.
5. Now, In PreSharedKey String you will able to see the WiFi password. As you can see my WiFi password in this screenshot.
Don't make any changes to this file, you might face an error if you do.
Important: It's not compulsory to use this File Manager only. You can use ES File Explorer Pro also. Although, that is not available on the Play Store. So, I think, this is the best option.
These are four working Methods to Show wifi password Android, two are for Rooted and two for the non-rooted device. I will not recommend you to root the device and use the app or explorer because the rooting android device isn't good for the normal user. The second method is the best and 100% working method according to me give it a try.