As an avid online shopper, you know that tracking your package is an integral part of the package delivery process. Undoubtedly, eBay is one of the world's largest online marketplaces. It offers a wide range of products, from electronics to clothing, and all at competitive prices. If you're also an eBay shopper, then you'll want to know how to track your eBay order. Just to ensure it arrives safely and on time. And, in this guide, we'll provide you with an overview of the eBay track order system. And, how you can use it to keep tabs on your orders.
How Does eBay's Tracking System Work
Yes, eBay does offer a tracking system. Which allows you to follow your package from the moment it's shipped. And, until it reaches its final destination. This tracking service by eBay is available for most orders. And you can access it through the eBay website or mobile app.
Once you've placed an order, eBay will provide you a tracking ID or Number. That you can use to track your package's current status. The tracking number is typically sent to your email address. Or, you can check it in your eBay message inbox.
Tracking Your eBay Order
If you want to track your eBay order. Then, simply log into your eBay account and navigate to the "My eBay" page. From there, select the "Purchase history" option. And, here you will find the order you want to track. Once you've found the order, click on the provided tracking number. And, you'll be taken to the shipping carrier's website. Where you can view the package's current location and estimated delivery date.
Since the courier company is not the same for all orders. So, you can use third-party tracking services, like PKGE.net, in order to track your eBay order. These services allow you to track multiple shipments from different carriers in one place. And, it really helps to keep tabs on your orders.
Tips for Tracking Your eBay Order
Yes, eBay's tracking system is quite reliable. However, there are a few things you can do. So that, your package should arrive on time, and also in good condition.
Keep Tracking your Package Regularly – By checking your courier package tracking information regularly. You can stay updated on its progress. So that, If you notice any issues or delays in the delivery. Then, you can contact the seller or courier company immediately.
Secure shipping address – Always make sure you're using a secure shipping address. The address should be preferably one that requires a signature upon delivery. By doing this, your package will not get lost or stolen.
Inspect the package upon delivery – When your package gets delivered. Do inspect it carefully for any damage or signs of tampering. And, If you notice any issues. Then, take photos immediately and contact the seller. Or, if the package is too damaged, then don't accept it.
Leave feedback – Although it's optional. But, leaving feedback for the seller can help improve the overall eBay shopping experience. You should be honest and fair in your assessment of the seller's communication, shipping speed, and product quality.
Use Third-Party Services to Track your Package
If you're looking for an easier way to track your eBay order. Then you can definitely use a third-party tracking service like PKGE.net.
To track your eBay order with PKGE.net, simply visit their website. And enter your "Package Tracking Number" in the search bar. That you can find from your eBay account.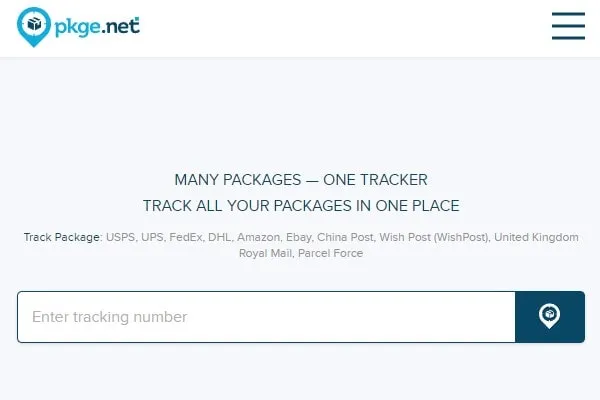 That's it, the site will then display the package's current location, and estimated delivery date. It will also display any updates or delays.
In addition, to tracking your eBay order, the package tracking platform also offers other useful features. Such as package consolidation and delivery notifications. You can also sign up for a PKGE.net account to save your tracking information. And you will keep receiving updates via email or text message.
If you don't want to indulge yourself in tracking packages daily. Then, using a third-party tracking service like PKGE.net can help simplify the tracking process. And will provide you with peace of mind by updating you with tracking information.
Conclusion
Tracking your eBay order is a crucial part of the online shopping experience. With eBay's tracking system and third-party tracking services like PKGE.net, you can easily keep tabs on the progress of your package. And you can ensure that your package arrives safely and on time. Don't forget to check the tracking information regularly. In addition, do use a secure shipping address and inspect the package upon delivery. And, you can leave feedback for the seller if you like. By following these tips, you can have a stress-free shopping experience on eBay.