No matter however expensive your Computer (laptop) might be, they lack a good quality microphone. Most of us prefer using an external microphone or headphone, so the manufacturer tends to use the low-quality mic on laptops. Though, Android smartphone comes with a very good quality microphone and noise cancellation feature. And, If your Computer lacks a microphone, and you don't have any external Microphone. Then, you can use Android Phone as Mic for Windows PC.
Yes, In order to record songs, you definitely need a good microphone. But, for chatting with friends over Skype, talking tactics on a game in Discord. You don't need to spend a penny on a new mic. Because the smartphone in your pocket is enough. Well, in order to use your Android Phone as a Microphone for Windows PC, you have to set up a few things first.
Use Android Phone as Mic.
WO Mic App.
Wo Mic App can turn your Android/iOS smartphone into a Wired/Wireless Mic for PC/Mac. And, you can use it for voice chatting, recording and voice remote control, and many other activities. It provides a few connectivity options like Bluetooth, USB, and WiFi. Though, I personally prefer using the USB Method. Because you might face latency issues in the Wireless method. And, to use the WiFi option, you have to make sure both PC and Android should be on the same WiFi network. (For iPhone only WiFi option is available.)
The best part is you can use it with any programs on PC, just like a real Mic. Yes, you have to set up it as a default Audio Input device first. WO Mic is easy to configure and comes with an auto reconnection feature. The noise cancellation features also available, we will configure it during the setup process.
Install Wo Mic on Phone and PC.
WO Mic App on your Android Smartphone. (It will capture your voice from your smartphone mic, and transmit it to PC.)
Download WO Mic Client and Device Driver.
WO Mic Client for Windows – Basically, It's the WO Mic Windows App, that will receive voice data and pass it to Virtual Mic Device.
WO Mic Device Driver – It will receive data from the WO Mic Client program and simulate as a real microphone device. And, it will provide the data to Applications that require Mic. WO Mic Driver is available for all versions of Windows.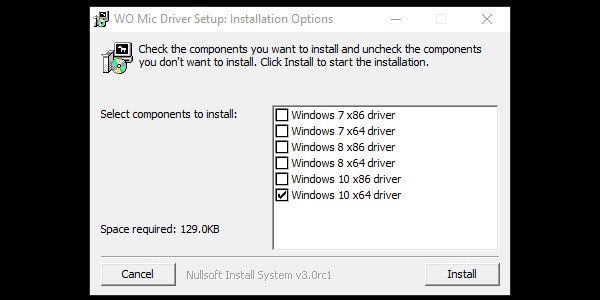 After installing it WO Mic Device will be created. To verify it, Press Windows + X key to open the WinX menu, and click on "Device Manager.
In the device manager window, click on > to expand "Sound, video and game controllers". And, you will see that "WO Mic Device" listed there.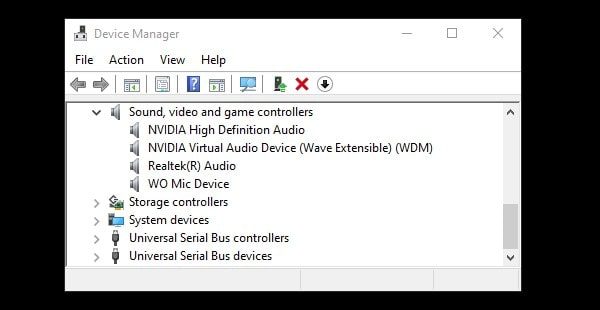 USB Method.
By default, WO Mic App comes with USB Transport selected. So, let's begin with this method. Before connecting your smartphone to PC via USB Cable. You have to enable USB Debugging on your smartphone. To do that, follow these instructions.
Enable USB Debugging.
Developer Options – USB Debugging feature is buried inside developer options. To unlock developer options, go to settings > About phone. And, tap 7 times on "build number".
Developer options will now visible inside Settings > System. (In your smartphone, it might show up in a different section. Do a search for it.)
Scroll a little bit in developer options and you will find "USB Debugging". Tap on it, and then tap on "ok" to enable it.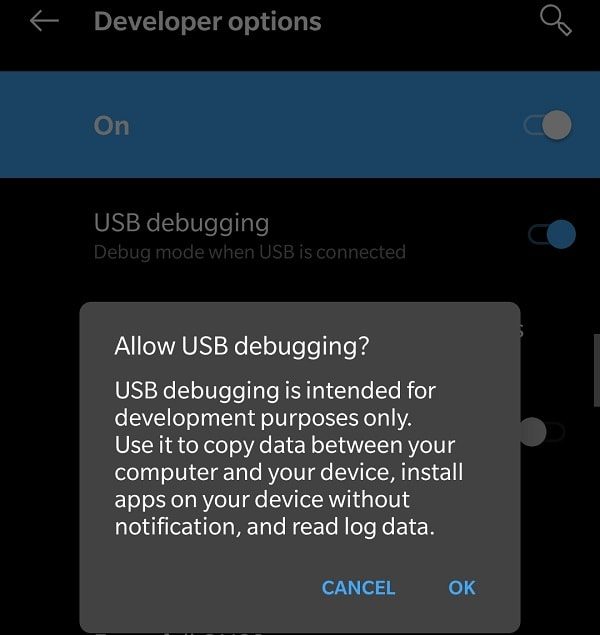 1. Open WO Mic App in an Android smartphone. Tap on cog-wheel (settings icon). First, make sure in Transport "USB" is selected.
After that, tap on the audio source and select "Mic (Mode 3). This mode will work as a noise cancellation feature. (All mode information is available on the WO Mic webpage. And, you can keep it on default, or select "Rear mic".)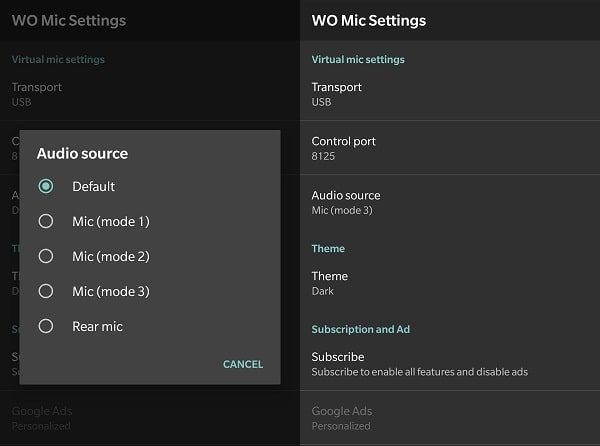 2. Go back to App's homepage and tap on the "Play" icon and then "Allow" for Audio Permission.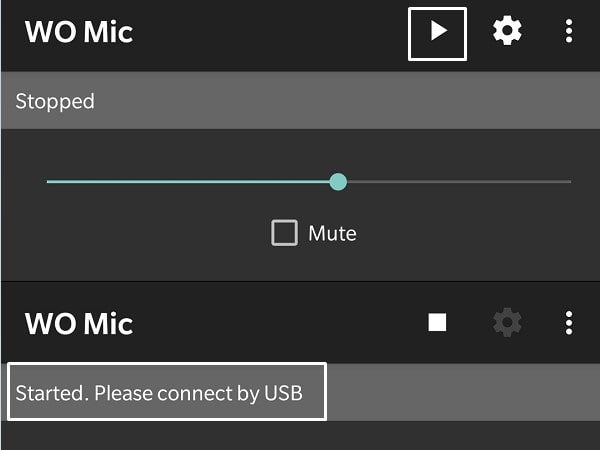 3. Connect your Android Smartphone to PC, and make sure it is connected via USB Debugging. (You can check from the notification section.)
4. Launch WO Mic Client on Windows PC. Click on Connection > Connect.

Connect Window will appear, select "USB" and then click on Connect.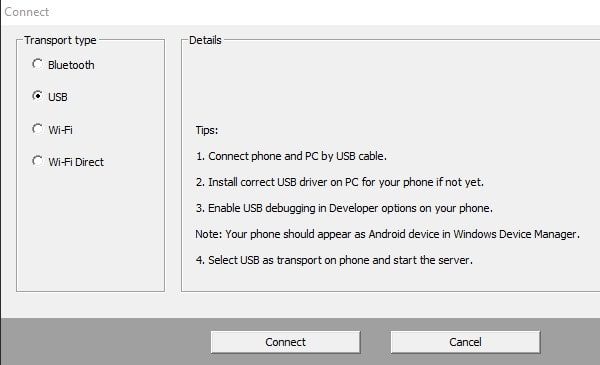 5. Allow USB Debugging" prompt will now appear on your Android screen, tap on OK.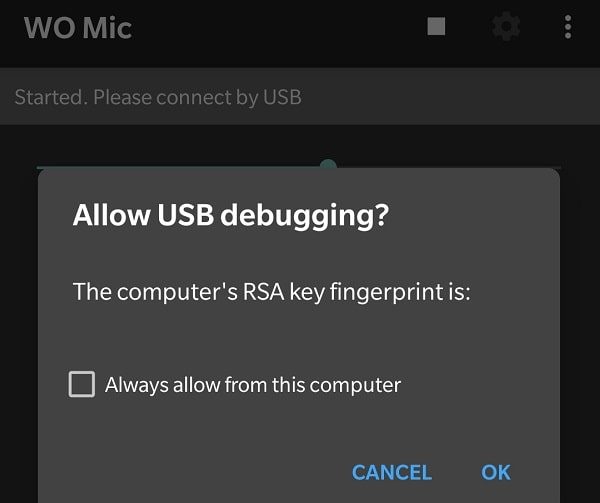 You might see "Failed to connect to server" error. No need to worry, Again go to connections > connect. And, this time, you will see "connected" will appear in the bottom left corner of the client.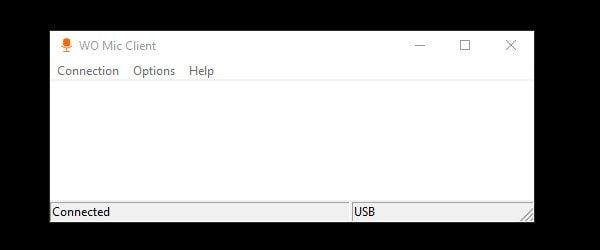 Also, In the Android notification bar, It will show you, "WO Mic is streaming. Tap to stop".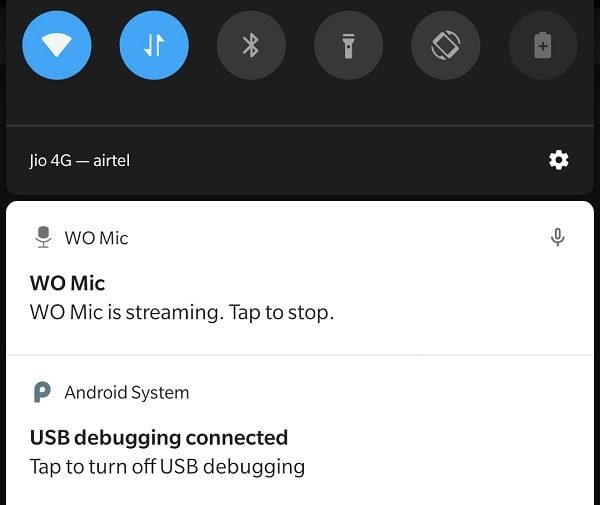 Set as Default Recording Device.
To use your Android Virtual Microphone in voice recorder and other Apps. You have to set it as the default recording device.
1. Do open Control Panel, and search for "Sound" in it.
2. Click on Sound. Sound Window will appear, click on "Recording".
3. In the Recording Devices section, you will see "Internal AUX Jack, WO Mic Device". Right-Click on it, and then click on "Enable".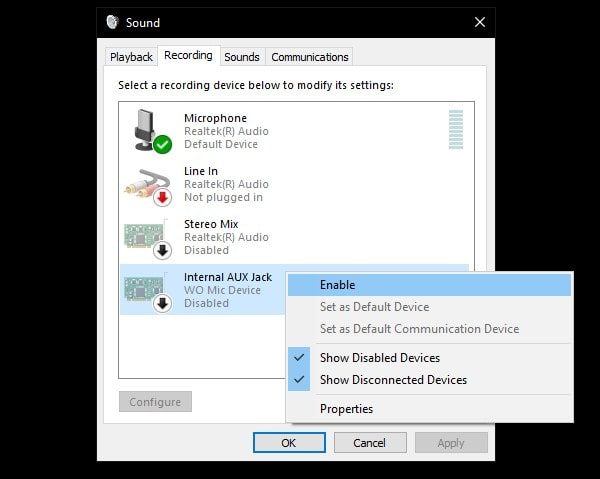 That's it, speak now in smartphone mic, you will see changes in the soundbar. You can test it in Voice Recorder App or any other app of your choice. That's it, you can now use Android Phone as a USB Mic for Windows PC.
Wi-Fi Method.
If you find the first method complicated, which isn't actually. Then, this method will be helpful to you. Before starting, just make sure the same Wi-Fi is connected in both PC and Android smartphones.
1. Open WO Mic Android App, and open App settings by tapping on the cog-wheel icon. Tap on transport and select "Wi-Fi". Select Mic (mode 3) in the audio source.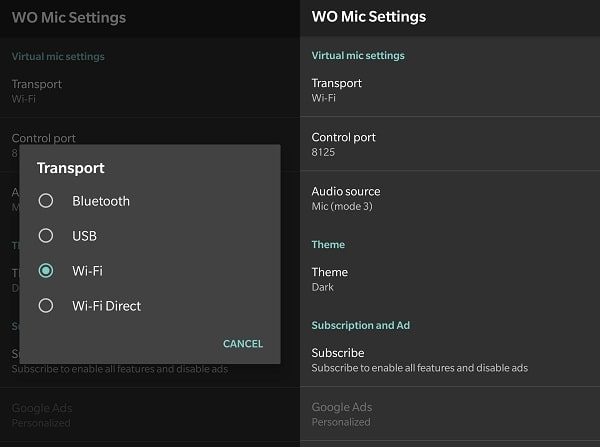 2. Go back to the home screen of the App. And, tap on Play Icon. You will see the App will show you an IP address to Connect. We will need it in the Client App.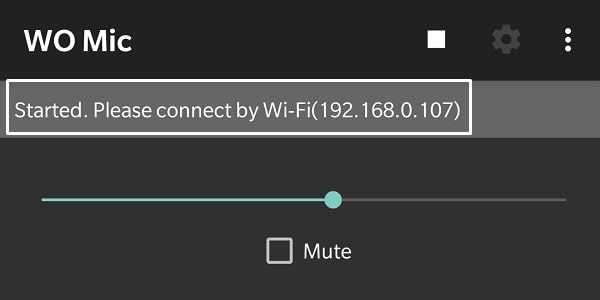 3. Open WO Mic Client App. Click on Connections > Connect.
This time, do select "Wi-Fi" and in the "Phone IP address", enter the IP address shown in your smartphone. Click on "Connect".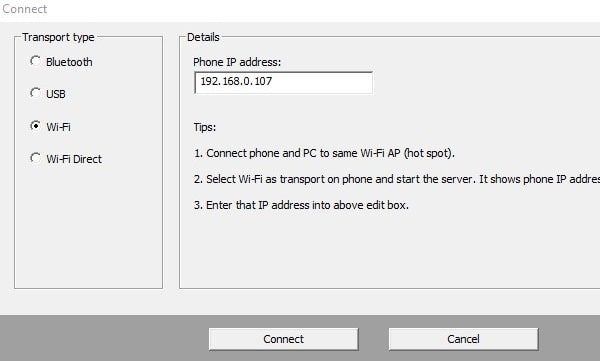 That's it, you can now use Android Phone as Wireless Mic for Windows PC. You can also use your Android phone as a webcam, read my article on it.