Sometimes it's hard to find out our favorite quotes in pictures. But it's not hard to create your own picture quotes. Picture quotes are the best way to express yourself and share your thoughts. And if you're running a quotes page on Instagram / Facebook then finding good quotes with images is the hardest job.
On the internet, you'll be able to see many online quotes from creators. But not all can fulfill your requirements, and some are completely useless. But on Android and iOS, there are dozens of quotes generator apps available which will allow you to design your picture quotes. Still, it's hard to find out which app is best to create your own picture quotes. So if you're searching for one then check out these top Best apps to add quotes to pictures.
Best Apps to create your own picture quotes.
Word Swag
Word Swag is such a beautiful app, provides rich features. That you'll not able to find out in any other apps. This app is entirely dedicated to creating your own picture quotes. You can Make you are quoting, Beautiful graphics for Instagram, and Facebook. Although the app isn't free for iOS users, it is available for 4.99 USD and for Android for 3.99 USD.
But if you're an android user and then you can get paid apps for FREE.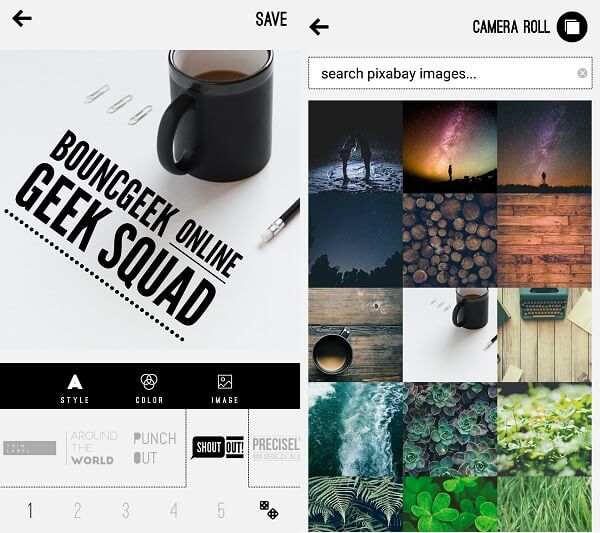 Auto crop Image – You don't need to crop images manually, It provides many options to auto crops like the Facebook cover, Pinterest, LinkedIn post, square, and many size options.
Text Styles – The app comes with 48 text styles, and all are premium. And if you don't like those 48 text designs then use the dice option to load more. Text color change option is also available which helps you in the set text according to image color. That's why it is the best app to write text on images.
Get unlimited pictures from Pixabay – You don't need to search images on the internet for picture quotes. It comes with Pixabay inbuilt search features which are the best part of this app.
Use your Gallery Images – If you want to write something on your own captured pictures, you can do it by using the Camera Roll option.
Install Word Swag on your Android.
PicsArt
PicsArt is one of the oldest photo and video editors. Some of the App features are locked for Pro users. But, if you want to add text designs over images, then, that you can do it for free. You just have to select an image in PicsArt App from Gallary. After that, by tapping on the text icon you can type and select text designs.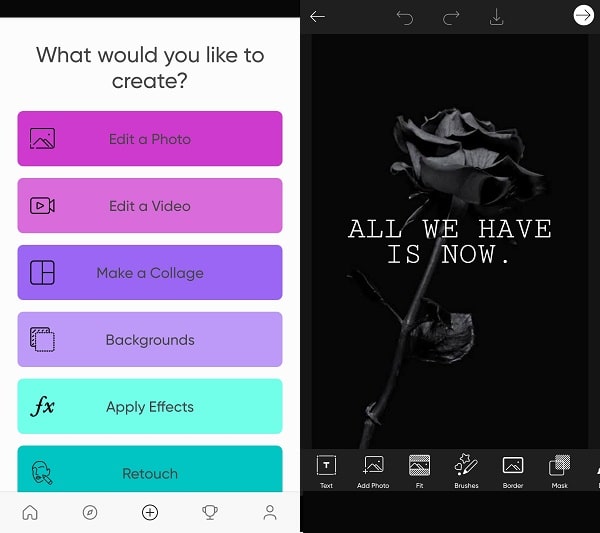 Because it's a photo editor so you will be able to add effects and stickers. Moreover, you can select a custom size to upload on different social media platforms. Overall, if you don't like Word Swag features then you will find PicsArt more useful.
Text Swag (FREE, Android)
Note: This App is no more available on the Play Store.
Text Swag is one of the word swag alternatives, provides enough features and tools to create picture quotes easily. But still, this app is only available for Android users to hope the iOS user will soon get this app. By using this app, you can create Typography Quotes that would take minutes or hours in other apps.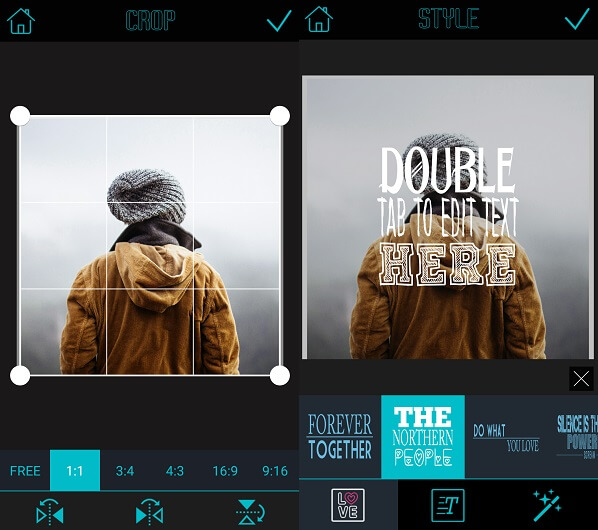 Auto Crop Image – Text Swag also comes with the Auto Crop Image feature but like Word Swag you'll not be able to find out Facebook, or Instagram auto-crop. But manual crop option is available to set the image as you wanted to.
Load Pictures from Gallery – Like Word Swag this app doesn't come with Pixabay or any other image search engine. You need to load images manually by downloading using your Best Web Browser.
Text Styles – The design of texts is different and beautiful in this app. The app comes with 24 designs of which 12 are absolutely FREE. And if you want to buy a premium one, it will cost you around 2 USD.
Instaquote Photos (iOS)
Are you searching for an app to create quotes for Instagram pages, then your search ends here. InstaQuote is Well – known app to write beautiful quotes on Instagram pictures. The app is quite basic in comparison with other quote creator apps. But still, you may find it useful for writing quotes on your Instagram photos. Also, you can share quotes pictures directly to Instagram which is a useful feature.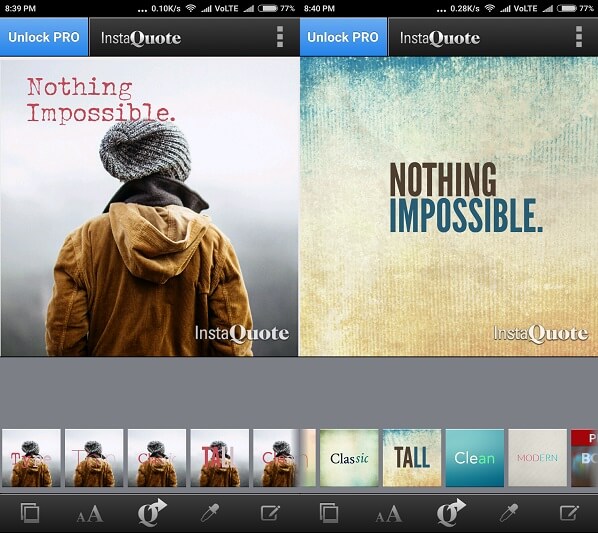 Background Image – The app comes with some basic background images, so if you don't have any stock images and just want to share thoughts. Then these backgrounds are useful for you, some backgrounds are paid but instead of pay, you can download them from Google.
Text Styles & Load Picture from your Smartphone – As I said before app provides some basic functionality so you'll be able to find out some basic text design. And like text swag you can load your images and write inspirational quotes on them.
Canva (FREE)
If you don't want to download an app on your Smartphone then the best way to create your own picture quotes is Canva. I am using the Canva site for many years. And, this site provides awesome text design and tools. And these tools are locked in many apps but in Canva, you can get them for free. Though, Canva App is also available for Android and iOS.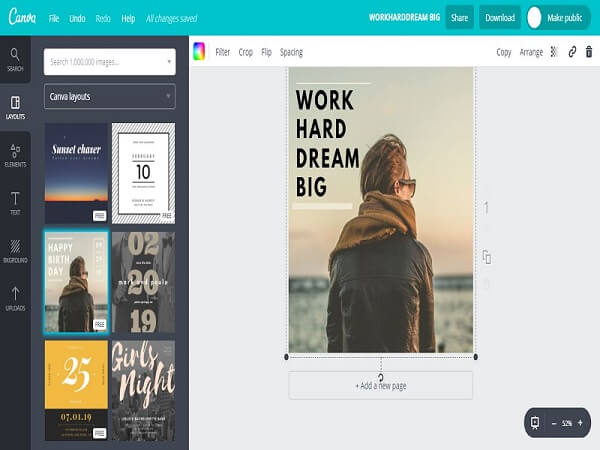 Canva Layouts – You don't need to research to find out the best layout, Canva site has its own Free beautiful layouts. Canva provides 1,000,000 awesome background images to create picture quotes easily.
Elements – Canva not only provide beautiful pictures and text, but also you can add elements like lines, shapes, illustrations, icons, charts, and much more to images.
Text – This App provides the largest collection of beautiful text styles, and trust me it is more than enough. Some premium designs are also there in Canva, and these designs are paid in some apps.
Background – Apart from layouts, you'll be able to find out the layout option. And by using it you can access a beautiful layout to make your own quotes images. Some background images are paid, although you can your own background from the computer.
PhotoMarks – Watermark Photos (iOS)
PhotoMarks App from Bits&Coffee is a Watermarking App for iOS and iPad OS. Apart from Watermarking photos, you get all the options to create picture quotes. You can add multiple layers of Text and Logo Marks. Undo & Redo option is available, which is, helpful while adding quotes on the picture. You can load photos from your device in full resolution without losing picture quality.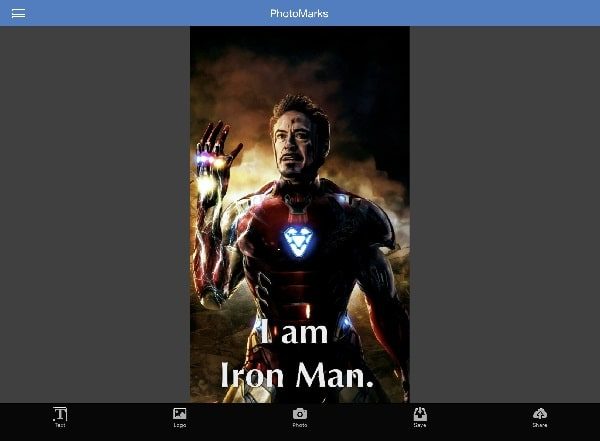 There are so many text customization options available. Like, you can Set the Transparency, Add Shadow or stroke effect. Using PhotoMarks App is quite simple. There is a tutorial also added in App, but you won't need that. Just tap on Photo, select photo or background. After that, by tapping on Text and Logo you can create a picture quote. You can save the image to the camera roll. And, can share the photo on social media from the App. The App costs $4.99.
Summing-up
Still, there are dozens of apps and sites available that also allow writing beautiful text on images. On Android you'll be able to find out some photo editors, Picsart is my favorite one. But this article is all about creating quotes and these apps/sites are specifically for quotes. If you're still confused about which one to choose, I suggest you use Canva first because it's free and contains rich features. Or if you can pay for apps then word swag is the best app for Android and iOS devices. If you know any other good app then feel free to comment, I will add it to my list.