Sometimes, knowing your limits is good idea, before it's too late. Well, I am talking about CPU. If your Computer is getting freeze, sluggish or getting shut down automatically while gaming. Then, Overheating could be the issue. Overheating problem arise due to Overclocking CPU. Means, when you try to push your C/GPU performance from beyond it's limit. Then, CPU temperature starts increasing. Which leads to many problems. That's why, it's good idea to monitor CPU temperature.
Although, officially Windows doesn't provide any option to measure CPU temperature. That's why, In this article, I am adding some best CPU temp monitor software. Apart from CPU temperature, there are some other factors, which also needs to monitoring. Like, CPU load, fan and clock speed, RAM usage and voltage.
But, in this article, we are going to talk about CPU temperature only. By knowing CPU temperature, we can easily prevent potential overheating issue. Also, you can find out, CPU is working fine or not, when, the external environment is hot. If you're using Intel processor, then, I suggest you to try Intel Burn Test. Which will help you to know your CPU limit. Though, read complete article before performing Intel burn test. It can harm your CPU.
Best CPU Temp Monitor.
Real Temp. (Free.)
Real Temp is free and Best CPU Temp Monitor. It is especially designed for all Intel Processors. Like, single core, dual core, quad core and intel core i3, i5 and i7. (Pentium 4 processors not supported.)This small CPU monitoring software does show real time temperature. Also, shows minimum and maximum temperature with the time. So that you can figure out what causing temperature increment. Real Temp also display processor information and load. Though, you can check load using task manager. Best part is you don't need to install this software. You can run it directly.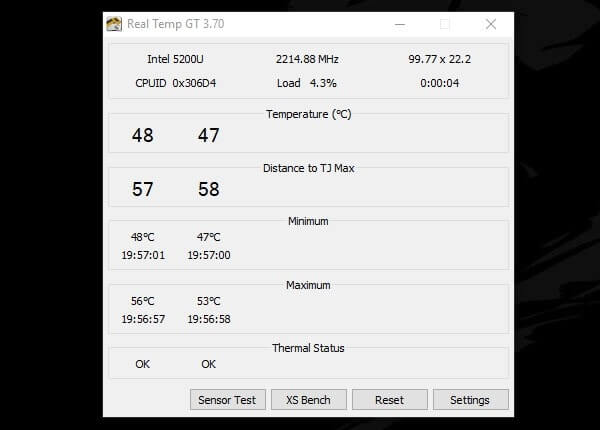 Real Temp software also shows Distance to TJ Max. Each core on intel processor comes with digital thermal sensor. DTS shows temperature data relative to TJ Max. When our CPU starts heating distance to TJ max starts decreasing. If it's reaches zero, then your Computer will get freeze or thermal throttle will get start. So, maximizing Distance to TJ Max, will help Computer run at full speed. You can also test your processor benchmark score. Sensor test feature also available. But, to use it you have to download Prime95 software.
Open Hardware Monitor. (Free, Open-Source)
It is another free and open-source best CPU monitoring software. In Windows it runs with .NET framework. And, in Linux OHM requires Mono and Winforms. Although, it is not available for MacOS. Like Real Temp, Open Hardware Monitor doesn't require installation. You just need to download zip file then unpack the zip and, run the program. It supports both Intel and AMD processors. You can check your processor in documentation section of it's official site.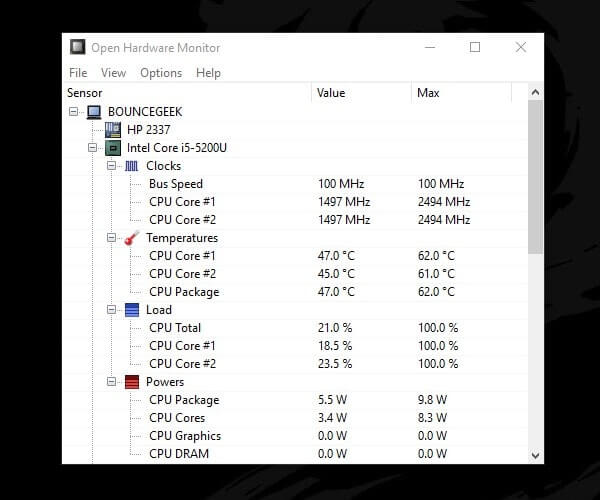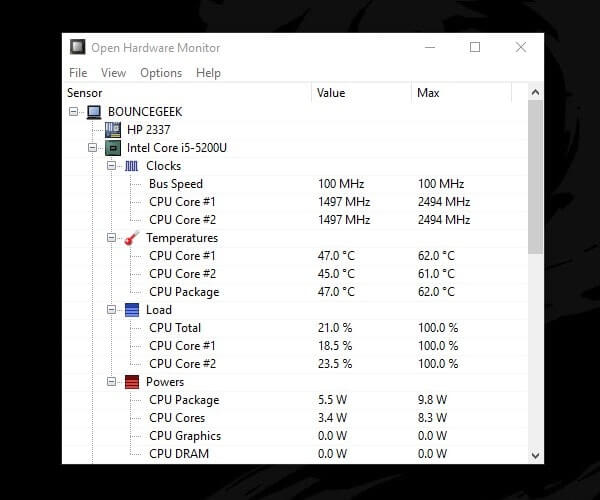 Apart from CPU temperature, this program also monitor fan speeds, voltages, CPU load and clock speed of Computer. It also does shows minimum and maximum temperature. Which you can reset it anytime. It also shows hard drive temperature and used space. Software does support both NVIDIA and AMD GPU. Overall, it is the best CPU Temp Monitor. If you just want to get real time temperature update.
HWMonitor by CPUID. (Free.)
It is the most famous CPU temperature monitoring software. Which is developed by the same company, who developed CPU-Z software. Though, this software interface is similar to open hardware monitor software. But, still HWMonitor shows much information about CPU. Apart from minimum and maximum CPU temperature. Software does shows clock speed, voltage, fan speed, CPU load. HWMonitor is capable to show temperature in Celsius and Fahrenheit at the same time.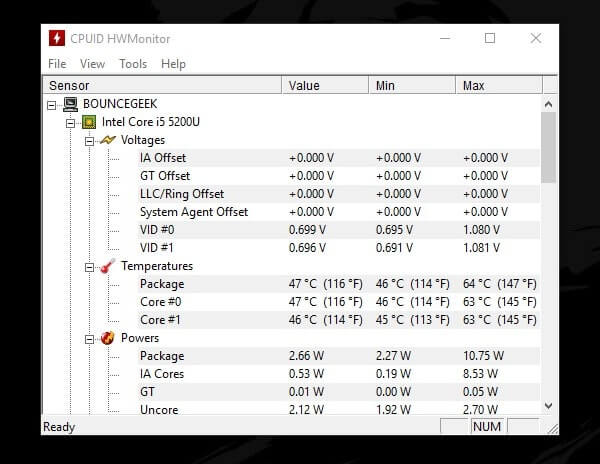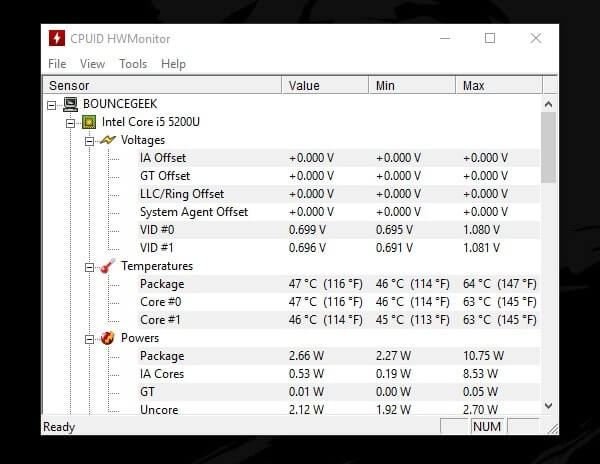 This program is also quite helpful for laptop users. It shows every information about laptop battery. Like, designed capacity, full charge capacity and current capacity. Apart from processor temperature, HWMonitor also shows motherboard and GPU temperature. Though, there are some drawback of this program. Like, you can't control fan speed, and, can't set warning alarm. There is an pro version of HWMonitor available. Though, if you just want to monitor temperature. Then, pro version isn't for you.
AID64 Extreme. (Paid.)
If you need some advanced information. Then you can try AID64 extreme software. It is an Windows diagnostic and bench-marking software. It provides wide range of features, which will assist you in overclocking. Instead of best CPU temp monitor, we can call it best hardware monitoring software. It is similar to Microsoft Console Management. AID64 also shows Tjmax temperature.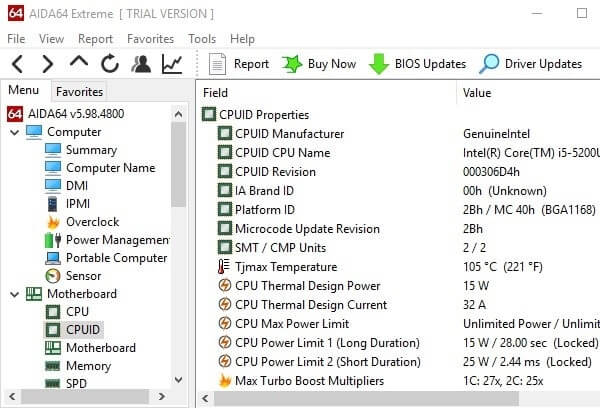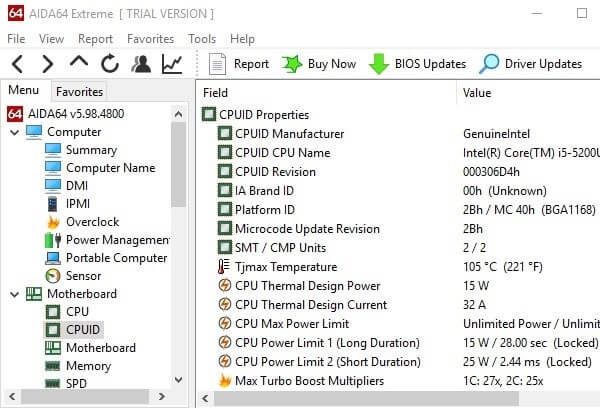 With AID64 Extreme, you can monitor everything. Like, Power, CPU, storage, network, software, devices, sensors, BIOS, motherboard, GPU. Overall, you can get complete information about your Computer. But, some feature of it are locked. Which you can unlock by purchasing premium version of it. Trial version of AID64 is valid only for 30 days.
SpeedFan. (Free.)
This is also one of best CPU Temp Monitor. It can also manage your Computer fan speed. Means, it can change fan speed according to temperature. If temperature goes high, Fan speed will increase to cool it down. The software is quite old, but, compatible with all version of Windows. Apart from temperature, speed fan can display Computer voltage, fan speed.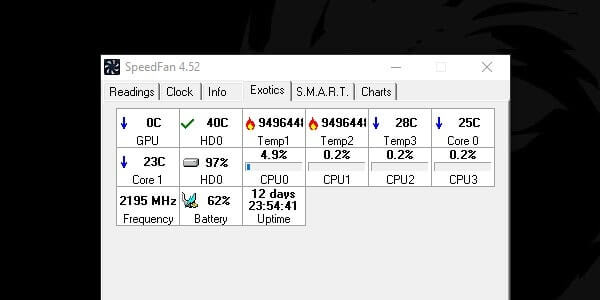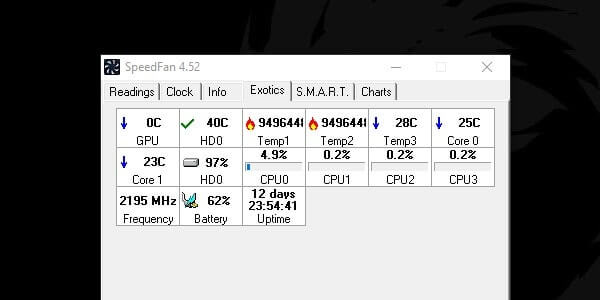 This small tool can access digital temperature sensors. But, main feature of it is ability to control fan speed. You can also clock your CPU with it. But, if you select wrong information, you might hurt your system. With Speed Fan you can also set up an high temperature warning. Or, can set an action like send an email or run a program.
CPU Thermometer. (Free.)
This small program is based on the Open Hardware Monitor code. As i mentioned above, open hardware monitor is open source software. So, anyone can use its code. And, developer of CPU Thermometer did the same. But, this program only shows CPU temperature. Not any other information. Like, fan speed, CPU load, voltage, motherboard, hard disk, GPU temperature.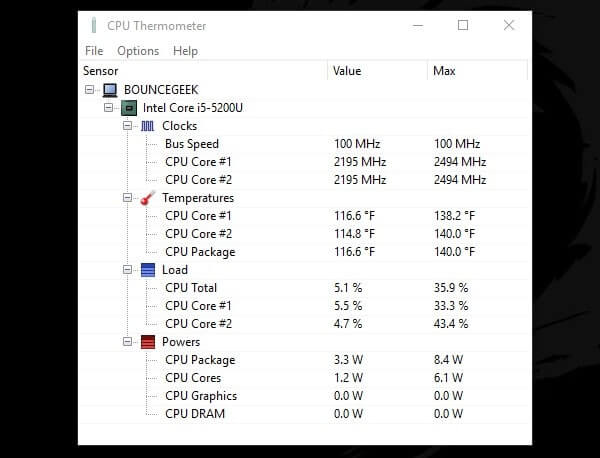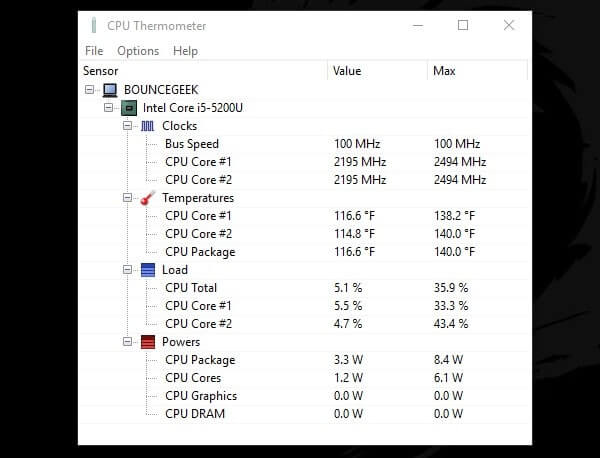 But, still you can give it a try. Software comes with self extraction method. Means, when you run the program. It will ask you to extract it in any directory. After extracting the software. You will find out an extracted folder. From that folder, you can run CPU Thermometer. You don't need to install it.
Summing – up. Best CPU Temp Monitor.
So, these are the CPU monitoring software, which you can try. Personally, I am using Real Temp. You can also try Open Hardware Monitor, if you need other information. And, if you want to control fan speed, and check temperature. Then, Speed Fan software will come in handy. Overall, these software are helpful, if you do CPU overclocking. That's it. If you know any other better software, feel free to comment.