USB Devices are so convenient in use with computers Right? But what If you want to use USB devices or any USB storage devices like Pendrive, Memory Cards in Android Devices. Then it's somehow impossible for you unless you don't aware of USB OTG Support. Normally Mobile Devices don't have the functionality to connect with USB Devices, but USB OTG allows to connect any USB Device to Android device.
What is USB OTG?
USB OTG is known as USB On The Go and in simple words Pendrive to Mobile Connector. It is a standard or a small device that acts as USB Host. It allows us connecting any USB Device to the smartphone. USB OTG not limited till storage devices, You can also connect any computer hardware device. That has USB functionality like Mouse, Keyboard, Printer.
But one thing you need to understand before buying a USB OTG, that not every Android Device have USB OTG Support. Now you must be thinking how to find that your Android device has USB OTG functionality or Not.
How to Check USB OTG support on Android Devices?
Check USB OTG support isn't the hardest thing to find out that your Android device is USB OTG supported or not. There are many ways to Check.
Method 1
Download Easy OTG Checker App in your Android Device.
Easy OTG Checker is the easiest way to test if your Android device supports USB On-The-Go (OTG) – i.e. USB Host.
Requirements
* A USB OTG cable (You can Buy Online)
* Any USB device, for example, a USB flash drive
First, connect any USB Device or Pendrive with USB OTG cable, Now connect USB OTG to Android Device and then Open Easy OTG Checker App.
It will ask you to tap on Question Mark Icon, After tapping on it, It will start detecting and within few seconds it will show your USB Device Information if your Device is USB OTG Supported.
If your Android Device doesn't have USB OTG Support functionality, then you will get a message,"Could not detect any USB Device. Check your USB OTG cable."
Method 2
If your Android Phone Retail Box has USB OTG logo, then you don't need to download any app to check.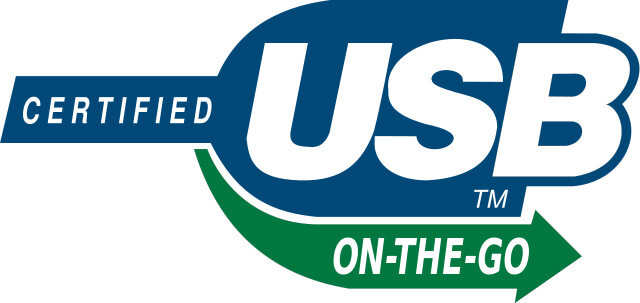 You can buy USB OTG Device, and NowADays every new Android device supports USB OTG functionality.
There is also another way available to check just Insert a USB OTG Pendrive in Android Device, and you can see a Notification.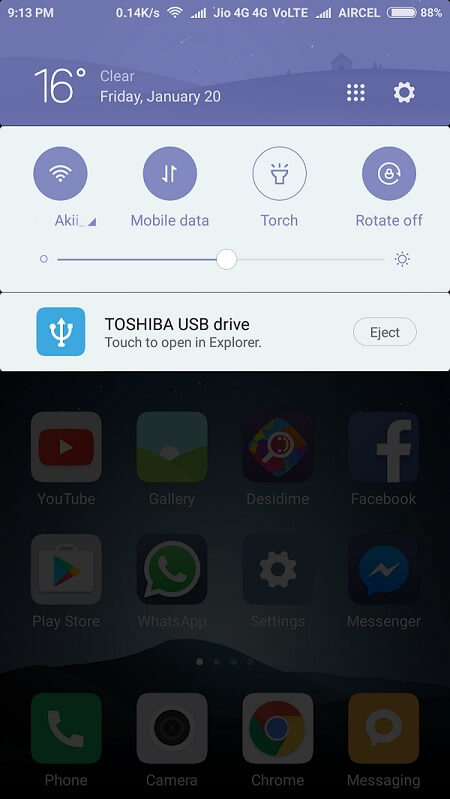 If your device has USB OTG support, then you can see Pendrive details in Notification Center.
What can you do If your Android Device doesn't have USB OTG support?
If your Android Device doesn't support USB OTG, and still you want to connect USB OTG to Android Device, then last option remains to Root your Device and try some Rooted Apps. On Google Play Store Dozens of apps available to do that so. These two apps are best to connect USB OTG to Android device that doesn't support USB OTG function.
Try these apps After Root –
In many old Android devices, these apps also not work but you can give it a try If your Device is rooted. If you don't know how to root your device, then use respective XDA members help, or you can try Kingoroot app.
Cool things that you can do with USB OTG
Once you have USB OTG and Android Device then you can do many things, But some cool things that you can do easily without buying External USB Gadgets.
Connect Flash Drive (Pendrive) and Hard Drive. 
External Storage is on my top of the List, Because If you are running low storage then by using USB OTG functionality you can quickly expand storage. By Connecting Hard Drive or Flash Drive, you not only can expand storage you can also Install Custom ROM. USB OTG is Helpful in Flashing Custom ROM.
USE FAT32 only, Don't use NTFS it may not work in some Android Device. You can Easily change Flash Drive By Formatting It.
Play With Video Game Controllers
The Next cool thing you can do is, you can play games in Android Devices by using your computer Gamepad. Yes, you read Right as you know Gamepad have USB functionality that allows you to connect the game controller to Android Device.
Asphalt 8 and Modern Combat five will work flawlessly in Android using Gamepad with USB host.
Control Android with Keyboard and Mouse.
C.P.U. Not working and It's urgent to write the article, and your typing speed is fast in Computer Keyboard? Maybe other reason so you want to use Keyboard and Mouse in Android. Don't worry you can connect computer Keyboard and Mouse using USB Host (USB OTG). If you want to connect both keyboard and mouse at once, then you need a USB port expander, Don't worry you can buy from any local shop or you can buy Online.
Print Directly from a Printer
Sometimes we have some important document in Android Device, and we want to print it out, and we don't have any way or Internet connection to transfer that file to the computer. In that case, by using USB Host, you can easily connect your Print to computer and print document that you want to Print. Just simply remove the cable of the printer from the computer and connect the smartphone using USB OTG.
Control your DSLR camera by Using Android Smartphone.
We all know that DSLR cameras don't come with Big Screen, but by using USB Host (USB OTG), We can connect DSLR camera to the Android Device all you need an app named DSLR Controller to Control camera.
You can use USB OTG for doing many another task; You can try to connect another device that has USB. But Before trying Don't forget to check that your device supports USB OTG or Not.