Do you want to stop Android Apps from using your Mobile data in the Background? Well, you can now easily restrict data usage of any Android Application.
Mobile Data Plans are getting expensive these days. Some companies offer limited mobile data with unlimited calling plans. And, I am sure you don't want to waste your precious mobile data on App updates or background app data usage. In Android, when you install an app, it asks you for location and storage permission. But, App doesn't ask you for data usage permission. Yes, some Apps like YouTube give you the option to resume downloads when connected to WiFi. But, in Android smartphones, we do install tons of Apps. And, some of these apps do use data regularly, even if you're not using them actively.
Yes, it's hard to find which app is consuming your mobile data in the background. Well, no worries, there are certain ways to restrict prevent any Android App from using Mobile Data. Even, though Android does offers certain ways to restrict data usage. Or, you can install a data saver app by Google.
For Android devices, there are tons of data blocker or data saver Apps available. Which allows blocking data for specific apps. But if you block data for any internet-based app then the app will stop working until you enable data again. E.g. – If you disable the internet for the Instagram, and Snapchat App, you will not get the notifications. So, keep that in mind, before you start following the solutions mentioned in this article.
Prevent Android App From Using Mobile Data
Solution 1: Restrict Play Store to use Mobile Data
The only app that consumes so much data in the background is Play Store. Because after you set up your new Android device, you will see a Play Store Notification. Which shows you that, Play Store is updating apps in the background. And, Android app developers release app updates more frequently than iOS.
So, before starting restricting network usage of any Android App. First, you have to make some changes to the Play Store Auto Update settings.
1. Open Play Store App.
2. Tap on your Google Account Profile icon, and after that tap on Settings.
3. Tap on Network Preferences.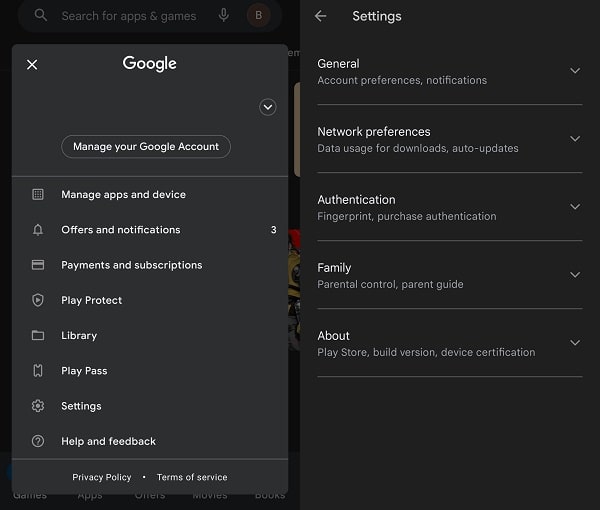 4. Now, you will see three options. Do tap on "Auto Update Apps".
5. Now, you can choose between "Over Wi-Fi only" or "Don't auto-update apps". If you want Apps to be updated over WiFi only, then you can choose that option. Else, if you want to disable auto-update permanently then the second option you can go with.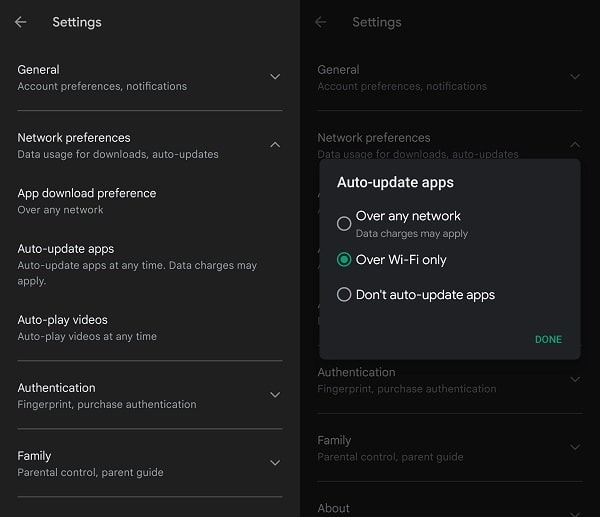 But, if you choose "Don't auto-update apps". Then Android Apps will get outdated and you will have to update them manually.
6. You can also set WiFi only option for the "App Download Preference" and "Auto-play videos" as well.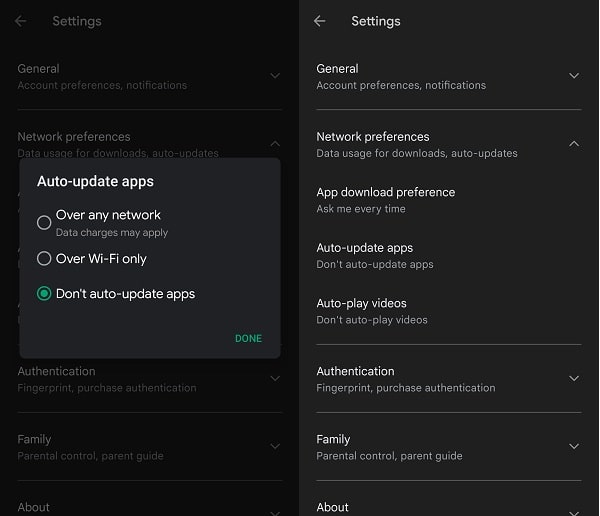 That's it, you have prevented Play Store to use your mobile data in the background for App updates.
Solution 2: Set Data Limit using Android Built-in Option
If you don't want to restrict data usage for any specific App. Then you can try this solution because with the data limit option you can set a per-day data limit. And when you use data till the specified data limit, your internet connection will stop for all Apps. Or if you want you can set a data warning, So you" ll get notified when you use data till the limit.
For example – If you have a 15 GB per month plan, then you can set a data limit of 500 MB per day. So, you can easily save data balance without using any third-party data saver App.
How to Set Data Limit or Data Warning.
Simply open Settings> Data Usage > Billing Cycle> Data limit and Billing cycle. Here you can set the data limit and enter the value in MB. If you want to set the data limit in GB then enter 1024 for 1 GB, 1048 for 2 GB, and so on.
Note: In a Few Android devices you"ll get a data limit option when you enter into data usage settings.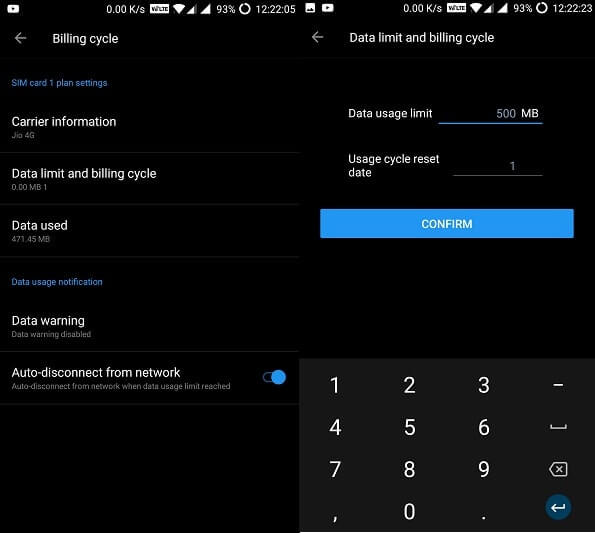 To get a data usage notification go into the same settings. Now tap on Data Warning and enter the same value that you entered for the data limit.
Solution 3: Restrict App Data Usage
Are you using the latest Android OS on your smartphone?. Then you don't need any third-party apps to stop apps from using data.
For MI Users – If you're using a Xiaomi device then the data usage control option is available in the security App.
Data Usage Control – Restrict Apps Data Usage.
Step: 1 Go to Settings> Data Usage, Now tap on three dots (upper right corner) and choose the data usage control option.
Step: 2 On the data usage control screen you"ll get four options for each App – Allow, Forbidden, WiFi only, or data only.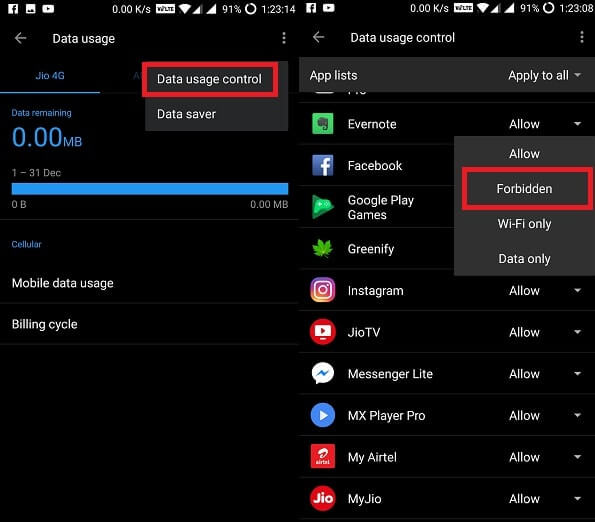 To stop any app from using data choose the forbidden option for that App. Or if you want to restrict data usage but want to enable WiFi then choose WiFi only option.
Solution 4: Hibernate Apps and Stop Apps from Using data
If you also want to fix the Android OS battery Drain with data, you can use Greenify App. This App restricts all background activity of Apps and will stop apps from using data. Data usage will again activate only when you launch that app Again.
The app comes with an auto hibernation feature, which hibernates (Force Close) App automatically when you lock the screen. There is some advanced feature also available in this App but requires root permission.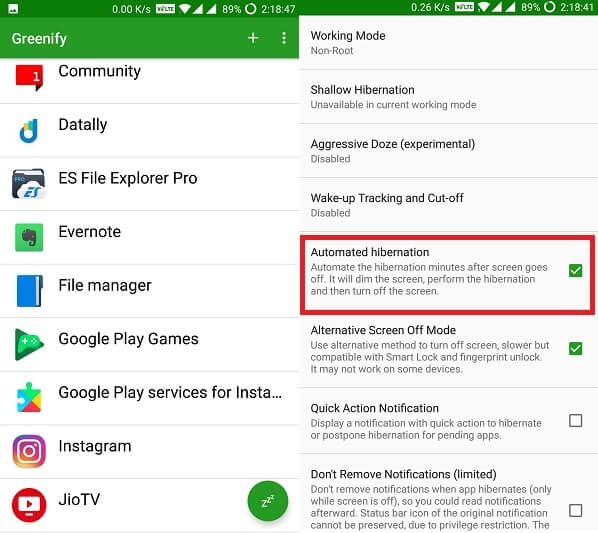 Download Greenify App and then open it, Now the app will ask permission to allow it. Now the main screen of the App will open, tap on the + icon to view all Apps. On the App Analyzer screen, tap on apps (that you want to hibernate) and then tap on Right Mark ( ✓ ) to hibernate.
Solution 5: Use a third-party Data Blocker App
On Google Play Store, there are tons of mobile data-saving Apps available. That claims to stop Apps from using Data, But some apps come with ads and some are useless. Recently Google launched its data-saving App known as – Datally.
Datally helps to save mobile data through controlling data usage of Apps. The app allows you to see real-time data usage, and you can block data usage for any App. Apart from the Data usage control option, App comes with a WiFi finder option. Which shows all public and private WiFi lists of your city or town.
To block data for a specific App open Datally App Tap on Manage data> Enable Save Mobile Data. Now you can select Apps for which you want to stop data usage.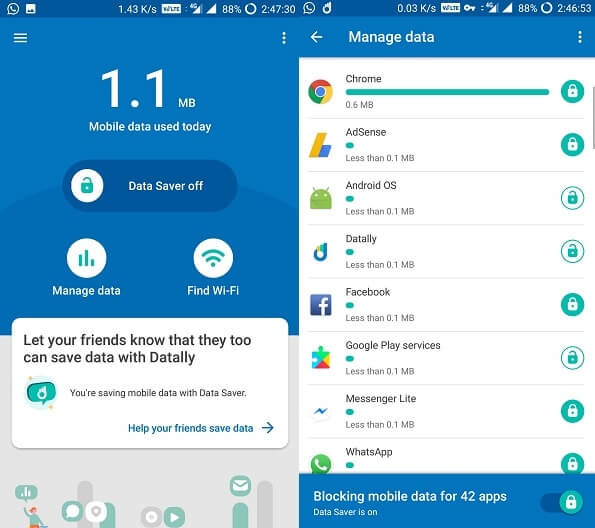 Note: Google has removed this app from Play Store for unknown reasons. But, still, there are some sites from which you can download this App. Although, there are some other data saver apps available on the Play Store to try. Personally, I will suggest you install NetGuard.
Install NetGuard – no-root firewall
Conclusion
So, there are four methods or solution that allows stopping Apps from using data. If you're still confused about which solution you should try first to save mobile data. Then the first check restricts the app data option on your Android device. If there isn't an option then you can download datally App. Or if you want to save battery life with data then download Greenify App. That's all folks, for now, If you know any other better way or app then feel free to comment.