Each new update of Windows is making Windows OS better. After Windows 7, Windows 10 is the best windows by Microsoft. But Microsoft made few major changes in Windows 10 and removing "Turn Off Automatic Update" option is one of them. Yes, you can stop auto updates in Windows 10 but not everyone knows how to do it. And the automatic update is the reason behind "Getting Windows Ready Don't turn off computer" screen.
Two days back when I was shutting down my laptop, I got an update and shut down option, Instead of shut down. There wasn't any other way to shut down normally so I selected that option (Update and shut down). And my laptop stuck on "Windows Ready" Screen. I thought the update is big so I waited for almost two hours. I faced this issue and luckily I fixed it, So In this article am going to tell all possible ways to get rid of from Getting Windows Ready Screen
How to Fix Getting Windows Ready Stuck Issue.
Solution 1: Don't do Anything, Just Wait.
It sounds odd to listening, but if you don't want to lose your important data then don't do anything. Just wait for the PC to boot up or restart. I advise you to wait at least 2-3 hour, because if an update is bigger then it will take maximum 2-3 hours to complete. But after waiting too many hours if still, your screen stuck on Getting Ready then just follow next solution.
There could be multiple issues with this error – Update Loop, Restarting Loop or maybe boot loop (Screen stuck on boot animation). According to windows forum, this screen appears after restarting PC. But the main cause of this issue is incomplete important update (Security Updates). So windows try to finish that update when you shut down or restart PC.
And if it is an important update then you can't get rid of getting windows ready screen without updating it. The only thing you can do is, leave your laptop on that screen and wait for the update to get completed. If your laptop or PC showing "Getting Windows Ready working on updates" then also don't do anything. Because this message appears after major windows update, and if you do anything then you might face some serious errors.
Solution 2: Hard Power Off the Laptop or PC.
In my case, Screen got stuck on "Getting Windows Ready" in Windows 10 and wasn't showing working or update or something else. First thing I did wait for almost two hours, But after two hours screen was showing the same error message. If the same thing happens with your laptop or PC then you can try this solution.
Remove recently connected device – Before turning off the computer, first, remove any recently connected device. Because sometimes screen gets stuck because of new device driver update.
Step: 1 Disconnect your charger if you're using the laptop. Now hold the power button for few seconds to turn off the computer in a hard way.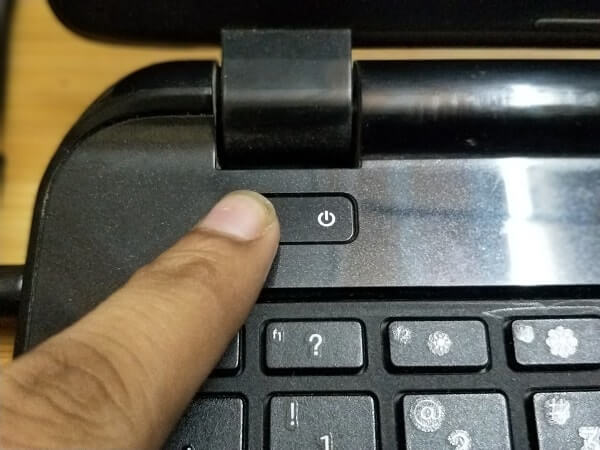 Step: 2 Remove the battery from the laptop and hold down the power button few seconds to drain power from the laptop. (Skip if using a PC)
Step: 3 Now connect charger only, then turn on your laptop or PC. And that screen error (Getting Ready) will be gone completely, and you should be on the login screen.
Note: When you power on the computer it will take 1-2 minute on boot animation because the battery is removed. So no need to worry about it just wait for the computer to start. To connect battery first shut down computer remove charger then connect it. Don't try to connect the battery, when the laptop is on.
Solution 3: Disable UEFI with the Secure boot – For Windows 8/8.1.
On Windows Forum I found this solution, And it worked for few people. So If you're using Windows 8/8.1 then you can try this method to fix "Getting Windows Ready Don't turn off your computer".
What Secure boot does?.
Secure boot option make sure that PC boots only using trusted firmware by the manufacturer. But to run some PC graphics cards, the Previous version of Windows OS (8/8.1) and hardware, you may need to disable secure boot.
Step: 1 Hard turn off your computer by holding the power button for few seconds.
Step: 2 unplug the power cable and remove the battery. Again hold the power button for few seconds to drain power.
Step: 3 Connect cable doesn't connect battery like the second solution. Press power button to turn on PC, and when PC turning on hit appropriate key (Esc/Delete/F2) to enter into startup menu. (In my HP laptop it's Escape key)
Step: 4 In startup menu choose BIOS setup option by pressing the appropriate key. (In my laptop it's F10)
Step: 5 Go to Boot option (first go into system configuration) and choose "Clear all Secure boot keys" to disable secure boot. After disabling secure boot now press F10 to save and exit.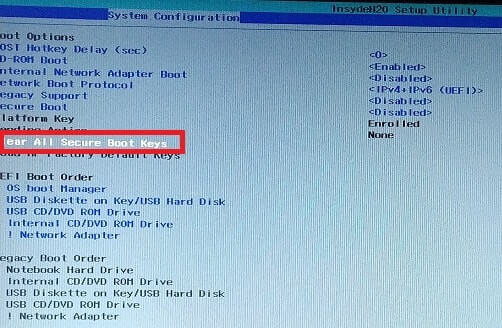 If there isn't an option to clear all secure boot keys, then look for UEFI with secure boot option and change it to UEFI without secure boot.
Now, you're hoping your PC should boot into the login screen. If not then try next method to get rid of from "Getting Windows Ready" Screen.
Solution 4: Uninstall recent update in Safe Mode.
As I mentioned, the main cause of this issue is most recent update. So by uninstalling the recent update and turn off automatic update using Safe Mode, We can solve this issue.
Step: 1 Hard turn off your PC by pressing the power key.
Step: 2 Turn on the computer and then press F8 key when PC is turning on. In Advanced Boot, option chooses safe mode.
Step: 3 Now in safe mode go to Control Panel/Programs/Programs and features. Click on view installed update option and it will show you all recently installed update.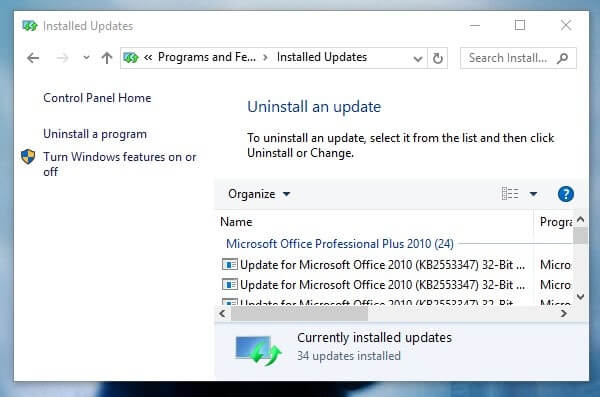 Step: 4 In Installed update section check all recently installed update according to date. And uninstall all recent update. (For Example – If you're facing Getting Windows Ready screen on 07/12 then uninstall all updates installed on 07/12)
But if there isn't new update then the problem is something different. So shut down PC from safe mode and try next solution.
Solution 5: Clean Windows Installation.
In most of the cases, By using solution one and two you can get rid of from this blue screen of Windows getting ready. But after trying all above solution if still, you're unable to solve this issue. Then the last option remain is performing a clean re-installation of Windows.
Note: You"ll lose all available data in C Drive. But if you want to save some then you can dual boot windows 10 and Ubuntu. And can copy all your important data using USB Drive or Hard Drive.
To perform a clean installation of Windows 10 you need to create a Bootable USB Flash Drive. And you can't access your PC so you need another PC to download Windows 10 ISO file. After downloading ISO File you can create Bootable USB Drive using Rufus software. If you don't know how to burn Windows 10 to USB Drive. Then follow this Article – Burn ISO to USB Drive.
Note: If you have Windows DVD then you can insert and install. No need to create Bootable Drive.
1. After Creating Windows 10 Bootable USB Drive Connect it to PC, Then turn off PC or laptop and then start again. Now press the appropriate key to enter into Boot Menu and choose boot priority. Don't forget to save changes by pressing the F10 key.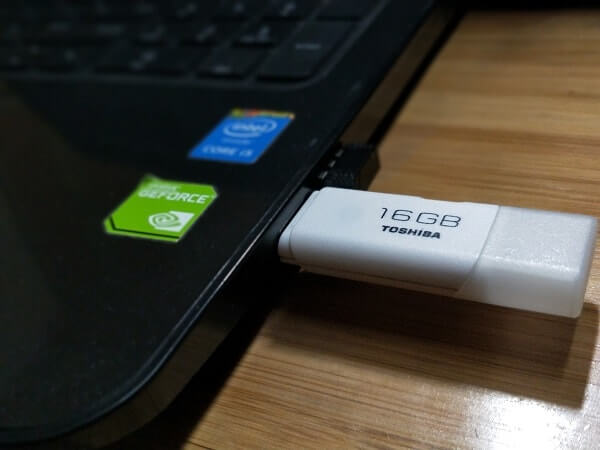 2 Hopefully, Windows 10 installation screen will appear to choose correct drive in order to clean installation. After completing installation process your problem will get completely get solved.
Note: If you have never installed Windows before then Don't do it by yourself. Or follow complete instruction by checking out YouTube videos.
Conclusion – Fix Getting Windows Ready Fix.
So these are the five solutions that you can try to fix this issue. In 99% cases by using first two solution windows users fixed this issue. But after doing all things you're unable to get rid of from this error than without wasting time, clean install windows. And after doing clean installation make sure to turn off automatic update. Else problem can occur again anytime in future. That's all for now If you know any other solution that worked for you feel free to comment.