Recently, the developer of Apex Legends, the Respawn Entertainment launched the new season of this Game. The new season update was quite big. Because Apex Legends has introduced a new map and new legends. But, after this update, Apex Legends is not getting open to many people. Even, though I had freshly installed Apex Legends Game. But, unfortunately, Apex Legends Won't Launch on my PC. And, Error code 23 was coming. Thankfully, I was able to fix this error by trying a couple of solutions. And, in this article, you will get to know about them all. Moreover, If you're getting, Apex Legends Connection to server timed out error, then check out my article on it.
There are two problems, that many people are facing when they launch Apex Legends.
1. After launching the Game, (from the desktop or from the origin) the Easy Anti-Cheat window opens, loads, and disappears. And, nothing happens after it. Means, Apex Legends won't start.
2. And, for some people, Game does loads, shows the Respawn Entertainment intro, and the EA logo. After that, the game gets stuck on a black background, with the red Apex logo bottom right.
So, whatever problem you're facing with Apex Legends Game. In this article, you will get to know certain solutions to fix.
Apex Legends Won't Launch / Apex Legends Launch Error Code 23

Solution 1: Repair the Latest Version of Microsoft Visual C++.
Microsoft Visual C++ is responsible to run Apex Legends and many other Games. Sometimes, conflict happens due to other Games. In that case, reinstalling or repairing it can fix the problem. If Error 23 is coming in Apex Legends then you should definitely try this solution.
1. Press Windows + I key simultaneously to open the Settings App.
2. Click on "Apps". Now, from the Apps & features list look for the Microsoft Visual C++.
3. Click on the latest version of C++ and then click on "Modify".
4. UAC window might appear, click on OK.
5. In Modify Setup Window, Click on "Repair".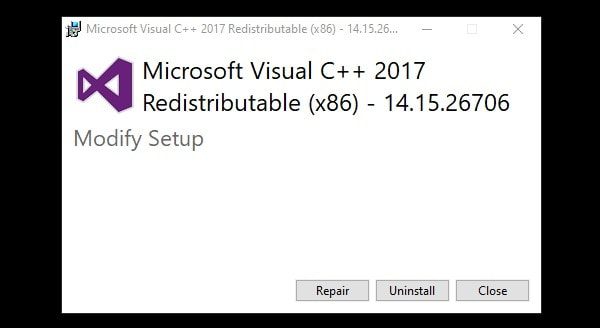 6. When the repair process will get done, the setup will ask you to restart Windows. Do it, and hopefully, the error will get resolved.
Solution 2: Clean Boot Windows 11/10
When we start Windows 11/10, there are few programs and services, that do start automatically at startup. And, it might be possible that some programs running in the background are conflicting with Origin and Easy Anti-Cheat. With the new season update, the developer also launched an Anti-Cheat update. And, if Apex Legends is not loading after Anti-Cheat Window. Then, clearly, it's because of the background running program.
NOTE: Easy Anti-Cheat in Apex is to discover new cheats and ban 'cheat seller accounts (spammers)'.
So, to get rid of this problem. I suggest you perform a Clean Boot on your Windows 11/10 PC. In Clean Boot, the Computer does start with the pre-selected minimal set of drivers and startup programs. Also, Clean boot will help you to identify the offender, and you can remove and disable it.
First, you have to disable all Startup Programs.
1. To do that, Right-Click on Windows Icon, and then from the Context menu, click on Task Manager.
2. In Task Manager, click on Startup. Here, select each startup program one by one and disable it.
Perform Clean Boot in Windows 11/10.
1. Click on the search bar in Windows 11/10. And, type MSConfig. In Results, System Configuration App will appear. Click on Open.
2. System Configuration Window will get open. In General, Select the "Selective Startup" option.
And, after that, clear or unmark the 'Load startup items option.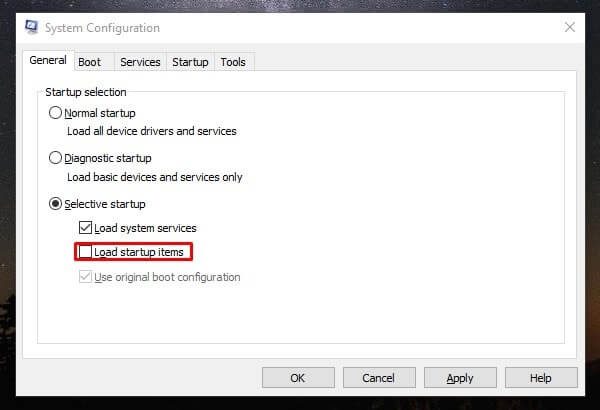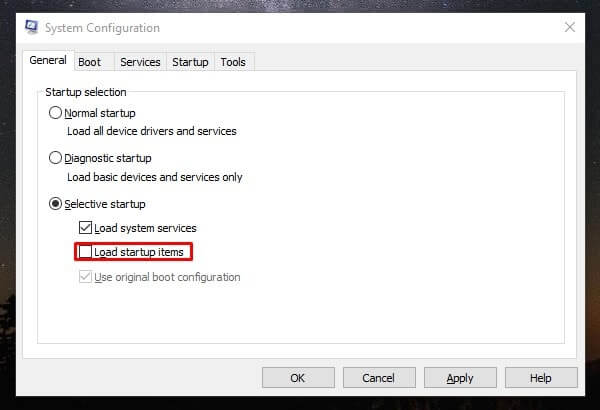 3. Click on the services tab, and mark the 'hide all Microsoft service option. And, then select Disable All option.
Click on Apply and then click on OK. That's it. A window will now appear, that will ask you to restart Windows. Click on Restart.
After restarting the Windows, Launch Apex Legends through Origin. And, hopefully, Apex Legends Won't Launch problem will get solved.
NOTE: After, completing your troubleshooting, I suggest you select Normal Startup and restart Windows.
Solution 3: Uninstall or Disable Sophos Home and Antivirus.
Though, Clean boot is enough to terminate programs and services that interfere with the Game. But, If you're using any security or antivirus software. Then, you need to disable it manually.
According to many people, Sophos Home was preventing Apex Legends from launching. So, If you're also using Sophos home then uninstall it or do follow these steps.
1. Go to Sophus Settings > Exploits > Exploit Mitigation > Turn off exploit mitigation.
Or, Go to Advanced Settings, and disable – Prevent APC violation
and Prevent code cave utilization.
2. Alternatively, you can add Apex and Easy anti-cheat in Local Exclusions of Sophus Home.
If you're using any other third-party antivirus, then do disable it. Disabling real-time protection of antivirus is enough. Or, it's better to uninstall. Because Windows Defender is good enough to deal with malware.
Solution 4: Repair or Update Apex Legends.
It could possible that Apex Legends Games Files got corrupted. Or, maybe, you haven't installed any recent Game Update. That's why EA has added an option to repair Games. This option will verify all your Game Files. And, If any file is found corrupted it will start downloading it.
1. To Repair Apex Legends, Open Origin Game Client. Click on My Game Library.
2. Right-Click on Apex Legends, and then click on Repair.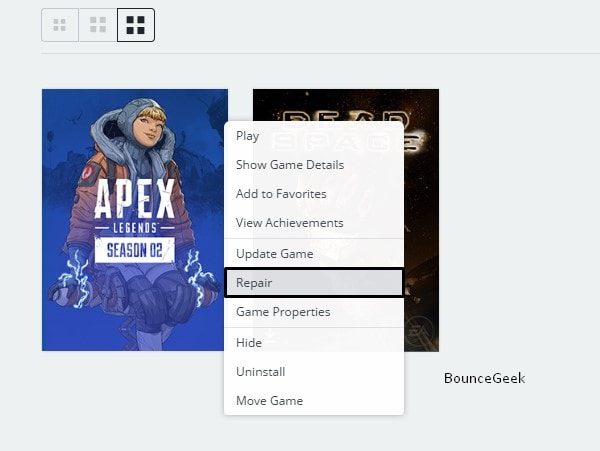 3. That's it. The verification process will now get started.

Also, Don't forget to check for updates.
Solution 5: Run Apex Legends with Admin Rights.
Maybe you have already tried this solution. But, If you haven't, then you should try it out. Because, it could also be possible that, the game doesn't have the necessary permissions to run.
Right-Click on Apex Legends and then Click on Run as administrator.
If it does work, then, you can make a few changes. So that Apex will always run with administrator rights.
1. Select the Apex Legends shortcut, and then press the Alt + Enter key simultaneously.
2. Click on the Compatibility tab, and then mark the "Run this program as an administrator" option. And then, click on ok.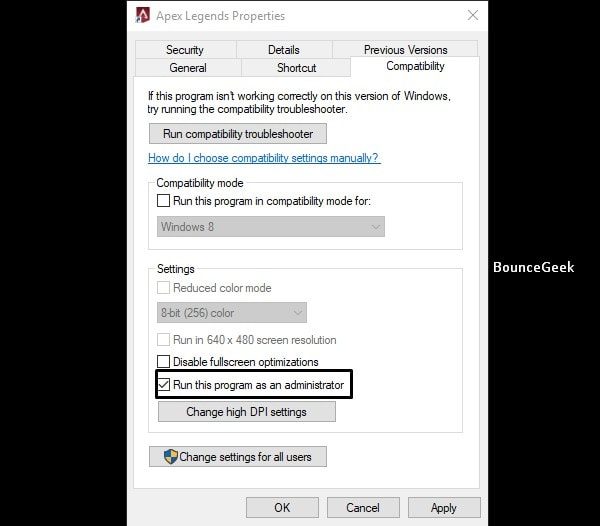 That's it. Now next time, when you run Apex Legends. It will run as an Administrator.
IMPORTANT: Apex doesn't support Old CPUs. Do Check Reddit and EA Forum for More Information.
Solution 6: Update Graphics Card Driver Software.
Apart from the Game not loading after Easy Anti-Cheat Window. There is one more problem, that I have mentioned above. For some Apex Players, a Black Screen with Apex Logo Appear. And, the game doesn't get loaded after it. If you're facing the same problem. Then, it's Graphics Card Drive Issue.
Some users are complaining that Apex is not detecting their dedicated graphics card. Well, this problem can be resolved after updating the Graphics Card. You can download and install Graphics Card Software from the manufacturer's site.
Or, If you're using a Graphics Card from the NVIDIA GeForce series. Then, with the help of GeForce Experience, you can update the driver. And, can fix, Apex Legends Won't Launch on PC, issue.
Install GeForce Experience on your Windows PC. Open it and then click on Drivers. Click on Check for Updates.

If after updating Graphics Card Driver, still, the same problem does occur. Contact Support.
Solution 7: Create a New Account.
If apex legends won't load after Easy Anti-Cheat Window. Then, It could possible that your account got banned. I can understand, you haven't used any cheating. But, due to third-party software interference, this can happen.
1. Open Origin, Take the mouse pointer on your username (bottom left corner). And, then click on sign out.

2. Now, Create a new account and follow the process that you did last time.
Solution 8: Reinstall Apex Legends in SSD. (Backup and Restore)
If creating a new account doesn't help. Then, you have to uninstall Origin and Apex Legends. And, After that, you can reinstall it by using a new account.
Well, the Total size of the Game is now around 26 GB. And, if you don't have a high-speed unlimited internet connection to re-download. Then, you can backup and restore the Game. Also, use SSD to install Apex Legends. Because, If you're using a 5400 RPM HDD then, the Game will take much time to load.
Move Game to a New Location.
1. Simply, Open Origin, Right-Click on the Game, and then, click on Move Game.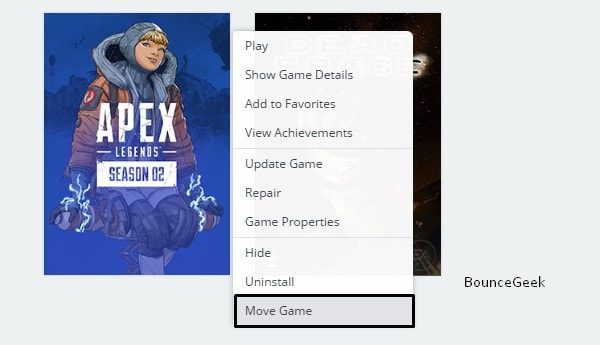 2. A Window will appear, select the folder, where you want to move the game too. And, click on "Select Folder".
The process will take time, so, don't shut down the computer. Also, the Game will repair itself, to make sure all files were moved over correctly.
After moving Apex Legends into a safer location. Uninstall Origin Client.
Locate Game Folder to Restore Game.
1. First, Install Origin, and log in with new account details.
2. Add Apex Legends in Game Libary, Don't download.
3. Right-Click on the Game title from Game Libary, and click on "Locate Game".
4. Find the folder where you moved Apex Legends, then click Select Folder.
Origin will now install the game for you. And, hopefully, it will fix Apex Legends Won't Launch on PC problem.
Solution 9: Install Apex Legends through Steam.
Now, you don't need to use origin to download and install Apex Legends. Because it is now available on the Steam platform. If you don't know, steam is the most widely used video game digital distribution service. You can even play retro games with Steam using Steam ROM Manager. It's quite easy to install Apex Legends through Steam.
1. Download and install the latest version of steam on your Windows PC.
2. Open the steam App, and then register/sign in.
3. Once the steam app gets open search for "Apex Legends". (You will also find Apex Legends Champion Edition in search results, so select the first one.)
4. That's it, now add the game to your library and do install it. And, hopefully, the game will just work flawlessly without any error.
Solution 10: Reinstall Windows.
If Apex Legends was working fine before and this error appears the first time. Then, do reinstall Windows. You can create a bootable USB drive and install Windows. Although, all the above solutions are enough to fix this problem. Do install Windows and Apex Legends both in SSD. Also, do make sure you haven't installed Windows 11 on unsupported hardware. Because that also can be an issue. Once, Apex Legends get open without any error, then check out our article to Display Ping in Apex Legends PC, Display FPS in Game.