Discord is the most widely used App to communicate with other players while playing online competitive games. And, Discord is much more than just an application to Chat and Call. Discord lets you create private servers to communicate and coordinate with your friends. Creating a server just requires a valid name, nothing else. Discord gives many customization options to run a server. You can even add roles in Discord. This means you can assign Admin or Moderator to run your server more efficiently. (Like a Facebook Group.)
Apart from creating a server and chatting with friends. Discord also lets you see what games your friends are playing. Basically, Discord has an auto-detect system. Which recognizes what's applications are running in your Windows. And, when you launch a game, it shows it as your Game status. It also shows how long, you're playing. Discord has a verified Game database. That recognizes Games from Game executable files. Though, you can't edit verified Games names. But, you can edit unverified Games. That will help you to set Discord Custom Game Status.
Change Online Status & set Custom Status.
Before we talk about, how to change your Game status in Discord. You need to know about Discord Custom Status. There are four options for your online status – Online, Idle, Do not Disturb, and Invisible.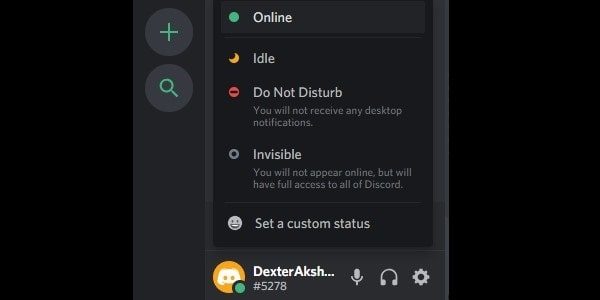 It shows whether you're available to talk or not. And, there is a custom status option. Which is a kind of WhatsApp status, you can write anything in it.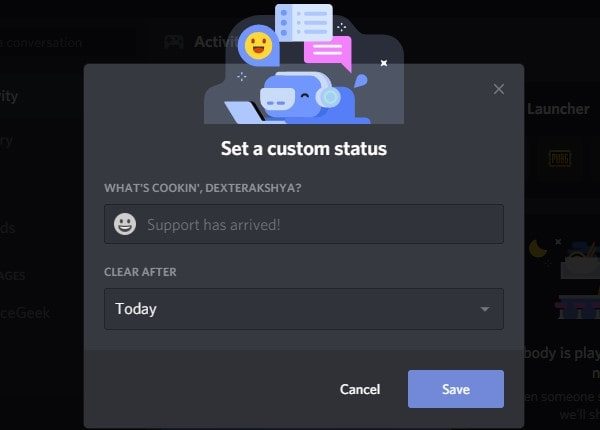 Custom status is different from what your Game Activity is shown in Discord. To change Game Playing Status, you have to go into the Game Activity settings.
You can change your Online Status by clicking on the avatar in Discord Client.
Set Discord Custom Game Status.
Disable currently running Game status.
In Discord, If you don't want to let your friends know that you're playing a game. Then, you can disable live Game activity from Discord Settings.
1. Open Discord client, click on "User Settings". (Gear Icon)
2. In User Settings from the left pane, scroll down and click on "Activity Status" under App Settings.
3. Here you can see "Display current activity as a status message" is enabled. Do disable it.

That's it, Discord will now not show you playing status. You can now set a custom game status in Discord. Even, you can add a random game and show it as your playing status.
How to change, what you're playing on discord.
As I mentioned, you can't edit a verified Game. If you're playing a verified Discord Game, then it will appear as Game Status. You can only disable it by following the above steps. But, when you're not playing, you can add a custom Game Status.
Discord Game Activity settings do show all opened Applications. You can add any Application as a Game. And, can rename it with a Game Name. If an App always stays open in your Windows. Then, you can choose it as your Game status. Else, download Notepad++, open it and you can select it in Game Activity. Because Notepad++ uses fewer system resources.
1. First, Open Game Activity settings. And, make sure "Currently running game status" is disabled.
2. Click on "Add it!", which is next to "Not Seeing your game?".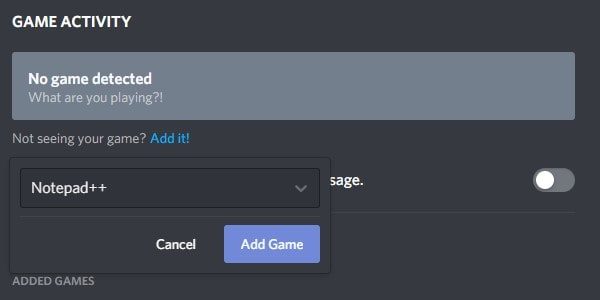 3. Click on Select, a Drop-down menu will appear. Select Notepad++ and click on "Add Game". (You can choose any other always active application.)
4. Now, Notepad++ will appear as your Game Activity.

5. Rename it with a Game Name. For example, I am renaming it with the Inside Game.
6. After that, do press the Esc key.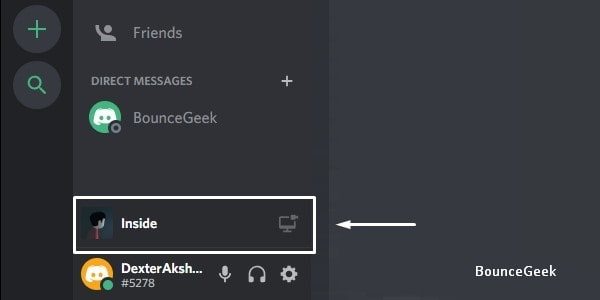 That's it, you can see Custom Game Status will appear above the user profile. In Android, the Gaming activity feature doesn't work. It is for desktop platforms only. You can only disable running game status messages from the Discord Android App.