Nintendo is famous for its SNES gaming console, Mario game was one of the best adventure games. A few years ago in 2011, Nintendo released its Best 3D console known as Nintendo 3DS. And later within 5-6 months, Nintendo declared a huge price reduction from 249 USD to 169 USD. The best thing about Nintendo 3D is, that it is capable to display stereoscopic 3D effects without the use of 3D glasses. But now buying Nintendo 3DS Console isn't the right choice. Because PS4 and Xbox are available with a better gaming experience. But if you want to experience or play Nintendo 3DS games then you can try 3DS Emulator PC.
What is Nintendo 3DS Emulator PC?
The emulator is software that enables one computer to behave like another. And exact same thing the 3DS emulator does, it creates the virtual environment of the Nintendo 3DS console. With the Nintendo 3DS emulator, you'll get control over all Nintendo 3DS game ROM without having a real console.
There is few 3DS Emulator available for PC, Mac, and Android and it's hard to find out which one is best. So, check out this article to find out some best Nintendo 3DS emulators. Also, there are some free Nintendo DS Emulators available that can also run 3DS games.
Best and Free 3DS Emulator for PC
Citra Emulator (Windows, Linux, and Mac)
Citra is an open-source well known 3DS emulator for Windows, Linux, and Mac OS. Developers of this Emulator daily provide nightly build updates, so you'll not face any bugs in the software. Although it's slow at this time because it is constantly being improved.
Citra comes with inbuilt controller support or you can use your keyboard to play Nintendo 3DS games. The better visual output of Citra makes it the best 3DS Emulator PC. Installing and playing 3DS games with Citra is easy, here is a small guide to Run 3DS games using Citra Emulator.
Step:1 Download Citra Emulator on your computer and Extract Zip File using WinZip or you can use WinZip Alternatives.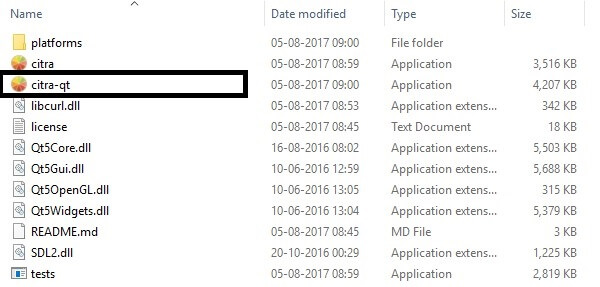 Step:2 On Citra extracted folder Run the Citra-qt application as administrator. A window will open go to File > Load File and select your 3DS game file. Done now you don't need to do anything game will start in a few minutes.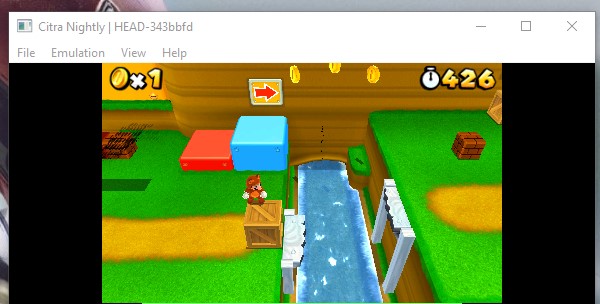 Note: If you don't have a game ROM file then search google for "Nintendo 3DS game download." then you can use PortalRoms or any other site to get your favorite game. And make sure your downloaded file format must be (dot) 3DS.
RetroArch 3DS Emulator
RetroArch is a free and open-source front-end for emulators. It allows downloading old classic gaming console emulators in core format. And once you install the emulator core, you can run respective games ROMS to it. In RetroArch, you can download the core of all Nintendo Emulators and Even old PlayStation emulators are available. And, Nintendo 3DS Emulator is also available to download. RetroArch is a cross-platform app, which means it is available for PC and Android devices.
1. First, download RetroArch on your PC or Android Smartphone. (Do download the stable version for PC.)
2. Open RetroArch App, go to Load Core > Download a Core.
3. List of all emulators will appear, do select "Nintendo – 3DS (Citra)" Core.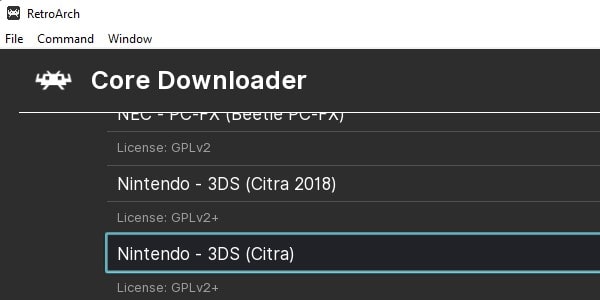 4. Once the Nintendo 3DS core gets installed, go back to the home page of RetroArch. And, Click on Load Content.
5. That's it, now browse and select the 3DS ROM file to start playing 3DS Games on Windows PC or Android Smartphone.

6. Once you tap on the game file, the game will start playing. You can also connect your PC Gamepad with RetroArch.
Tron DS
Only a few people know about this Emulator. Yes apart from Citra, Tron DS is also a 3DS emulator for windows. But it's not stable because developers stopped updating this emulator. So you can't able to run High – end games like Pokemon and Mario 3D in this emulator. But you can run some simple 3DS programs like HomeBrew.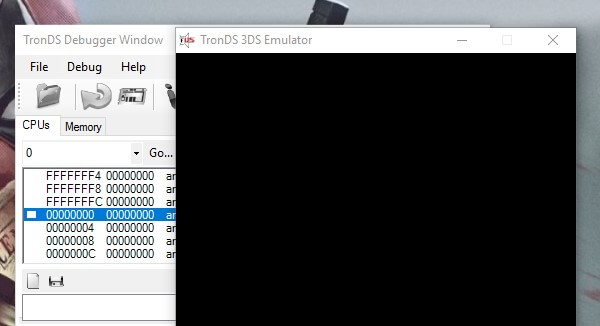 Run 3DS games using Tron DS.
The installation process is similar to Citra Emulator, Download Tron DS, and Extract using WinZip or any other file extractor tool.
After that Run Tron DS as Administrator, > Click on File > Open, and select the 3DS game file. (If the file is not showing change file type while selecting the file.)
Note – I tried installing Mario 3D but Emulator got a crashed. So don't waste your time installing the big game using Tron DS use Citra.
3DMOO
Are you a software developer then this Emulator is for you. Actually, there is not any official build available for 3DMOO. Many sites claim to provide a 3DMOO – 3DS emulator but those are fake click-bait links. But the good thing is the source code of this emulator is available on Github. And it's open-source software so anyone can download code and develop the application.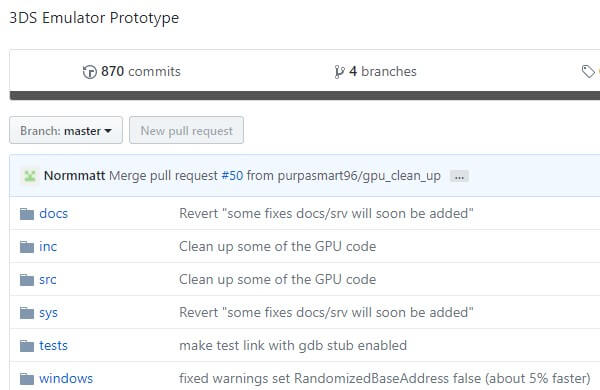 Nintendo 3DS Emulator for Android
Citra Emulator
Previously, there were some unofficial Android ports available of the popular Citra emulator for PC. But now, with the help of developers of those unofficial ports. Now, the official build of Citra Emulator for Android is available on the Play Store for free. Though, the App is currently in development, so you might face issues with some Android devices.
Yes, the emulator build is in the early state, still, it provides a full-fledged Nintendo 3DS emulation experience. It includes motion controls, camera, and microphone support, external gamepad support, Amiibo support, and many others. Well, you can get more details from the article published on the Citra site regarding the emulator.
Play Nintendo 3DS Games using Citra Emulator for Android.
1. Install Citra Emulator (Early Access) App on your smartphone from Play Store.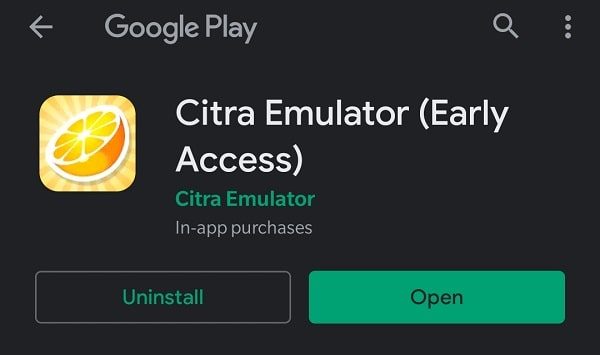 2. Download a Nintendo 3DS Game ROM on your Android Device. (Some sites provide zip file format, extract it. And, you will get a game ROM file with *.3DS extension.)
3. Open Nintendo 3DS Emulator. And, give all required permission to it. After that, tap on the folder icon, and then browse the folder in which game ROM files are stored.
Go to the Game ROM folder and tap on " Select Game Directory".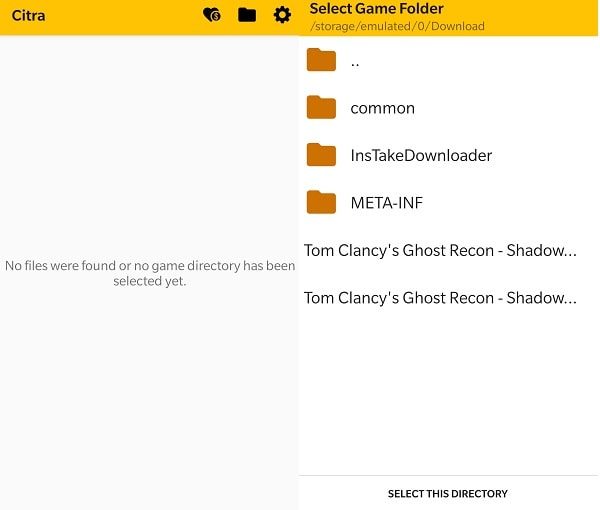 4. That's it, all games stored in that directory will now appear on your Citrus Emulator home screen. Tap on any game, and it will get run immediately.
I have tested Tom Clancy's Ghost Recon Shadow Wars Game. And, it was running smoothly on my OnePlus smartphone.