After the latest iOS update, multiple users are facing iPhone stuck in headphone mode problem. The problem gets the start when the user unplugs their earphone/headphone. But, the iPhone thinks that the headphone is plugged in. It's so much frustrating. You can't able to attend calls, because the iPhone speakers and microphone doesn't work. Though, you don't need to worry about it. There are a few solutions available to fix this problem.
As you might know, Apple decided to remove the headphone jack in the iPhone 7/7plus. So, this problem occurs only in iPhone 6 and all old iPhones. There could be multiple causes of this problem. It could be a software issue. As I mentioned, the problem is occurring after the iOS update. But, you can't downgrade iOS. Or, maybe it's the hardware issue. That can happen due to water damage, wrong headphone pin input. Or, maybe some debris or dust particles stuck into the headphone jack. Whatever is the problem, you need to try out all solutions to fix it.
Fix iPhone stuck in headphone mode.
Solution: 1. Do dry out the wet headphone jack.
Have you mistakenly put your phone on a surface, where water was. Then, "iPhone stuck in headphone mode" problem is occurring due to water drops stuck in jack. Because water is the source of electric conductivity. Though, you can dry your iPhone using certain ways.
Step: 1 Turn off your iPhone and remove SIM card also. (Press Power key for few seconds, and then swipe to power off.)
Step: 2 Now, use "Cotton swab" to dry water from the headphone jack.
Step: 3 To remove leftover moisture. Leave your iPhone inside the uncooked rice bowl for an hour. (This is the most effective way to dry a smartphone.)
After an hour, turn on the smartphone. And, the iPhone will automatically get out from headphone mode.
Solution: 2. Do plug and unplug the headphone. (Multiple Times)
If you're using iPhone from, more than a year. And, you like to listen to music or watch movies on it using headphone or earphone. Then, it could possible that your headphone jack got loose. It only happens, when you pull out the headphone roughly. Though, the issue could be different. But, with this solution multiple users able to fix this problem.
All you need to do is Plug and unplug the headphone multiple times. Until the smartphone comes out from the headphone mode. Also, please try a different headphone or earphone to do the same.
Solution: 3. Clean out dust particles from 3.5mm female jack.
Though, the first solution is similar to this one. But, if you haven't cleaned out the headphone jack. Then, you need to do it right now. Because dust particles can stop the headphone pin to connect to the headphone jack.
Explanation – You had connected the headphone and, iPhone get into the headphone mode. But, there were some dust particles inside the jack while you were connecting headphone. And, when you had removed headphone. The iOS wasn't able to understand that, the headphone is removed or not.
First, turn off the iPhone. For cleaning the headphone jack, I suggest using a toothpick. And, please use it gently, else you will start facing some big problems.
After cleaning the jack, simply start the iPhone. And, then plug and unplug headphone once.
Solution: 4 Remove iPhone cover.
Have you recently purchased a thick iPhone Cover? Just to protect the iPhone from damage. Then, it could be the reason behind "iPhone stuck in headphone mode". If you look closely at your earphone or headphone. Then, you can see that the pin is divided into 3-4 parts.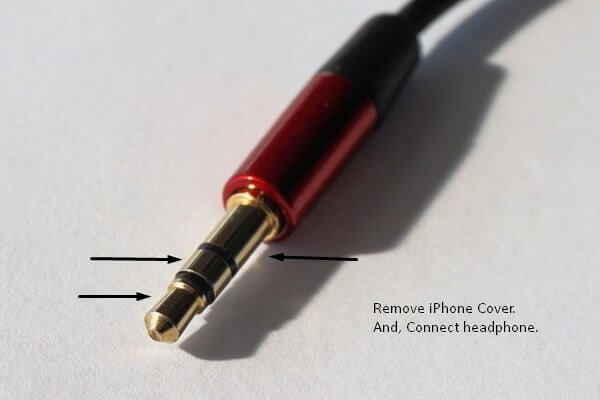 And, due to the thick cover, headphone pin is not able to complete the circuit. Though, you will able to hear sound from the headphone. But, when you unplug the headphone. iPhone thinks that headphone still connected, due to the half pin connected.
To fix "iPhone stuck on headphone mode" issue, first remove the back cover.
Now, connect the headphone properly. Play Music. And, after a minute, unplug the headphone.
Hopefully, now the problem will get resolved. Only then, if the issue was occurring due to the back cover of the iPhone.
---
Note: If the issue isn't with the hardware part of iPhone. Then, due to some iOS bug, this problem is happening. Though, you can fix it using these solutions.
---
Solution: 5. Fix using Bluetooth speaker.
Do you have any Bluetooth speaker?. Then, this solution might help you to solve this problem in a few minutes.
1. Swipe up to open action center and turn on the Bluetooth.
2. Now, turn on Bluetooth speaker, and connect it with the iPhone.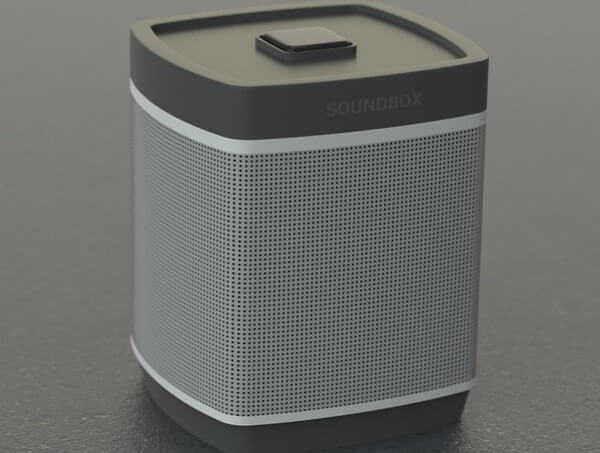 3. After connecting BT speaker, play music through Spotify. Or you can play pre-downloaded music from local storage.
4. And, after a minute of the song playing, simply turn off the Bluetooth.
That's it. your iPhone will come out from headphone mode immediately. This solution didn't work? then try next.
Don't have Bluetooth Speaker?. Then, play music. And, press volume up and down key respectively.
Solution: 6. Turn on/off airplane mode.
This is the simplest solution which will you try. But, almost 80% of users able to solve this problem with this solution. Airplane mode is used to block all kinds of phone signals. And, when you turn it on it will help you get rid of from headphone mode.
Open action center and then turn on airplane mode.
Keep it ON, for at least 10 minutes.
After 10 minutes, turn off airplane mode.
That's it. "iPhone stuck in headphone mode" problem is solved now. Though, the problem can occur again. But, I suggest changing the headphone.
Solution: 7. Reset All Settings.
iPhone comes with multiple options to reset. For example, you can factory reset your iPhone. But, it will erase your all data. And, will make iOS like new. Though, we are not going to perform the factory reset and lose the important data.
iPhone has "reset all settings" option. Which will erase your all settings and customization. And, will take back iPhone to the default settings. This option also helps users to come out from headphone mode. So, this solution is worth trying.
Open Settings App.
Go to General > Reset.
Here you can see multiple reset options. You need to click on "Reset All Settings" option only. (Don't tap on any other option, you might lose all data.)
 iPhone will ask for the passcode. Enter the passcode. And, the reset process will get started.
Your iPhone might get restart a few times. And, you will able to see the Apple logo for a minute. So, don't press any key. Wait to the reset process gets to complete. And, "iPhone stuck in headphone mode" problem will be solved permanently.
Solution: 8 Update iOS or Install firmware.
Are you using an older version of iOS?. Then, you should update immediately. Apple does release a new update every month. And, the update comes with bug fixes and some security feature. It could possible that, in the newer version of iOS. Apple already added the solution for "iPhone stuck in headphone mode" problem. There is two possible way to update iOS without losing the data. But, still, I suggest creating a backup of important files.
OTA Updates.
To check for the OTA updates, open settings App. Go to General > Software Update. If iPhone is showing any updates to install. Then, tap on "download and install" and enter the passcode to proceed.
Update iOS using iTunes.
You can find out the complete guide to update iOS firmware using iTunes on Apple site. Here is the small guide to do the same.
Install iTunes in Windows or Mac Computer.
Connect your iPhone using a USB cable.
Open iTunes select device. From the left pane, click on the summary button.
Click on check for update option.
If iTunes is showing any update, then click on "Download and update". If you have IPSW (firmware file), then also you can install it using iTunes.
Installing new iOS firmware will repair system files. And, if your iPhone already updated. Then, use the "Restore iPhone" option to install the same firmware again.
Solution: 9 Apple Service Center.
Above solutions are enough to solve this problem permanently. But, if still, your iPhone stuck in headset mode. Then, take your iPhone to the Apple service center. Though, if your iPhone isn't under warranty. Then, instead of the service center, take the iPhone to a local repair shop.
Because this problem occurs for older iPhone devices. That means, your iPhone warranty got expired already. Apple service center will gonna reinstall iOS if the problem is with software part. Or, if the problem is with the hardware part. Then, they will provide you 3.5mm jack replacement.
That's it. If you're not able to understand any solution mentioned in this article. Then, you can feel free to comment.