Have you heard about Augmented reality?. Then, maybe you already know about AR Stickers feature. Previously, AR Stickers feature was available for only pixel Devices. Although, XDA developers made available AR Stickers for many smartphones. But you needed to root your smartphone to get AR stickers. And, now you can get it on any smartphone, by installing few Apps. Personally, I have tried this feature on my OnePlus 5 device. So, in this article, I am telling you a method to get AR Stickers on OnePlus Devices.
But, before start telling you about installation method. First, I want to tell few things, which maybe you don't know.
What is Augmented Reality?.
Augmented reality is the direct and indirect view of the real world, whose elements are augmented by the Computer. For Example – When you use the AR Stickers using your smartphone camera, it shows you real world. But, with AR Stickers you can add interactive elements or objects.
A Small difference between AR and VR.
Augmented reality adds digital elements into the live world. And, virtual reality implies an immersive experience (Virtual world and elements) that shut out our real world.
Get AR Stickers on OnePlus Devices.
Note: Although, this complete article is for OnePlus Smartphones. But, you can use this method, to get AR Stickers on any Android Device.
To 'Get AR Stickers on OnePlus devices', you need to install three Apps.
1. AR Core.
AR Core is Android SDK for augmented reality. It is Google's answer to ARKit, which is Apple's development kit for AR. To use AR Stickers you need to install AR kit App. Which you can easily get from Google Play Store. Many devices currently don't support AR. So you may get an error "Your device isn't Compatible". But still, you can download AR Core App from the third-party site.
2. AR Stickers.
AR Stickers is a mode of Pixel Camera. Which allows you to add the virtual element or Stickers. If you haven't installed AR Core, then AR Stickers will not gonna work. Currently, In AR Stickers "Stranger Things" and "Star Wars" AR Stickers available. If you're not using pixel devices, then you can't download AR Stickers from Play Store. You need to search it on third-party sites.
Get AR Stickers from Play Store.
3. Google Camera.
As I mentioned above, AR Stickers is pixel camera mod. So, you can't use this mode in your stock camera App. You need to download Google Camera App. Don't worry, you don't need to replace your it with your stock camera App. You can use both Camera App on your Smartphone. Google Camera app isn't available on Play Store, you can download it from APKMirror site.
But if for some reasons you get an error then read my Article. Fix unfortunately camera has stopped.
After installing these three Apps, All you need to do is restart your device once. Then open Google Camera App, In Google Camera App tap on the menu icon. And, from the menu, select AR Stickers option.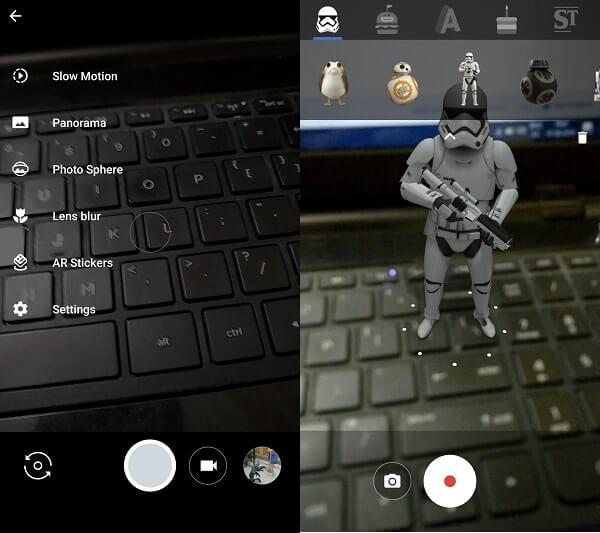 When you use AR Stickers first time, it will ask you to move your device clockwise. After doing it, you can drag and drop AR Stickers. And, you can make videos and click pictures with AR Stickers. That's how you can get AR Stickers on OnePlus Devices. If Camera App not works, which is downloaded from APK Mirror. Then, search for Camera Mod on XDA developers.