Everyone likes to use Google URL Shortener Service. Because it's completely free and, allows us to shortened link and track link traffic. Personally, I am using goo.gl link shortener service from few years. And many of you using it for social media marketing, and other purposes. But, you will sad to hear that, from next year (March 30, 2019) you will not able to use this link shortener service. And, from 13th April 2018, the only existing user will able to create short links.
If you have never created a short link through goo.gl. Then, create one to use this Google Link Shortner service until next year. But if you're reading this article after 13th April, and you have never used this service before. But, want to use this Goo.gl now for some reasons. Then, you need to look for some Best Google URL shortener alternatives.
Why is Google shutting down its URL Shortener Service?.
First, I was thinking the same, but then I got the reason in Google's Official Blog. Google is replacing its old service with the new link short service, which is "Firebase Dynamic Links". FDL is smart URL service that will allow you to send users to any location. Specifically, within an Android, iOS and Web Apps.
Google URL Shortener Alternatives.
There are many best URL Shortener service available on the internet. Which you can use to shorten your links, and can share on social media. But some link shortener services are paid, and some service redirects users to ads page first. And, Google's link shortener service is free. So in this article, I will do mention only free best link shortener service.
Bitly.
Before start telling you about this link shortening service. You need to know that, Bitly is older than Google's link shortener. It is Link management platform, which was started in 2008 by Bitly, Inc. Apart from free link service, Bitly offer a paid solution in form of Bitly Enterprise. With paid service, companies can use their custom domain to create short links. Like Google Shortener, you can create free short links, and track your links.
That's why It is one of best Google URL Shortener Alternatives. Bitly link shortener service allows users to create 10,000 Bitlinks and 500 Branded Bitlinks free of cost. Which is more than enough for a normal user. But, still, if your requirements are more than that, then you can use paid service.
Create short links using Bitly.
Creating shortened links through Bitly is too easy. But, still, if you're unable to understand then read this short guide.
Step: 1 Get Bitly App from Play Store. If you don't have the smartphone or don't want to download App, then you can use the site.
Step: 2 Open App, and you will get the option to Sign Up. Click on that option and you can Sign Up through Facebook or Twitter.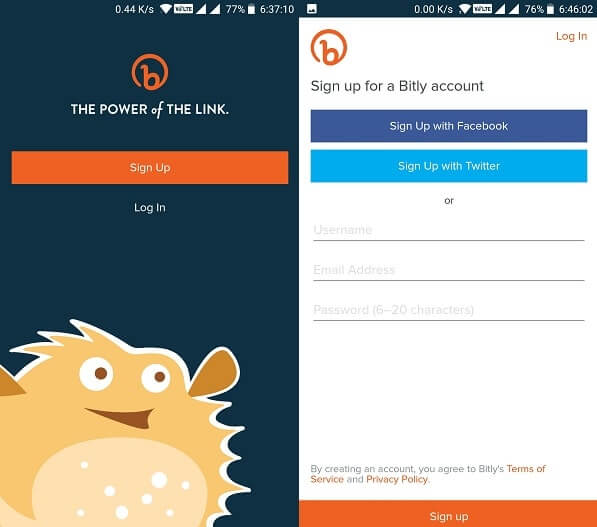 (Sign up using Google option is not available in App, but available on site.)
Step: 3 After creating a free account on Bitly, Click on '+' icon to create short links. (Check bottom right corner.)
Step: 4 Now, Paste Long URL and click on Create button to create Short Links.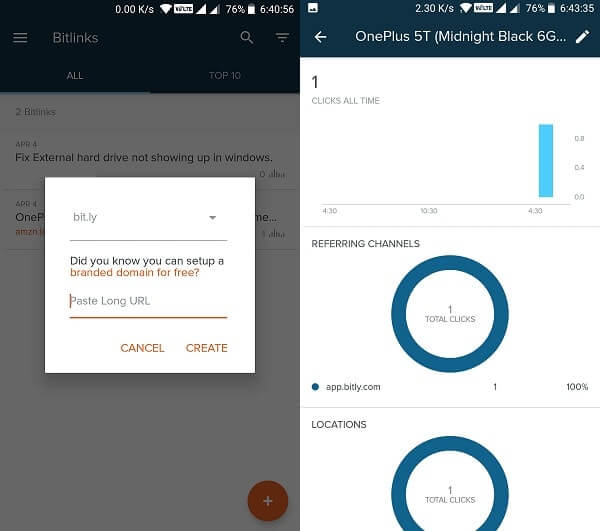 You will able to see all created links, on the home screen of the App. And, you can track link stats by tapping on it.
Owly. (Ow(dot)ly)
Owly is also very famous link shortener service, and Google mentioned about this service on its blog. Currently, to use Ow(dot)ly link shortener service, you need to create an account on HootSuite First. The company did this to increase the security of Owly. Like Bitly, you can signup through the social profile, which is a good option.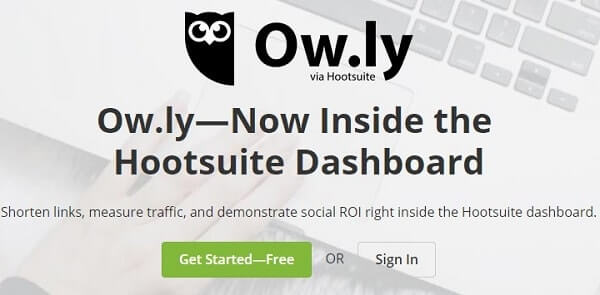 But, It's hard to find out link shortener option in HootSuite. There isn't any specific tab available on HootSuite dashboard. To create links you need to move your mouse pointer on "send to" option. Then, you will able to see "Add a Link" text field and shrink option. Although, you can easily find out URL stats or URL summary option in HootSuite dashboard.  Overall, It is also one of best Google URL Shortener Alternatives.
Tiny URL.
After Bitly, the only service that can be goo.gl alternative is Tiny URL. It is one of oldest links shortener service, which was founded back in January 2002. The best part is you don't need to Sign Up for it, you can create short links anonymously. With Tiny URL, you can also create the meaningful alias, instead of some random alias. Although, if you try to shorten any product link of the e-commerce site, it will turn the link into an affiliate link. Which is the bad thing, so if you're going to use this service for marketing purpose, be careful.
Still, there are many link shortener service available which you can use. But, these three are more than enough and better than other. And, most important these services are completely free. If you're confused which one you should use then you can try Bitly first.