On play store, Numerous of best money transfer apps available, which you can use to send or receive money through UPI. Last year, Google launched Tez (payment app) in India. And this month, WhatsApp launched UPI payment feature for Indian users. But currently, Payment feature is available only for selected users in India. Though, you can get Payment option in WhatsApp, if your friend has this option. In this article, I am going to share a way to get UPI payment feature, without waiting for the next update.
What is WhatsApp UPI Payment?.
Unified Payment Interface is known as UPI, It is instant real-time payment system. And, developed by National Corporation of India to perform the inter-bank transaction. WhatsApp Payment option provides the same facility (UPI), To send money other WhatsApp users.
If you ever used UPI facility before then you already know, how UPI works. To send money, with UPI, You don't need bank account number of another person. All you need for sending money through UPI is – UPI ID or the mobile number linked to bank account. And in WhatsApp Payment, you can send to other WhatsApp contacts, which are linked to bank account.
How to Get Payment Option in WhatsApp.
If you can't wait for the next update to get Payment option in WhatsApp messenger. Then, you can follow these instructions, to get this Payment feature.
Update WhatsApp Messenger.
First, you need to update your WhatsApp messenger. If you're using the older version of WhatsApp then you can update through Play Store. And if you're unable to update through Google Play then you can follow this article to know alternatives. (Best websites to download old versions of Android Apps.)
I am using the beta version of WhatsApp Messenger to get this feature. At the time of writing this article, current latest beta version is 2.18.48. The beta program is currently full, So you can't get the beta version of WhatsApp from Play Store. But still, if you want then, you can search for latest APK on APK-Mirror site.
(Though, Some users are getting this feature in 2.18.46 version, Which is the stable version. So simply update WhatsApp from Play Store.)
Ask your friend to tap on the Payment Option.
As I mentioned above, this feature is currently available for selected WhatsApp user. So only those selected WhatsApp users, can activate this feature in your WhatsApp Messenger.
Note: If your friend doesn't have this option, and you want this option. Then you don't need to worry About it. Because you can ask in Facebook Group for help. (Or you can contact me on Facebook, And I will help you.)
Simple steps to get Payment option in WhatsApp Attachments and Settings. –
Tell your friend to go into your personal chat, Then Tap on attachment > Payment.
Once your friend will click on Payment, he will get a popup.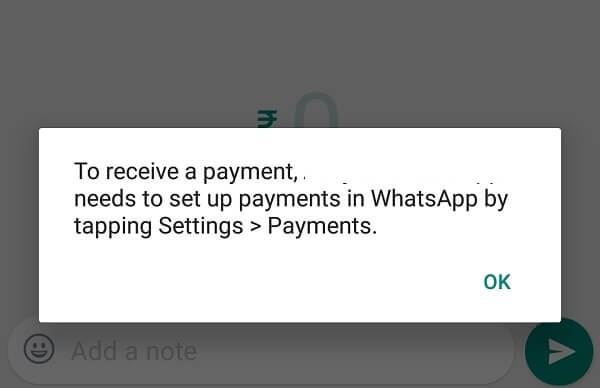 And when your friend will click on OK in the popup window. Instantly this feature will get activated on your WhatsApp Messenger.
How to Setup Payment in WhatsApp. – Add Bank Account.
To receive and send Payment in WhatsApp App, you need to link your bank account. Once you linked your Bank Account, you can easily send payment by going into anyone's personal chat attachments.
Step: 1 After getting Payment option, Now go to Settings> Payments > Accept and Continue.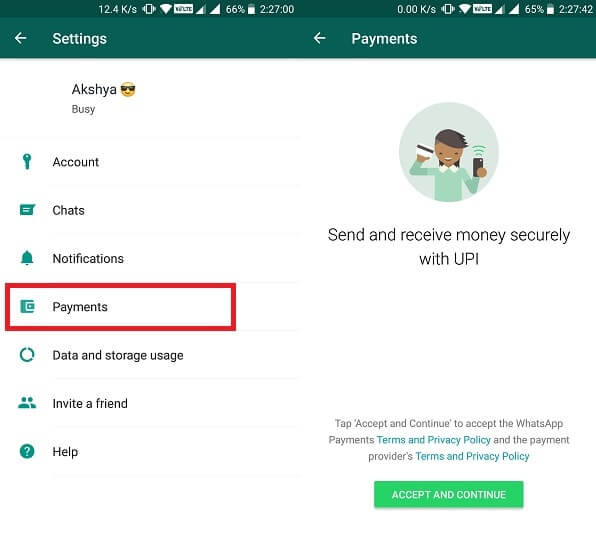 Step: 2 Now tap on "Verify via SMS" then select SIM, If you're using Dual SIM device.
(For verification, your WhatsApp mobile number must be linked to the bank account.)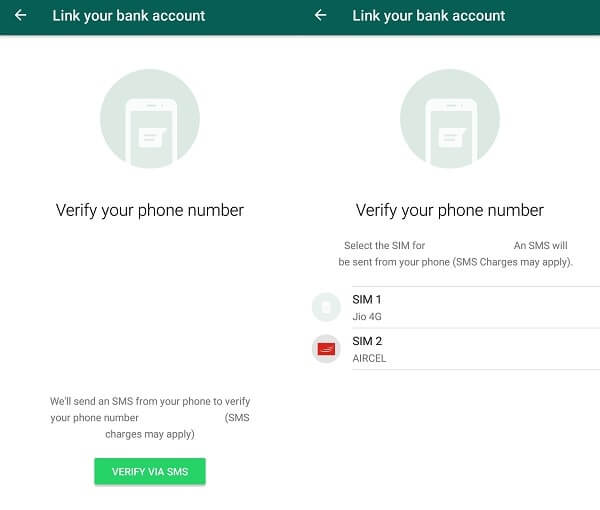 Step: 3 After verification you"ll get a list of banks. Select your bank account which is linked to registered WhatsApp number.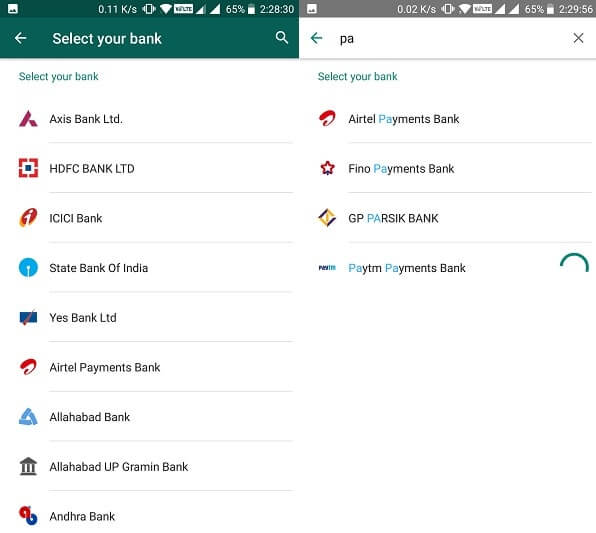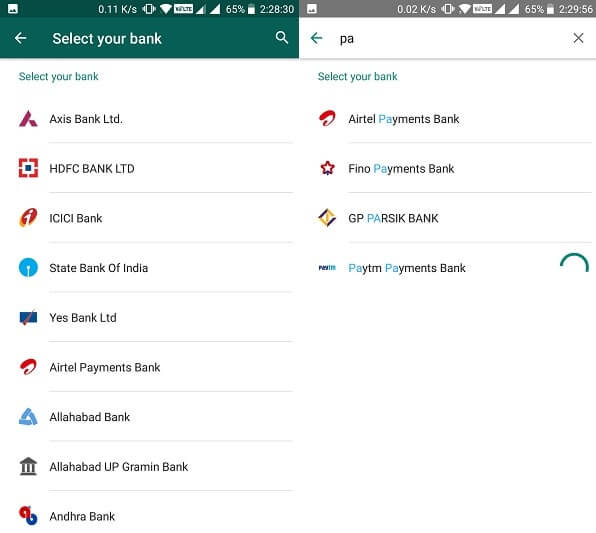 Step: 4 And when you select bank, WhatsApp Payment UPI will automatically show you your Bank account details.
– Tap on your bank account details and setup process will get completed.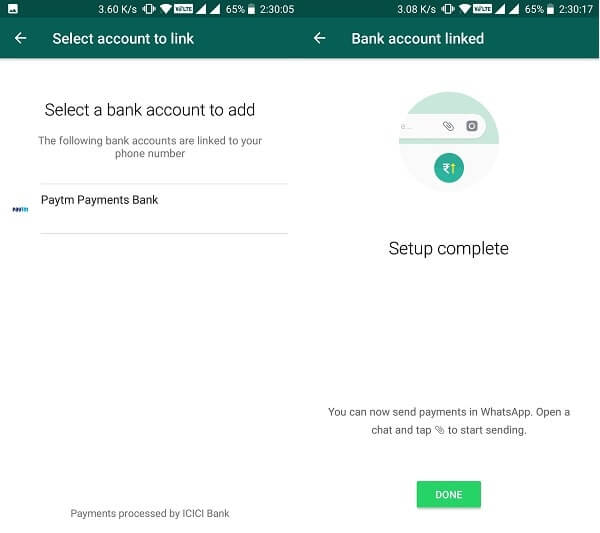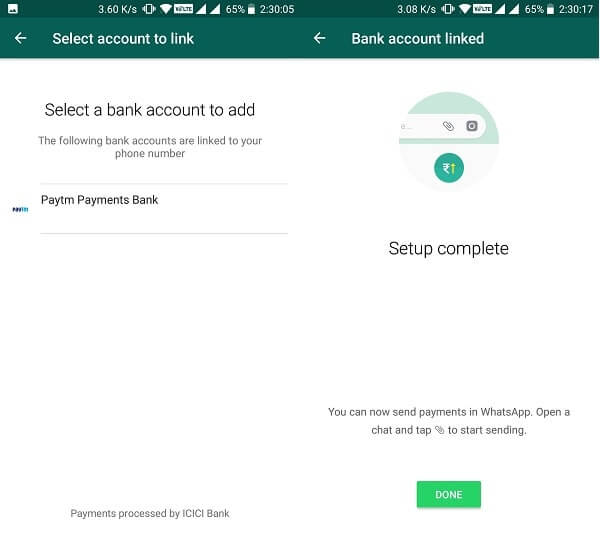 Note: You can add multiple bank account linked to your mobile number. By going to the same settings menu and using above-mentioned steps.
Send Money using WhatsApp Payment.
After adding bank account details, Now you can send money to any other WhatsApp user. To do that, simply follow these steps.
Step: 1 First, open personal chat with any of your Friend. (If bank account of your friend isn't linked with WhatsApp, then you can't send money.)
Step: 2 Now enter the amount, and you can also add any note if you want to. After entering amount and note tap on the send button.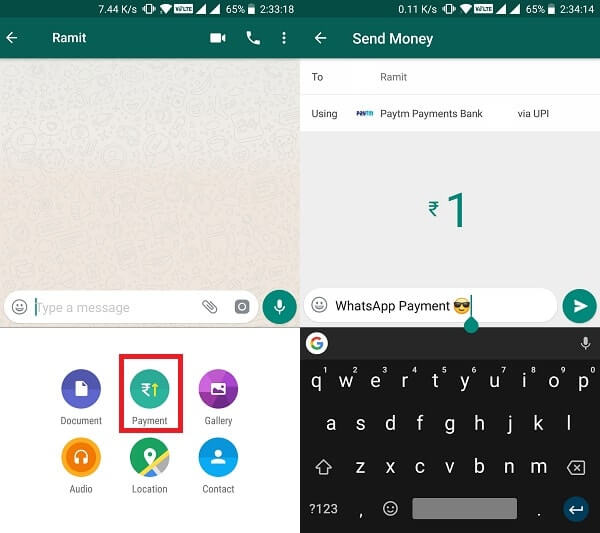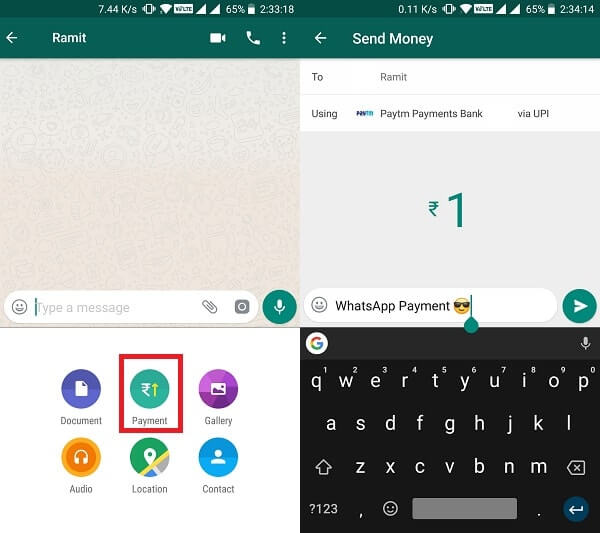 – Tap on "Enter UPI PIN" and enter 4 digit UPI PIN. (If you forget or don't know UPI PIN then go to Settings > Payments > Tap on Bank Account > Forget UPI PIN.)
– Done, you have successfully sent money to your friend.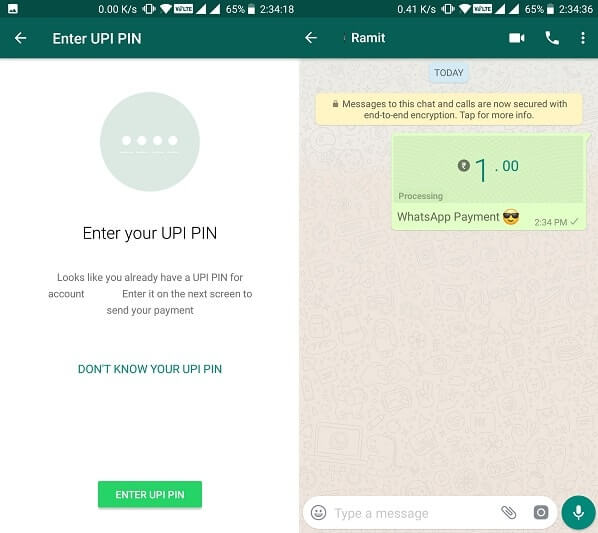 Conclusion: Get Payment Option in WhatsApp.
So by following this article, you can get Payment Option in WhatsApp Messenger. And can set up the bank account and send money easily. Though, Soon WhatsApp is going to rolling out this feature for every user. So you don't need to ask your friend to activate this feature in your WhatsApp. Personally, I found this feature helpful, because almost every Android users use WhatsApp. And many users still don't know about UPI, and with WhatsApp now we can promote digital India.