Gamers do overclock their CPU, GPU, and even RAM to get more performance. But, most of the Gamers, don't think about monitor overclocking. If you have good GPU and CPU, but if you're using a 60 Hz refresh rate monitor. Then, you will able to achieve 60 FPS only while Gaming. To gain more FPS (Frames per second), you have to buy a higher refresh rate monitor. Or, you can overclock your monitor to a limit. But, if your Computer doesn't have a dedicated graphics card. Then, don't try to overclock. Because even if you increase the refresh rate. Viewing experience will get worse because of the integrated graphics card only.
What is Refresh Rate?.
The refresh rate of the monitor is, how many times the Image on the screen can be refreshed or drawn per second. The refresh rate is always measured in Hertz. If the refresh rate of the monitor is set to too low, then you will able to notice 'redrawing' of the image. In technical term, we call it screen flickering. Monitor Flickering causes eye strain and headaches. So, high refresh monitor not only increase your gaming experience. But also, you will not face the eye strain problem.
Is it safe to overclock Monitor?.
Pushing hardware far from its limit can damage the hardware, or can decrease the lifespan of it. Though, some monitor comes with overclocking feature. Means, some manufacturer lets the user increase the refresh rate until a certain point. I am using an LG 22inch 22MP68VQ monitor. And, it comes with an option to increase the refresh rate up to 75 Hz from 60 Hz. Though, If your manufacturer doesn't allow you to increase the refresh rate. Still, you can try to increase, it will not harm monitor. The refresh rate of 60 Hz monitor can increase up to 75-80 Hz. But, if you try more than that, it can definitely harm your monitor. So, try at your own risk.
Overclock Monitor to a Higher Refresh Rate.
Note: Before overclocking the Monitor please make sure HDMI cable is connected to graphics cards HDMI port. If you're using DVI-D/VGA Cable, then you will not able to increase refresh rate.
OverClock LG Monitor.
Like I mentioned above, I have an LG Monitor. And, it comes with an option to increase the refresh rate. So, If you also own an LG Monitor, then, follow these steps. But, If you have any other manufacturer monitor, try the next solution then.
1. First download "On Screen Control" from their official site.
2. Install it on your Windows PC, and then launch it.
Click on "Game mode settings" option.
3. From the drop-down menu, set the response time to "Faster".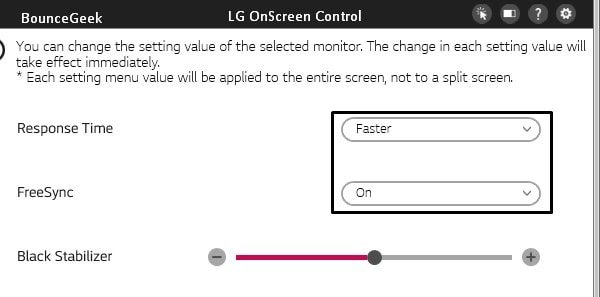 Also, if your monitor does support FreeSync then turn it on. That's it. You have unlocked a higher refresh rate. Now, you have to set it.
How to change Monitor refresh rate.
1. Right-Click on the desktop, and then click on "Display Settings".
2. Scroll down a little, and, click on "Advanced display settings".
Here, you will able to see your current Refresh rate.
3. After that, click on "Display adapter properties for Display 1". (If using multiple displays, then, select the right one from above.)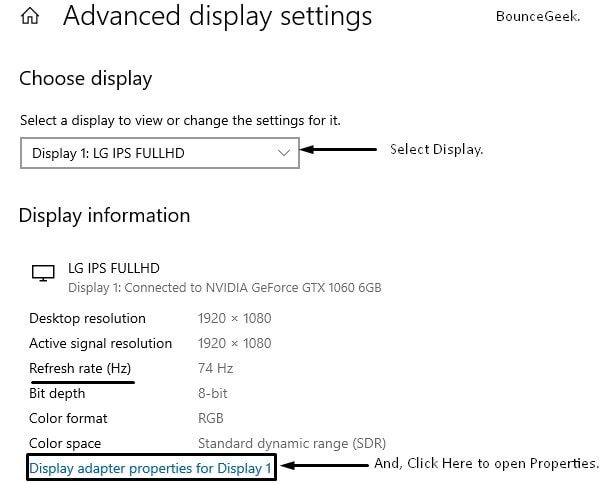 4. In Display Properties Window, click on Monitor.
And, here you can select a higher refresh rate. As you can see, I can select 75 Hertz. Previously, the refresh rate of my monitor was 60 Hertz.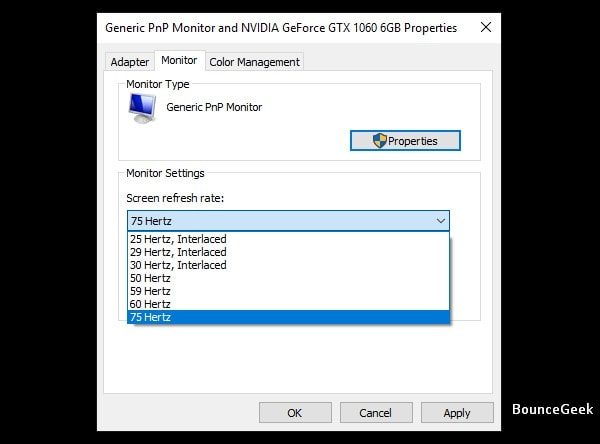 Set resolution lower to increase the Refresh rate.
A lot of normal 60Hz monitors can get up to 75 Hz. By selecting monitor resolution to lower. If your monitor resolution is 1920×1080. Then set it to 1280×1024 or lower. And, automatically, high refresh rate will get unlocked. Personally, I have tried this method on NVIDIA GPU. If you can play in lower resolution, then this method is for you. This is the safest method, and it doesn't include the overclock monitor. For overclocking monitor, check out the next two methods.
First, make sure you have installed NVIDIA drivers correctly.
1. Right-Click on the desktop and then click on "NVIDIA Control Panel".
Note: Is NVIDIA Control Panel not showing in menu?. Then, read my article on "NVIDIA Control Panel Missing".
2. In NCP, Click on "Change Resolution".
3. Select the display if you're using two display.
4. Now, in "Choose the resolution" section, select a lower resolution. And, keep checking refresh rate.
When the Refresh rate drop-down menu shows 75 Hertz. Select that resolution and then save it with a higher refresh rate.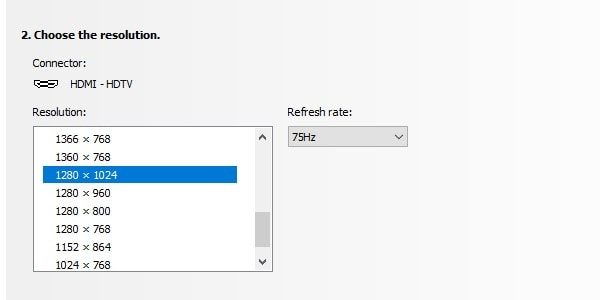 OverClock Monitor using NVIDIA Control Panel.
Warning: This and next method can damage your monitor. If you set the refresh rate much higher.
In this method, we are not setting resolution lower, just gonna increase refresh rate. To keep your monitor safe, try increasing the refresh rate at the 1-5 gap. Don't try to jump from 60 Hertz to 120 Hertz.
1. Again open NVIDIA Control Panel, and, click on Customize.
2. Mark "Enable resolution not exposed by the display" option. And, then click on 'Create Custom Resolution'.
3. Here, you can set a custom refresh rate. Increase refresh rate 1 at a time and then click on OK.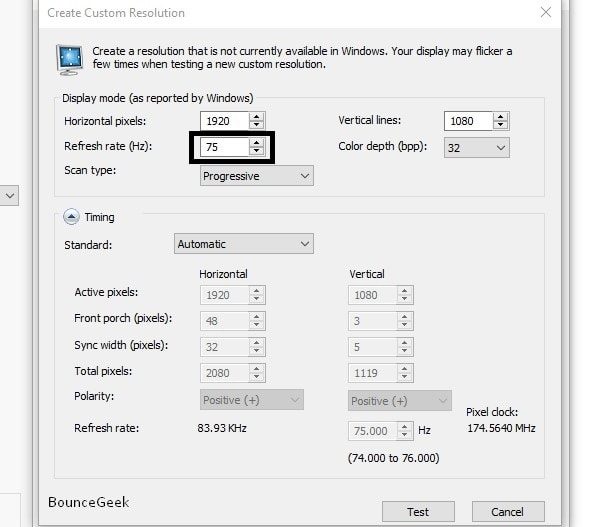 If it works then the screen will flash and you will able to see the desktop. And, if it doesn't work then your monitor will go black for 20 seconds. Then, it will revert the changes.
OverClock Monitor using CRU.
This method will work for all AMD/ATI or NVIDIA GPU. Custom Resolution Utility (CRU) is an open-source free tool to set custom refresh rate and resolution. This tool can also harm your monitor if used incorrectly.
How to Overclock Monitor.
1. Download Custom Resolution Utility (CRU) from the official site of it.
2. Extract the Zip File of CRU and then run the CRU application file from it.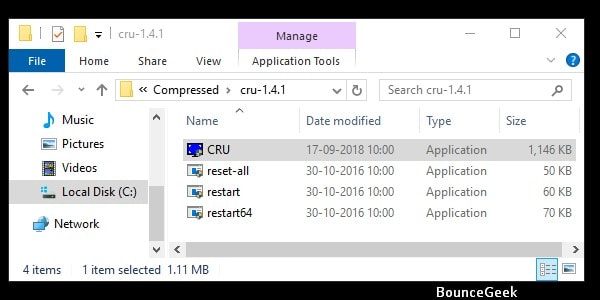 3. Software Window will get open, no need to install.
In the detailed resolution, it will show you your current resolution and refresh rate. To add a new refresh rate with resolution, click on "Add" option.
4. In the frequency section, now you can experiment with the refresh rate. Increase refresh rate and then click on OK. (Try increasing the refresh rate slowly.)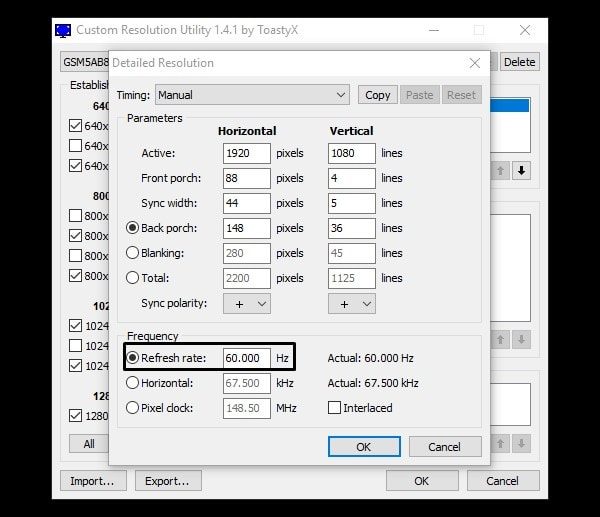 After you're done increasing refresh rate, you have to run the restart file from CRU folder. This application will restart your graphics driver. If using a 64-bit OS, then run the restart64 file. After setting up the custom refresh rate using CRU program. Follow the second part of the first method and change the refresh rate. And, if anything goes wrong, run "reset all" file from the same folder.
Setting up a higher refresh rate can lead to Frame Skipping problem. So, search for "Frame Skipping Checker" and test your display. Also, If you want to check how many FPS you're getting. Then, check my article on "Best FPS Counter Software". That's it, these were the method to overclock monitor. If you know any other better method, feel free to Comment.