Nowadays, most of the monitor comes with the 60 Hz refresh rate. So, even if the game has more than 60 FPS. Still, you will able to see 60 FPS only. Windows allows changing "screen refresh rate". But, you can decrease only, can't increase. A game's FPS indicates that how smoothly game is running. So, if the game is running on 40-60 FPS, you"ll experience smooth gameplay. But, if fps is lower than 30, than, game experience will be pathetic. If you want to know about the FPS of your PC Games. Then, you need FPS Counter.
What is FPS in Gaming?
Frame per second is known as FPS. In gaming, it denotes that, how much frames your graphics card is rendering each second. As I mentioned, it also depends on the monitor. That how many frames your monitor is able to show per second.
You can understand FPS with the video creation. Any video you see is nothing else, it's just collection images with sound. For Example – you want to create a 10 seconds video, and you have 300 images. In this case, the video will display 30 images per seconds. So, you're getting 30 FPS. The same thing applies in Gaming.
For example, you're playing PUBG Game in PC. And, you need to look around for the enemy. And if, FPS counter is showing only 20 FPS. Then, you might experience stutter.
How to check the refresh rate of monitor?.
To check the refresh rate of the monitor or your Windows 10 laptop. Press Windows + I key to open settings App. Go to system > display > Advanced display settings.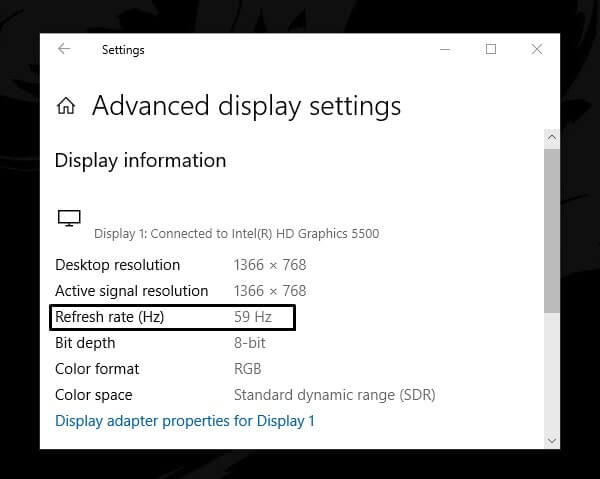 To decrease or increase the refresh rate, click on "Display adaptor properties for display 1".
Click on the monitor tab. Here you can change the refresh rate of the monitor.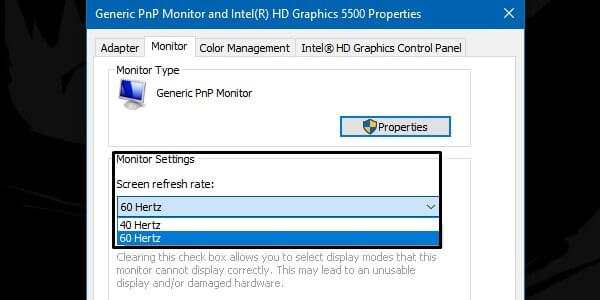 My laptop's display refresh rate is 60 Hz. So, I can't increase the refresh rate above 60. But, can decrease it to 40 Hertz.
Best FPS Counter Software.
1. Razer Cortex.
If you need FPS Counter software for pre-installed computer Games. Then, you can install the Razer Cortex – Game Booster. Actually, it's a game booster, that close background process. And, does enhance your gaming experience. Don't worry, it's not an overclocking software. It comes with FPS Display and FPS chart feature. You can see an FPS monitor while playing games. Or can see FPS chart result after closing the Game. The best part is you can place FPS shower on any side of the screen.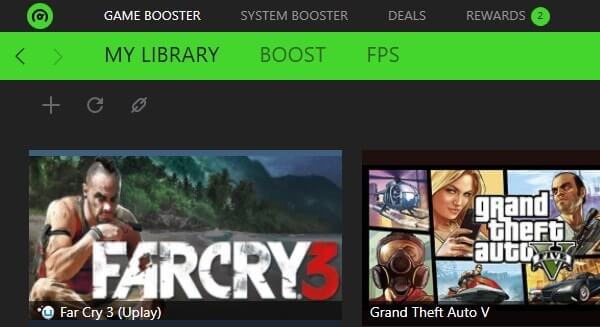 Razer Cortex shows FPS in Game, by occupying the very small area. So, it will not affect your Gameplay experience. Apart from the game booster and FPS shower, it also allows to steam and record games. That's why I think it is the best software to install. You can hide or show FPS by pressing Ctrl + Shift +F.
The software is completely free, you can download it from the official site of razer.
You need to signup or login, for razer account after downloading it.
After logging in software, it will show you all installed Games.
Click on FPS option from the second menu.
Mark "Show FPS overlay while in-game" option.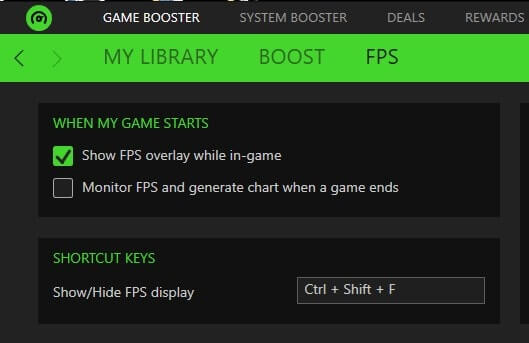 From the same screen, you can also set FPS Counter position.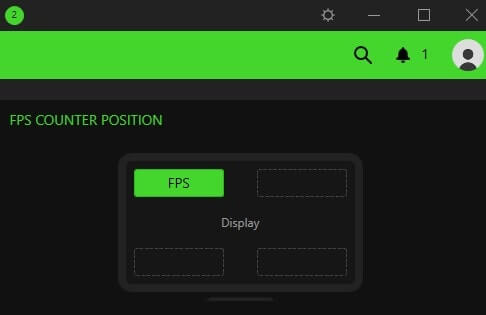 After making changes in FPS settings. Simply, go to my library and launch the Game you want. And, now you will able to see FPS Count.
2. Fraps.
If you don't need a Game booster, just want to see FPS. Then, Fraps is the software, that you're looking for. It uses DirectX and OpenGL technology to show FPS. You can also capture the screenshot, and record gameplay with it. And, still, this is the lightweight FPS Counter software. You can also set overlay corner. Means, you can set framerate counter to any corner of the screen. You can use the F12 key to enable disable overlay. Also, can change the overlay key.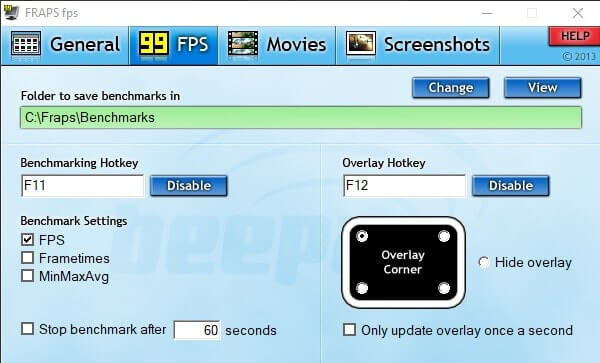 First, download Fraps from its official site. And, Install it.
Click on 99 FPS Tab.
In Benchmark Settings, mark FPS option. After that, you can launch Game, and, you will able to see FPS Counter.
On the same screen, you can set overlay corner. Also, App allows stopping showing benchmark after a custom number.
3. GeForce Experience.
(For GeForce Graphics Card users only.) If you're using NVIDIA GeForce Graphics card. Then, you don't need to download third-party software. Because Geforce Experience by NVIDIA comes with FPS Counter. Which you can enable by going into overlay settings. Although, overlay settings will only work if you're using these Graphics Card model. GTX 600 or higher or notebook GTX 660M, 670MX, 675MX, 680M, 700M or higher. Else, the In-game overlay will be disabled on your Computer. And, you will not able to enable FPS tracker.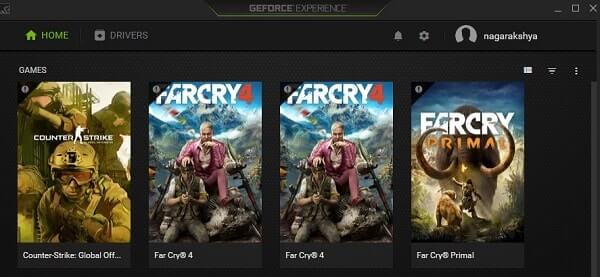 If Geforce experience isn't installed on your Computer. Then, Go to the GeForce official site and install it for free.
You need to signup or sign in using your Gmail or Facebook Account.
After that go to the driver's section, and make sure latest driver is installed. Else, some option might not work.
To enable FPS go to Home > General > Overlay > HUD > FPS to enable the FPS Counter.
After that, you can launch the game from the software's home screen. If you don't use software to launch the Game, FPS tester will not work.
Note: If you're using AMD Graphics card, then you can download RadeonPro. Though, I am using an NVIDIA graphics card. So, I am unable to provide settings information.
Enable Steam In-Game FPS.
If you like to play Games on Steam, then you don't need to download any of this software. Because steam comes with inbuilt FPS monitor. Which you can activate by going into the settings.
Click on Steam menu > Settings.
In setting Window, Go to In-Game section.
Now, in "In-Game FPS Counter" drop-down menu. Choose "Top-left" option. (By default, it comes disabled.)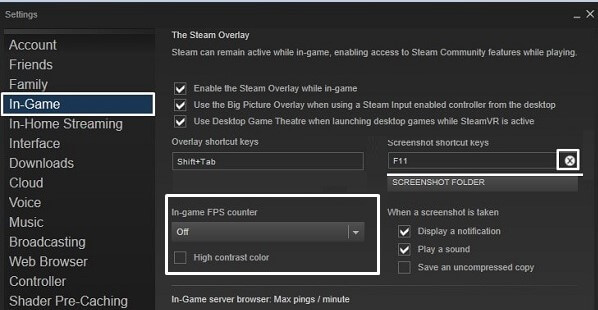 Click on OK. And, now when you run any steam game, you will able to see FPS.
That's it. these are the software, which allows enabling FPS overlay in Games. And, the best part is, all are free. If you want to improve FPS in PC Games. Then, you need a better hardware and most important high refresh rate monitor. Though, the 60Hz monitor is good for gaming.