Ultimately PUBG Mobile Game is launched today Globally. Now you don't need to use the proxy server to download it. You can install PUBG on Android, directly from Play Store. PlayerUnknown's Battlegrounds is a good game, and mobile controls are better than PC controls. But, playing PUBG in small screen devices is not a good idea. Because, If you're playing on the small screen Android device. And, if someone attacks you, in the Game. Then, you need to pay more attention to find out your enemy. If you're facing the similar issue, then follow this article to install PUBG on PC.
PUBG for PC is already available on steam, but you need to pay for it around 15 – 20 USD. And, I can understand you don't want to pay for it. Well, In this article, I am going to provide you two solutions.
First – You can Install PUBG Mobile version on Computer.
Second – Mirror your Android screen to a PC. And, Play PUBG Mobile Game on big Screen.
Install PUBG on PC.
To Play or Install PUBG Mobile on PC, you need an Android emulator. There is numerous Android Emulator available, which you can install. But, I prefer MEmu Emulator, because you can run it on low specification PC. And, It comes with the key mapping feature. This feature will help you to map keyboard key, so you can play PUBG using the keyboard.
Before start telling you about, how you can install PUBG on PC. First, you need to check these minimum requirements.
4-6 GB of RAM. (Because to Play PUBG you need 2GB RAM. And, MEmu Emulator need at least 2-3 GB of RAM.)
Make sure hardware virtualization technology is enabled. (Intex VT-x and AMD-V)
Display driver with OpenGL 3.0.
Intel Core i5 and above required to play the hardcore Game.
Note – Personally, I am using Intel core i5 5th gen processor with 4GB RAM. But, still, I am facing some issues, because it required 6 GB RAM.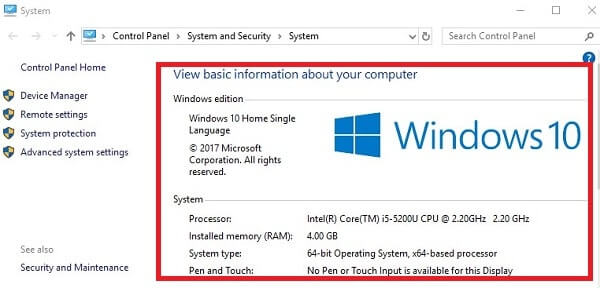 If your PC doesn't meet these Requirements. Then, you don't need to worry about it. You can try the second method, Mirror your Android screen to a PC.
Files that you need, to Install PUBG on PC.
Download latest MEmu Emulator 5.1.0.
If you have downloaded PUBG on your Mobile. Then, you don't need to download Again for PC. Or, If you haven't downloaded PUBG on Mobile. Then you can later download in Emulator using Play Store.
If you have downloaded, then use these steps to move Game files to PC.
Step: 1 First, Download ES File Explorer and Extract PUBG APK. You can try other Apps also, like Apk Extractor. (If you don't know how to do it, feel free to comment.)
Step: 2 Connect your Android Device to PC via USB using Storage option.
Step: 3 Go to Android > Obb > Copy "com.tencent.ig" folder and paste on your desktop.
Now, move Extracted PUBG Apk also on Desktop.
Steps to Install PUBG on PC, by using MEmu Emulator.
Step: 1 First, Install MEmu Emulator on PC. Now you need to change a few settings in Emulator. Else, you will face white Screen problem.
Click on Settings (Gear Icon), Which you can see on the right sidebar.
Now, Change General Settings of Emulator. You can change settings by using this below screenshot.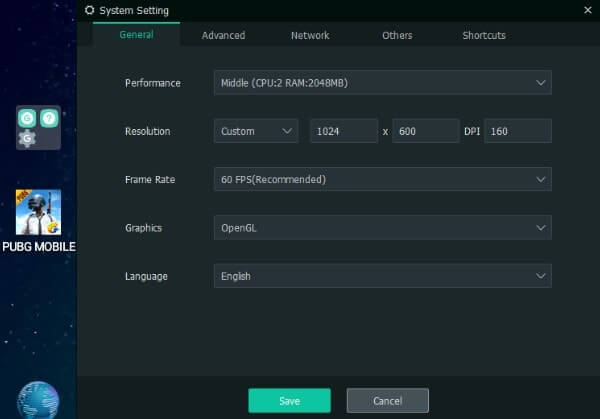 After changing the general settings now go to advanced settings tab. And, choose "Samsung Galaxy S8 Plus" device, and click on save button. Now, restart the emulator to apply changes.

Step: 2 Right Click on PUBG Mobile Game Apk, and click on "open" to install it. (Don't launch PUBG Game now.)
Step: 3 Now, move "com.tencent.ig" folder to Downloads\MEmu Download folder.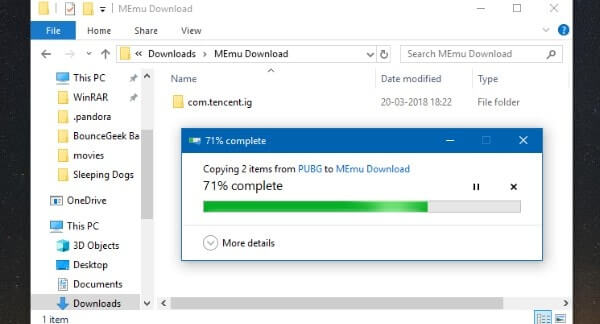 Step: 4 Install ES File Explorer App in MEmu Emulator and Open it. (You can use Play Store to Install. Or, can download Apk and then can install.)
In ES File Explorer, Go to sdcard\downloads. And, then move that "com.tencent.ig" folder to Android\obb. (You can create the obb folder. If it is not available in Android folder.)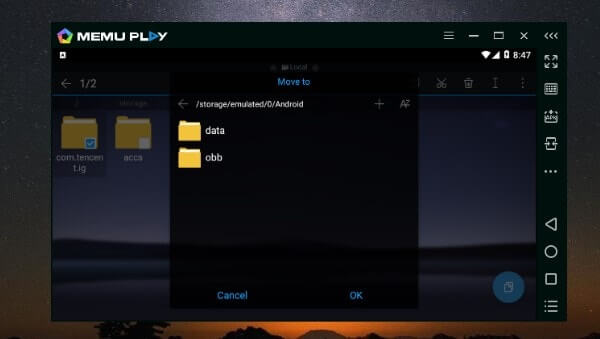 Done you have successfully Installed PUBG on PC. Now, you can launch the PUBG mobile Game.
Keyboard Key Mapping – When PUBG Game gets started, Click on keyboard icon from the right sidebar.
Mirror Android & Play PUBG.
There are multiple ways available to Mirror Android to PC. You can use USB Cable or can use WiFi to Mirror. If you have the good WiFi connection, then you can use AirDroid App.
To Know More Information Regarding Screen Mirror, Read this Article.
Mirror Android to PC without Root.
If you're a Windows 10 user then you don't need any software or App to "mirror Android to PC".
Note: Make sure your PC/laptop and mobile are connected to same WiFi network.
Step: 1 In Windows 10, Click on start button and search for connect App, and then open it. (If App is missing, you can download it from Microsoft store.)
Step: 2 Now in Android, go to settings > display > cast > tap on three dots (check upper right corner) > and mark "enable wireless display option".
Step: 3 After enabling this option, you will able to see your PC/laptop name. Wait for a second, and it will get auto connected. (If it's asking for permission, grant it.)
Note: You can't operate your Android device from PC or laptop with this method. This App and the Android feature will only help you to see "PUBG Mobile" on the big screen.