Microsoft is rolling out its new update called "Windows 10 Fall Creators Update" for everyone. And, The new version of Windows 10 comes with tons of new features and some major security improvements. If you want to get or try out some cool new features of Windows 10 Creators update. Then you can update your windows OS without losing any important data. Currently, There are three possible ways to Install Windows 10 Creators Update.
If you heard about this update first time, and don't know what this update offers. then you can read this short information about new features of this Windows 10 update.
Short Details of Windows 10 Creators Update new features.
Paint 3D – In the new version of Windows, Microsoft introduced several new 3D modeling Applications, And Paint 3D is one of them. It is a spinoff or updated version of original Microsoft Paint and 3D builder.
Night Light – It is one of my favorite feature of Creators Update. It works similarly like screen darkener software's and it's really helpful in reduce eye strain. You can enable night light with one click from the notification center.
Mobile hotspot – Now you don't need to download any third-party software to enable Portable hotspot in Windows 10. You can set up WiFi hotspot from Settings> Network & Internet> Mobile Hotspot.
Apart from these major features, Creators Update comes with Gaming Mode (Broadcast, Game Bar, DVR), Improved Cortana, New Windows defender with advanced malware protection and many others cool features and tweaks.
Note: At the time of writing article, the latest version is Windows Creators Update 1709 build 16299.125.
Install Windows 10 Creators Update.
Method: 1 Check for Updates.
Before trying out any other way or software to update or Install Windows 10 Creators Update. I suggest you check If latest build update is available on your computer or not. If it's available officially on your computer then you don't need to try out any other method.
Getting update or not, It depends on certain things like device you're using, location and most important update server. Also Windows update server checks, whether your PC is compatible with the new update or not.
To Check new Fall Creators Update is available for your Computer or not. First, open Settings App and then click on Update and Security. Now to check, click on "Check for Updates" and wait for few minutes to get updated results.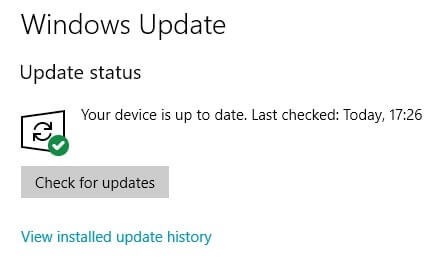 Condition: 1 If there is a new update available for your PC. then click on Install update and after downloading update your PC will ask you to restart it. So after downloading update restart your PC to Install new Fall Creators update.
Condition: 2 Now, If there isn't any update available for your Windows PC or laptop. Then you" ll get a message "Your Device is up to date". If the same thing happens to you and you can't wait for an update. Then there are few ways to Get Windows 10 Creators Update.
Method: 2 Use Windows 10 Update Assistant.
Windows 10 update assistant is a Microsoft Program that helps to update PC, to the latest version. Currently, the latest version of Windows is "Windows 10 Fall Creators". So with the help of this program, you can Install Windows 10 Creators Update without losing any important personal data.
You can get Windows 10 update assistant from Microsoft's official site. Or you can jump directly to download page from your Windows Settings.
– > Open Windows update section, and below "check for updates" button. You"ll able to find out a message "Good news! The Windows 10 creators update on its way……" And below this message you"ll get an option "Yes, Show me how". Simply Click on this button to jump download page of Windows 10 update assistant and media creation tool.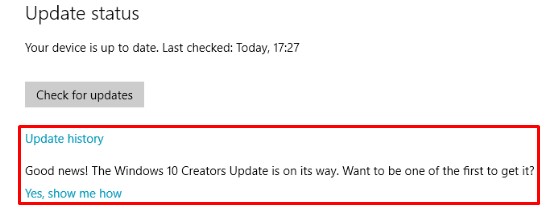 If windows update section isn't showing this message. Then still you can download windows 10 fall creators update from this Windows 10 download page.
Step: 1 On Windows 10 Download Page, Click on update now button to download "Windows 10 update assistant".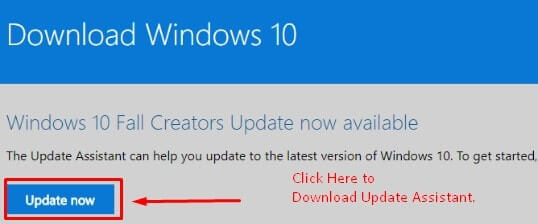 Step: 2 After downloading update assistant, Install it on your windows computer and run as Administrator.
– Wait for few seconds and update Assistant will check for the latest update. As you can see in below screenshot, For my computer it's showing latest version (16299) to download.
Step: 3 Now, Click on "update now button" and Assistant will check "Your PC is compatible or not".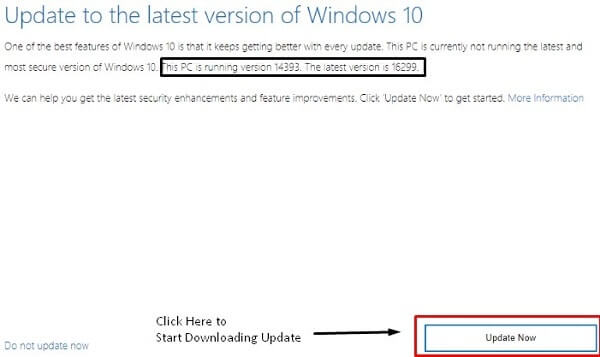 – If your PC is compatible with latest Windows 10 Fall creators update. Then you" ll get an option next, and when you click on the next button Update will start getting the download.
– And, If your PC isn't compatible then you"ll get an option to exit.
– > After downloading the update, Assistant will start verifying the update. So the whole process will take time, but you can use your PC as normally while downloading and verifying update.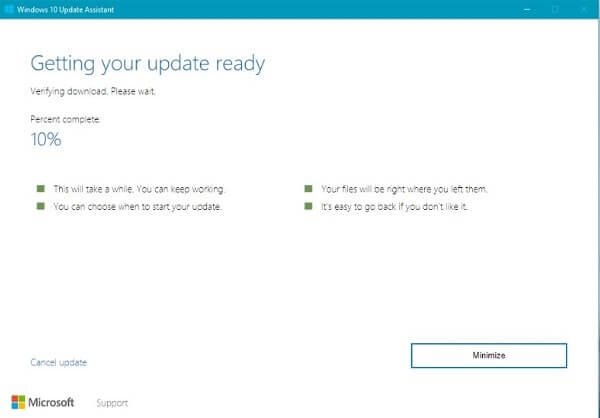 Step: 4 After downloading and verifying process, Windows 10 update Assistant will ask you to restart the PC. If you're in the middle of something then you can click on Restart Later. But If you want to update your PC then just hit the Restart Now button.
– Now your PC will restart several times, If the battery level is low then connect it to the charger. After completing update process your PC will automatically get the start. The whole Installation process takes the approx 1-2 hour (depends on your PC specification). So Don't turn off your computer or don't try to press any key, else you"ll face some critical errors.
Error Solution – Update Process takes time, But sometimes window freeze on getting Windows ready screen. If your PC isn't showing Working on updates message with percentage within an hour. Then you read my article on "Fix Getting Windows Ready Stuck" to get rid of from that annoying screen.
So, That's how you can Install Windows 10 creators update using Assistant. But if update Assistant shows you any kind of error, then you can try the second method.
Method: 3 Create Windows 10 Installation Media.
If above method doesn't work for you then you can try this method. Like Update Assistant, With Windows 10 Media Creation tool you can Install Windows 10 Creators Update easily.
With Windows 10 Media Creation Tool, You can do these three things. –
Install or Update Windows 10 Directly.
Create Bootable USB/DVD Drive.
Download Windows 10 Fall Creators Update ISO.
So in this method, I am going to tell all three ways to Install Windows 10 Fall Creators Update on your PC.
Step: 1 First, go to the same Microsoft page and download Media Creation Tool.
– And you don't need to Install this tool, Simply run as Administrator to launch the tool.

Step: 2 When Media Creation Tool (Windows 10 Setup) window appears, Click on Accept.
– On next window of the tool, it will give you two option – Upgrade this PC Now and Create Installation Media.
– If you want to update your Windows PC only then choose the first option. And Installation process will get started like Update Assistant.
– But If you want to create bootable USB Drive or want to download ISO file of Windows then choose the second option. (Personally, I prefer to Create Installation Media option, Because it provide an option to download Windows ISO)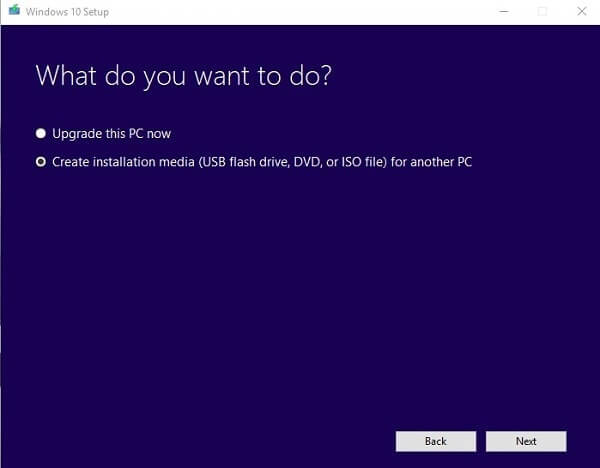 Step: 3 If you choose "Create Installation Media", It will give you two option.
USB Flash Drive – If you want to create a bootable USB flash drive then you can choose this option.
ISO File – This option allows to download latest Windows 10 ISO File. Which you can burn later into USB Drive or DVD.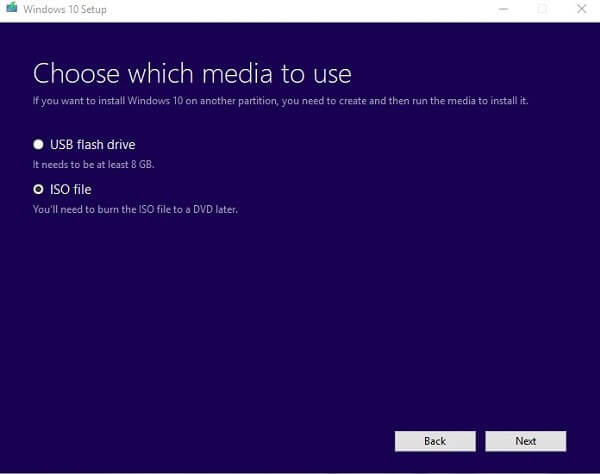 Create Installation Media and Install Windows 10 Creators Update.
Step: 1 To create installation media, simply connect your USB Drive to the computer. And choose USB Flash Drive option.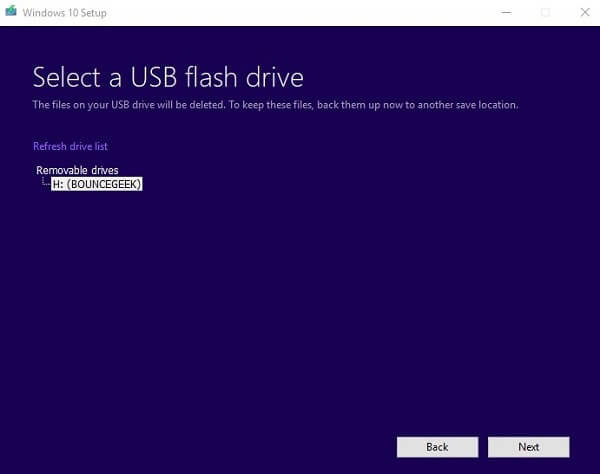 Note: Don't use SanDisk USB Drive, Otherwise windows will unable to boot from USB Drive. And make sure you're using 8 GB and higher storage drive.
Step: 2 Don't unplug USB drive and restart your computer. And press any key to boot from installation media (bootable USB Drive).
– If USB drive doesn't allow to boot windows, then you need to change the boot order.
– You can change boot order by using BIOS and UEFI settings. (by pressing F1, F2, F12, Delete or Esc key you can enter into BIOS settings)
– If after changing the boot order, Still USB drive not works then restart your PC once again.
Step: 3 Now on Windows Installation page, Select language, time and then select next button. After that, Click on Install windows button and windows installation process will get started.
Method: 4 Windows Insider Program.
It is an alternative way to get Windows 10 Fall Creators Update before anyone else. Microsoft created this program for beta users to get early access to upcoming Windows 10 update.
With this program you"ll get regular update of Windows Inside Preview. The program is divided into three parts, It's completely up to you which part you want to join.
Just Fixes, Apps, and Drivers.
Active Development for Windows.
Skip Ahead to the next windows release.
How to enroll your device in Windows Insider Program?.
Open Setting App> Update & Security> Click on Windows Insider Preview (bottom left corner).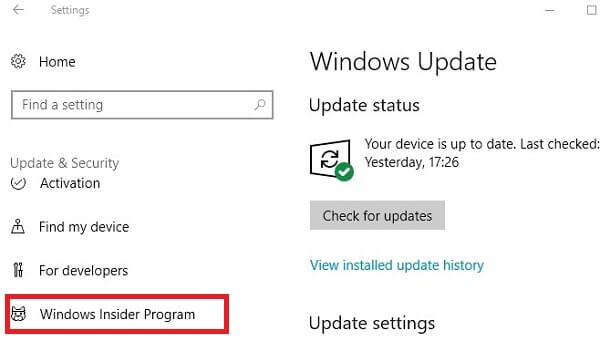 Click on Get Started button and it will ask you to add your Microsoft Account. If Microsoft Account is already added to your Computer then choose the account and click on Continue.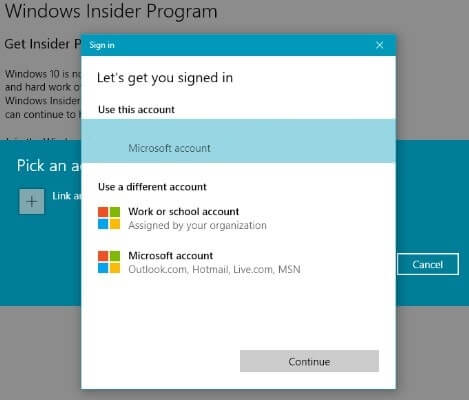 After linking Microsoft Account, It will ask you to choose between three parts. If you don't want regular updates then you can choose the third option. But If you want the regular update then the second option is best.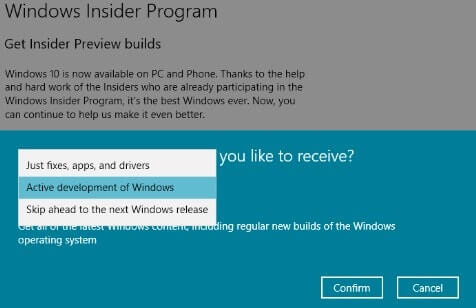 Now on next page, it will ask you to choose between update mode fast or slow. And After that, you need to restart your Computer to start getting latest Windows Insider preview build.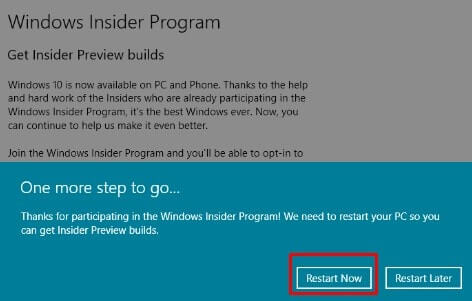 Alternatively, you can open insider preview site and register your Microsoft Account.
Conclusion / Final Words about this Article.
That's it for now, So these are the four methods to Install Windows 10 Creators Update. Personally, I prefer the third method Because you can download Windows 10 ISO file and can use on any PC. But if you want to get the update for your Windows Device only then try the second method. And if you like stay updated with new features or updates then windows insider program is the best option. But if you don't like updates or you have limited data pack then don't join Insider program.