It's impossible to ignore Cryptocurrency When all over the world people are buying and selling it. Cryptocurrency isn't the new thing, But recently, because of the bitcoin price surge, everyone wants to know about it. In many countries, Bitcoin is legal and people started using it as a mode of payment. Although, In some countries, it is completely banned to buy/sell any type of Cryptocurrency. If in your country it's legal to trade bitcoin, then you can follow this article to know about Best Bitcoin App.
Before start telling you about Best Bitcoin Exchange/Wallet App. First, am going to tell you a few things related to Cryptocurrency and Bitcoin.
What are Cryptocurrency and Bitcoin?.
A CryptoCurrency is a digital asset or digital currency, that uses cryptography to secure its transactions. You"ll amaze to know that, there isn't any physical existence of any CryptoCurrency. That's why it is also known as virtual currency.
Bitcoin is the first decentralized CryptoCurrency created in 2009. Since then dozens of CryptoCurrencies have been created. Recently Bitcoin cash is created, which is a fork of Bitcoin Classic.
Things you need to know before buying Bitcoin or any other Crypto Currencies.
I am not a financial adviser, But as a Geek Person, I want to tell you a few things related to BTC. Bitcoin is volatile, which means you can't expect it to grow always. Bitcoin (BTC) can fall anytime and you would lose your Money.
If you want to invest in Bitcoin, Then you don't need to buy the whole Bitcoin (BTC). You can buy a small part of Bitcoin, which is known as Satoshi. BTC is divisible to the 8th decimal place, So there are 100,000,000 Satoshi in one Bitcoin.
Best Bitcoin App / Best Bitcoin Wallet App.
Coinbase – Buy Bitcoin.
Coinbase is the most popular best Bitcoin App & Site to trade Bitcoin, Ethereum, and LiteCoin. And now it is available in over 30 countries. You can buy Bitcoin with a connected bank account, SEPA bank transfer, Credit/Debit Card, and other payment methods. Coinbase offers a wallet service, which allows to send and request bitcoin and other CryptoCurrency by name, email, or digital address. You can set a Passcode on App, and can remotely disable your phone access if it's stolen or lost.

The app comes with a price chart & Price Alert option, In which you can check the real-time and historical price of Bitcoin, Ether, and LiteCoin. The Coinbase payment methods depend upon your country. And when you buy bitcoin it charges a few percentage of buying fees. If you buy using a bank transfer then fees are 1.49%, and for credit/debit cards it is 3.99%. Coinbase has email support, but there isn't any call support available.
"MKBHD purchased his first Bitcoin from Coinbase App." – Source – (MKBHD Live Stream)
Countries – US, UK, Canada, Singapore, and a few other European Countries.
Payment Options – Credit/Debit Card & Bank Transfer.
Zebpay Bitcoin India.
If you're from India then the best Bitcoin App to Buy/Sell BTC in India is Zebpay. Like Coinbase, Recently Zebpay completed one million downloads on Google Play. The best part about Zebpay is, that you can send bitcoin to your contacts using their mobile number. Zebpay app also provides security for the outgoing transaction, You can set 4 digit passcode or can use your fingerprint lock. Currently, Zebpay allows to buy/sell BTC only, other CryptoCurrencies options still aren't available.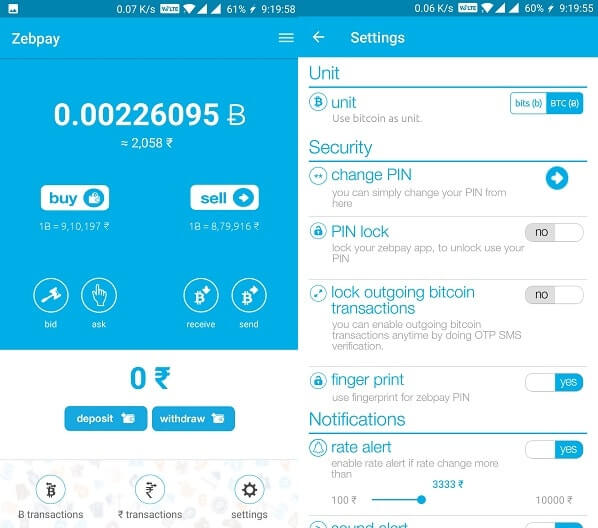 The transaction section is also available in the App, Which shows the complete history of all Buy/sell transactions. Zebpay App also shows real-time buy/sell prices, and if you want you can use the Zebpay widget to track prices. The price alert feature is also awesome, You"ll get notified when prices rise or falls.
"Zebpay App also offers Free Bitcoin worth 100 INR when you use someone's referral code"
Zebpay Refer Code to Get 100 rs Free Bitcoin – REF34287564
Get the Zebpay Bitcoin India App.
How to use this Refer Code – Open App > Swipe from Right Side> Tap on Free Bitcoins> Enter Refer Code and Click on Verify.
Note: To Get Free Bitcoin you need to first complete the verification process and then buy the first Bitcoin. (No need to buy one Bitcoin, You can buy a small unit of BTC.)
Blockchain Wallet.
Like Coinbase, Blockchain is also the world's most popular & best Bitcoin Wallet App. Blockchain wallet only allows to store BTC and ether, you can't buy using this App. It's not a buying-selling App like Zebpay and Coinbase. But due to its popularity and one million downloads on Google Play, It's on the list. It is a digital wallet platform developed by a Luxembourg-based software company. You can access Blockchain from mobile devices (Android and iOS) and the Web.

It comes with a built-in security center, that guides you step by step. So you can secure your account, can prevent unauthorized access, and most important backup funds. With Blockchain App you can access your existing wallet or can create new one. You can send or receive Bitcoin easily from anyone in the world.
Also, the best thing about BlockChain is you can exchange between ether and Bitcoin. Like other Bitcoin Apps, this App also comes with two-factor authentication and PIN protection. There is some other feature also available in this App like – TOR blocking, QR Code support, Paper Waller Import, and much more.
Conclusion – Best Bitcoin App.
Still, there are dozens of Bitcoin Apps available. But only these three Apps are popular and best according to users. If you want to buy your first bitcoin then you can use Coinbase App. And If you're from India then you can use Zebpay App, Which is well known Coinbase Alternative for Indian users. That's it for now If you're facing any issues while buying your first bitcoin feel free to comment.